What You Should Pack and Cook On Your Weekend Camping Trip
If you click and purchase with one of our links, we earn a commission. Thanks.
Camping doesn't have to mean you're completely forced out of your comfort zone. In fact, there are plenty of ways to improve your quality of life at camp. While you can certainly live off basic food staples while you are heading out camping, there are ways to get food with more variety and substance in your daily life. The key is knowing what you should be packing and what you should be cooking to help you get the most out of your weekend camping trip.
What You Should Be Packing: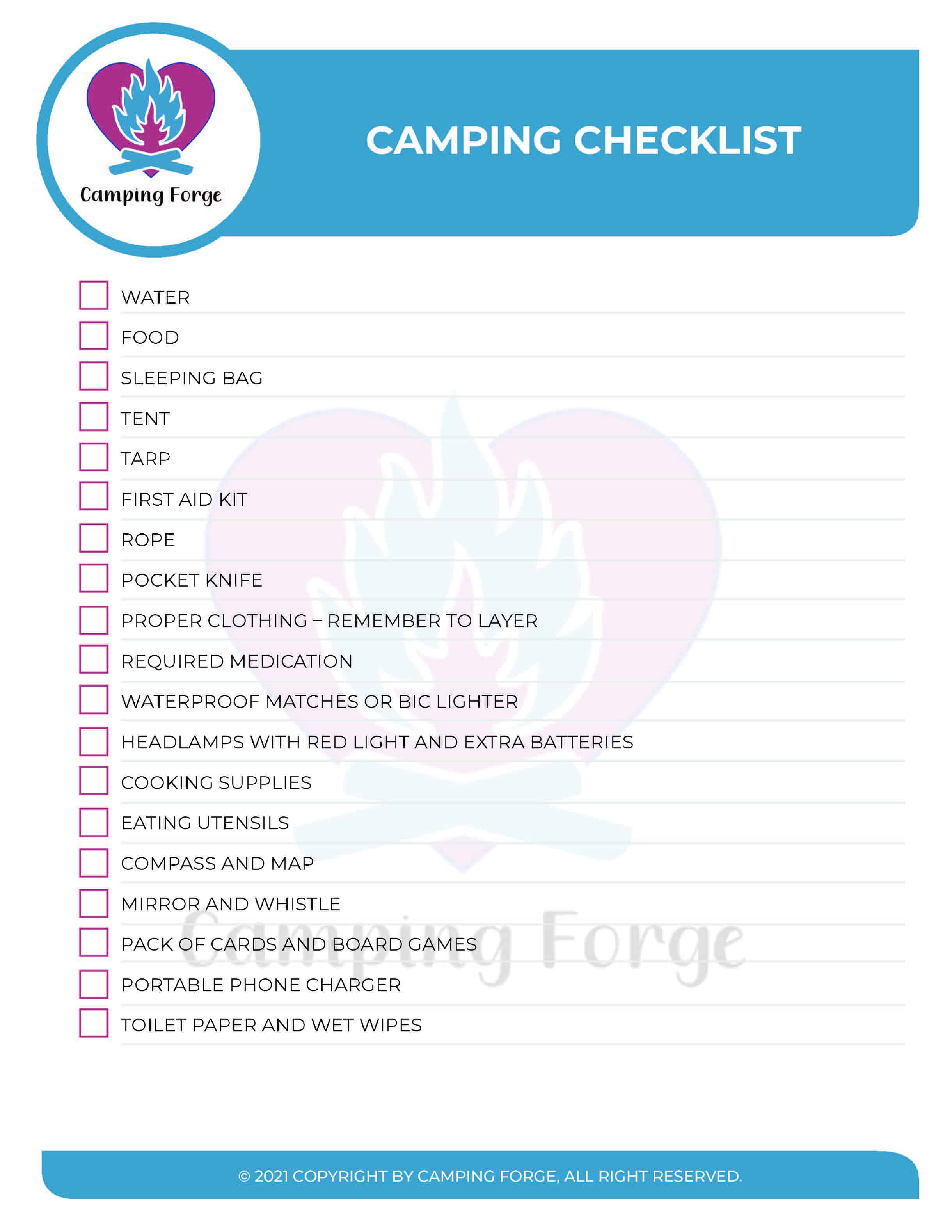 1. Portable Cooler
For one, you want to bring a cooler along with you. Having a cooler can make things a lot easier when it comes to giving you a lot more substance and diversity in your meals. With a cooler, you won't be limited to food that doesn't spoil. Ideally, you want to try to find one that is portable enough that will allow you to move it around freely. There are coolers available in the marketplace that have wheels for easier transportation.
2. Camping Stove
A camping stove is another must-have if you want to open up more possibilities when it comes to meal preparation while you are camping. Having a stove will give you the ability to fire up a meal without having to worry about making a fire, maintaining it, or managing the inconsistency of cooking with it.
3. Utensils
You are going to want to bring along enough utensils with you. Having enough forks, spoons, and knives can make things a lot easier and more comfortable at the campsite.
4. Plates and Bowls
You should be bringing both plates and bowls for everyone that is coming. This way, everyone will have their own plates and bowls which will make portion control easier and it will be much more sanitary. Ideally, when shopping for plates and bowls, you should be sticking with stainless steel. This material is much more durable and it can be easy to maintain.
5. Skillet
Bringing along a skillet that you will be able to use on your gas stove can make things a lot easier when it comes to whipping up a gourmet meal. You should be bringing along the lid with the skillet to ensure you are able to cook properly.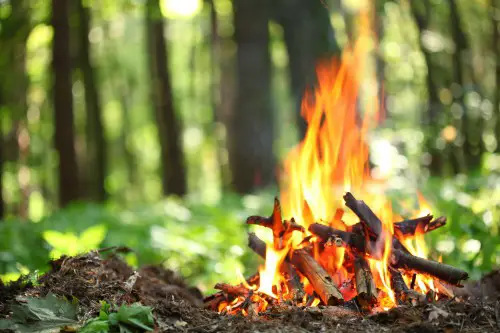 6. Lots of Ice
If you are planning on bringing anything perishable with you, it's a must that you bring enough ice. You will need to bring enough to keep everything you will be bringing along properly chilled.
7. Cooking Pot
Having a cooking pot made up of aluminum can be a good addition to your cookware set. That way, you will be able to cook a lot of things that are relatively easy including stew, rice and beans, and more. A cooking pot can be a versatile and convenient addition to your camp life.
What To Cook:
1. Omelet
For breakfast, you may want to whip up an omelet. This can be one of the easier meals to cook while you are out camping because you will be able to cook as if you were at home with the right equipment. As long as you have a gas stove and a skillet, you can crack some eggs and mix them in any veggies as you wish.
Pro Tip: If you are planning on bringing eggs along with you, it would be wise to crack the eggs beforehand. After all, you won't want to bring along a carton of eggs. The eggs won't last a single day without getting cracked. Instead, you should look to crack a dozen or more eggs and place them into a glass bottle or a steel thermos. By doing this, you will not only save a lot of space, but you won't have to worry about having to deal with the mess of cracked eggs in your bags or cooler.
2. Waffles or Pancakes
Another breakfast staple you are likely used to would be pancakes or waffles. While many may think that camp life isn't suited to making either, with the right equipment, you can have yourself a complete breakfast with delicious and fluffy pancakes and waffles. All you need to have with you would be a gas or electric skillet.
Pro Tip: If you are going to be making pancakes during your camping trip, make things a lot easier on yourself by premixing the ingredients in a bag prior to heading out. Simply keep the ingredients properly chilled in the cooler you are bringing along with you. That way, you will have pancakes ready to go as soon as you fire up the skillet. This is especially useful on weekend camping trips because your cooler will be able to keep the mix cold enough prior to using it.
Lunch:
1. Mexican Style Street Corn
This can be one of the best and most fun lunches to consider making during your weekend trip. For this, you can either use the camping stove you've brought along with you or the campfire with a grill over the top of it. Regardless, you simply peel back the husks of the corn and place them over the fire. Once they are fully cooked, you prep the coating of spices and mayo. The spices include chili powder and salt. You will want to have fresh cilantro on hand, so be sure to bring that along with you if you are planning on making this dish.
Pro Tip: Put all of the necessary spices into a bag prior to leaving for your camping trip. This way, you will have everything ready to mix. Be sure to label all of your spice bags in order to avoid mixing them when you are going for a specific meal.
Check out our recipe for Mexican grilled corn
2. Beans and Rice
This is not only a camp staple not only because it is extremely easy to prepare, but also because it is both affordable and delicious. To cook beans and rice, you will want to have a cooking pot that you can use. It's really as simple as tossing the ingredients you want into the pot and cooking until it's done. Not only is beans and rice very easy to prepare, but it can provide you with a filling meal that can supply you with plenty of energy to work with.
You might also like our stuffed hot dog recipe
Desert:
1. S'mores
This is a camp staple. If you are going to be heading out to go camping, you will absolutely want to be certain that you are bringing along everything you could possibly need to make and enjoy S'mores. To ensure that you have everything you will require, bring along graham crackers, marshmallows, and chocolate bars. From there, you should be able to make do with either your campfire.
Pro Tip: If you would rather not roast marshmallows over an open fire, you could always use your skillet. To do so, simply place butter, chocolate chips, mini marshmallows, and graham crackers into it. Once you've prepped all the ingredients, you can begin cooking them until the tops are golden brown.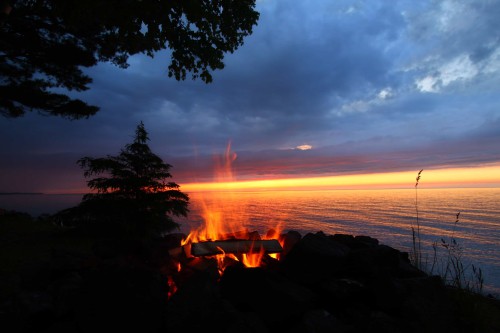 Additional Key Tips:
1. Figure Out How Many People Are Going Beforehand
One of the biggest mistakes people make when they are heading out for a weekend camping trip is not prepping for the total number of people that are going. Your food and equipment needs will have to be adjusted according to how many people are going camping. After all, you don't want to run out of food or have people getting hungry because their portions aren't big enough.
2. Keep It Light But Not Too Light
If you are going to be heading out and doing a lot of hiking during your camping trip, you may prioritize getting equipment that is lightweight. However, not bringing enough equipment may be something you come to regret during the course of your trip. The best way to eliminate this is by stocking your camp gear with the most versatile camping cookware. Having a camp stove, skillet and pot should cover all of the necessities to ensure you are able to prep virtually any meal you want.
3. Bring A Coffee Maker
Luckily, they make a lot of good portable coffee makers nowadays. You can enjoy freshly brewed coffee without needing heavy or bulky equipment. An Aeropress can do wonders for someone who wants to have a good cup of Joe in the morning.
4. Prep Ahead of Time
As mentioned, you need to be doing a lot of prepping ahead of time if you want to eat quality food and meals during your trip. You won't want to carry around a carton of eggs and you won't want to have to be bringing tens of different spice bottles with you. By prepping ahead of time, you can get everything put into easy to use servings. You could use bags that close or you could cut up straws, place in the spices, and burn the ends to close them. This is a popular hack that is used by backpackers everywhere and it can prove to be very useful for your camping trip.
Overall, your camping trip doesn't have to force you into eating everything from a can. Nor do you have to stuff yourself with beef jerky all trip. While you should bring a lot of easy, portable, and convenient snacks that can help to fill you up and provide you with energy between meals, you should be able to enjoy the modern comforts of good food that you are able to get at home. As long as you have the right cookware, ingredients, and preparation, you should be able to enjoy your camp life as much as possible.
What Kind Of Camper Are You?
Outdoor Survival
---
Car Camping
---
Backpacker