Best Backpacking Tent For Tall Person
If you click and purchase with one of our links, we earn a commission. Thanks.
If you are a tall-person, meaning over 6 feet tall, and you want to backpack you face unique challenges with your tent. You need more room to fit into a tent which means a heavier pack. This is why we recommend the River Country Products New Trekker 2.2 Tent as the best backpacking tent for a tall person because it allows you to have enough room to sleep in it but minimizes the weight by leveraging your trekking poles instead of bringing along additional poles. This has become my go-to tent - not just for backpacking but for car camping. I love how fast I can set it up and small I can pack it. However, make sure to add additional guidelines around the trekking poles to increase stability.
River Country Products Trekker Tent 2.2, Two Person Trekking Pole Backpacking Tent - Green
Product Specifications:
Material: PU Coated Polyester
Width: 5 feet
Height: 42 inches
Length: 7 feet
Weight: 53 ounces
Stakes: 8 aluminum stakes (0.4 ounces each)
Capacity: 2 persons
Manufacturer: River Country Products
Product Description
The River Country Products Trekker 2.2 tent weighs 3 pounds and is among the best ultralight backpacking tents available. It features big side vents and sidewalls that make it an almost fill like a 2-layer tent. At 42 inches high, 5 feet wide, and 7 feet long, it has a larger capacity compared to any other tents that fall under the lightweight category. It can be comfy for a party of two but extremely roomy when it's just one person.
It's essential to note that this type of trekker tent is a trekking pole tent, meaning that tent poles aren't included in the package. An alternative is using trekking poles to act as the tent poles for support. But if you don't carry your poles, there's no need to fuss since the tent will still stand by using almost any stick that's longer than 42 inches tall or can simply be tied in between trees. So, no poles? No problem!
Most tents come with low-end and fragile poles that are usually the first to break or get damaged, making the whole tent worthless. Trekker tents, on the other hand, work well with sticks, trekking poles, or can be supported by an overhanging tree branch. As you can see, no poles mean no issues for the River Country Products Trekker 2.2 tent.
Product Features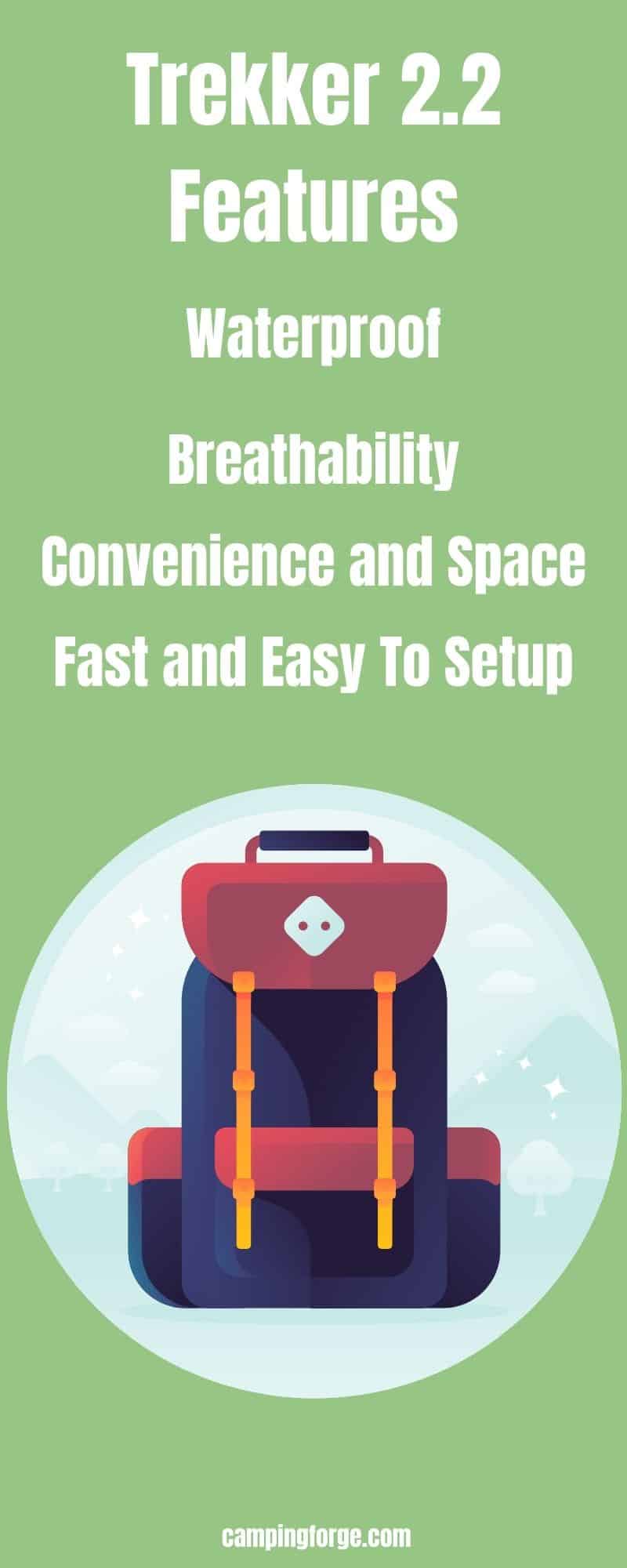 You should bear in mind that good reviews aren't trustworthy. Here are some of the tent's features that are sure to persuade you:
Waterproof
Anything can happen while you're in the great outdoors, and that's the beautiful thing about nature. Expecting the unexpected! You don't want getting caught out in a storm with nothing as shelter or cover. Considering the sporadic circumstances you may find yourself in, it may prove prudent purchasing a waterproof tent for your trekking trip. When it comes to the new Trekker 2.2 tent from River County Products, they didn't pull any punches when designing their tent. It is sufficed to say that the Trekker 2.2 is very waterproof and has no chance of any water penetration.
The tent has undergone extensive testing under poor weather conditions, and there's yet a single hiker to speak ill about how waterproof this tent is. When you're backpacking, and you're caught out in a storm, you can be guaranteed of staying dry in the trekker 2.2 tent.
At first site of the tent, you may be under the presumption that once when the wind starts blowing, and the rain falls, the tent will fall apart. That couldn't be any more wrong. It actually performs pretty well in bad weather conditions. Considering the price and the value this tent brings in terms of storm/wind resistance, the Trekker 2.2 is the best choice tent.
Breathability
A tent's breathability is extremely important, especially if two people are sleeping in the tent. The design of the 2.2 version has worked towards solving this problem and has significantly improved. Although it can't be compared with other pricier options, it still performs as needed. Considering that the tent is waterproof, condensation is likely to occur in the cold mornings or chilly nights. However, it's worth noting that there's no single tent on earth that doesn't have some form of condensation. Sadly enough, a condensation-prof tent doesn't exist.
The River Country Products Trekker 2.2 tent features large mesh vents and sidewalls, which help in reducing condensation issues while at the same time offering excellent flow. So, it provides acceptable breathability, with not too many condensation problems. Simply put, the Trekker 2.2 outperforms all other tents when it comes to condensation issues. And yet again, for the affordable price, the River Country Trekker 2.2 does pretty well.
Convenience and Space
When it comes to the convenience and space of the Trekker tent, it depends on various factors. First, if you will be using this tent alone, it will be absolutely roomy and comfortable in terms of space you have at your disposal. You will have more than enough room to store your gear and sleep. Additionally, tall persons because it is longer compared to many lightweight choices in the market.
If you intend to use the tent as a 2 people tent, you should note that there won't be sufficient space to store 2 persons worth of gear and also provide accommodation for the said 2 persons. One shortcoming with this tent it doesn't come with vestibules. So, you'll bear with how tight it gets depending on what you've each carried with you. Otherwise, it's a pretty large tent you can both conveniently get in and out.
Fast & Simple To Set Up
This camping tent was truly designed for the outdoors. It's easy and super-fast to set up, which means you can camp down or be on the go at a moment's notice. The Trekker 2.2 tent is ideal for camping, backpacking, hiking and can prove to be a valuable asset when added to your survival kit. Even though when this tent is set up, it may appear large; it is very compact and easy to pack as it will fit in your bug-out bag or backpack without taking up too much room that can otherwise be used to accommodate other resources.
The fact that it is ultralight just makes it that more convenient to carry around as you hike the trails. A home you can carry around. How awesome is that! When setting up the tent, you only need to stake down the tent corners and extend the trekking poles in the back and front grommets for a nice fit. The product also comes included with 8 lightweight stakes and a corresponding carrying bag. You can set up the entire tent in just under 5 mins, which makes it super-efficient.
Guy-Lines And Needed Stakes
The needed stakes and guy-lines play an integral role in the overall sturdiness and structure of the tent. A guy-line can be anything from a string or cord used for securing a tent on the ground. When you notice that the trekking poles you have aren't providing the support you're using, the Trekker version 2.2 tent comes with Guy-Lines and Needed Stakes that can be attached on the ground or low hanging tree branch to offer structure and support to the tent. They act to complement the poles.
Trekker Tent 2.2 vs Trekker Tent 2
When it comes done to it, which Trekker tent is the best to buy if you're thinking about going backpacking? The Trekker 2.2 is the second version, and it has sure come with some improvements. It features large meshed vents and sidewalls that offer more ventilation and breathability when compared to the Trekker Tent 2. This means that it is suitable for places with warmer climates or places with high condensation levels. When it comes to the weight, it weighs 4 ounces more than the Trekker 2 due to the included mesh sidewalls.
Verdict
Although it may not be the most aesthetically pleasing tent in the market, the Trekker 2.2 is your go-to tent for the best outdoor adventure when it comes to functionality, efficiency, and quality. It also comes improved with a new seam design and material that assure improved protection from the elements.
The River Country Products new Trekker 2.2 tent ranks among the best sellers and is definitely the backpacking tent you should consider for your next camping trip. It comes in two colors: Green and Blue. It weighs 3 pounds, and even though the maximum occupancy for this tent is 2 persons, it is designed to be pretty spacious inside compared to any other lightweight tent in the market. It caters to the big and tall demographic. You can include your own vestibules if traveling as 2 is your thing. There's no need to risk the safety and integrity of your resources.
What's more, at an affordable price of $49.95, it will for sure give you the best value for your buck, especially if you're on a budget. So, what are you waiting for? Visit Amazon and get yours now!
Related Articles
What Kind Of Camper Are You?
Outdoor Survival
---
Car Camping
---
Backpacker