The Top Alternatives To Air Mattresses For Camping
If you click and purchase with one of our links, we earn a commission. Thanks.
If you are someone who camps regularly, you have likely gone through the tedious process of choosing the right product to use to sleep. While an air mattress is the go-to for a lot of campers, you may be seeking an alternative for various reasons. After all, an air mattress isn't the optimal choice for those looking to go backpacking as the product itself can weigh a lot and be incredibly bulky. Luckily, there are plenty of alternatives that you can purchase and use instead. In this article, we will be going over some of the top alternatives to air mattresses for camping.
Top Alternatives To Air Mattresses For Camping:
Inflatable Sleeping Pads
This is one of the best alternatives if you want something that offers similar features as an air mattress and a similar sleeping experience without the drawback of being heavy and bulky. For those who are traveling solo or who plan on sleeping by themselves, there might be no better option available. An inflatable sleeping pad can provide ample comfort and a lot of advantages over a traditional air mattress that makes it more than worthy of consideration.
Benefits Of Inflatable Sleeping Pads:
1. Similar Comfort
One of the main reasons you might want to consider using an inflatable sleeping pad has to do with the comfort level that you are likely to get from it. The fact is, these pads can be extremely comfortable and are very similar to air mattresses in the sleeping experience you are able to get from them because they are inflated with air.
2. Relatively Compact
They are much smaller and more compact. Therefore, you won't have to sit there for a while waiting for an entire mattress to expand. This makes them easier to use, but it also makes them inherently easier to pack and carry.
3. Adjustability
Like an air mattress, you will be able to effectively control the level of firmness you are able to get from this mattress. That alone may be worth it for some. A lot of the alternatives to air mattresses have the drawback of not offering this level of adjustment. As a result, you may have difficulties falling asleep with other options.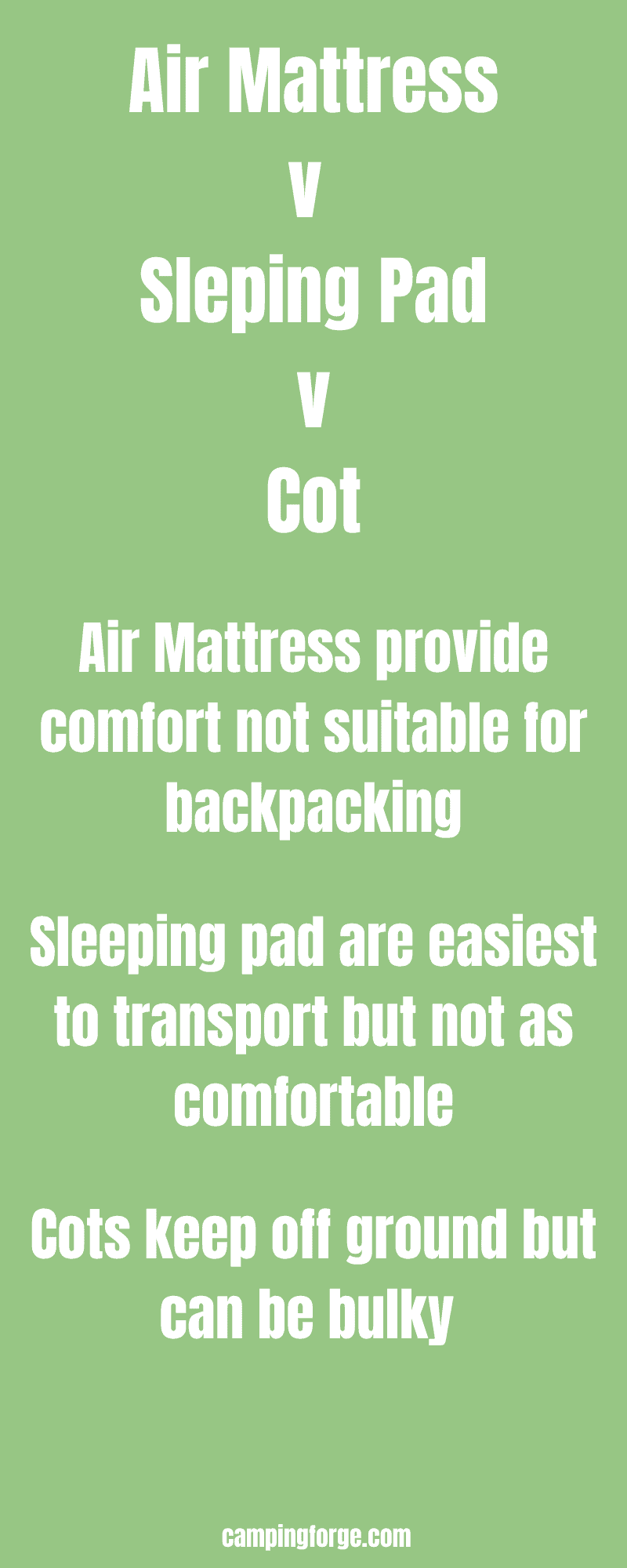 Best Inflatable Sleeping Pads
Sleepingo Camping Sleeping Pad
This sleeping pad is exceptional. There is a reason it has a 4.7 out of 5-star rating on the Amazon marketplace. This sleeping pad comes with everything you could possibly want out of the product. Not only is it extremely lightweight at only 14.5 ounces, but it also packs to an ultra-compact (8 x 3.5") size. Meaning, this sleeping pad will be capable of delivering you exceptional comfort without forcing you to sacrifice much bag space at all. It is the perfect option for those who are looking to pack light and those looking to maximize their available bag space.
Coleman Self-Inflating Camping Pad with Pillow
This is another good sleeping pad that you could consider. This sleeping pad by Coleman comes with the benefit of being self-inflating. It currently has a 4.3 out of 5-star rating on Amazon with the majority of customers talking about the product delivering exceptional comfort. All you need to do to use it would be rolling it out flat and opening the valve. From there, the pad will begin inflating because it has a free-flow valve. While you shouldn't expect the same kind of cushion you would be getting from a full-sized air mattress, this pad can prove to be a good compromise to ensure that you are able to camp comfortably without having to lug around a huge air mattress. It will provide a very good layer of cushioning between your sleeping bag and the ground which should be sufficient for most.
Foam Sleeping Pads
Foam sleeping pads are an excellent alternative to air mattresses. In fact, they have many inherent benefits over air mattresses. Not only are they lightweight, but they are very compact. Foam pads have actually been used for generations by campers and backpackers. They provide nearly the perfect balance of being compact yet comfortable.
Benefits of Foam Sleeping Pads:
1. Compact
Foam sleeping pads can deliver exceptional comfort especially when you factor in how compact they can be. You can find foam sleeping pads that fold accordion-style which makes them even easier to pack and more compact than a traditional roll-up type.
2. Comfort
These pads are going to be incredibly comfortable for a lot of people. After all, sleeping foam pads mimic what a lot of consumers regularly use for their home bed. Foam pads can deliver optimal cushioning for a camper and it offers very good insulation properties as well. This ensures that the ground doesn't cause major conductive heat loss which can be a big problem when camping in colder climates.
3. Durability
Another major benefit that comes with this type of sleeping bag has to do with the durability it offers. Because foam isn't going to puncture like an air mattress, you won't have to worry about having it become completely unusable in the middle of your camping trip.
Best Foam Sleeping Pads:
Therm-a-Rest Z Lite Original Ultralight Foam Camping Pad
Therm-a-Rest Z Lite Original Ultralight Foam Camping Pad, Model Number: 040818023020Buy Now From Amazon
This is easily one of the best foam sleeping pads you will find available. This foam sleeping pad currently has a 4.6 out of 5-star rating on Amazon with over 640 reviews. Not only is it priced very affordably, but it offers a superior sleeping experience. The pad itself only weighs a total of 14-ounces. However, from the sleeping experience it delivers, you wouldn't know that. It also folds with an accordion-style construction which means that you will be able to get the pad down to a very reasonable (20 x 5 x 5.5") while folded. The pad features softer foam on the top in order to provide sufficient 'give' for a better sleeping experience. The middle portion is much denser for better insulation and durability. One of the best things about this sleeping pad is its simple design. Because of this, it is capable of trapping heat to provide even more warmth throughout the night. This can make all of the difference when you are camping in colder conditions.
Therm-a-Rest RidgeRest Classic Foam Camping Sleeping Pad
Therm-a-Rest RidgeRest Classic Foam Camping Sleeping PadBuy Now From Amazon
This classic design by Therm-a-Rest is another standout. It is a basic closed-cell foam sleeping pad. Not only is it incredibly lightweight at only 19-ounces, but it is both durable and affordable. Because it features a cross-linked design made up of polyethylene, it is extremely durable which is a very significant benefit when it comes to camping. After all, your sleeping pad will be exposed to sharp rocks, uneven surfaces, and more. This sleeping pad is rated (R-2.0) meaning you shouldn't expect it to offer enough insulation for colder climates.
Camping Hammock
For those who don't want to bring along an air mattress because it is too bulky, a hammock might be the perfect solution. A hammock will be inherently less bulky and much lighter, as well. If you are planning on using a hammock for camping, you might want to invest in a rain fly in order to keep yourself dry during nighttime rainstorms.
Benefits of Camping Hammocks:
1. Compact
Hammocks are not only going to be much lighter than air mattresses, but they are much more compact, as well. Camping hammocks are generally made up of parachute nylon fabric which is extremely durable, but also extremely light. Best of all, a hammock made up of this material can be folded to an extremely compact size. Meaning, you will be able to store your hammock in your bag without taking up much space at all.
2. Durability
As mentioned, one of the biggest disadvantages of air mattresses is their lack of durability. Because you won't be setting up your mattress in ideal conditions most of the time, you could end up snagging the material and damaging it. A camping hammock is made up of virtually indestructible parachute nylon which you can count on lasting for a long time. Also, the material is so capable that it can hold up to 500 pounds in most cases.
Best Camping Hammocks:
Kootek Camping Hammock Double and Single Portable Hammocks
Kootek Camping Hammock Double & Single Portable Hammocks with 2 Tree Straps, Lightweight Nylon Parachute Hammocks for Backpacking, Travel, Beach, Backyard, Patio, HikingBuy Now From Amazon
This is one of the best camping hammocks you will find available. It's easy to see why it has a mind-blowing 4.8 out of 5-star rating on Amazon's marketplace with over 4,850 reviews. This hammock is the perfect camping companion. Not only does it only weigh 1.8 to 2.2 pounds for the small and large sizes respectively, but it can hold up to 500 pounds. This hammock offers easy setup and operation with adjustable tree-friendly straps and carabineer loops included. Meaning, you won't have to worry about complicated setup or tying any knots. The material is naturally anti-tearing and it will dry extremely quickly. It comes with a small sack that you will be able to fold it into for easy storage.
Wise Owl Outfitters Hammock Camping Double and Single with Tree Straps
Wise Owl Outfitters Hammock for Camping Single & Double Hammocks Gear for The Outdoors Backpacking Survival or Travel - Portable Lightweight Parachute Nylon SO Black & GreyBuy Now From Amazon
This is another standout hammock available in the marketplace. This hammock also has a 4.8 out of 5-star rating on Amazon with over 12,455 reviews. The hammock is made out of strong 210T parachute nylon which means you are getting a strong hammock that is capable of providing a soft and comfortable laying experience. This hammock only weighs in at 16 ounces for one person and 26 ounces for 2 the double. Therefore, you are getting a hammock that is extremely lightweight. Likewise, the single packs down to the size of a grapefruit and the double packs down to the size of an eggplant. Thus, you won't have to worry about taking up too much space in your backpack either way. The setup process is extremely easy as both tree straps and carabiners are included. You won't need to tie any knots to set up the hammock for use.
Benefits of Sleeping On A Cot When Camping
1. Easy to Get In and Out
Unlike sleeping bags and air mattresses which are laid out at floor level, the cot is raised above the floor. This elevated set up is a preferred choice for a variety of reasons. There are a variety of physical and health conditions that can make it difficult to get out of bed from the floor and a cot provides a perfect solution.
For example, pregnant women, those with joint conditions and people suffering from dystonia can find it especially difficult to get out of bed. Senior campers will also find that a cot provides better support to the knees when climbing from bed, especially if this has to be done a couple times throughout the night.
2. Protection From Critters and Crawling Creatures
Sleeping at ground level can also expose the camper to the various environmental hazards natural to the camp ground floor. In addition to inhaling dust, pollen, spores and ashes that are more abundant at ground level, there are biting and stinging creatures that will be attracted to the warmth of sleeping campers.
There are midges, scorpions, snakes, ants, centipedes and a host of other creepy crawlies common to the natural environment of a campsite. A cot can help place some vital distance between the camper and the ground below, which is often teaming with life.
It is no stretch of the imagination to see that a cot can mean the difference between a fun excursion and serious injury — or even death.
3. Under-bed Storage
Any camper knows that storage space is greatly limited when exploring the wilderness under the protection of the average tent or even inside a secluded cabin. Your cot has a good amount of space between the floor and the bed and this can be used to store backpacks, gear and anything else you will want to have on hand in the wild. You may even find that a cot saves so much space that it precludes the need for a larger tent — which can save cash as well.
Furthermore, there will be plenty of space to move about during the night without tripping in the dark and disturbing the rest of other campers.
4. Keeps You Cool and Dry
There is hardly a better time to sleep under the stars then in the warmth of the summer. Unfortunately, sleeping bags and floor mats can directly conduct the heat of the ground to the sleeper. A cot can help avoid waking in a puddle of sweat and promotes better sleep and high-quality rest.
There is plenty of air circulation around the cot and this ensures that temperatures will be reduced and moisture generated by the sleeping body will be effectively evaporated. In addition to extra comfort, a cot can help extend the lifespan of sleeping gear by eliminating moisture collection within the tent.
In the event of torrential rain, a cot will stay elevated and keep the sleeper safe from water that can often find its way into the tent.
5. Folds Up Quick and Stays Comfy
Unlike the air mattress, the cot requires no inflation or the need to carry air pumps or floor mats. Furthermore, you will never have to worry that the support provided is uneven or half-deflated during the night. Unfolding a cot is done in a matter of seconds and you can get right down to sleeping after a tiring day of hiking, swimming and trekking.
6. The Durable Option
Finally, one of the greatest problems with sleeping bags, air mattresses and floor mats is their structural integrity. No matter how high-quality your selection may be, these sleeping accommodations will never last as long as a quality camping cot. Sleeping cots have proven their worth in military and scientific expeditions in the most extreme environments.
Some of the tougher models made of galvanized steel can even support weights of up to 600lbs and are still just as useful and practical as their aluminum counterparts.
As you can see, there are numerous alternatives that you can choose from if you want to avoid taking an air mattress with you on your next camping trip. Luckily, there are options that can provide nearly the same sleeping experience without the same bulk and weight. Likewise, there are other options you can choose from that can provide better sleeping experiences depending on the circumstances especially if you are prioritizing packing light. Ideally, you want to choose the one that is best suited to your camping preferences. You can't go wrong with any of the alternatives mentioned above.
Our Favorite Cot
SMLFIT Ultralight Folding Camping Cot Compact Outdoor Military Camp Beach Sleeping Bed for Mountaineering Hiking Travel Tent Lightweight Backpacking…

Sturdy & Durable
The cot fabric is built of 300D cationic cloth. That means it is tear-proof, firm, and breathable. The support rod consists of high-grade aluminum that has upgraded foldable nylon joint. Although it is lightweight, it is powerful and sturdy enough to withstand up to 330 lbs. The nylon fabric is also well-known for its water-repellent and mold/ mildew-resistant properties. Since the fabric might feel uncomfortable to lie on at times, ensure that you place a thin sleeping pad or a sheet on top for extra coziness.
The cot is also held firmly in position by 5 pairs of ribs. The legs form a distinct shape that is meant to prevent them from digging into or ruining your tent base. What's more, they are usually set in pairs and in the middle section to allow more stability. In general, this high-quality build and the integration of sturdy durable materials allow the SMLFIT camping cot to support bulky cost.
Easy to Set Up
Since all ribs and poles are foldable, it makes it easy to assemble within a few minutes. The disassembling process is also quite as easy, saving more energy and time. The item weighs a total 4.3 lbs and can fold down to 16" x 6" stuff sack, which can fit into your travel backpack. It is the best option for a camper, hiker, trekker, adventurer, and backpacker.
When you're done using this cot, just remove the legs, then fold down the sleeping deck and ensure to roll it into a much compact size that you can carry. It also comes with a storage pouch with a buckled opening to ensure everything is intact.
Versatile
As aforementioned, it comes with a pouch that makes it convenient for overnight hiking, road trip, hunting, trekking, and also perfect for indoor or office lunch break use.
Safe & Ergonomic
This camping cot measures approximately 74.5" x 27.5" - this is flat and flexible to maintain the entire body. Besides, the 5 pairs of supporting ribs placed below the cot are sturdy enough not to make a strange noise if you turn around while sleeping. With its off ground design, you can keep away from the wet and hard ground as well as insects.
Warranty
Since camping cots are a huge investment, it would be best to pick a camping cot with a decent warranty and return policy. This particular camping cot comes with a one-year limited warranty. That means it covers manufacturing problems and not wear and tear from usual use. You can contact the manufacturer if there are any defects during the warranty period.
Bottom Line
Generally, this SMLFIT camping cot is not your ordinary lightweight backpacking cot. It is a premium, high-end cot for people who would something that will serve them for a long time. Its quality is one you should be confident about.
What Kind Of Camper Are You?
Outdoor Survival
---
Car Camping
---
Backpacker