5 Best Bushcraft Knives For Camping
If you click and purchase with one of our links, we earn a commission. Thanks.
Rather than a gardening term, bushcraft is a way of survival in the wilderness.
There's a lot that goes into it, but one of the main components is having a good bushcraft knife. If you need to build a fire or build an improvised shelter, a proper knife is needed to get the job done.
So, how do you choose such a knife for your needs? For a start, check out these five best bushcraft knives and learn about some of the important features to look for.
The Top 5 Bushcraft Knives
KA-BAR Becker BK2 Fixed Blade Knife
KA-BAR Becker BK2 Campanion Fixed Blade KnifeBuy Now From Amazon
The original Ka-Bar is a US-marine combat knife, heavy-duty stuff, and the company, Ka-Bar Knives, Inc., is known for producing some of the best bushcraft knives, including the Becker BK2.
This fixed blade knife features a full tang that will come in handy regardless of how much time you plan on spending in the wild.
It's mid-range in weight at a full 1 lb., and it feels pretty great in the hand. It's a carbon steel blade infused with chrome and vanadium for extra strength. It's 10.5" long overall (5.5" for just the blade) and can be considered a bigger bushcraft knife.
Pros
Designed by Ethan Becker
Great for batoning
Locks in place for safety
Includes a glass nylon sheath
Cons May be too long for jobs needing more finesse
Morakniv Bushcraft Knife
Morakniv Bushcraft Carbon Fixed Blade Knife with Carbon Steel Blade, Black, 0.125/4.3-Inch (M-12490)Buy Now From Amazon
This Morakniv bushcraft knife has an impressive sharp blade and will withstand any kind of task.
On top of that, it's very affordable. The blade is made of carbon steel, and the 1/8" wide and 4.3" long blade has a rather straight point. The backside of the knife has a fire building tool built in.
The handle is ergonomic and covered in a rubber grip. It comes with a plastic sheath for keeping the knife secure.
Pros
Very sharp blade
Inexpensive
Ergonomic grip
Cons Poor quality sheath
Fallkniven F1 Knife
Fallkniven F1, Thermorun Handle, Plain, Zytel SheathBuy Now From Amazon
If you're interested in using the same knife that's standard issue with the Swedish armed forces, the Fallkniven F1 is the one to look for. It's one of the best bushcraft knives that anyone can get their hands on for its ability to tackle any survival task you throw at it.
It's pretty lightweight and compact (3.75" blade) and safe to use, which means a lot when you're new to bushcraft. It's made of VG10 steel and has a pointed blade that has a satin finish. The handle is black, comfortable, and has a lanyard hole at the end.
Pros
Lightweight and compact
Strong 3.75" blade
Zytel belt sheath
Cons Expensive for the size
Condor Tool & Knife - Bushlore Camp Knife
Condor Tool & Knife, Bushlore Camp Knife, 4-5/16in Blade, Hardwood Handle with SheathBuy Now From Amazon
If you're familiar with bushcraft and want to take your skill to the next level, the Bushlore knife by Condor Tool & Knife is an excellent way to do it.
You might not think much of it from the look, which is undoubtedly old-fashioned, but that would be a mistake.
It's a big knife with a somewhat aggressive blade that's created for some serious cutting in mind. The handle is made of walnut wood, and the blade is 1074 carbon steel.
Pros
Very durable
Leather sheath included
Great value
Full tang blade
Cons A bit heavy
Benchmade - Bushcrafter 162
Benchmade - Bushcrafter 162 Fixed Outdoor Survival Knife Made in USA, Green and Red with Leather Sheath and D-RingBuy Now From Amazon
If you prefer the use of an exotic steel for your bushcraft knife, Benchmade has created the Bushcrafter 162. It has a 4.5-inch full-tang blade and one of the best bushcraft knives to take camping or while hiking trails.
Due to the material, it features great edge retention, and it's very resistant to corrosion. The handle is made from waterproof fiberglass and will withstand any kind of weather condition. On top of that, the overall design of the knife, including the leather sheath, is exceptional.
Pros
Stainless steel
Corrosion-resistant
Great design
Cons Some might dislike the fiberglass handle
What is a Bushcraft Knife and Why Do You Need One?
This fire was assembled and started with a Morakniv bushcraft knife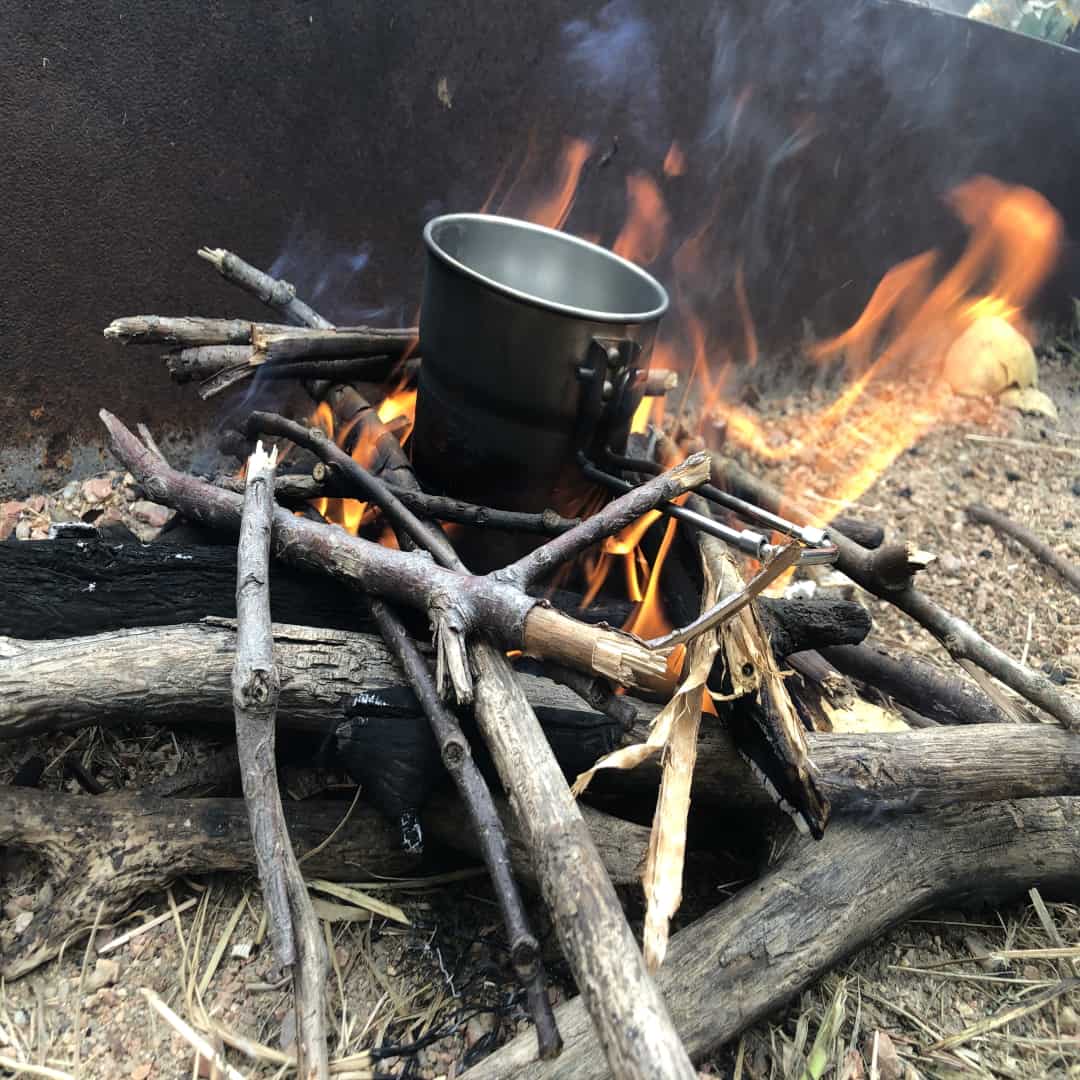 Practicing survival skills is not only fun but can afford the best peace of mind in the world. You won't have to worry if the world comes to an end — you might even welcome it! The term bushcraft originates from Australia outback in the day when it was known as bush country.
And since the bushcraft knife is the ultimate survival knife, that's the kind you want to bring with you into the wild. If you're planning to look for your own food and shelter, you'll need a bushcraft knife close to you at all times.
The Different Types of Bush Knives
The bushcraft knife is, by definition, versatile. But the way you can also categorize them by what they're most suitable for. Here's the list of tasks that will help you differentiate types of bushcraft knives.
Woodworking
This is something you'd expect most bushcraft knives to be capable of, and they are. However, the ones that are best for woodworking will have an ergonomic handle with a lot of curves. Also, a strong edge is very important.
Survival Projects
Do you need an overall high-performance bushcraft knife that will help you practice survival skills? The way you'll recognize that type of bushcraft knife is by the full-tang blade, which runs through the handle.
This construction is important if you don't want your knife to break. If you just need a good knife for camping, you might choose something less serious.
Food Preparation
These are usually smaller knives that are much more practical for cutting fruits and vegetables. Also, they usually don't have any awkward corners and edges where food could get stuck.
Building a Fire
Of course, you'll need to make a fire if you go bushcraft. A knife that's designed for such an activity has a strong spine and very solid construction.
3 Benefits of Using a Bushcraft Knife
You probably already have a good idea about how to use a bushcraft knife and all the reasons for owning one. But let's highlight the most significant advantages.
1. Durability
A bushcraft knife is not just any survival tool. Most of them are designed to last for a long time. They're also the kind of knife that you don't have to go easy on. Compared to an average survival knife, a competent bushcraft knife isn't going to fail you when you need it the most.
2. Signaling and Rescue
Since you can use it to build a fire, a bushcraft knife is one of the most important tools to have in the wild if you're in trouble. You can create a cloud of smoke or even use a blade to reflect sunlight if necessary.
3. Constructing Shelter
There are so many ingenious ways that you can use a bushcraft knife to create a shelter. If you need to sharpen tent stumps and even cut off branches and collect leaves, this knife will deliver.
3 Things to Look for in a Good Bushcraft Knife
Here are the three most important features to pay attention to when purchasing a new bushcraft knife.
1. Type of Steel
There are many established compositions of knife steel and they all have a serial number. Carbon steel in general is more common, and the standard property is a very durable and sharp blade. On the other hand, depending on the specific type of carbon steel, it can be prone to corrosion.
2. The Blade
The length and thickness of the blade are worth considering when buying a bushcraft knife. The style of tang will also have an impact. Of course, you'll want a full tang bushcraft knife
You may also need more than one knife to really survive in the wild for a good period, one that's pretty short and another on the massive side.
3. The Handle
You can buy any knife online, but to make sure that it fits in your hand the way you need it to, it's best to try it. The best bushcraft knives will have ergonomic handles that are easy to grip like wood. Oval-shaped handles are very popular.
Conclusion
A quality bushcraft knife is absolutely essential when you're spending an extended period in the wild. This article has covered some of the best bushcraft knives available on the market, and any of them would be an excellent companion for a serious survivalist.
However, the KA-BAR Becker BK2 Fixed Blade Knife is a superior choice all in all. It's a professional knife that features a beautiful design, but it packs more than enough performance. The full-tang blade is 5.5" long and incredibly durable.
But before you go, you should check out our comparison of cutting tools.
What Kind Of Camper Are You?
Outdoor Survival
---
Car Camping
---
Backpacker