101 Ideas For Canned Tuna That Every Camper Must Try
If you click and purchase with one of our links, we earn a commission. Thanks.
If you're looking for the best recipe ideas for canned tuna, you're in the right place. We have assembled 101 canned tuna recipes. We have organized them by low-carb and with pasta or potatoes. Plus 3 bonus recipes using fresh tuna.
Read on:
Low-Carb and/or Keto
BBQ Canned Tuna
I have heard that this recipe came from the Israeli army. Bored soldiers are famous for coming up with creative ways to improve their meals. It's also a cool trick to show for your friends. See recipe.
90-Second Bread - Keto Tuna Melt
When you make a melt, you might wish to have it as a sandwich. This keto-compliant tuna melt uses 90-second bread. See recipe.
Spring Onion Tuna Frittata
It can be a challenge to enjoy the flavors of Italy on a low-carb or keto diet. But this frittata can meet the challenge. See recipe.
Onion And Herb Tuna Cakes
I don't like cake as a dessert because many cakes are dry. Tuna cakes can be dry too. Learn how to avoid having dry tuna cakes with this recipe. See recipe.
Tuna Deviled Eggs
Deviled eggs are a low-carb staple. Use tuna to add variety to your deviled eggs. See recipe.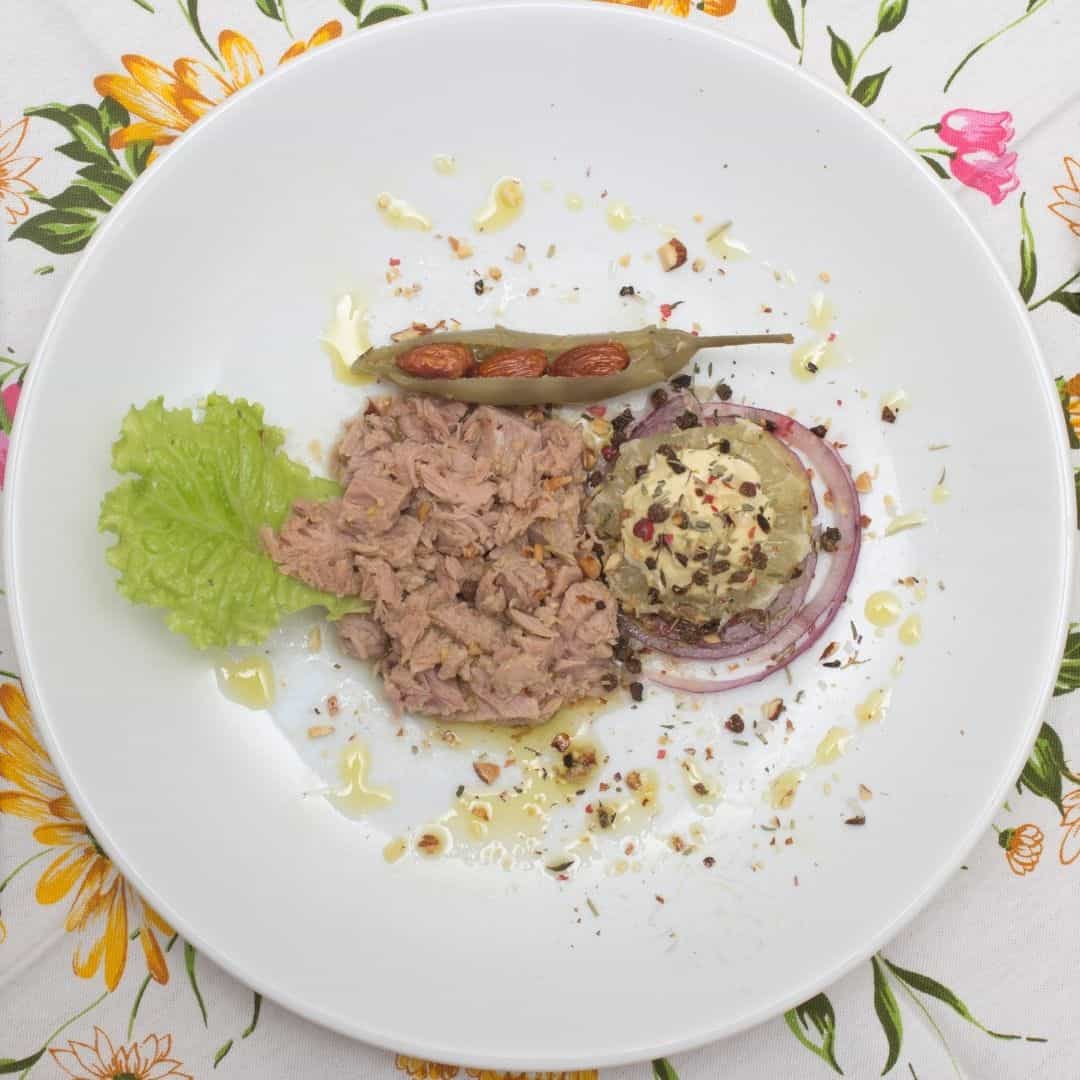 Fish Cakes With Aioli Sauce
Tuna cakes are a common way to extend tuna fish. This fish cake uses an aioli sauce to add an additional flavor kick to the dish. See recipe.
Cilantro Jalapeno Fish Cakes
Fish cakes are a staple dish. While you can make fish cakes with bread crumbs, you can make them low-carb. Then you can mix in additional flavors such as jalapeno and cilantro. See recipe.
Smoky Tuna Pickle Boats
I love stuffed jalapenos. These pickle bites remind me of stuffed jalapenos, but you don't have to worry about the spiciness. Use smoked tuna to impart more flavor. See recipe.
Lemon Dill Tuna Patties
You can make fish cakes every day on a camping trip, and nobody will complain by changing the mix-ins. This dish uses lemon and dill. See recipe.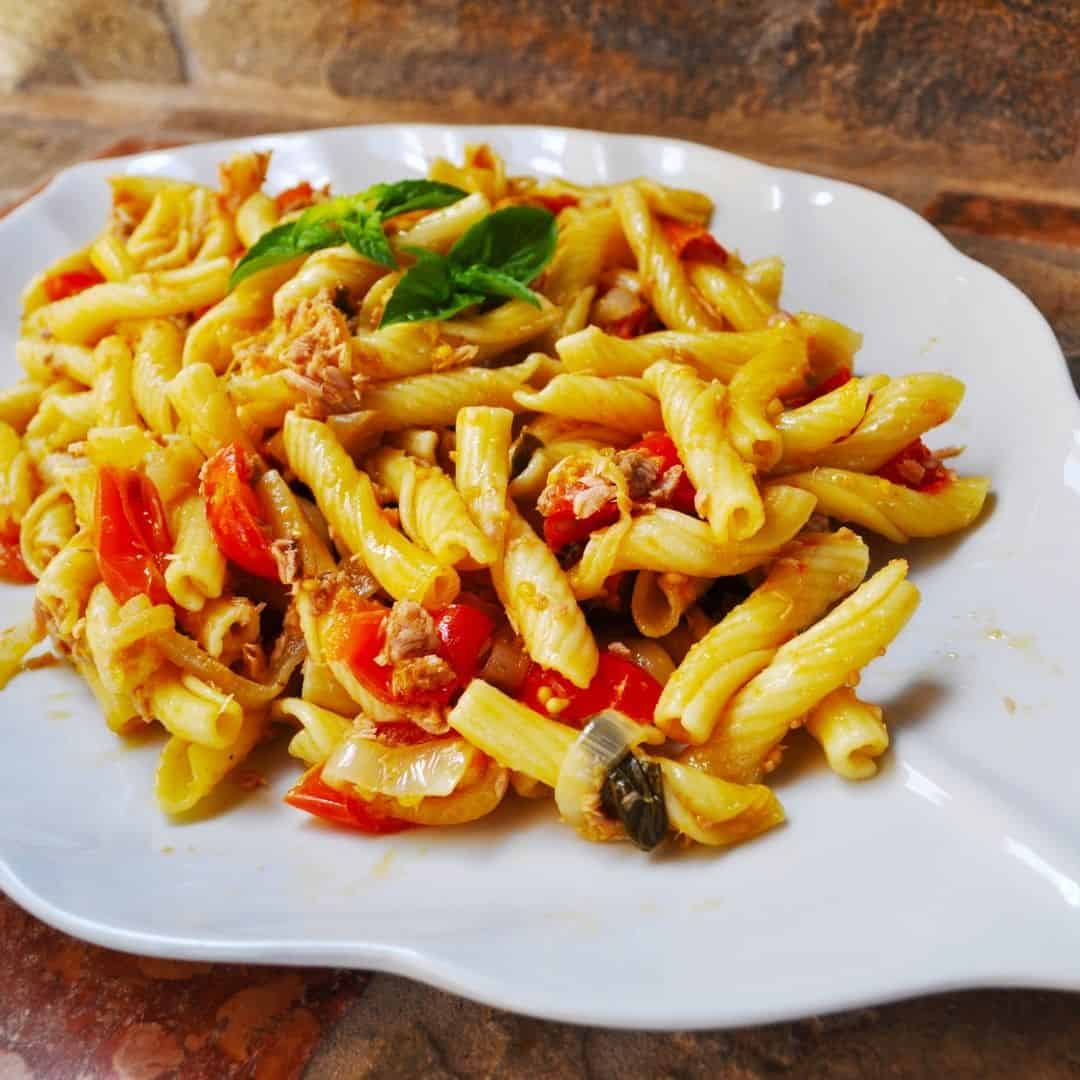 Buddha Bowl
Buddha bowls are also known as power bowls. The bowls contain protein plus other fruits and vegetables into a tasty dish. As you can guess this bowl had tuna for the protein. See recipe.
Tuna Cobb Salad
The joke around the house is that the only way I eat a salad is if my steak at a salad before it ended up on my plate. However, I make an exception for the cobb salad. A cobb salad is a legitimate meal. And when it's 100 degrees in August, a cobb salad is a great way to hydrate beyond drinking more water. See recipe.
Tuna Mornay
I had never heard of tuna mornay until researching this article. Mornay is a type of casserole. You might know it as tuna crispy rice. This avoids carbs to deliver the crunchy topping. See recipe.
Gourmet Tuna Salad
Tuna salad is like tuna fish cakes, a staple. But everyone has the ability to put their own twist on the classic dish. In this version, see how they use almonds and capers to do so. See recipe.
Onion Flake Tuna Salad
Tuna salad is the most common dish made from canned tuna. However, it can become very plain. If you want a simple dish but with a little flair try out this version. See recipe.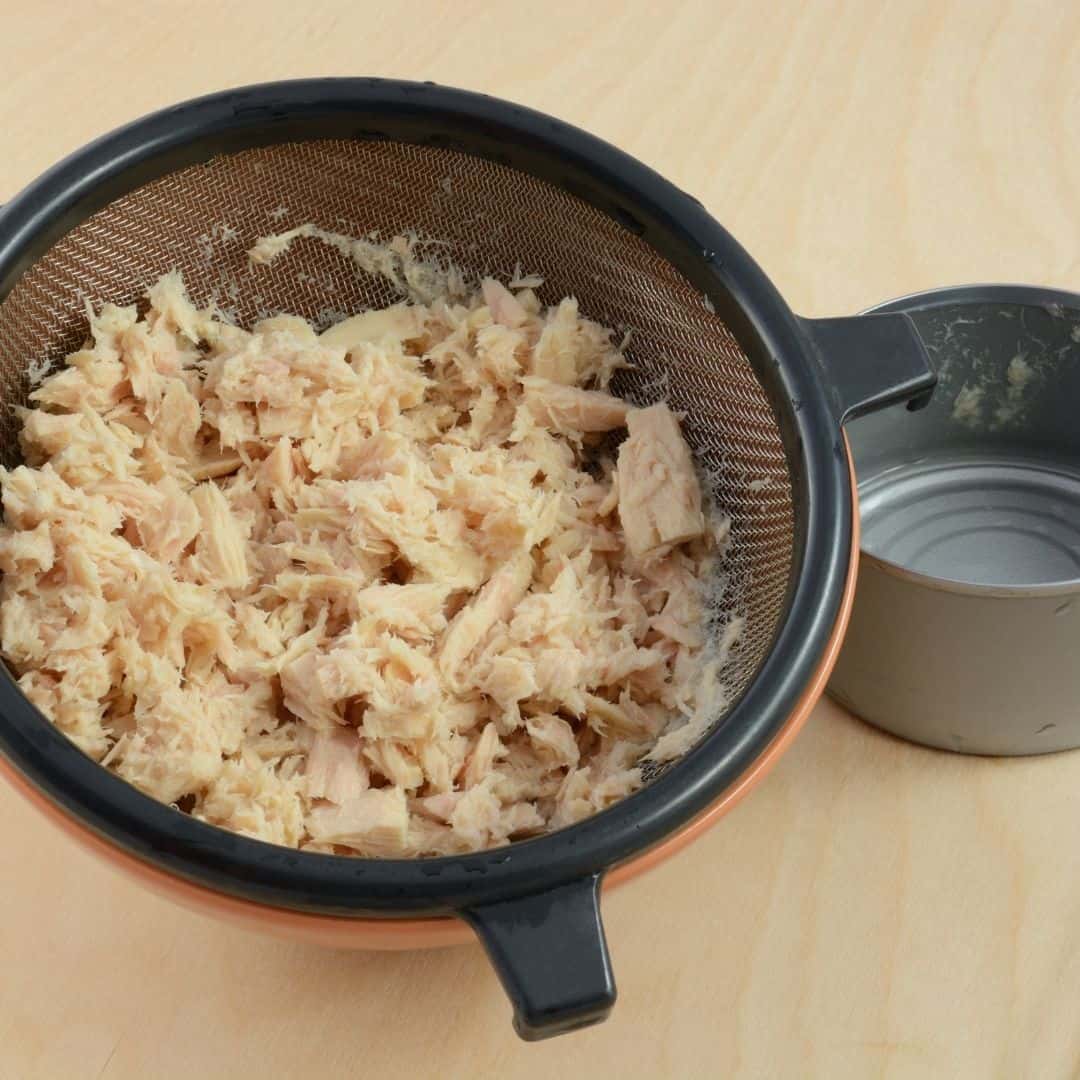 Green Bean Tuna Pie
Don't worry, I'm not trying to persuade you to eat tuna for dessert - yet :). This pie is a savory dish. A twist on the tuna casserole. See recipe.
Tuna Salad With Sour Cream
When we think about tuna sandwiches, we really mean tuna salad sandwiches. I grew up with a simple combination of tuna, mayo and relish. This version mixes in sour cream. See recipe.
Cashew Tuna Salad With Cucumbers
Every month we do a group campout. A highlight of this event is the potluck. I am considering making this dish to provide a low-carb finger food option. See recipe.
Tuna Fish Cakes With Cheddar
Fish cakes are a staple of tuna. I have heard them referred to as a poor-man crab cake. This cake uses almond flour for the cake. And adds cheddar for an extra boost of flavor. See recipe.
Tuna Shakshuka
Shakshuka is a Middle Eastern dish. If you are tired of fish cakes and tuna salad, then give this recipe a try. It combines tuna with tomatoes and spices. See recipe.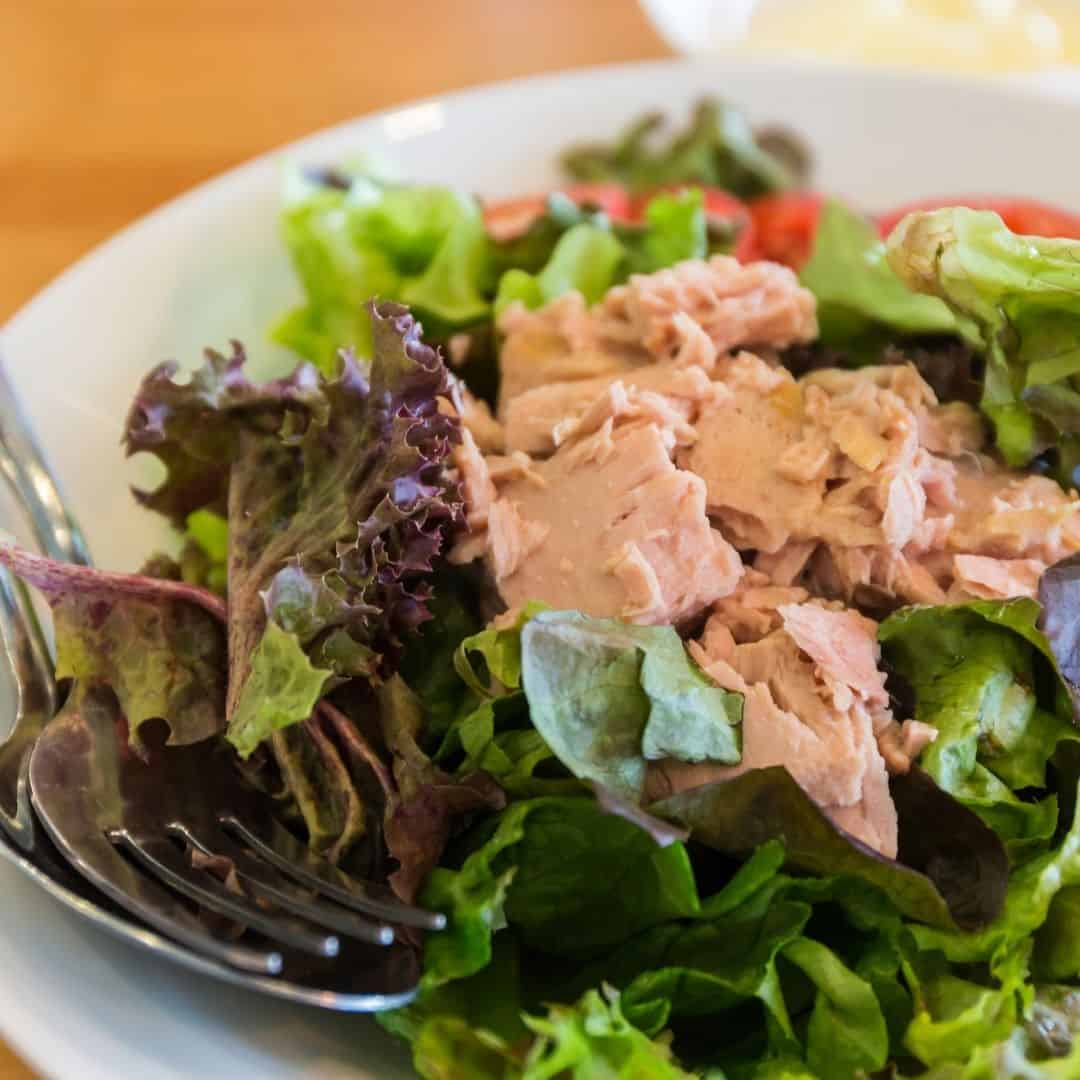 Red Onion Paprika Tuna Egg Salad
Tuna salad is the foundation. However, this recipe is not just tuna and mayo. See how they incorporate red onion and paprika to spice up the dish. See recipe.
Lemon Greek Yogurt Spinach Tuna Salad
Tuna is a fantastic protein for salads. Canned tuna is affordable, healthy, and you don't need to worry about refigeration. This tuna salad mixes in spinach, Greek yogurt, and lemon. See recipe.
Tuna Buffalo Bites
I am always on the lookout for more ways to serve tuna. This version combines two favorites - tuna and Buffalo wings. And you can serve it on celery. See recipe.
Truffle Tuna In Olive Oil Dip
Canned tuna is the most versatile canned meat. Canned tuna in olive oil is one of my favorite survival foods. The olive oil can be drained and used to flavor other dishes. Or in an emergency, to make a survival candle. This dish isn't a primitive camping meal. You will impress your fancy friends with this dish. See recipe.
Zesty Chili Lime Tuna Salad
I have gained a new appreciation for tuna salad by compiling this list. For 40 years, I thought tuna salad was tuna, mayo, pickle relish, and if I was getting fancy- a hard-boiled egg. Check this one out that uses lime and chiles. See recipe.
Avacado Tuna Melt Bites
The tuna melt is another tuna fish classic. What makes the version in the recipe unique is that it blends in the official hipster fruit - the avocado. See recipe.
Spicy Tuna Melt Cups
Canned tuna and muffin tins are not a typical combination. Check out this recipe to learn how to use tuna, cheese and muffin tins to create a simple snack. See recipe.
Tuna Pate
Canned tuna is a popular camping food staple. Canned (or packet) tuna is inexpensive, easy to pack, and doesn't require refrigeration. This recipe mixes in cream cheese to create a pate spread. See recipe.
Crustless Tuna Quiche
Quiche is a fancy word for a simple dish. You can think of quiche as "egg pie". But I guess you can't sell "egg pie" for as much money as "quiche" on your brunch menu. See recipe.
Nicoie Salad
I heard about the Nicoise salad when I was taking French in college. I barely passed French. But I did learn to enjoy this salad. See recipe.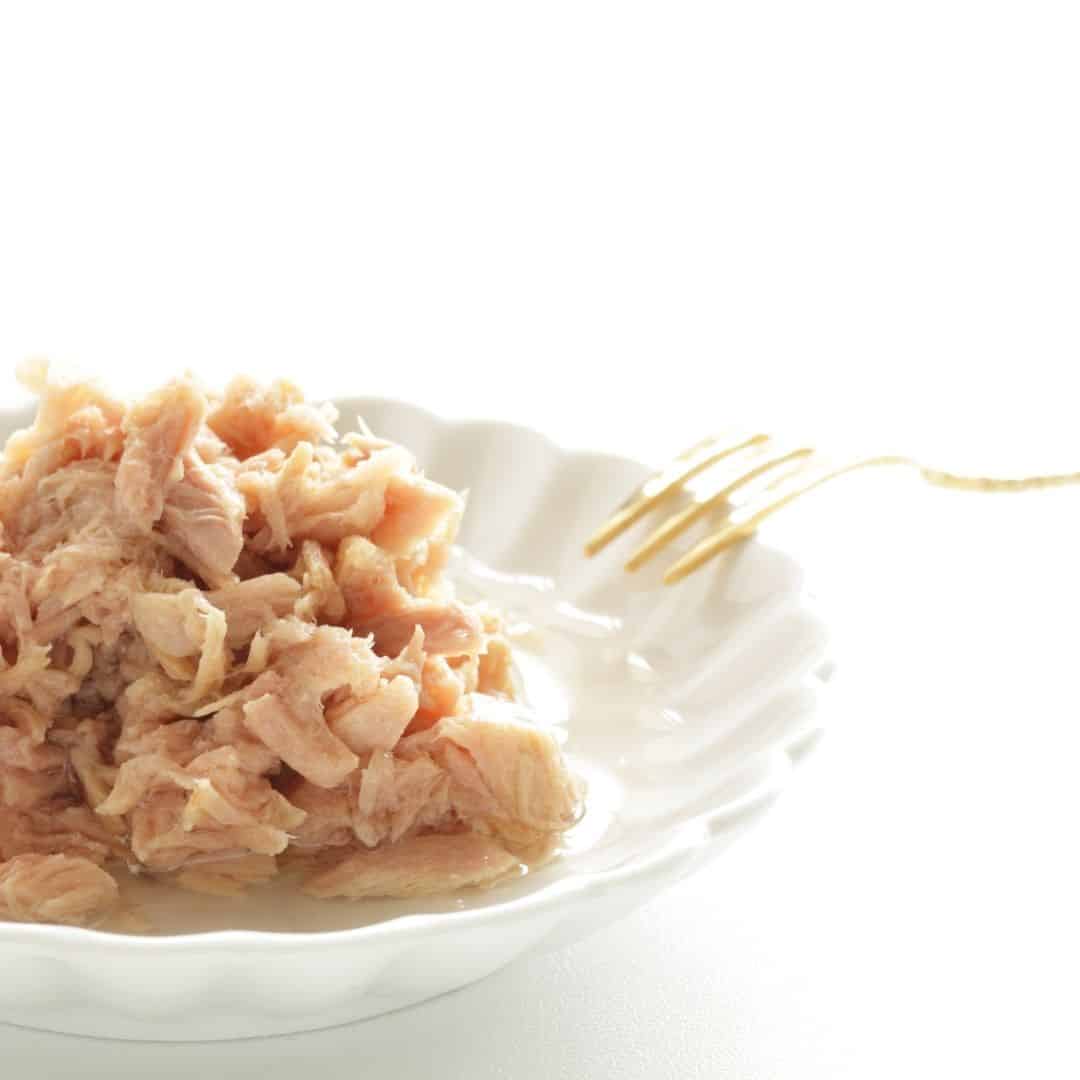 Sweet Onion Tuna Bites
While everything tastes better when cooked over a campfire if you can make lunch ahead of time, do so. This way, you can maximize your time having fun hiking, fishing, or hanging out. These bites are easy to make ahead of time. See recipe.
Dairy Free Southern Style Tuna Salad
Tuna salad is a staple in our house. And my wife has always added an egg and pickles. Which I never knew was how southerners made tuna salad until I read this article. It's just how I thought you made it. But then again, I grew up in Texas so have only known this method. See recipe.
Buffalo-Style Tuna Avacado
Want to rock the house like a hipster sports bar? Then make these boats from avocados which are full of buffalo flavored goodness. Oh, there's also tuna. See recipe.
Tuna Lettuce Egg Wraps
The tuna fish sandwich was the foundation of my childhood. I remember when wraps first became popular. And when low-carb appeared, suddenly I found a use for lettuce.
See recipe.
Spicy Tuna Melt With Celery Bits
The tuna melt is a staple tuna fish dish. In this version, you learn how to spice it up, add texture via celery, and of course, make it keto. See recipe.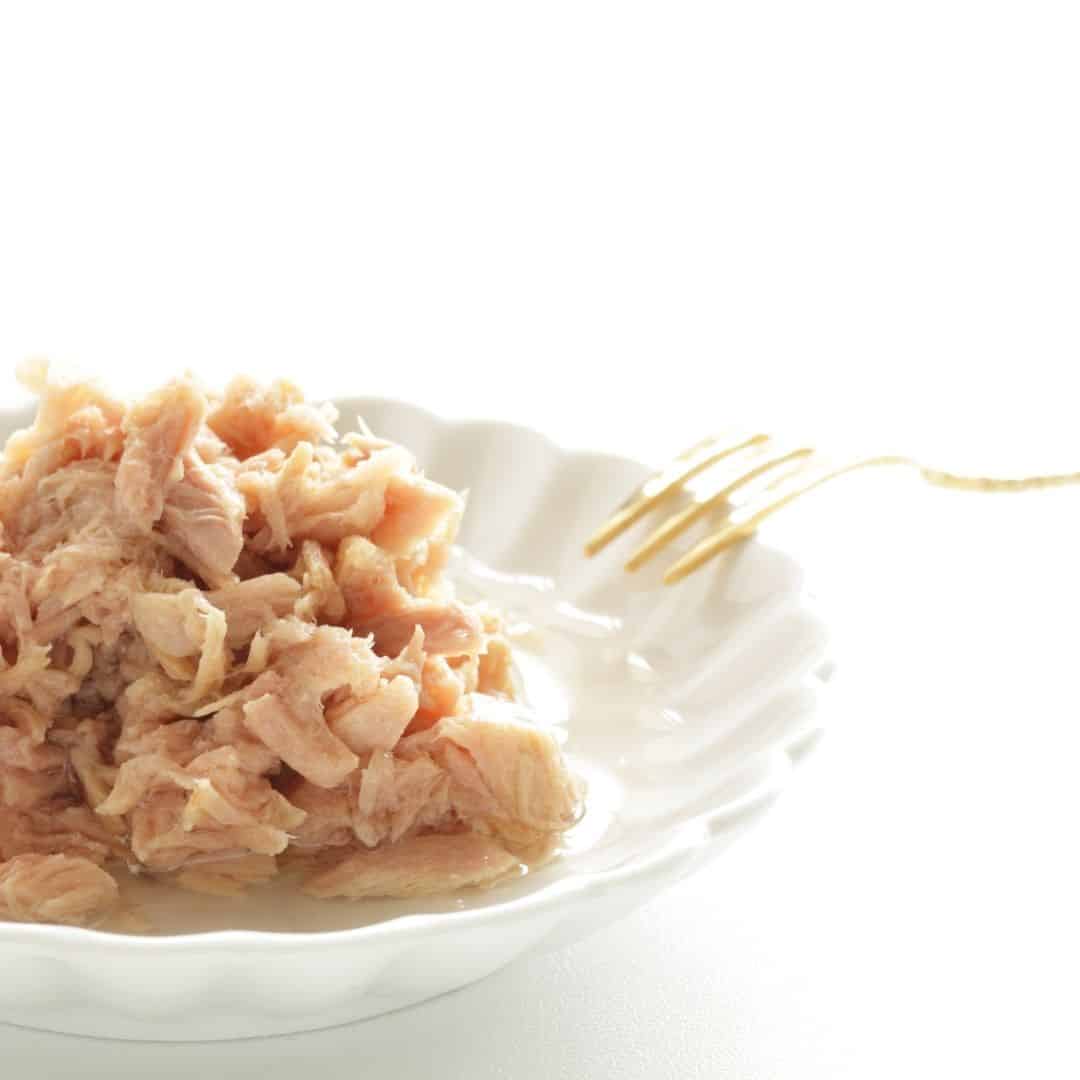 Thai Tuna Stuffed Avacado
Tex-Mex is the base of my food pyramid. But Thai is the next level. This is a simple recipe and doesn't require you to hunt down fish sauce for flavor. Read to see how they pull off this trick. See recipe.
Tuna Melt Chaffle
A chaffle is a waffle made from cheese and egg. This recipe uses a chaffle as the bread in a sandwich. A great twist on the traditional tuna melt. See recipe.
Mediterranean Tuna Lettuce Wraps
Tuna is a pantry staple because of its nutrition, flavor, and affordability. The tuna sandwich is also a staple. A lettuce wrap is a staple of low carb. This version changes it up with Mediterranean flavors. See recipe.
Tuna Pickle Boats
If you have ever wanted a stuffed pepper but without the heat, then you should give these pickle boats a try. I think they'll be a hit. See recipe.
Tuna Quesadilla
Quesadilla is like a Mexican grilled cheese sandwich. And if you have ever made quesadillas as a midnight snack, you know you can add anything to them. See recipe.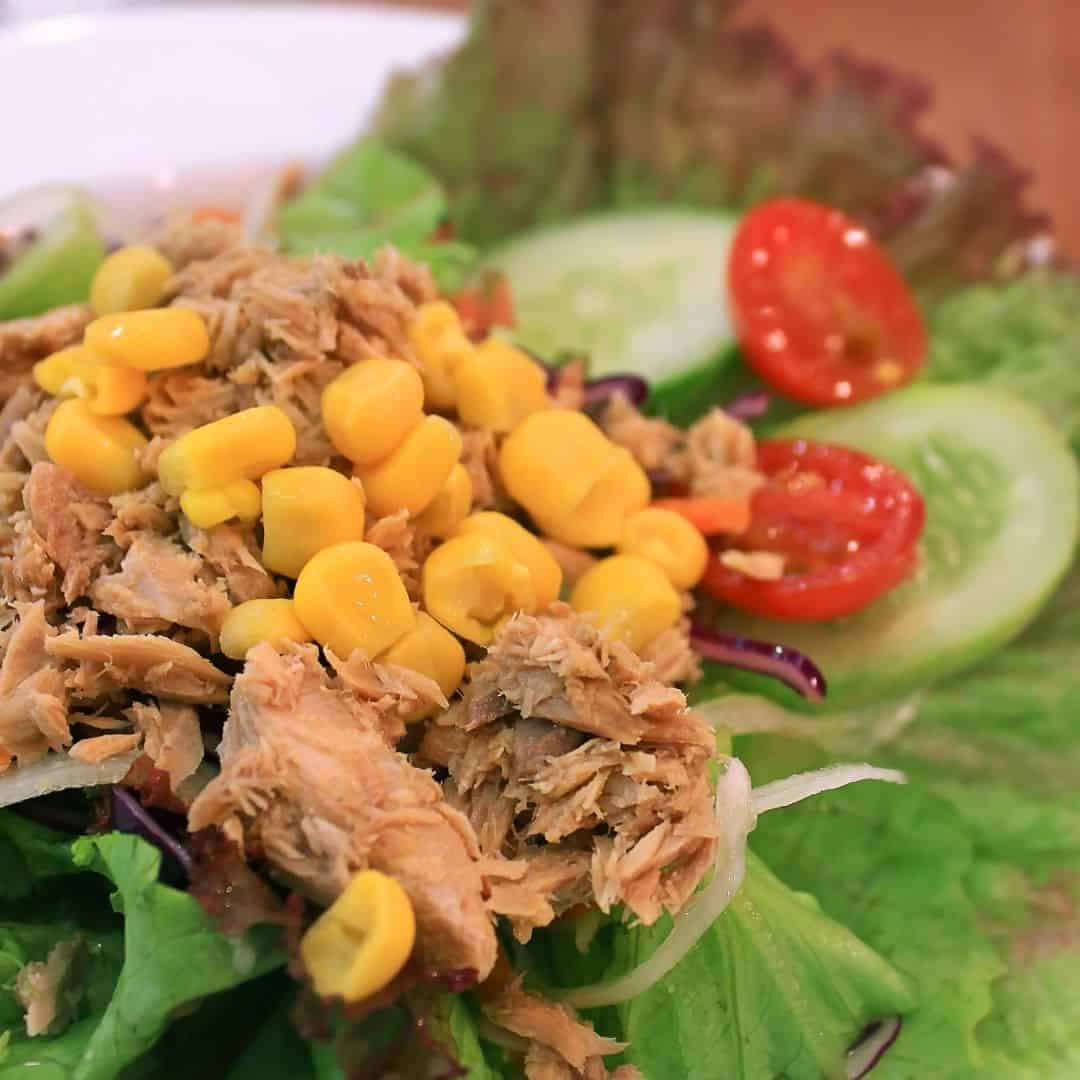 Tuna Melt Stuffed Onions
1g of carbs. That is a highlight of this simple dish that mixes onion rings, tuna, and cheese into a guilty-tasting treat. If you are looking for a low-carb junk food that is healthy, this could be the treat. See recipe
Tuna Melt Stuffed Tomatoes
When I was growing up in the 1980s, it feels like we had stuffed peppers at least once a month. But then that fad went away. This uses tomatoes but it reminded me of stuffed peppers. See recipe.
Jalapeno Popper Tuna Fish Salad
Jalapeno poppers are one of my favorite finger foods. I have never thought about stuffing them with tuna fish salad, but you learn something every day. See recipe.
Low Carb Tuna Patties
Patties are another great way to extend your meat, such as tuna. You can also use patties to mix in additional flavors and to add texture. Keep the patties low-carb with this recipe. See recipe.
Cabbage Tuna Casserole
Here is another low-carb option for tuna casserole. With this version, you will use cabbage to provide the noodles. It is always interesting to see inventive alternative noodles in low carb dishes. See recipe.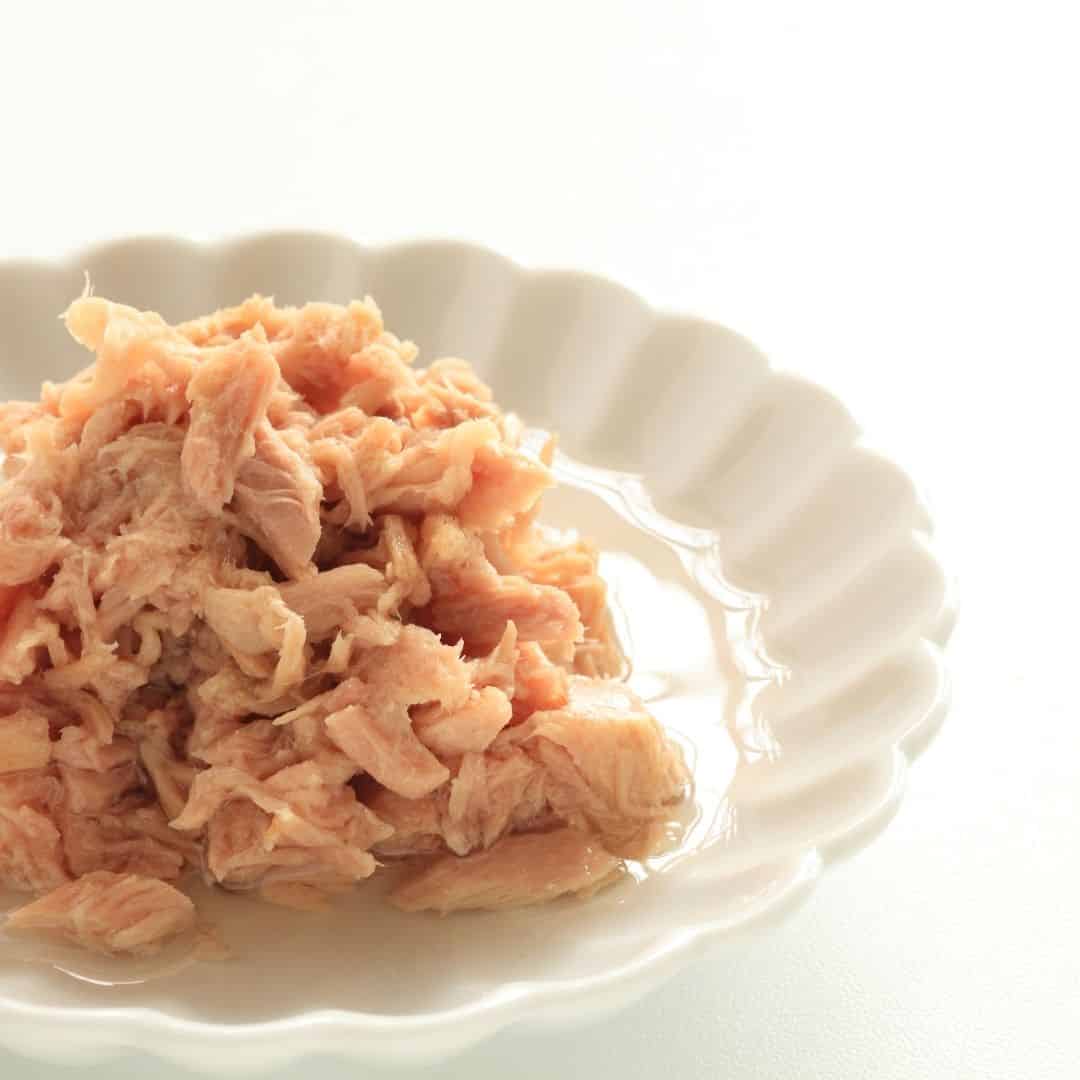 Spring Roll Tuna Salad
As I mentioned earlier, I enjoy Thai cuisine. One of my favorite appetizers are spring rolls. I believe I'll have to give these a try in the summer. See recipe.
Tuna Zucchini Boats
With tuna, you need to be creative in how you serve tuna salad. In particular, on low-carb where you don't have bread and crackers for a finger food option. This recipe uses zucchini boats. Here's an excellent tip for zucchini -if you grill it until it's blackened, it will taste like marshmallows. See recipe.
Italian Tuna Salad
Tuna salad is a versatile dish. You can use as few as two ingredients (tuna and mayo), or you can add in multiple components to kick it up a notch, as Emeril would say. See recipe.
Easy Cheesy Tuna Balls
Instead of making plain patties with tuna, this recipe instead transforms them into tiny balls of goodness. By changing shapes, you can make the more interesting for kids or add a gourmet flair to a pot-luck. See recipe.
Red Bell Pepper Stuffed Avacado
Thanks to their pit, avocados provide a pre-made bowl to stuff full of goodness. In this recipe, you will stuff it with tuna salad, red bell peppers, and jalapenos. See recipe.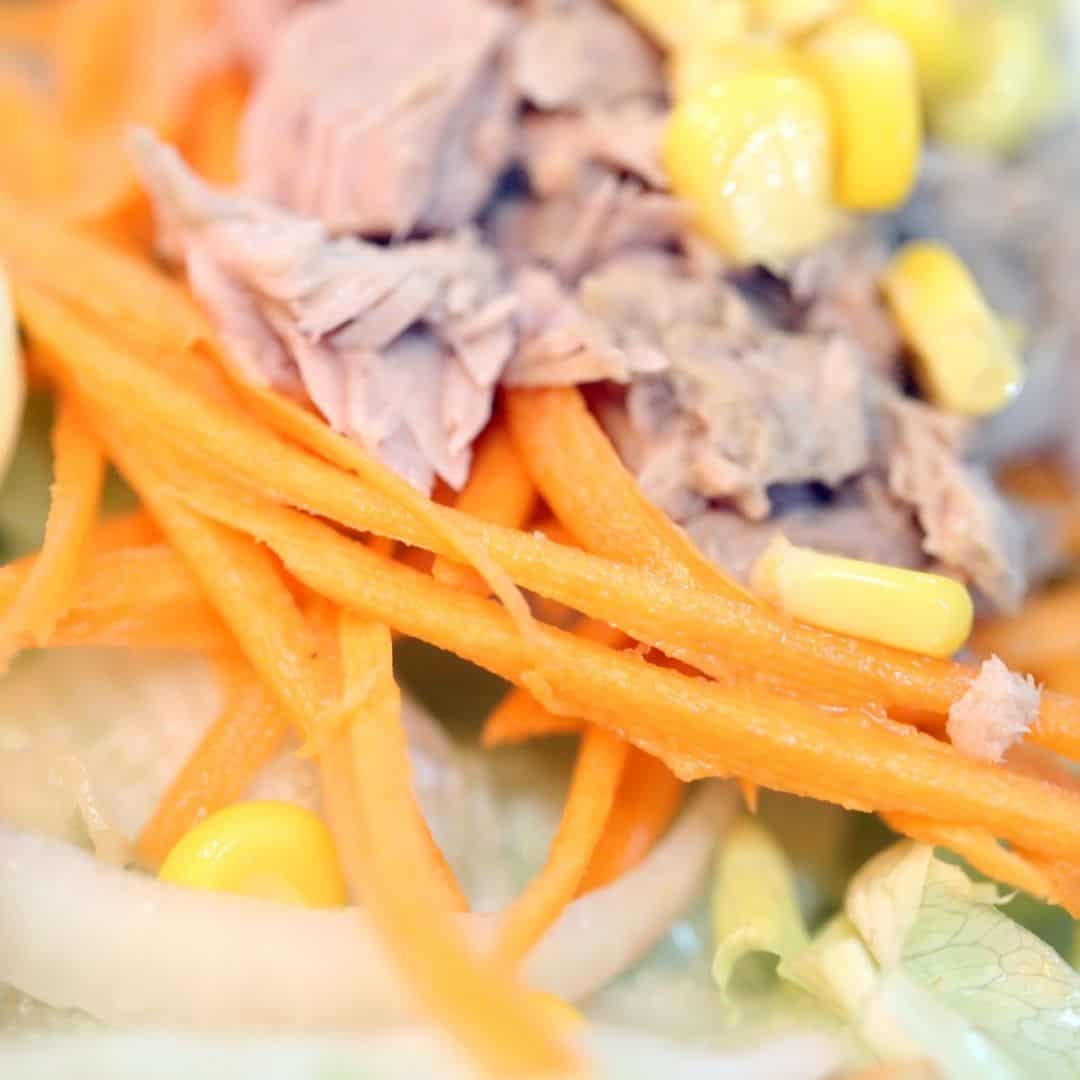 Spicy Tuna Pumpkin Patties
The tuna pattie is one of the staples of tuna fish recipes. The pattie also allows you to combine multiple flavors. With this recipe, you add in spice and pumpkin for a flavor twist. See recipe.
Cauliflower Sushi
Cauliflower farmers know that low-carb diets were the best thing to ever happen to cauliflower. Cauliflower is used like a potato and rice substitute. In this recipe, cauliflower is used as sticky rice to make canned tuna sushi rolls. See recipe.
Mexican Tuna Salad With Adobo Sauce Stuffed Avacado
This recipe is intriguing. Tuna salad and stuffed avocados are a popular combination. Heck, even mixing in Tex-Mex seasonings is common. But this is the first recipe I came across where they add in adobo sauce. Adobo sauce is the red sauce that accompanies canned chipotles. The sauce if flavorful but be careful because it can be spicy. See recipe.
Zucchini Tuna Casserole
Casseroles are a staple of families and potlucks. This is because they allow you to make a lot of food with a few ingredients. Primarily by using pasta as an extender. However, with low carb, you can't use pasta noodles. This recipe uses zucchini as a pasta replacement. See recipe.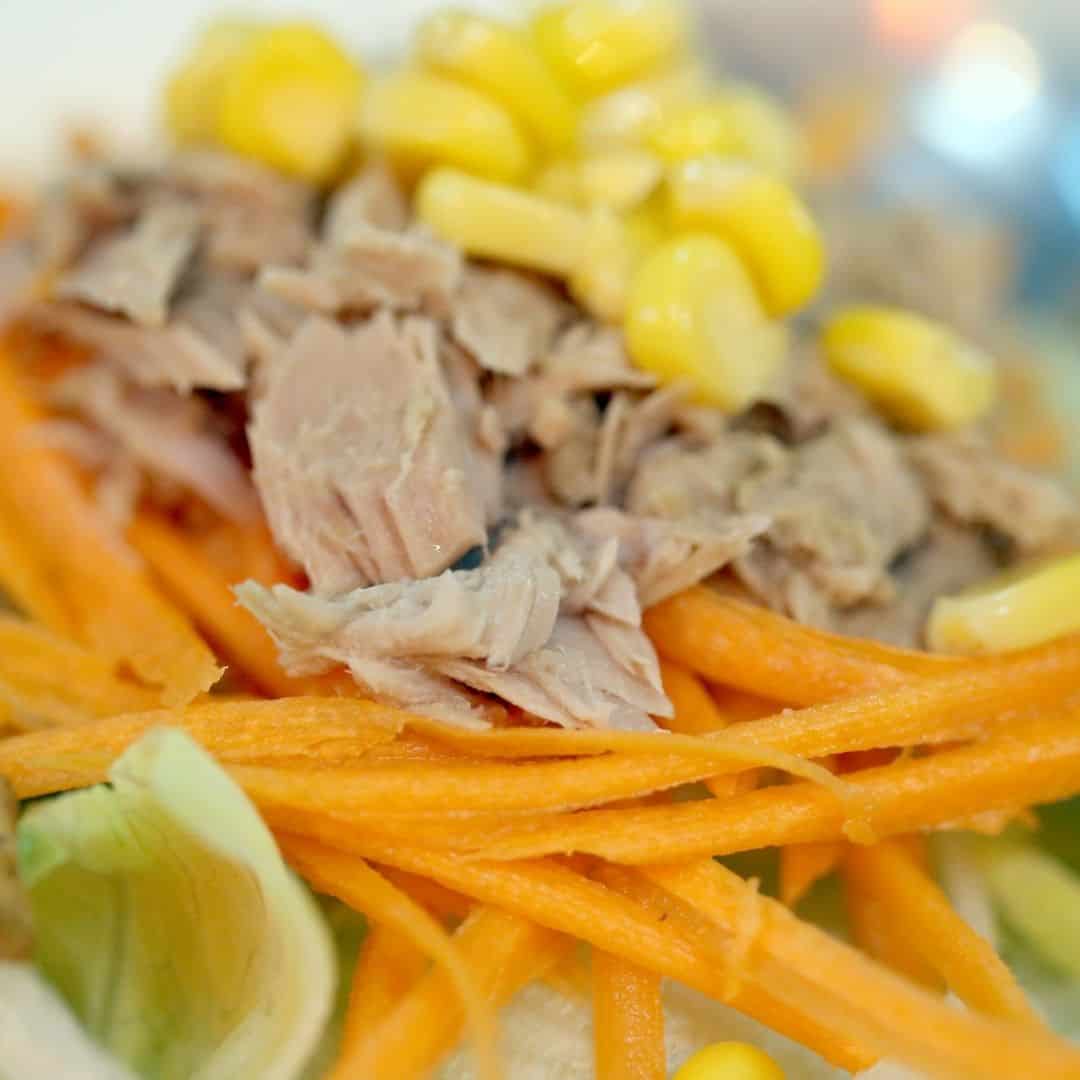 Tuna Shirataki Noodles
From what I know, Shirataki noodles are popular in Japan. And they became well known in the US low-carb community. This is because they are noodles but are made from vegetables so they have zero carbs. If you are looking for another way to flavor your shirataki noodles, check this recipe out. See recipe.
Tuna and White Bean Salad with Red Wine Vinaigrette
There are many tuna salads. But this is much more of a traditional bean salad with tuna. I think it would be refreshing on a summer day. See recipe.
Traditional
Thai Curry Tuna With Rice
Many Americans haven't yet tried curry. This is a shame because most Americans eat chili. And chili is a type of curry. Anyway, this curry mixes rice and canned tuna. See recipe.
Tuna Pasta Salad
Tuna and pasta are a natural fit. This is a simple and traditional recipe. But simple recipes are great for camping where you don't have access to your full pantry. See recipe.
Tuna Melt On Bagels
Tuna melts are another classic dish. Back when diners were popular, every single one would have a tuna melt on their menu. This recipe uses a bagel instead of sandwich bread. See recipe.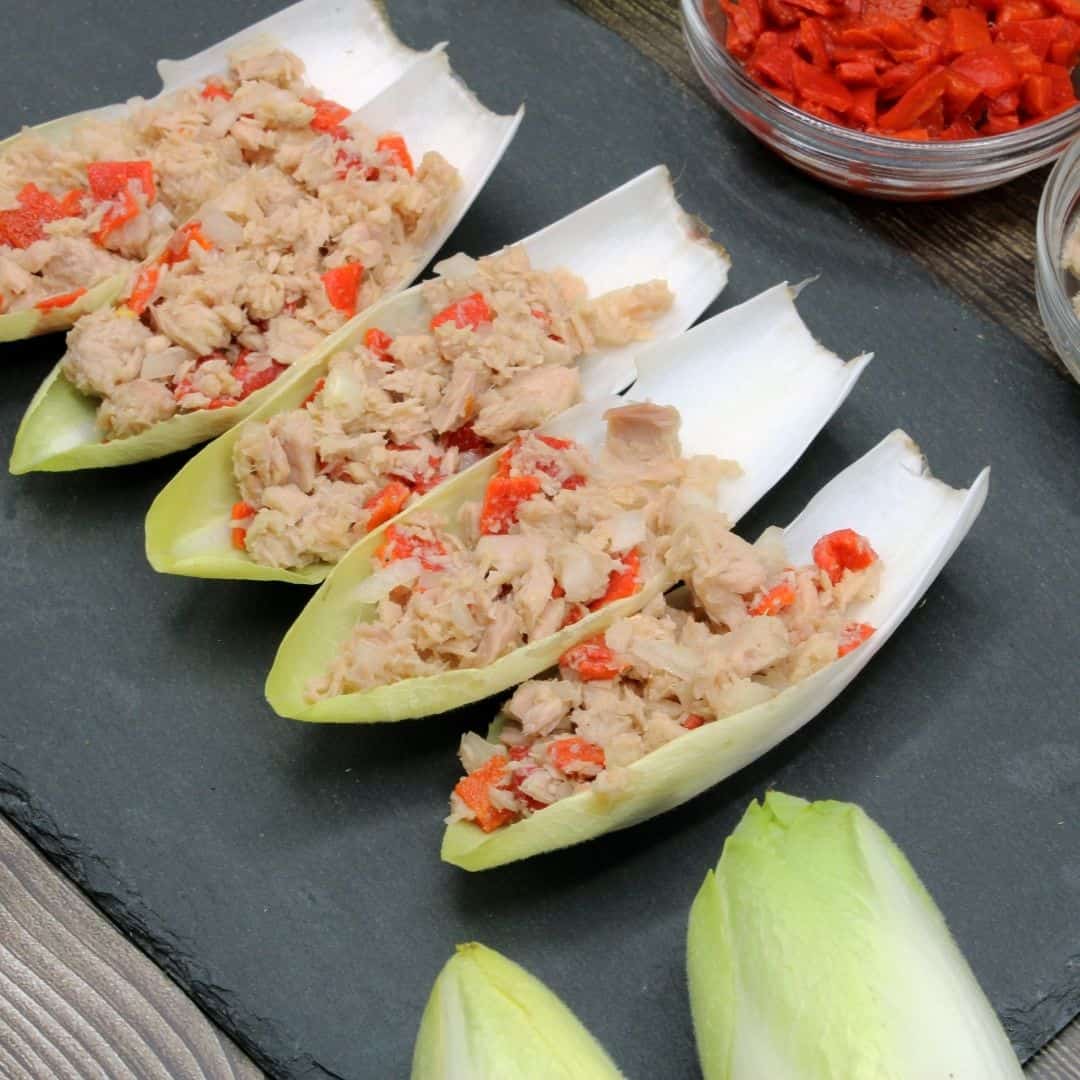 Spicy Tuna Sushi Stack
While sushi is traditionally made with raw fish, you can make it with canned tuna. By using canned tuna it will help your picky eaters who are turned off by raw fish. See recipe
30 Minute Tuna Cakes
Whether you are trying to figure out dinner for camping or home, over a campfire or your stove, tuna cakes are always a hit. These cakes add in Southwestern flavor and can be made in 30 minutes. See recipe.
Tuna and Chickpea Pita Pocket
Pita pockets are a nice twist on the sandwich. Chickpeas, tomatoes, and lemon are bright Mediterranean flavors to mix in with tuna. This isn't a boring salad! See recipe.
Tuna Egg Shakshuka
Shakshuka is a North African dish. Introduce this exotic cuisine to your life with this excellent dish. The dish will have spice to it but I expect it would be flavorful. See recipe.
Sourdough Tuna Melts
You're looking at this description because you know what a tuna melt is but are tired of the same old style. Sourdough is common, and according the recipe these melts only take 4 minutes. See recipe.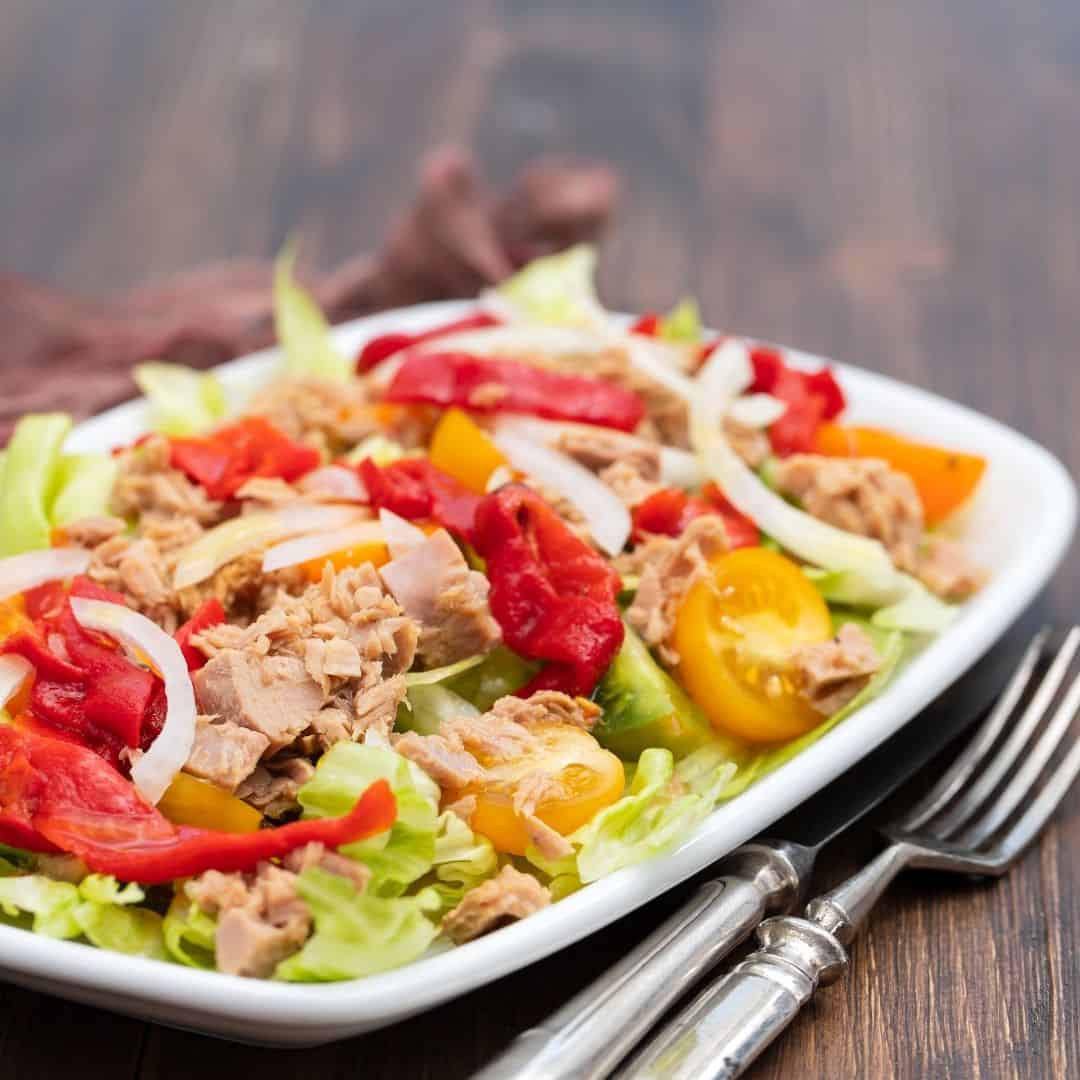 Apple Tuna Bits
This is an interesting recipe. Apples in tuna salad is not a new idea. And if you are tired of bread for your tuna salad, then you should check out this version which uses apple slices. See recipe.
Fried Tuna Poboy
Poboy sandwiches are a mainstay of Louisiana cuisine. Plus, as any Texan will tell you, frying anything makes it taste better. In this recipe, you will fry up canned tuna. See recipe.
Macaroni Tuna Salad
You will think I'm weird. I won't eat macaroni pasta. I know macaroni has no flavor. But I hate macaroni and cheese so much that I won't touch macaroni pasta. However, if you like macaroni, you should check out this recipe. See recipe.
Sriracha Tuna Wrap
I love Sriracha. I put it on almost everything I eat. You can read this recipe to see how to mix in the red sauce with tuna salad. See recipe.
Tuna Puttanesca
Puttanesca is a pasta sauce with tomatoes, olive oil, garlic, capers, and olives. And as you can probably guess, this recipe adds in tuna to the mix.
See recipe.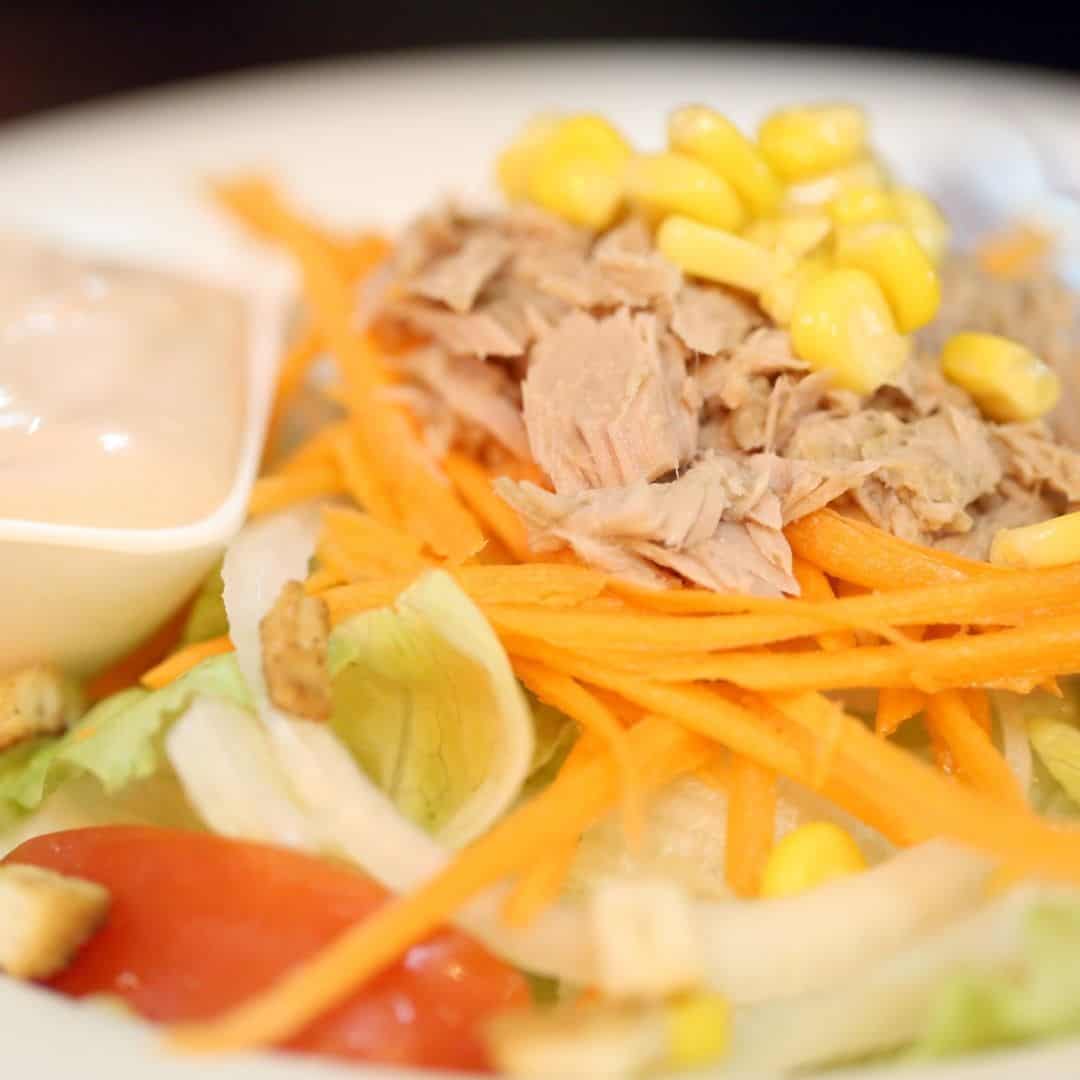 Tuscan Tuna Sandwiches With Basil Mayo
The flavors of Tuscan, Italy, inspired this recipe. What intrigued me the most about reading this version of tuna salad is the basil mayo. I think that would be a great flavor to add.
See recipe.
Tuna Cakes With Chipotle Aioli
Fish cakes are a versatile dish. You can keep them simple or add in as many pantry ingredients as you want. This cake recipe adds zing with chipotle (smoked jalapeno peppers) aioli (fancy mayo). See recipe.
Mexican Chopped Salad With Yogurt
Tent camping in the summer in Texas takes more preparation than winter because of the heat. And one thing you don't want to do is heat up more food at lunch. This salad sounds refreshing with the addition of the Greek yogurt to the taco seasonings. See recipe.
Tuna With Kimchi
Look no further if you're looking for a Korean dish made from canned tuna. Kimchi, the Korean traditional condiment for this dish, lends it a flavor that is powerful and distinctly Korean. See recipe.
Tuna Power Bowl
It's no secret that power bowls have risen in popularity because they combine so much nutrition in such a simple dish. You can get a lot of protein for a low cost by using canned tuna. See recipe.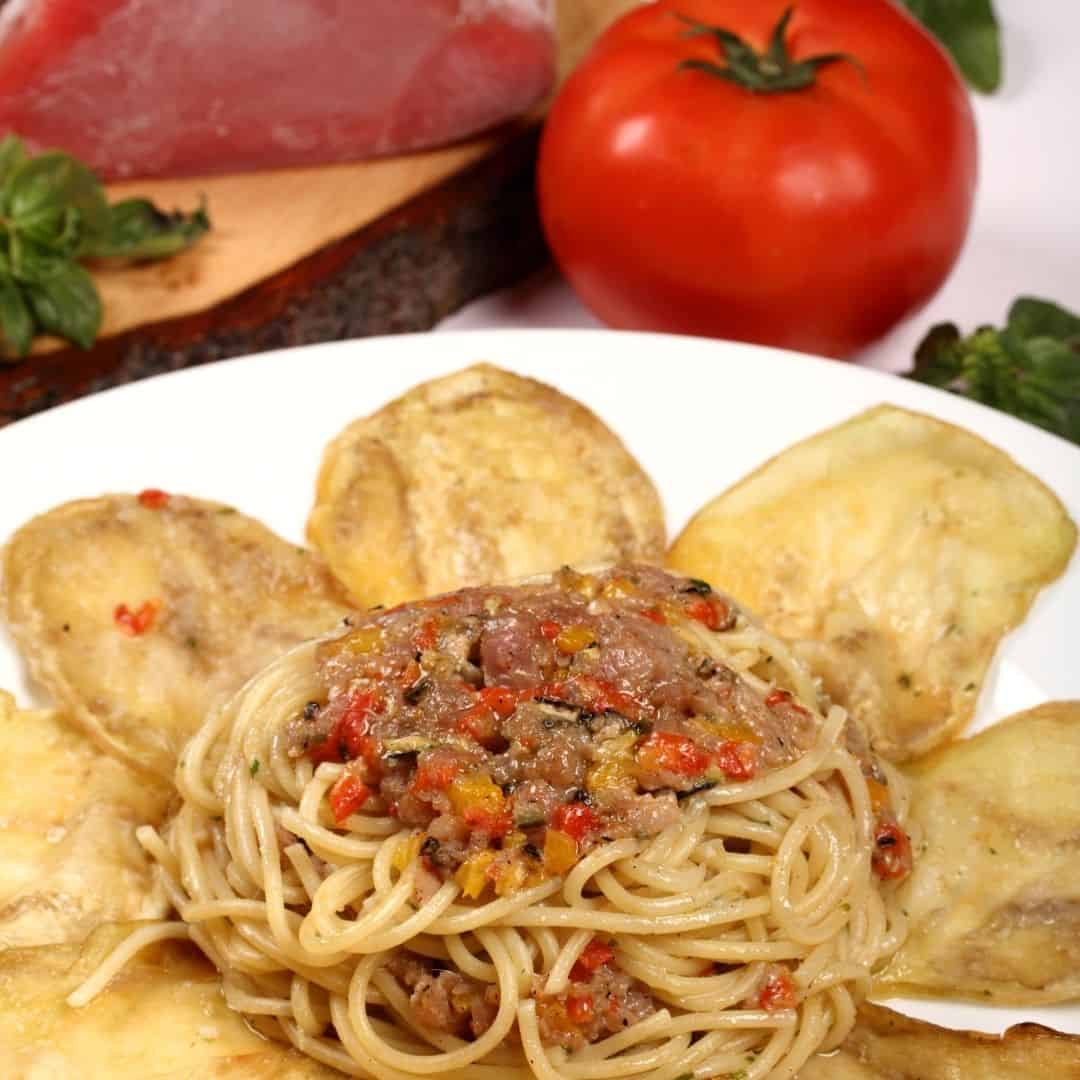 Tuna Tostadas
Tostadas? What happened to them? As a child, it seemed that it was everywhere around me. I believe the quesadilla replaced it. Bringing tostadas back is easy with this dish. See recipe.
Lighter Tuna Casserole
Among the staples of any family's meal is tuna casserole. I believe it's a law that if you have a church potluck, tuna casserole must appear. Try this recipe for lowering carbohydrates without having to go low-carb. See recipe.
Tuna Orzo Salad
There are many Mediterranean dishes that feature orzo, a rice-shaped pasta. Tuna is also an essential ingredient in Mediterranean cooking. Canned tuna simplifies making this dish whether for lunch or dinner. See recipe.
Tuna Noodle Casserole For One
Do you know how tuna casserole is the perfect comfort food that's great for a cold day? It would be great if you could create it just for yourself! And you can with this recipe.
See recipe.
Tuna Veggie Melts
These tuna Veggie Melts combine the rich creaminess of tuna with the salty goodness of greek yogurt, sweet red peppers, and tangy mustard to create the perfect snack that is sure to satisfy you each and every time. See recipe.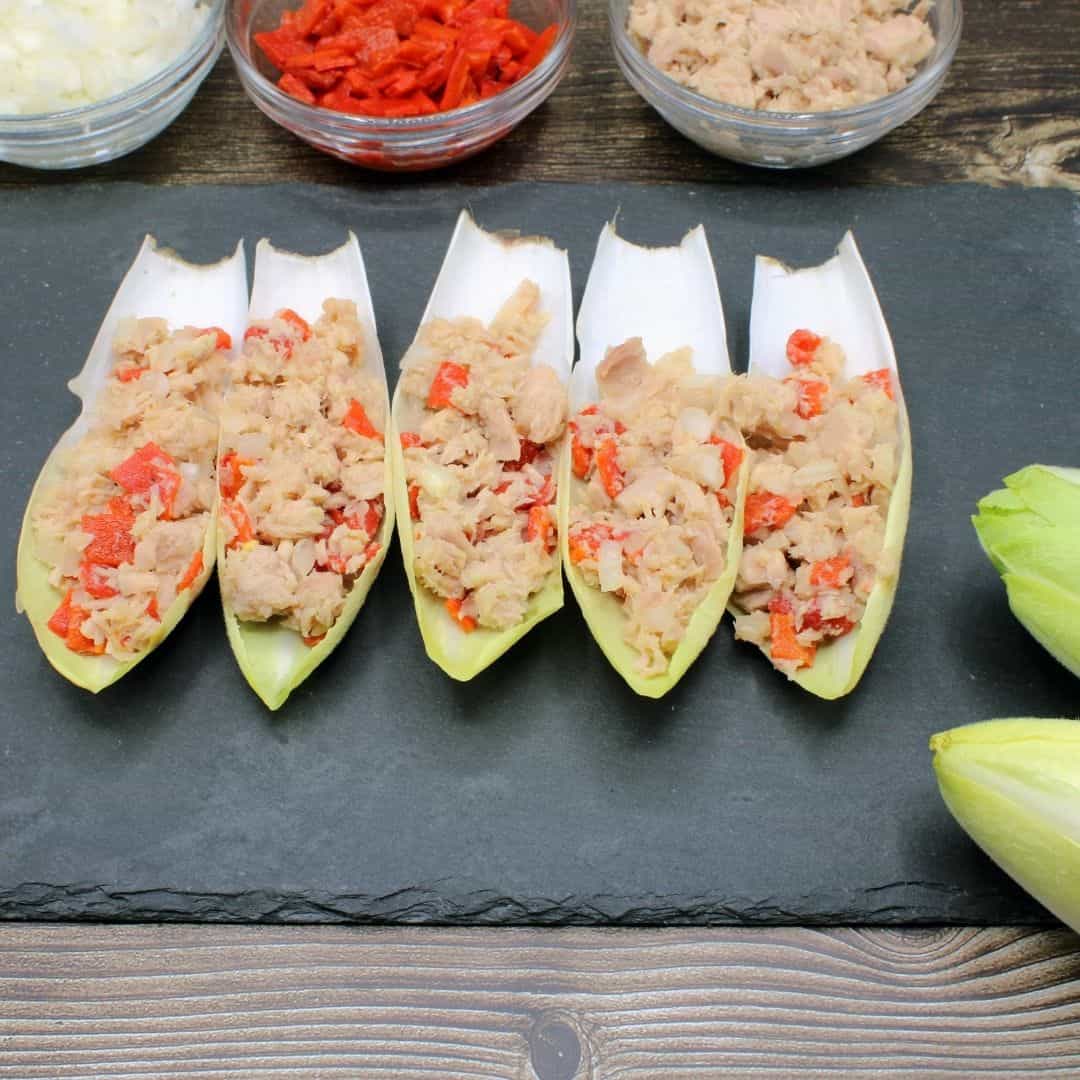 Spicy Tuna Roll
The campfire isn't just for hot dogs. The spicy tuna roll is excellent for campout sushi. You'll find spicy mayonnaise, tuna canned in oil, sushi rice, and seaweed (nori) in this dish. See recipe.
Spicy Tuna Cakes
It's not necessary to use a deep fryer for these fried tuna cakes because you can just fry them in a pan. In addition, they are a more economical option than crab cakes. See recipe.
Healthy Italian Tuna Melts
Most tuna melts are 2/3 mayonnaise to 1/3 tuna. This version replaces most of the mayo with a fresh-made pesto that gives it a more robust Italian flavor. Pesto is possibly healthier for you as well. See recipe.
Penne With Spicy Mustard
Pasta has always been a way to extend the meat on hand to feed more people. Or to create a more filling dish. What makes this dish truly unique is the use of mustard as the sauce instead of a cream or tomato-based sauce. See recipe.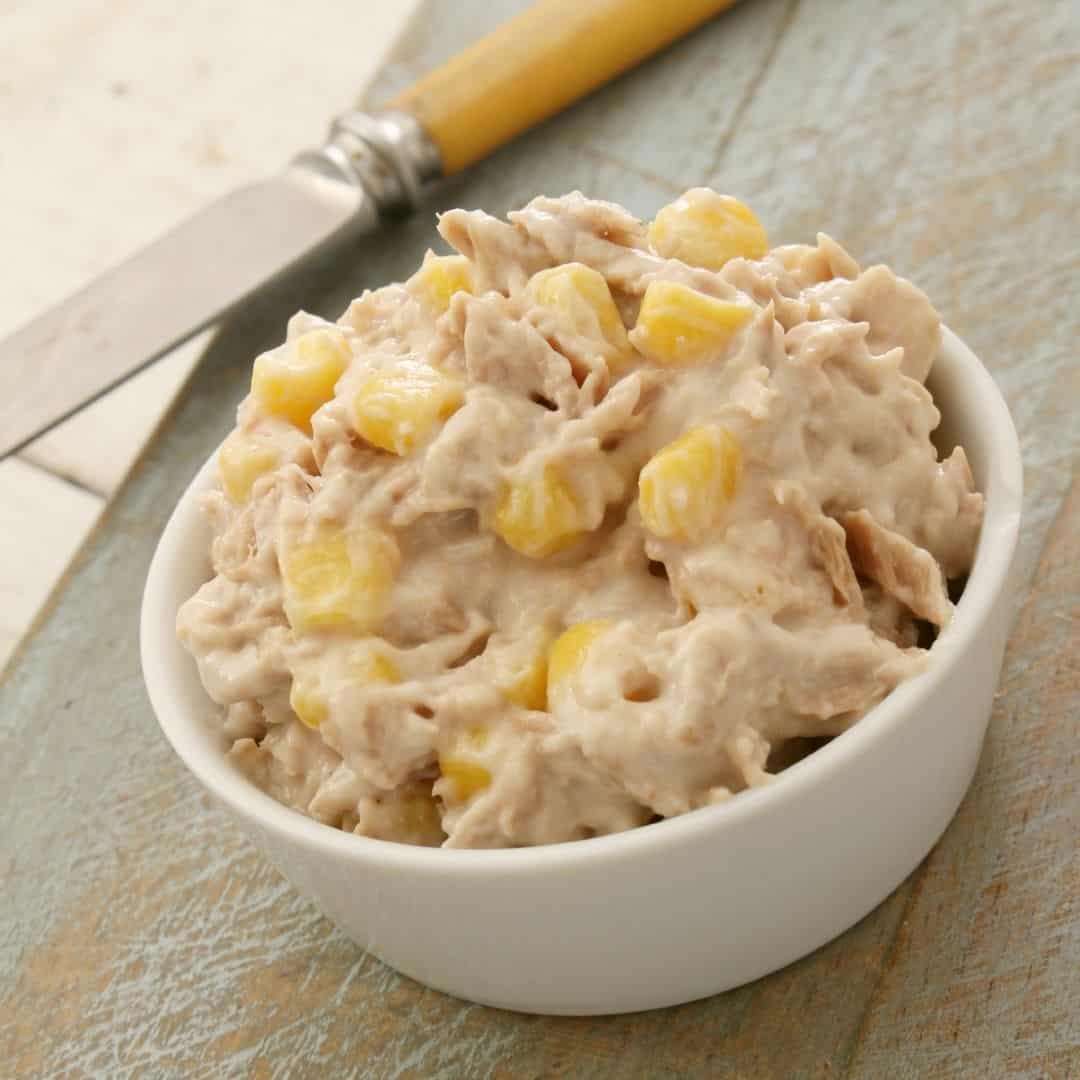 Traditional Tuna Noodle Casserole
Tuna casserole was served monthly at my house growing up. I believe this dish shows the creativity of the 1950s housewife, leveraging canned foods and corn flakes to build this dish. See recipe.
Asian Tuna Nachos
Nachos are the foundation of my food pyramid.Tuna is used in this recipe along with Asian-inspired seasonings to transform this Tex-Mex staple into a tasty dish. See recipe.
Mexican Tuna Melt
This melt is like nachos on rye bread. If you are craving Tex-Mex flavor in your tuna melt, then you should check out this recipe. See recipe.
Fennel And Apple Tuna Salad
There are many ways in which tuna salad can be prepared. To make this recipe, apples and fennel are combined with the flavors of the garden. See recipe.
Tuna Melts With Olive Oil Mayonaise and Parmesean Cheese
What once was your favorite, most classic of sandwiches is now an all-new foodie experience. With a twist to the traditional tuna melt—we've replaced mayonnaise with olive oil mayo and lemon juice, infusing it with the essence of Provence for a delectable new dish that will keep you coming back for more. See recipe.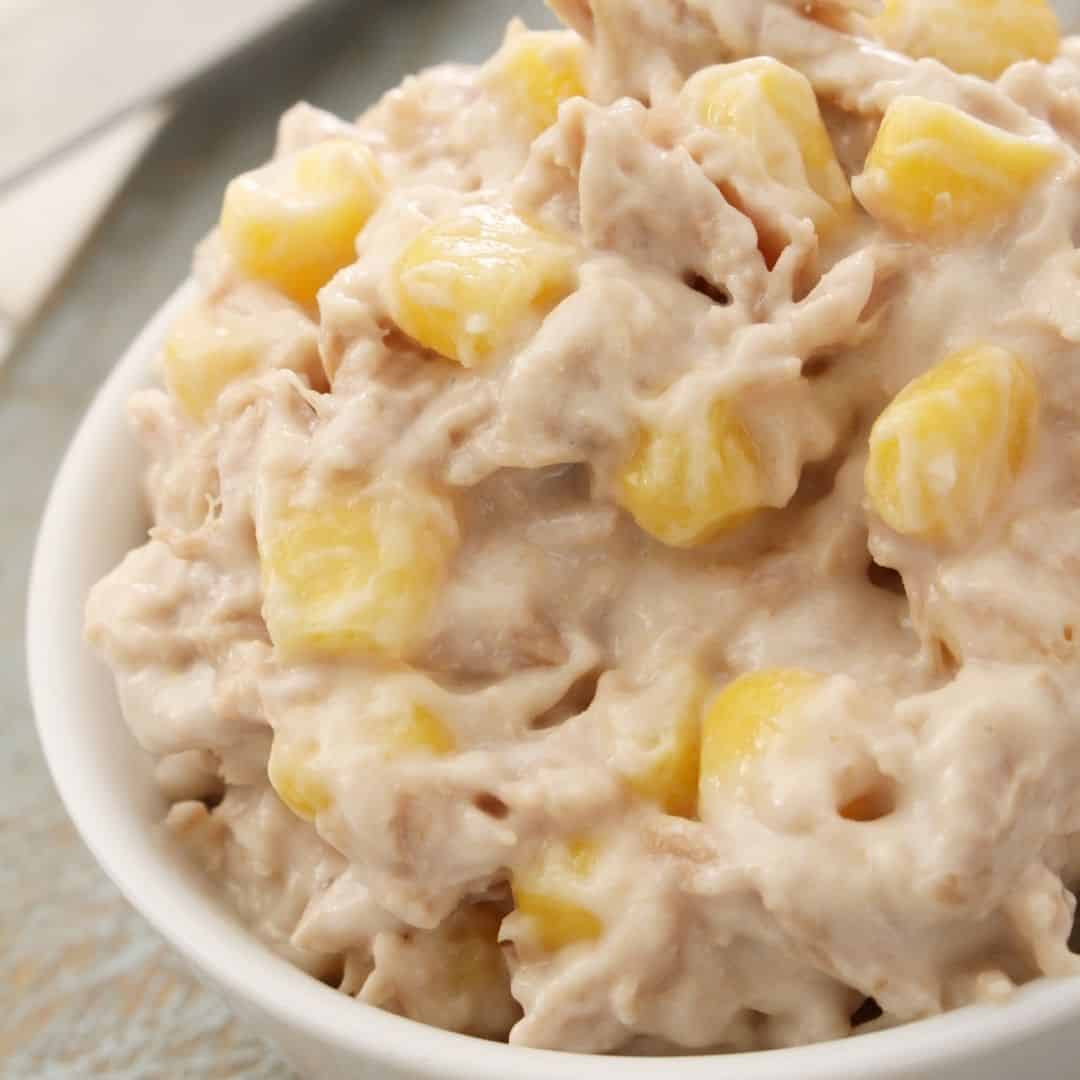 Parmesean And Curry Tuna Salad
There are very few sandwiches that can compete with a tuna salad sandwich. And if you're new to cooking, then one of our favorite recipes is perfect for you! This adds a twist with parmesan and curry flavors. See recipe.
Canned Tuna Sushi For Kids
Kids love to help in the kitchen. You'll be their hero with this exotic meal idea! Available at an affordable price, both you and your little one will enjoy whipping up a compact take away lunch. See recipe.
Bow Tie Tuna Salad
This tuna salad is made with classy bow ties, crunchy chickpeas, and a creamy dijon mustard dressing. Nobody will know it's just canned tuna! See recipe.
Creamy Tuna Pasta
This creamy tuna pasta is the perfect date night meal! Be creative. We can't possibly do it for you; we just link to the recipe, you're in charge of making something delightful and devouring it with your one true love. See recipe.
Easy Tuna Pasta
Never look, feel, or taste like you're eating tuna again! Easy tuna pasta is a quick and simple dinner that is ready in less than five minutes. With the garlic olive oil sauce made from scratch and mouth-watering spices, it has never been easier to enjoy your favorite seafood dish at home, even if you are not a cook! See recipe.
Simplest Tuna Melts
To be candid, this is barely a recipe. But what I do like is that they list a few other ideas for campfire meals which is always great. See recipe.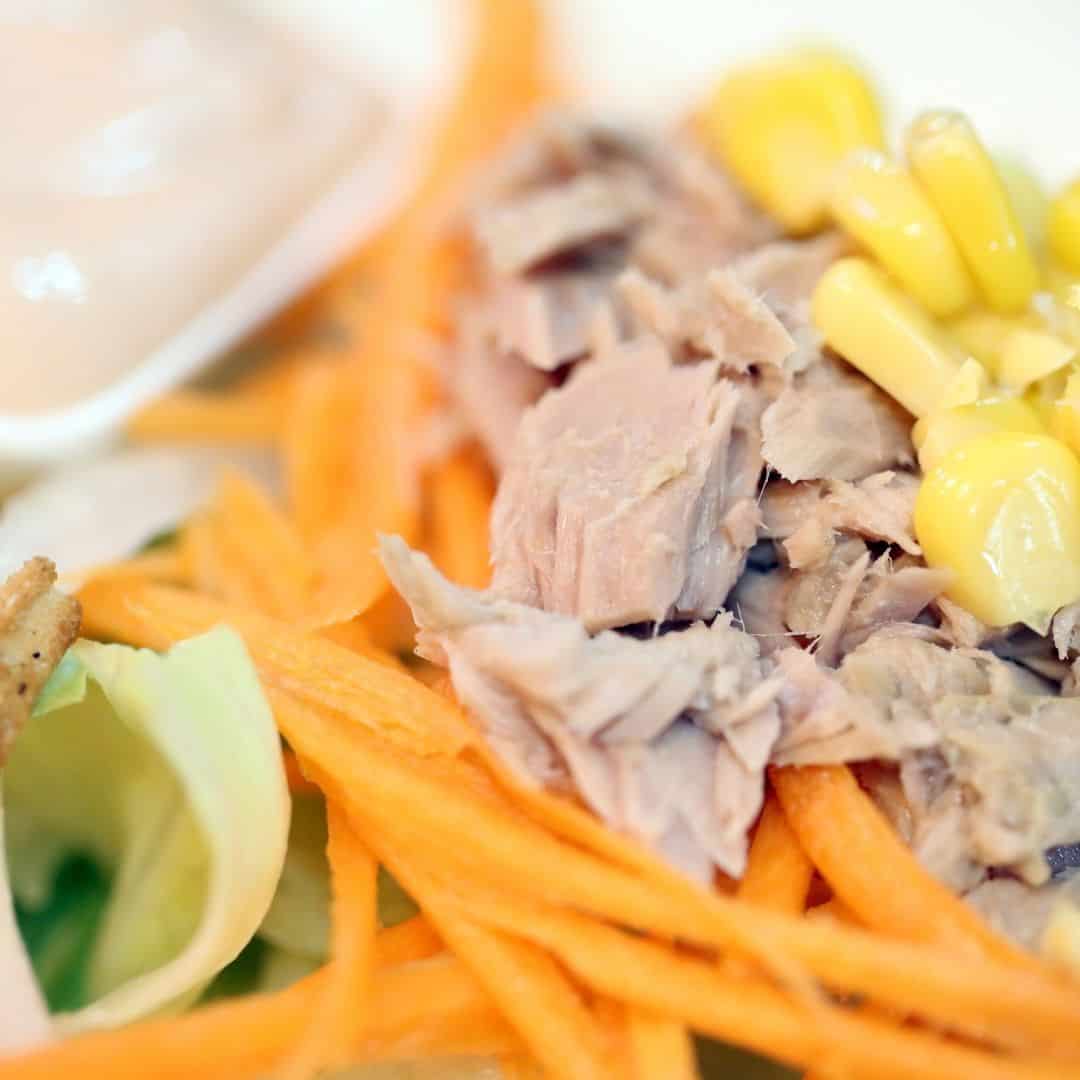 Lemon Pepper Tuna
The perfect combination of lemony tuna on a fresh-baked roll, and the best part, it's made by you at home with only 5 ingredients. Make it now!
One Skillet Cheesy Pasta
This easy, one-pot dish is perfect for camping around the country and will instantly become your family's favorite go-to meal. This firm textured pasta has all of the bold flavors you expect with a hint of sweetness from the juicy peas. You can also include ham or red pepper flakes to customize it even more! See recipe.
Spicy Tuna Onigiri
This Spicy Tuna Onigiri packs a punch for sure! You should fuel up while you're out on the trail, and this Onigiri packs a punch for sure!
Simple Canned Tuna Sushi
This canned tuna sushi is a dish that has an exceptionally unique, spicy taste and a lightly grilled texture that makes it the perfect a la carte lunch. See recipe.
Spring Onion Pesto and Tuna Meatballs
Rice with spring onion pesto and tuna meatballs makes a perfectly nutritious meal for the outdoors. It is healthy, light, affordable, and easy to prepare. See recipe.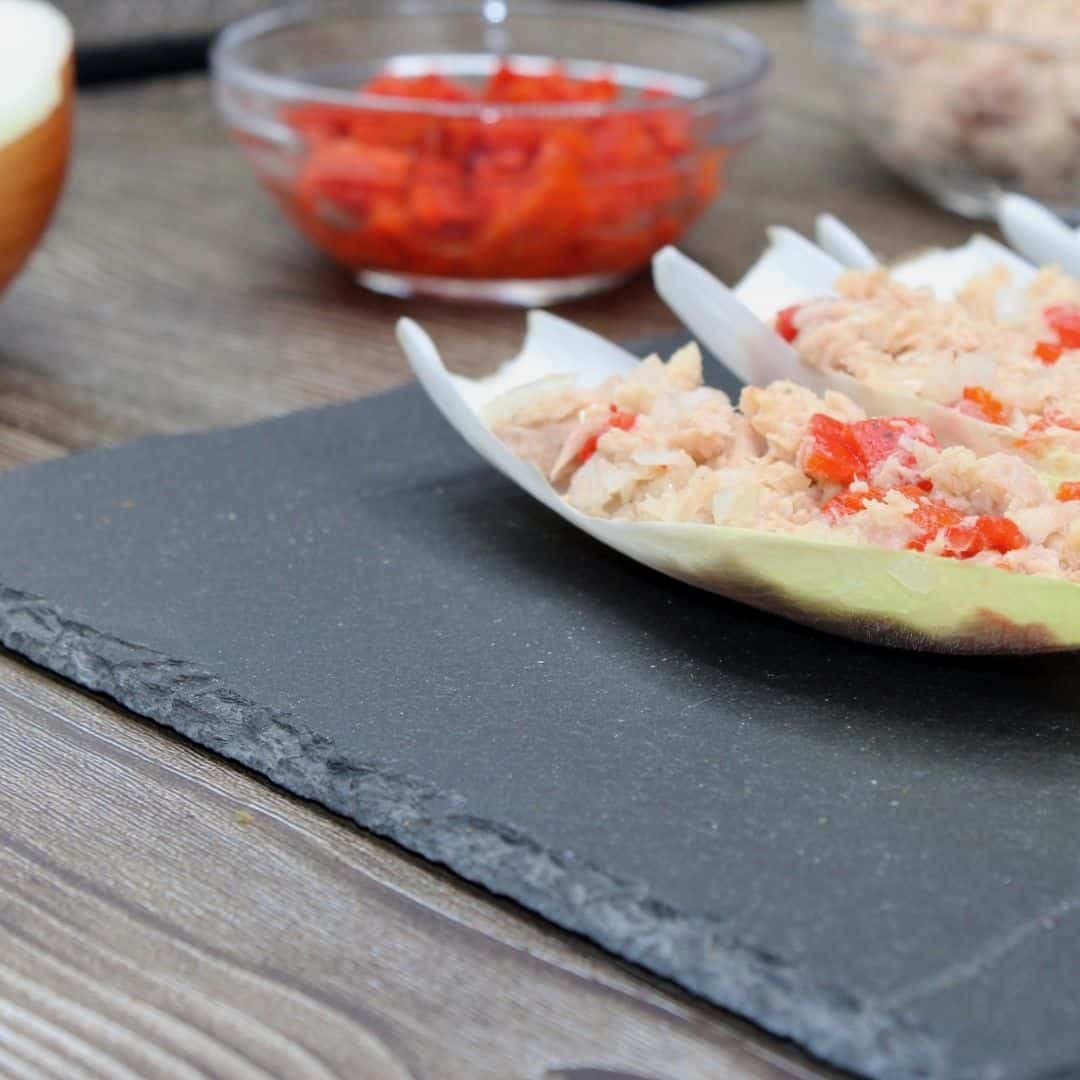 Fresh Tuna
Seared Blackened Ahi Tuna
Whether you grill this over a campfire or camping stove, this will be a nice change of pace at your next campout. Make sure to bring along a good cooler to keep the fish fresh. See Recipe.
Old Bay Grilled Lime Tuna Steak
Old Bay seasoning is most famous for crab boils. Which means it works well with any seafood. Lime juice brightens up the flavors. Let us know how this turns out on your next campout. See recipe.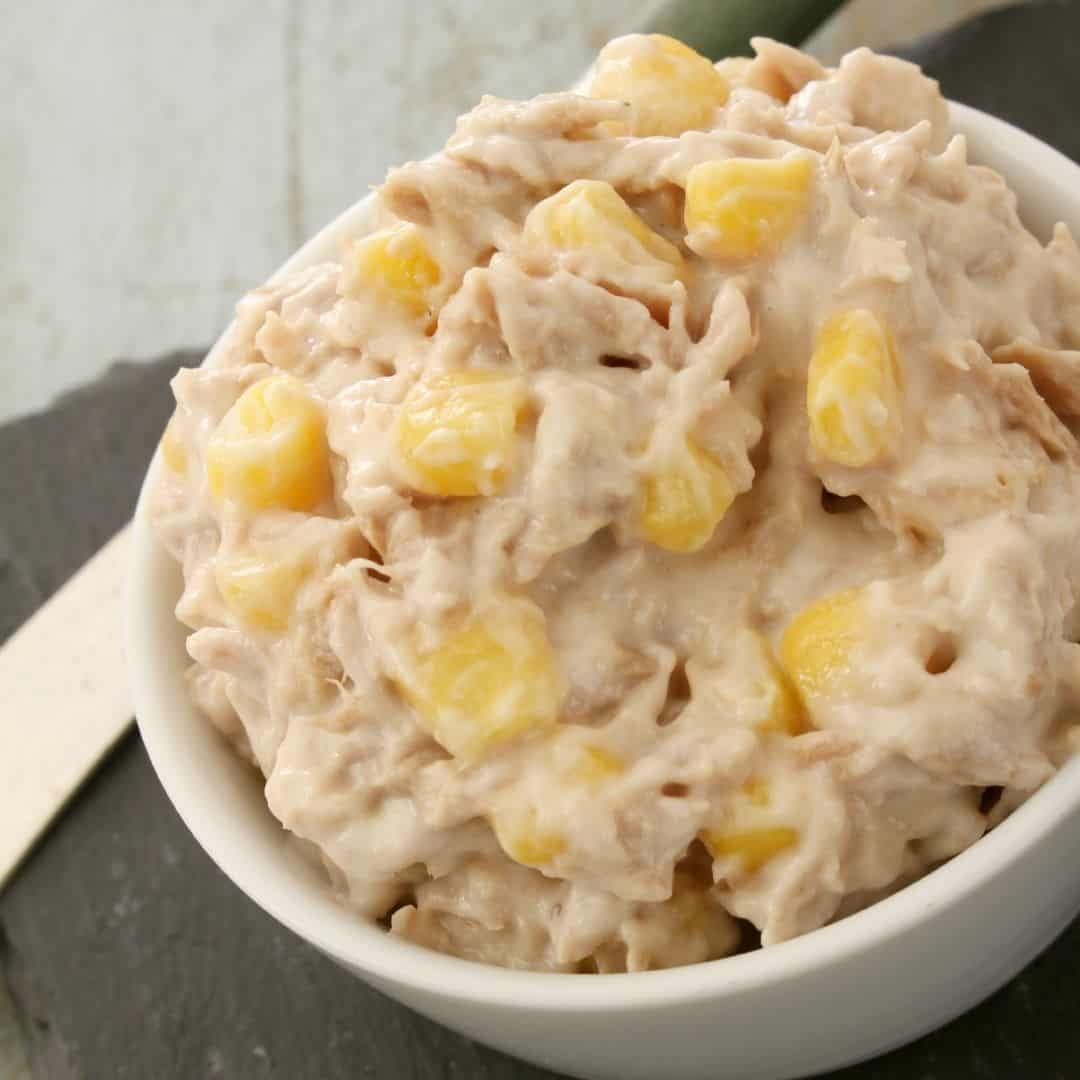 Grilled Tuna Steaks With Tobasco Tomato Salsa
Grilled Tuna Steaks With Tobasco Tomato Salsa is a spicy southwestern dish for those adventurous campers. What's not to love about juicy tuna steaks with zesty Tobasco-style sauce? Chop up fresh tomatoes and onions, then prepare the sauce using canned tomato sauce, Tabasco, and fresh tuna. See recipe.
Low Carb Tuna Poke
Poke is a refreshing dish on a warm day and I would encourage you to give it a try if you have never had it before. See recipe.
Finally if you want to keep your mayo and drinks cold make sure to have a great cooler.
What Kind Of Camper Are You?
Outdoor Survival
---
Car Camping
---
Backpacker