Stuffed Hot Dog Recipe
If you click and purchase with one of our links, we earn a commission. Thanks.
Camping season is coming up and you're looking for a new hot dog recipe to try?
Hot dogs are great, but they can get boring after a while. You want something different this year! We've got the perfect solution – stuffed hot dogs with canned chili. It's quick, easy, and tastes amazing. Plus it'll make your camping trip more memorable than ever before.
This dish is so good that you won't be able to stop eating them once you start! The best part about this recipe is that it's super easy to make. It uses hot dogs, canned chili, BBQ or hot sauce, an onion, and hot dog buns.
You can make the pre-make the dish at home and then heat up at the campsite or make it over a campfire.
This recipe can be used for your next tailgate or football-watching party as well.
Choosing Your Hot Dogs
There are many varieties of hot dogs, so it's important to choose the right type for this recipe.
We recommend you use beef hot dogs because they go best with the chili and the onion. These are classic stuffed hot dogs, so using all-beef is more appropriate than using pork or chicken.
Go with your favorite brand of beef hot dogs, but look for all-beef hot dogs that are 100% beef.
If you do prefer brats or other types of sausage over hot dogs, that will work too.
Homemade Vs Canned Chili
We love a great homemade chili but there is no reason to use homemade chili for this recipe. A can of chili works just as well and is quicker to use for this recipe.
We recommend using any type of canned chili for this recipe. It's up to you whether you want to go with mild, medium, hot, or very hot chili.
Chili Vs Hot Dog Sauce
Chili is thicker and designed to be eaten on its own out of a bowl while hot dog sauce is generally much thinner and meant to be used as a condiment or dipping sauce.
These two sauces are not interchangeable, so it's important you know the difference when shopping for this recipe. If you were to make traditional chili dogs, hot dog sauce would be more appropriate because it's easier to spread and the meat is much finer.
But for this dish, I would prefer to have a traditional chili and mix in the hot dog cubes for flavor. You are using the hot dog buns like a bread bowl similar to how they serve clam chowder in seafood restaurants.
Choosing An Onion
When choosing the perfect onion for your chili dogs, it's important to pick an onion with dry and papery skin.
Make sure you avoid any onions that are brown or soft spots as these will not be tasty in the hot dog condiment.
You can store whole raw unpeeled onions at room temperature if they're in a cool dry space out of direct sunlight (this is because storing them this way helps preserve their flavor).
BBQ Sauce Vs Hot Sauce
We add BBQ sauce to the chili and hot dog mixture for added flavor. My goto BBQ sauce is Stubb's but you can use whatever brand you prefer.
However, when I make this dish, I use Sriracha for two reasons. One is that I like the flavor. The second is that I have it on hand and I don't have to worry about trying to use up a new bottle of BBQ sauce just to make this dish.
Do You Need A Hot Dog Bun
While the original recipe calls for stuffing it into a hot dog bun, I also enjoy eating this dish straight from a bowl. Thus you can make this dish into a low-carb or keto-friendly dish.
Serve This Over Noodles
Chili became popular in two areas of the country - Texas and Cincinnati, Ohio. Traditional chili (aka chili con carne) is from Texas and is much thicker. It was originally made from cubed steak-like stew meat.
Cincinnati chili is made from hamburger meat and is thinner designed to be used as a topping, often over spaghetti.
You can use this recipe as a topping for spaghetti which is also known as "chili 5-way" because you combine the noodles, chili with cheese, onions, and beans.
If you are on a low-carb diet and looking for a pasta alternative, I really enjoy "Immi" which is a new low-carb ramen. It is made from pumpkin protein but tastes fantastic.
Cook At Home Vs Cook At Campsite
The stuffed hot dog recipe can be premade at home and heated up for a quick meal or you can prepare it at the campsite. The dish is also great for tailgating or meals while watching the big game at home.
If you wish to make it at the campground, remember to bring your gas stove to heat up the dish because it will faster than depending upon a campfire.
What To Serve With Hot Dogs Camping
As with all hot dog meals while camping, this dish pairs well with chips, pickles, coleslaw, and potato salad. But with a bowl of chili plus hot dog cubes, it is very filling on its own as well.
Let The Kids Help
This recipe is not difficult and perfect for older kids to help out with. A little adult supervision is needed, but the end result of a family meal of this dish makes it worth doing together.
This article has a few tips and tricks for making stuffed hot dogs with canned chili as an alternative to traditional hot dogs for camping. This recipe is a quick, easy, filling, low-carb, or keto-friendly dish that pairs well with chips, pickles, coleslaw, and potato salad when served alongside other classic camp food like burgers or s'mores! Whether you're cooking at home or at the campsite - this dish will be sure to please everyone who tries it. If you have any questions about the ingredients needed for this delicious meal while enjoying time outdoors by a fire pit under the stars - let us know! We are happy to answer your questions so feel free to reach out anytime.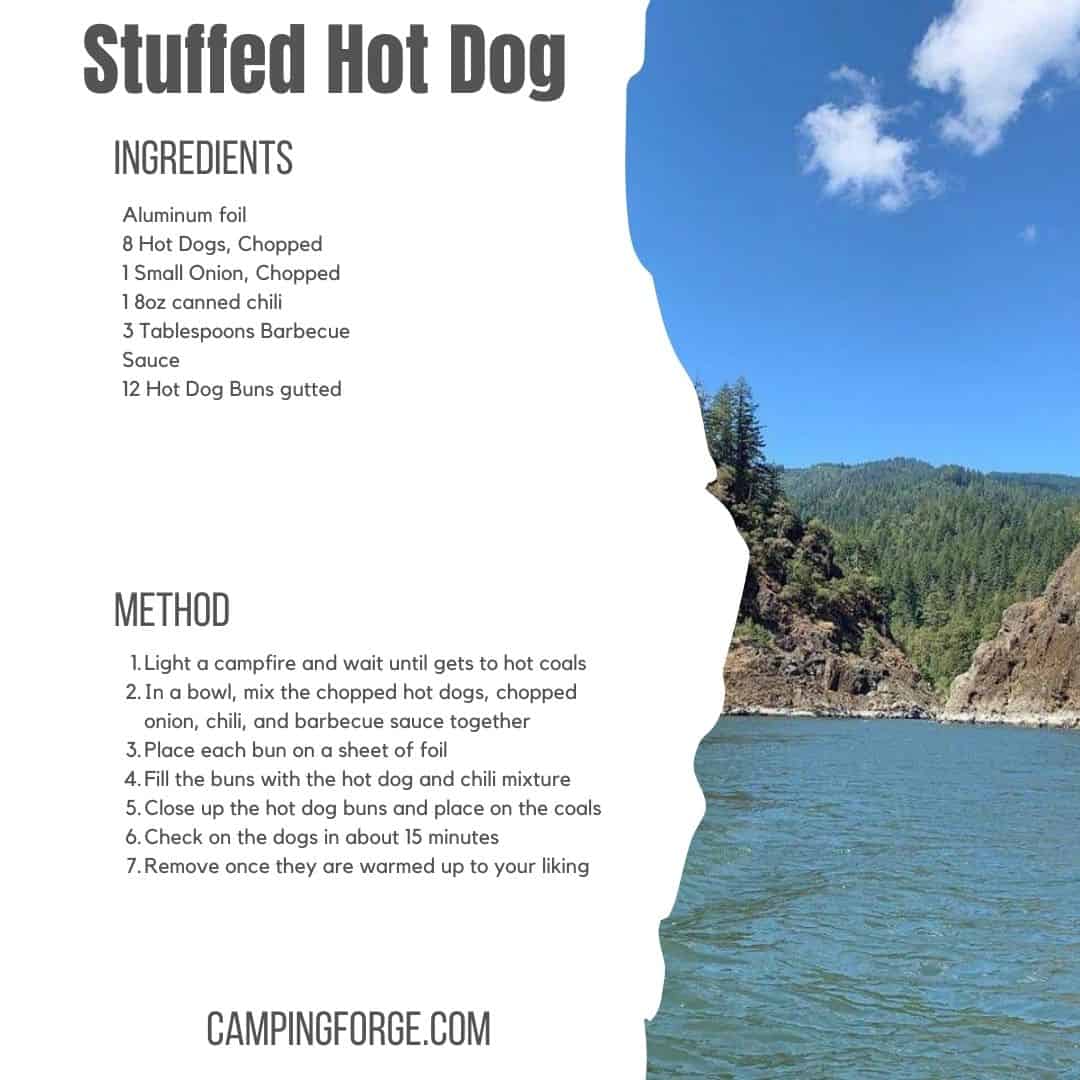 Equipment
Instructions
8 Hot Dogs, Chopped
1 Small Onion, Chopped
8 Ounces Chili
3 Tablespoons Barbecue Sauce
12 Hot Dog Buns gutted
Instructions
Light a campfire and wait until gets to hot coals.
In a bowl, mix the chopped hot dogs, chopped onion, chili, and barbecue sauce together.
Place each bun on a sheet of foil.
Fill the buns with the hot dog and chili mixture.
Close up the hot dog buns and place on the coals.
Check on the dogs in about 15 minutes.
Remove once they are warmed up to your liking.
What Kind Of Camper Are You?
Outdoor Survival
---
Car Camping
---
Backpacker