The Best Hack To Go Camping For A Week
If you click and purchase with one of our links, we earn a commission. Thanks.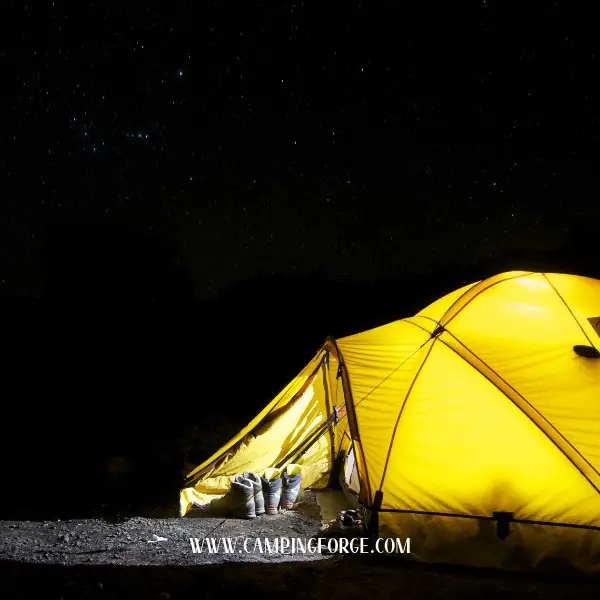 ---
---
If you're anything like me then you're an over-packer. And then, in your attempt to not overpack you become an under-packer and you forget important essentials for the adventurous trip you're planning.
It's not good to forget to pack the essentials. You've got to stay on your A-game so plan ahead of time. This post contains my list of family camping essentials.
Camping is a tough thing to pack for because you have to be prepared for everything but you also don't want to be lugging around extra stuff that you don't need, or end up not even using. You have to be selective, specific and proactive.
It's quite annoying really.
The nice thing is is that there are very creative ways to pack up the essentials for your camping trip. In this blog, we're going to discuss how to pack up for a week-long camping excursion and how to pack proactively.
Not that it's my strong suit, but I do plan like I'm going to pack correctly so just do as I say and not as I do!
What Do We Need for This Trip Anyway
The Basic Essentials.
These basic essentials are typical for any tent camping trip but they may be altered due to you bringing an RV or a tent-trailer.
Since I'm all about being one with nature and keeping my essentials to the most basic, I prefer camping in a tent. You sleep on the ground and have to rely on the outdoors for pretty much everything else–it's such a refreshing way to enjoy the wilderness!
First off, you need a tent with all of the proper stakes, poles, maybe a footprint for underneath it and all of the tools needed to put the tent up. Don't forget the rain guard in case it rains!
You'll also need your sleeping mat, sleeping bag and pillow. Trust me, a mat makes all the difference for, not only comfort but insulation from the cold ground. It's also smart to bring extra blankets for when you're wrapped up around the campfire or for any colder nights.
You could also bring an air mattress or a cot. I, however, prefer the sleeping mat because it's more compact than a cot and less work than an air mattress. (I know, I know in today's day and age you just plug it in for ten seconds). Flashlights and lanterns are another important necessity while camping–especially if campfires aren't allowed. You can get solar powered ones or bring extra batteries, because, and I don't know about you but I've seen that horror movie and I'm not a fan.
Also, another good essential is don't watch a horror movie out in the woods… I've done that while camping in the woods… why I don't know. But, if you're into that type of thing then have at it…weirdo.
Don't forget your campfire supplies! This, obviously, includes food to roast over the fire–s'mores, hot dogs, vegetables, or anything else you can think of. Get creative!
Other than that, you need matches or a lighter, firewood, and skewers or sticks for roasting the delicious camping treats mentioned above.
You also need to grab your first aid kit, food, water, garbage bags, and a bear bag if you're in bear country.
Food is a whole other subject that we're going to touch on a little further down in this post, but kitchen supplies can change according to what you plan on cooking. Here are the basics that I keep with me: pots, pans, collapsible or tin bowls, plates, mugs, a coffee maker, a can opener, pot holders, a spoon, a spatula, a paring knife and a cooking stove. It's also important to bring biodegradable soap, sponges and a dish rag.
Don't forget the stove and fuel for it!
Clothes should vary depending on the expected, and unexpected, weather. Don't forget extra layers, swimsuits, sleepwear, proper hiking boots, sandals, hats, gloves, socks and of course undergarments. I highly recommend a windbreaker and a raincoat. You never know what meteorologists are going to be wrong about.
And they are wrong a lot!
I Said Week Long, Didn't I?
So, we've covered the basics but the real trick is bringing enough equipment and food to last you and enough fun stuff to entertain you.
A week is a long time outdoors without any access to Wi-Fi or TV (ugh, what a dream) which means you have to bring along enough entertainment to last you seven days!
First things first, you have outdoor activities for entertainment. Kayak, paddleboard, canoe, or swim or go for hikes and long walks. Enjoy the outdoors while you're in them. You could even bring along some jet skis, take photographs, and site-see.
There will be down moments, of course, where you'll want to just sit around and relax. In those moments you need to bring on the board games! Easy games to travel with are Yahtzee, playing cards, UNO, Phase10, dominos, Pictionary, Scattergories, Speak Out, Catch Phrase, Taboo, Cranium, or, if you want to be distracted for several hours, Monopoly! Although, Monopoly has a lot of little parts that can be easily lost.
If you have no kids hanging around then bring Dirty Minds or Cards Against Humanity–both are super fun if you're with fun people, which hopefully you are because you're stuck in the woods with them for an entire week!
Another great way to entertain yourselves is by playing instruments. You can easily pack up a guitar, drum, violin, viola, harmonica, clarinet, recorder, or whatever instrument you know how to play. You can try to play popular songs, or oldies but goodies. Either way, it's a great way to enjoy the outdoors, artistry and each other's company. Nothing is more magical than music.
As for clothes, unless you have access to laundry facilities, you have to pack according to the weather or any potential weather.
Fleece/wool gloves, fleece/wool hat, and a fleece/wool jacket are great in case the night gets chilly. Throw on a windbreaker too because fleece and wool do not keep the wind off your skin!
It's also good to bring both long sleeve and short sleeve shirts as well as pants and shorts. You never know what times of day will be colder than others.
Make sure you bring clothing with UFP to protect your precious skin from frying in the sun all day long. It's also important to bring a large brimmed hat to protect your face and shoulders as well.
If it's summer don't forget your swimsuit and beach towel. You don't want to be that loser stuck on dry land while everyone else is enjoying the cool lakes, ponds, and waterfalls that America has to offer.
You should also bring regular underwear, socks, and pajamas. If you're anything like me you'd rather sleep in shorts and a t-shirt surrounded by warm, heavy blankets but that doesn't mean I don't throw on sweatpants sometimes too. Make sure you bring both options.
As for the amount of clothes you should be bringing, pack things that can be worn more than once. For instance, pants and shorts can be re-worn so two sets of each should suffice. Shirts, however, don't last through as many wears so pack a handful of long-sleeved shirts and a handful of short-sleeved shirts.
To be honest, you only need ONE hat, ONE set of gloves, and ONE warm hat. Don't overpack you're not out here to impress anyone. And if you are…it's 2018. Just enjoy the outdoors and the escape from your everyday life!
Food is a tough one to plan because it depends on how many people you are feeding.
I would suggest eggs (powdered or liquid is always an option if you don't have a way to keep them cold), bacon, and hash browns. You can vacuum seal the bacon and potatoes will easily last the week. I suggest sweet potatoes simply because fried sweet potatoes for breakfast are a million times tastier than regular potatoes.
Come lunch/dinner you can use a zip-pack (I call it cowboy dinner)! A zip-pack is a handful of ingredients wrapped up in aluminum foil and thrown onto the embers of a fire. Sausage, peppers, onions, instant rice, vegetables, or even canned potatoes can be prepared in a zip-pack. Canned food is the easiest to throw in because they don't need to be fully cooked, just heated up.
I heard recently that you may be exposing yourself to aluminum in your food by cooking your meals like this. They are so good, I'm willing to take the chance.
Another great dinner or lunch option is pasta. You could even make a large amount of pasta with sauce for dinner and use the leftover pasta to make pasta salad for lunch the next day! If you're concerned about mayonnaise I suggest, vegan mayo, avocado, or Italian dressing. All of these dressing options create something delicious at home or outside.
Make sure you also pack light snacks like granola, granola bars, trail mix, dried fruit, chocolate, nuts, or fruit snacks/bars. All of these are light and can easily fit into a Ziploc bag and thrown into a backpack for your hiking day.
Water can be a little tricky, but if you have access to water then you should be good! It is recommended that you have a gallon of water per day, per person. You could always boil it over the fire to clean it as well.
Hopefully, we have helped you pack and plan for your week-long camping trip. Before you feel overwhelmed and overpacked remember that you can spread out each task to different people!
Yes, your kids you'll probably be packing for, but as for friends and other families, you can split up the food and equipment easily.
Now, get out there and get camping!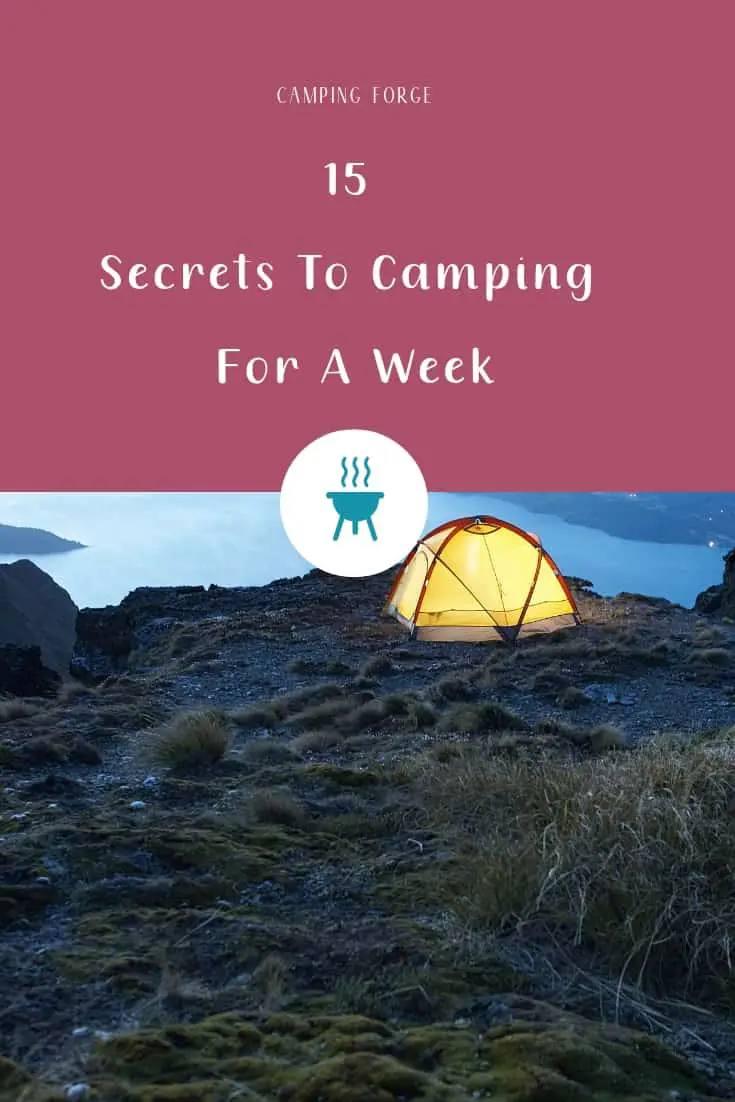 ---
feature image credit: Photo by Michael Lane 👣 on Reshot
---