15 Secrets To Camping For A Week In 2021
If you click and purchase with one of our links, we earn a commission. Thanks.
Tent camping is a great way to escape the hustle and bustle of modern life and reconnect with nature. However, it can be a bit intimidating. To make your camping trip enjoyable and comfortable, you must have the right gear and know what you are doing. Otherwise, your dream of having the perfect camping trip may end up being a nightmare.
To get the best, most memorable, and enjoyable tent camping experience, here are 15 useful tips:
1 - Invest in a Good Tent
The tent is the first and most important consideration when planning your camping trip. If you don't have a good tent that meets your needs, you won't have an enjoyable experience. Whether you have a new tent or a used one, the important thing is that it should be top quality to avoid any accidents. It is also important to consider the number of people you will be camping with so that you can buy the right size of tent.
We wrote this article to help you choose a tent.
2 - Practice Setting Up Your Tent
Setting up the tent might seem easy, but this is not always the case. Not everybody is a camping expert, and when you are out in the woods with just a few minutes of sunlight left, it is not the right time to test out your camping skills.
A good idea would be to set up the tent in your back yard or living room several times before you go for your camping trip. Doing that will not only help you gain a better understanding of what goes where but it will help you speed up the process of setting it up when you eventually go for your camping trip so that you don't waste precious time fussing with the tent set up.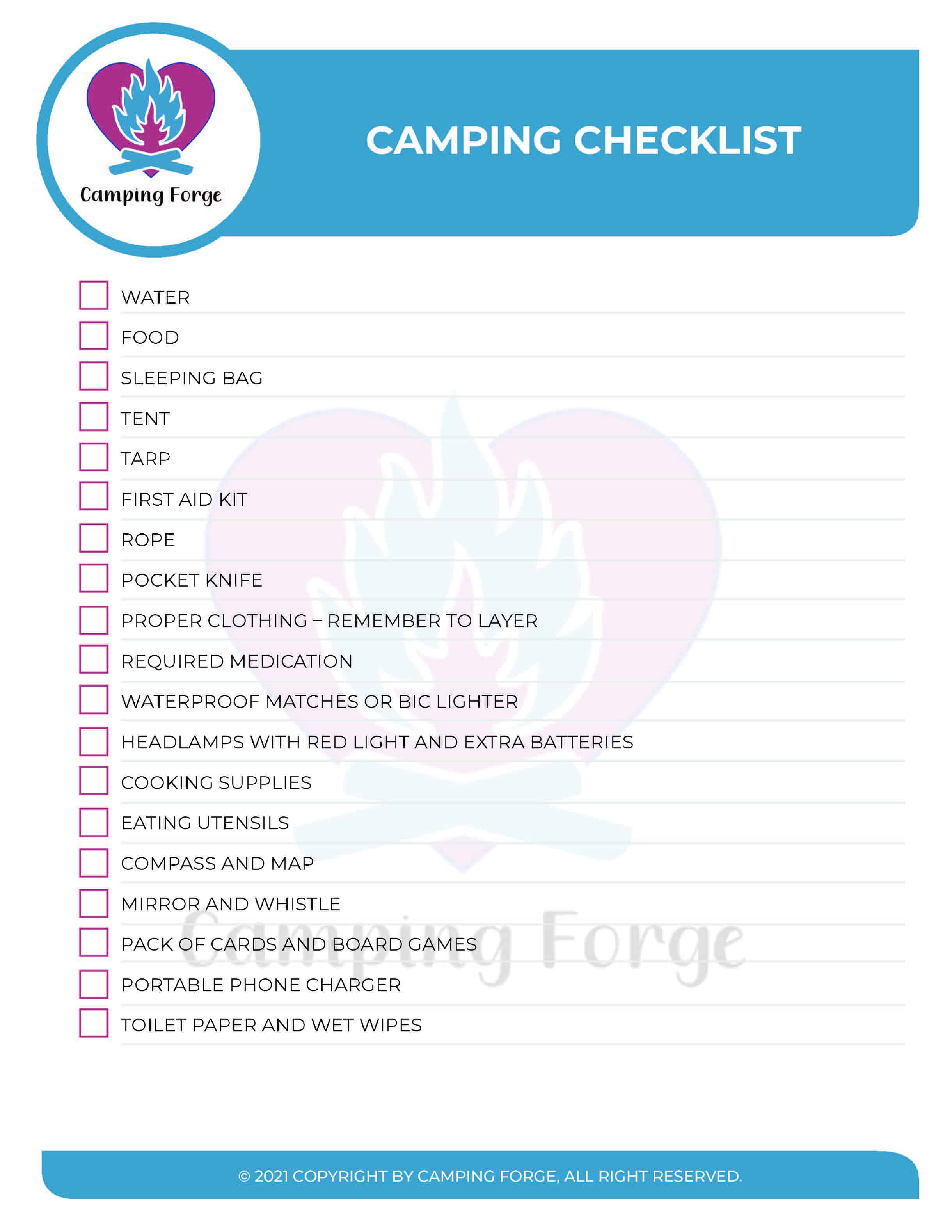 3 - Waterproof the Tent
Nature is beautiful but also full of surprises. It is impossible to be very sure about what the weather will do. One minute it could be sunny, and the next minute it could be pouring rain. This is something that you have to be ready for when it comes to camping.
To ensure that you keep yourself and your gear dry, it is essential to waterproof the tent before you head out on the trip. To waterproof the tent, buy a can of silicone sealant and spray the tent from top to bottom, left to right, without forgetting the zippers. Ensure that every square inch of the tent is covered with the spray and you will be all set should it rain when you are camping.
Read this article for even more tips on how to keep your tent dry in the rain.
4 - Select Your Campsites Beforehand
Few things are as stressful as the panic that sets in when the sun starts to set and you don't have a clue as to where you will park the tent for the night. You can avoid such a scenario by making use of websites that help you find the best campsites within a short time before you go for your camping trip.
Search the areas that you would like to explore and find the nearest campsite. You can find out more information about each site you are considering if you do further research online. Once you settle on a particular campsite, don't forget to reserve your spot before you leave for the trip to avoid disappointments.
Tent camping is the best time to reconnect with nature, which is why you should stay in a good place at your chosen campsite where you can enjoy the beautiful sunrise and sunset or to wake up a lovely view. You should also ensure that you set up the tent in a higher ground position should it rain overnight to avoid being flushed away by mountain torrents.
5 - Prepare Campfire-Friendly Meals Beforehand
Just because you are out tent camping and thus don't have access to your kitchen, it does not mean that you should not have good food. If you are not too thrilled by the idea of having some hot dogs and baked beans for dinner when camping, plan and prepare some meals that you can quickly cook over the campfire.
If you take along some meat cubes, vegetables, spices, skewers and aluminum foil you can make a variety of dishes. That is easy to prepare and fun to cook over the campfire.
There are also many free-dried options on the market. These don't require any refrigeration. All you have to do is add water. And there's an option to suit whatever food you like.
However, with some ingenuity even a single can of tuna can provide many options. To get inspiration make sure to check out this article on 10 ideas for canned tuna.
6 - Plan How to Make Fire
You have to look for dry leaves and dry wood to easily make a fire. Branches from trees are not ideal since they contain moisture, so look for broken branches. However, be careful when picking them up since you may find dangerous insects or snakes. So, be careful when you do this.
7 - Plan How to Keep Fire Under Control
It is important to plan how you will be keeping the fire under control in your campsite since a little spark can start a big fire that can be very hard if not impossible to keep under control. It is essential to find an open space to start the camp fore and clear the area of dried leaves and branches to ensure that the fire does not extend to other areas.
8 - Invest in Comfortable Camp Chairs
You can buy cheap camping chairs, but all you will end up with are cheap chairs. Take into consideration the number of hours that you will spend seated around the campfire. All these hours will count as negative if the body is not properly supported. It is worth every penny you spend to invest in a comfortable camp chair.
9 - Bring Games
You will probably go hiking when tent camping and perhaps even swimming if camping close to water, but one thing that people often forget is that there's a bit of downtime when camping. The point of camping is to get away from your busy modern life and relax, which means that it is the ideal time to pull out some board or card games and have some fun with your friends and family that you are tent camping with.
10 - Bring Extra Padding
Tent camping does not always have to be uncomfortable. Out there, there's great gear that's designed to help you get a good night's sleep while in the tent. A sleeping pad or perhaps an inflatable mattress is critical to having a restful night. If you are properly rested, your camping trip will be much more enjoyable.
11 - Pack Good Quality Coffee
Just because you are out camping, it does not mean that you should not have coffee that tastes as great as the cup from your favorite cafe. Bring a pour-over setup, your French press, or buy some instant coffee. It will be worth it to have a good stimulation first thing in the morning when camping.
12 - Go During the Week
If your schedule allows it, go camping during the week as opposed to the weekend. Campsites on any summer weekend are usually packed with people since everybody wants a little escape. If you want a more relaxing and quiet camping trip, you can try to work a mid-week stay into your schedule.
13 - Take Advantage of the Available Amenities
Campsites today have detailed descriptions online, which means that you will know beforehand about the amenities offered at the sites that you plan to be staying at. Amenities you can take advantage of include Wi-Fi, hot showers, clean restrooms, fire pits, water spouts, level ground for pitching the tent, and many others. Knowing that such amenities are available at your campsite of choice will take a lot of stress off of you.
14 - Stay Organized
It is essential to stay organized since you will want to know where all the things you will be using when camping are. It is also important to decide beforehand where you will be eating, throwing the trash, or where you will be washing the dishes. All these are essential things you need to know for you to relax and enjoy your camping experience.
15 - Leave the Campsite the Way You Found It
It is a fundamental rule that you should always adhere to not only out of respect for the people that come after you but also to protect the environment. Ensure that you bring out any trash that you brought in and ensure that you completely put out your fire when you leave. It is also essential to check that you have packed up all your gear and that you have not left anything behind.
Final Thoughts
Tent camping can be a fun, enjoyable, and memorable way to get away from the stresses of modern life. It is a great way to get outside and enjoy Mother Nature. If you feel that you are ready to go tent camping, the 15 tips discussed here will ensure that your camping trip is more comfortable and thus more enjoyable, So, start scouting for your tent and practicing your tent pitching in readiness for your camping adventures.
---
We added this FAQ based on common questions:
How to Keep Food Cold for a Week Camping
Invest in a camping cooler. Modern coolers have extra insulation that will keep things cold for much longer. Instead of packing it full of ice, freeze water bottles. Use a separate cooler for food than drinks because the more often a cooler is opened the quicker its contents will get warm. And keep the cooler in the shade.
What Food to Bring Camping for a Week
The best food is food that doesn't require to be kept cool. If you want to bring meat for grilling, use that in the first couple of days. Bring canned meat and freeze-dried meals. Modern freeze-dried packaged meals come in a lot of varieties so you don't just have to eat beans at each meal. PS if you do what we recently did, and forget (or lose) your can opener, check out our article on best ways to open canned food without a can opener.
What to Pack for a Week-Long Camping Trip
A tent, food, water, at least 2 ways to start a fire, at least 1 backup set of clothes in case you get wet, rain gear, clothing that can be layered, sleeping bag, sleeping pad, lanterns, flashlights, games and books for fun.
How Much Clothes to Pack for a Camping Week
You need to pack for layers. A short-sleeved shirt, a long-sleeved shirt, a sweatshirt or hoodie, a coat and rain-gear. If camping in summer, you can decide what to leave at home depending upon location. And you should always have at least 1 set of clothing you keep in a dry bag in case you get wet.
What Kind Of Camper Are You?
Outdoor Survival
---
Car Camping
---
Backpacker
---
feature image credit: Photo by Michael Lane 👣 on Reshot