Helpful Tips For Visiting Yellowstone National Park
If you click and purchase with one of our links, we earn a commission. Thanks.
Have you been to America's finest national park? It is regarded as America's treasure because of the fantastic sceneries. For this reason, most tourists will make a point of visiting the National park at one point in their lives. If you love adventure, then Yellowstone National Park is one of the places to visit. Not only will you get to see wildlife, but you will also encounter lakes, rivers, canyons, and mountains. In short, it is an amazing place for you to interact with nature as you unwind. Giving yourself a chance to explore and leave behind the hustles and tussles of life is something you need to do more often. Besides, you only get one opportunity to live. Why not take advantage of this when you have the energy and time? Yellowstone is a happy place that allows you to unwind as you appreciate life. There is just something about the place that makes people want to go back. Most people who have been there say that words can't explain whatever you will find there. Do whatever it takes for you to experience everything the place has to offer. The tips below will help you as you prepare to visit Yellowstone National Park.
Book Early
When it comes to booking, one trick is to always do it as early as possible. If possible, do it months before to increase the chances of you getting a slot. There are so many people in the world who want to experience the wonders of Yellowstone National Park. You cannot take your time. As long as you have the resources and are sure of the dates, start your booking. Accommodation gets booked up quickly. To avoid getting disappointed and miss the opportunity, plan. Note that July is the primary season for touring the park. The demand is usually high around this time. If you intend to sleep inside the park, it is advisable to book the Yellowstone hotel a year in advance. In case this is not your preference, there are some small towns near the park where you can get accommodation. Regardless of where you plan to stay, book earlier to take advantage of fair prices and quality rooms.
Accommodation
Despite the tour being an adventure, you want to enjoy yourself as well. Having a comfortable place to stay will also determine whether you enjoy the experience or not. When you are considering where to stay in Yellowstone, understand that the Wi-Fi coverage is really low in the area. The mobile network is also limited. If these facilities are essential to you, staying outside the park will be convenient for you. The accommodations in the park have no air conditioning and television. Knowing this helps you prepare accordingly. You don't want to get frustrated. Understand your priorities, and then look for a place that will attend to your needs. If you plan to visit the park on a low budget, there are lodges outside the park, which charge lower rates than the hotels. Staying inside the hotel is usually more expensive. If you love camping, there are fantastic campgrounds such as the Canyon campground, where you may pitch tents and have a good time.
Number Of Days To Spend In The Park
Yellowstone is huge, and hence, covering the whole area within a day or two is almost impossible. To get the most from your visit, you need to set aside enough days to explore everything it has to offer. With two days, you will not have explored most parts of Yellowstone. Ensure you know the number of days you plan to spend in the park and allocate an activity for each day. Go at a time when you have some days off work and other responsibilities. If possible, spare at least four or five days. With more days, you will be able to see the major sites and even engage in activities such as hiking and ranger talks. Besides, getting to the park is tedious, considering the long drives through the park. Add in some rest days if you don't mind.
Itinerary
It is almost impossible to have the perfect itinerary. However, it is important to have a rough idea of the major places that you need to explore. Do your research beforehand to learn what other tourists recommend. This will help you maximize your experience to the fullest. In case you don't have enough time to plan the trip, you can also take advantage of the organized tours. This is a great way to ensure you see the best of Yellowstone within a short time. Below are some of the places you need to visit when you go to Yellowstone National Park.
View The Geysers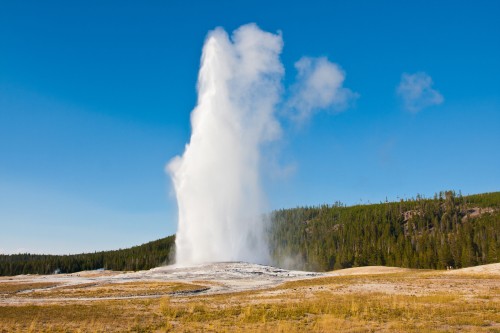 If you love geysers, then Yellowstone is the place to be. There are beautiful geysers in the park. To experience their eruptions during the day, you need to have the right timings. There is a particular time of day that the eruption takes place. Knowing the time the eruptions happen will enable you to maximize your geyser viewing experience. As much as geysers are beautiful, they are extremely dangerous. To protect yourself, ensure you keep to the boardwalks which are meant to protect you. If you happen to go there during winter, ensure you invest in shoes with a good grip to avoid slipping.
Wildlife
There is wildlife in Yellowstone National Park. You only need to know where to spot the animals. To see wildlife in Yellowstone park, you need to explore the Lamar and Hayden valley. These are some of the best areas to see wildlife, such as wolves, bears, eagles, and bison. You must maintain safety when viewing wildlife. Avoid getting too close to wildlife. If you have a car, don't get too near, as this may result in unwanted distractions. Also, don't stop on the road, not unless an animal is blocking the paths. The traffic jams may get intense if you keep stopping. If you are enthusiastic about wildlife, you should consider booking the Wake Up To Wildlife Tour. Remember, the best time to view wildlife is either during dawn or dusk.
Carry Your Lunch Pack
One of the essential tips when in Yellowstone National Park is to carry your lunch. This gives you a chance to prepare something interesting for yourself during lunchtime. Besides, you won't have to waste time looking for lunch or making long queues, waiting to be served. Not carrying lunch is inconveniencing enough because you will have to plan your sightseeing based on where the restaurants are located, just in case you get hungry. If you plan to carry lunch, it is good to bear safety rules in mind, especially if you are going for hiking activities. If you are going for long hikes, ensure you pack your food well, to avoid attracting the bears. There are many roaming bears in the park. You need to ensure you go through the guidelines on how to avoid encounters with bears. Also, hydrating is really important when you visit the park. There is a high chance that your body will be dehydrated after hours of immense activities. Ensure you carry a reusable water bottle.
Go Hiking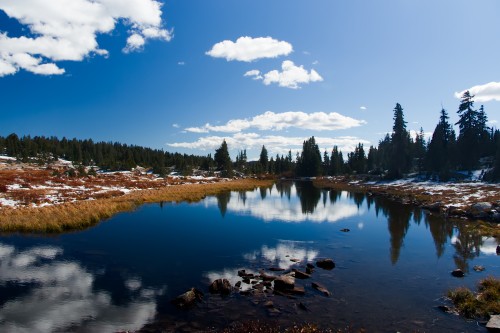 If you go to the park during the busy period and you want to avoid the crowds, hiking is an excellent way to do so. It doesn't have to be a long hike. You can even do short hikes. The other way to avoid the crowds is through talking long walks. Most visitors in the park rarely move without their cars. Taking a walk is also an excellent way to explore the area. Some of the short hikes in Yellowstone where you are less likely to meet many people include the Trout Lake Trail and the Mystic Falls Trail. If you choose to go hiking, never do it alone. Always go with someone or carry a bear bell. Be alert and avoid hiking during dusk or dawn. If possible, bring a bear spray and learn how to use it. You never know when you will need it.
Read our article on safe hiking tips.
Dressing
Yellowstone has pleasant warm summers and freezing winters. It all depends on the time of the year you choose to visit. Knowing how to dress will ensure that you are comfortable all through. It is good to check the weather forecast days before you head there just to have an idea of what type of clothes to carry. Understand that the park is vast and so, the weather changes within no time. It might be nice and sunny in some areas while the other areas might be rainy. To protect yourself from this weather change, you are advised to dress in layers. This will help you maneuver between the warm and the cold times. It is vital that you carry a sweater and a light raincoat, just in case it rains. Remember the nights may be extremely cold, especially if you are camping.
Going to Yellowstone National Park is a life-changing experience. You get to explore some of the most amazing sites in the world as you have a good time. To maximize your good time, prepare beforehand. Know which activities to engage in and learn to appreciate each and every moment.
What Kind Of Camper Are You?
Outdoor Survival
---
Car Camping
---
Backpacker