A Guide How to Plan Your First Car Camping Trip
If you click and purchase with one of our links, we earn a commission. Thanks.
Camping is the best way to enjoy the outdoors. Camping is fun, affordable, and thanks to the unique system of public lands in the country, there are a variety of places you can go to camp. However, camping entails a lot of dynamics, which can especially be daunting for newbie campers. And like anything else in life, you have to plan and prepare for the expected and unexpected. And it isn't that much different when it comes to camping.
If you're a first-timer, car camping is an excellent place to start camping with your family or a group of friends. Bringing your car along at your campsite will give you a base of operations, which will allow you to carry extra 'comforts' from home to make the trip more enjoyable and a bit easier. A human-powered camping adventure is also as enjoyable, but you will be restricted as to what you can bring along.
So are you planning on camping and don't know where to begin? Here's a guide for planning your first car camping trip to help you feel more prepared.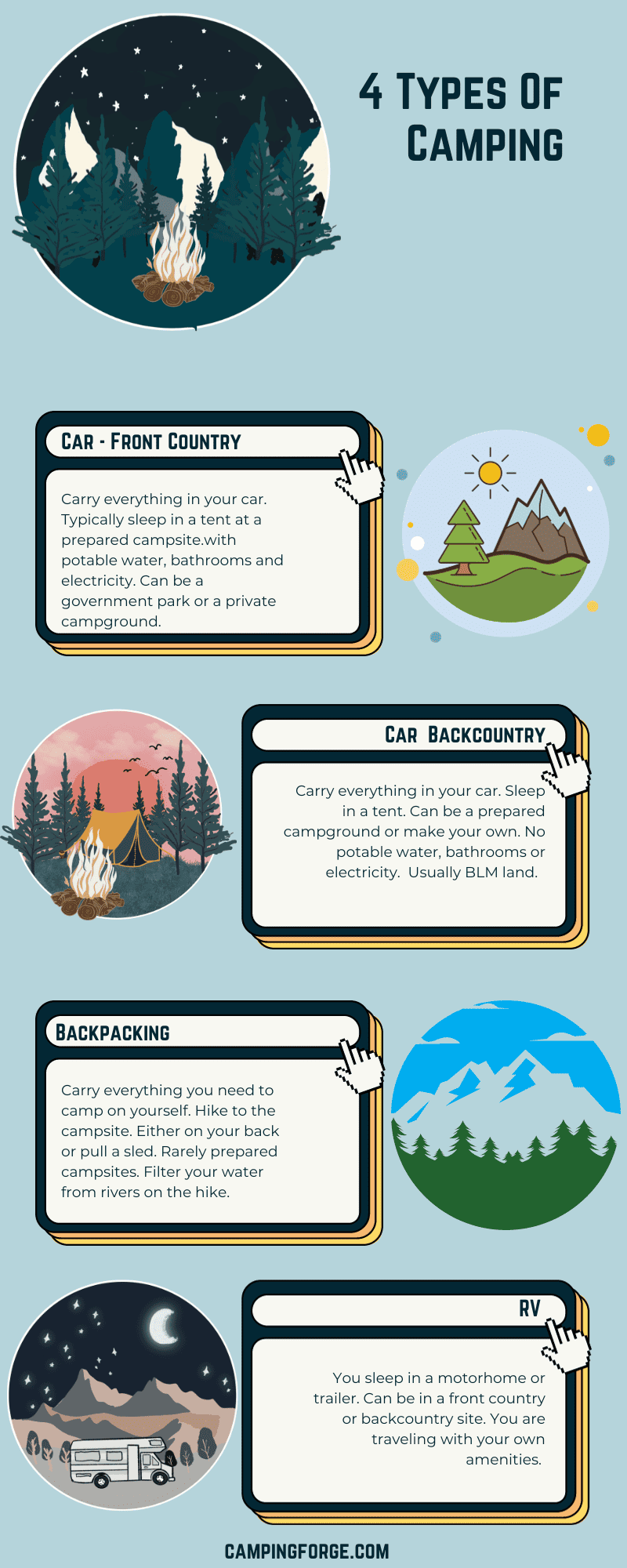 Choose The Best Time For Your Trip
If you are looking to secure that perfect spot in that popular campsite, planning your trip can go a long way in helping you achieve that endeavor. Campgrounds usually open reservations to their campsites 6 months in advance and are usually snatched up pretty fast. So if you are thinking about camping out in June, you better book your reservations in December.
I live in Texas. I'm lucky that we have at least an 8-month tent camping season from October through May. However, you need to book your state park reservations early because many of them will book up quickly.
You'll have to plan the best time to take the trip without infringing on your way of life. So you will need to coordinate school schedules with work schedules and find the most convenient time. Also, taking a camping trip during different seasons offers an opportunity of getting different experiences. If you decide to go camping in the summer, be ready for warmer temperatures and busier campgrounds. If you go during winter, make sure you carry the appropriate gear to help mitigate the elements and be ready to have the campsite to yourself.
By taking into account the different seasons and what you want, you'll be able to determine the best time for your camping trip. What's more, the driving conditions you face will be affected by the weather, so ensure that you and your car and prepared for what the outdoors throw at you. How long you're planning to travel will also help you plan when to take the trip and how far you can go.
One of the hacks to getting a campsite is to go in weather when people don't like to camp such as the heat of the summer. You can learn how to keep your tent cool and this will let you camp even when people don't want to leave their AC.
Determine The Location You Want To Camp
There are two ways of car camping; reserving a campground in advance or heading out to a first-come, first-served campsite. But if you're willing and <a href="https://www.campingforge.com/blog/how-to-make-your-tent-cozy/".comfortable camping</a> at your second choice campsite, you can head out without booking a reservation and still enjoy your time in the great outdoors! If you already know where you are heading, make reservations in advance.
There are a variety of camping options for you to choose from. National, state, and regional parks all provide excellent opportunities for car camping. Be on the lookout for sites that will permit you to park your vehicle at the campsite. Usually, there are regulations in place concerning how many cars can be parked at a campground (typically 2 cars). If you happen to have more people (8 people max) and more cars than one campground permits, you will have to reserve multiple grounds. When planning the camping trip, there are public versus private campsites to consider.
If you're in a group, research group campsites that have enough space for the entire crew and more parking. This sort of situation usually requires a reservation, so be sure to book way early. Another thing to consider when determining where you want to camp is the type of activities being offered. If you want to keep your kids busy or want a fun-filled day of adventure with your friends on the grounds, you'll appreciate a campsite that supports amenities such as swimming, boating, hiking, ranger programs, and so on.
Types Of Campsites
Have A Checklist Of What You'll Need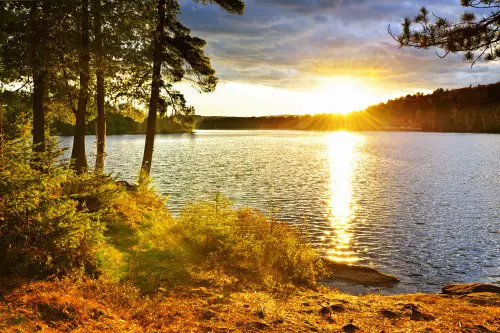 For the camping experience to be fulfilling, you will need to carry essential camping gears for your stay to be comfortable (you can check out our 41 essential items) and a bit easier when it comes to the technicalities involved. It becomes even trickier if you are a first-timer. Having a checklist is a good place to start. You will have to establish what you see as essential and what you deem as a luxury. You don't want to be in the campground and realize you carried something worthless in the wild, whereas you could have an essential amenity. Classify your checklist into 'nice-to-have' or 'must-have'.
For your first car camping trip, it's understandable if you don't know what to gear and amenities to bring along. In this case, you can borrow, rent, or buy anything you don't have. If you want entry-level gear to get things started, you can purchase lower-cost gear from reputable companies such as Amazon, Core, or Coleman. For higher quality gear, you can buy from REI. Some of the essentials that should be in your checklist include things like a sleeping bag, tent, camping mat, toothbrush, toiletries, willies, stove, and cookware.
Plan Your Cooking & Meals
When embarking on a camping trip, it will pay off planning your meals for the entirety of your trip. You will need to account for your dinner, lunch, and breakfast. Establish what you will need to prepare beforehand and what can be prepared easily at the campground. It's a common misconception that you won't be able to eat well while on a campsite compared to how you would at home. Even if you're planning on setting up a fire, you will still want to have a portable stove at hand.
Having a portable stove that can easily fit in the car will guarantee that you will have a warm, decent meal whenever you want and also get that morning cup of coffee. Portable kettles and mess tins are cheap items you can buy to accompany the stove. A cooler for foodstuffs like meat, dairy products, and other perishable stuff can really come in handy.
And if you are wanting to plan what to eat for breakfast, check out our article on what to bring for breakfast while camping.
Plan For The Weather & Appropriate Clothing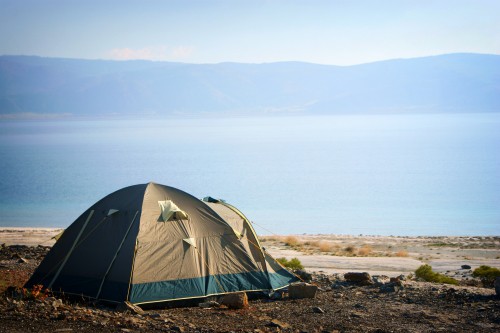 Mother Nature is sporadic, and while you're on 'Her' turf, anything can happen. Even if the forecast is said to be sunny all through your stay, you can never be too certain. You may be out and about hiking, then all of a sudden rain starts pouring. Here are a few pointers of planning for poor weather:
Waterproofing: You never know when the rain will start pouring. You will need to go for waterproof tents that can withstand both wind and rain. Go for an outdoor store that sells waterproofing sprays and provides a variety of solutions to keep your tent dry throughout.

Pack backup supplies: While you're out in the wild, anything can happen. So you better come prepared with backup supplies to act as contingencies. So in case there's a leak or a hole in the tent, better be sure you have impromptu tent cover to shelter you.

Create a recreation area: When the weather conditions are poor, the last thing you want to be cramped up inside the tent all day. That defeats the whole purpose of camping, which is meant to enjoy and take in the great outdoors. So having an awning or small gazebo can offer relief from being stuck in a tent. A recreational area free from the elements will allow you to take in the scenery as well as act as a communal area.
Plan For Good Weather As Well
As much as things may go sideways while in the great outdoors, you also need to be prepared for the best that Mother Nature has to offer –Sunshine! Just make sure that you have stocked up on comfortable, light clothing, sun scream, umbrellas, and hats to block out harmful sunlight rays. The great outdoors has a lot to offer… maybe that's why it's so Great!
Plan For The Entertainment
Just come to terms with it; there's no way you can disconnect people from their daily routine of getting entertained continuously. Even if your intentions are good, impeding people or even you from simple pleasures of life like entertainment can turn the entire camping trip sour. There's only so much the outdoors can do other than the natural aesthetic. Sitting around can get boring really fast, plus there's just so much you can talk about. For this reason, you need to have something that keeps you or the kids entertained. Carry some board games, card games, sports gear, drawing suppliers, and the like.
Camp Comforts
Just because you've gone camping doesn't mean that you have to forego your way of life. There are a few pleasures that are just mandatory while in the wild. For instance, bug spray, plastic light bulbs, and tables for eating your meals are just but a few!
A camping trip involves a lot of variables at play, which is why you must be adequately prepared to make the most of the time you'll be in the great outdoors and away from the bustle of the big city. Following the aforementioned guidelines is a sure-proof way to ensure your first car camping trip is enjoyable and fun.
What Kind Of Camper Are You?
Outdoor Survival
---
Car Camping
---
Backpacker