Guide To Use When Visiting Hiawatha National Forest
If you click and purchase with one of our links, we earn a commission. Thanks.
Are you planning to visit Hiawatha National Forest anytime soon? If you are, it is good to plan ahead. Do thorough research to learn more about the area. You want to enjoy your visit there, and the best way to ensure you have a good time is to research thoroughly. Having a guide will help you spend your time well and visit the best sceneries in the area. The forest's lakeside setting makes it unique since it provides distinctive wetland habitats, which makes the area ideal for recreational activities. The forest is known for its sustainable ecosystems and unforgettable experiences. There are many activities that you can do in the forest, including camping, hiking, and seeing wild animals. You need to know which activities you want to engage yourself in, to avoid getting confused once you reach the destination. The Great Lakeshores, snow, and Islands set the forest apart from every other forest. The forest boasts shorelines of about five great lakes. If you love water activities, you will love being in the Hiawatha National Forest. These are some of the reasons tourists consider Hiawatha National forest a unique destination. Use the guide below to prepare for your trip to Hiawatha National Forest.
Transportation
It is good to secure a recreational vehicle when you are exploring Hiawatha National Forest. There are two main routes traversing the Michigan Upper Peninsula, which make it easier for you to travel in your RV. You won't experience a lot of difficulties since you won't need to leave the pavements. Most of the roads are okay. However, you should expect road works during your travel, especially when there is heavy winter snow. If you find unpaved roadways, approach them at a slow pace. There is also a possibility of you experiencing potholes or sections of soft sand or mud. Driving at a slow speed will help you handle the potholes better. Be on the lookout for low branches during the early season. It is also good to confirm whether you are traveling in a huge RV or not. Larger recreational vehicles might not be the best because you may have difficulty making turns on the forest access roads. Don't worry much because the roads are easily navigable, and hence, you will be able to explore as you enjoy the fantastic views.
Activities To Do In Hiawatha National Forest
Swimming
If you enjoy swimming, then you will have a great time at the Hiawatha Forest. If you want to see the rarely visited waterfront, board the ferry that goes to Grand Island and enjoy the 13 beachside campgrounds. If you are on the mainland, explore the Bay view campground, which offers campsites and trails access to Lake Superior. You won't regret this. The scenery at Lake Superior is breathtaking. This is a good chance to take photos and videos of the area, as you swim. Note that lifeguards are not present. Ensure you accompany your children if they want to swim, to avoid issues that may arise, such as drowning.
Hiking
There are so many trails in the Hiawatha National Forest, which make it ideal for hiking. If you want to stretch your legs as you interact with nature, this is where you need to be. Hiawatha National Forest has trails that are accessible for those with disabilities and those without. There are trails for those who prefer a rugged hike as well. Hiking is an ideal way to spend the day with your crew as you get to know each other. There are informative signs scattered throughout the forest to enable tourists to understand more about the area. It is, therefore, difficult for you to get lost. You have the option to go for longer hikes as you enjoy the solitude of the quiet wetlands, waterfalls, and peaceful woodlands. If you want to immerse yourself in the beauty of the northern forests, choose the North Country National Scenic Trail. You may also catch a glimpse of soaring bald eagles as you enjoy the hike.
OHV Riding
Apart from hiking, you may choose to go riding. Many trails are set aside for riding. If you enjoy riding, you will enjoy your stay in the forest. There is enough space for you to go riding with your crew, as you enjoy the scenery. It is so peaceful and fun, something you don't want to miss out on. One thing to note, however that is all OHVs must be registered. Expect to be given trail passes which are compulsory for some local trails. It is vital that you follow all the rules when you are riding to avoid getting into trouble. You should also be on the lookout for signs of closed routes.
Scenic Drives
If you love to explore, you should also consider scenic drives in Hiawatha National Forest. As long as you have a functional RV, you can enjoy the ride comfortably in your car. There are several driving tours that you can use in Hiawatha National Forest. One of the most breathtaking routes to go for a drive is the Whitefish Bay National Scenic Byway. It offers breathtaking views of the forests of northern hardwoods, Lake Superior, and other historical stops. You also get the chance to experience the clear waters and long sandy beaches, which makes the drive unique. If you get the opportunity to visit in the fall, you should check out the fall color tour, which is located in the western section.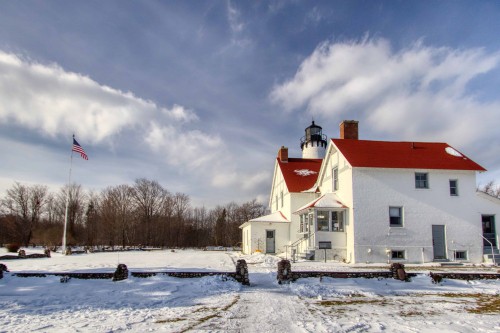 Camping
Camping is the other fun outdoor activity that you can enjoy at Hiawatha National Forests. Camping is fun because it gives you the chance to interact with nature, and spend your night in a different environment than the one you are used to. Camping in the forest is ideal because you get to enjoy the many sceneries as you go about your activities. There are developed campgrounds and dispersed campsites set aside for this purpose. You are allowed to build a campfire with your friends and have fun during the night. You also get to enjoy the peaceful air, something you rarely get in the city. Note that there are six campsites located on the Grand Island, four at Trout Bay and two at Murray Bay. Before you visit, it is good to do some reconnaissance to learn more about camping sites.
Note that you are not allowed to camp anywhere in the forest. There are areas that have been specifically designed for camping. Campers are required to set their tents within 15 feet of the marker post at every designated site. There are marker posts set inside the campsite to help campers know where they should set up their tents. Campfires are allowed, but they should only be lit in the metal fire ring provided. Therefore, you are not allowed to light a fire on the beach or outside the metal fire rings. If you want to camp at the Murray bay, it is essential to understand that the camp can accommodate up to six people. The maximum number of tents in the Murray Bay campsite is two.
The Trout Bay campsites can only accommodate a maximum of four people with only two tents per site. However, there are random sites where campers are allowed to set their camps. These random sites should strictly be more than one hundred feet from inland lakes, named creeks, Lake Superior, The natural research area, and other campsites. If you love spending your time along the sandy beaches, swimming in the ocean and lakes, or camping under the sky, you should consider the Grand Island.
Carp River Campground
The other camping site in Hiawatha is the Carp River Campground. It is located north of the Mackinaw Bridge. It is a quiet spot that you can easily miss. This site is known for fishing since the campground borders the river. It is an ideal place for people who enjoy fishing as a sport. When you go camping, the main aim is to recharge and get rid of all the negative thoughts that have been eating you up. Fishing helps you to relax your mind as you interact with nature. Going fishing with your crew is also fun because you get to build a stronger relationship with them as you enjoy the surrounding.
The campsites in Carp River Campground are wide enough, which makes it ideal for campers. All the sites in this area come with a fire ring and a picnic table. They have facilities such as water spigots that provide campers with water during their stay. There are dumpsters and latrine style toilets. In short, all the necessary facilities are available. There is so much you can do during camping. Try to come up with activities that will make you and your loved ones engaged during the camping period.
If you plan to visit Hiawatha national forest, you shouldn't waste any time. You can do so much at Hiawatha national forest, including swimming, fishing, camping, and hiking. It is good to spare some time to enjoy yourself. Don't bury yourself in work and forget to take care of other aspects of your life. Use the guide above if you want to visit the area.
What Kind Of Camper Are You?
Outdoor Survival
---
Car Camping
---
Backpacker