Review Of Luvdbaby Premium Baby Backpack Carrier
If you click and purchase with one of our links, we earn a commission. Thanks.
Hiking can be a boatload of fun but it's not as easy with a baby in your arms. Most parents will want to keep their child safe during the expedition and rightly so.
Keeping this in mind, it's important to find an all-encompassing backpack carrier that allows you to move around freely with peace of mind. In this review, the spotlight is going to be on Luvdbaby's Premium Baby Backpack Carrier.
Does this backpack carrier offer enough value to be a solid investment or is it better to go with something else? This review will take a look at the key features, pros, and cons of this carrier for those who want the best possible fit for their hiking needs.
Premium Baby Backpack Carrier with Removable Backpack - 2 in 1 for Hiking with Kids – Carry your Child Ergonomically (Orange/Grey)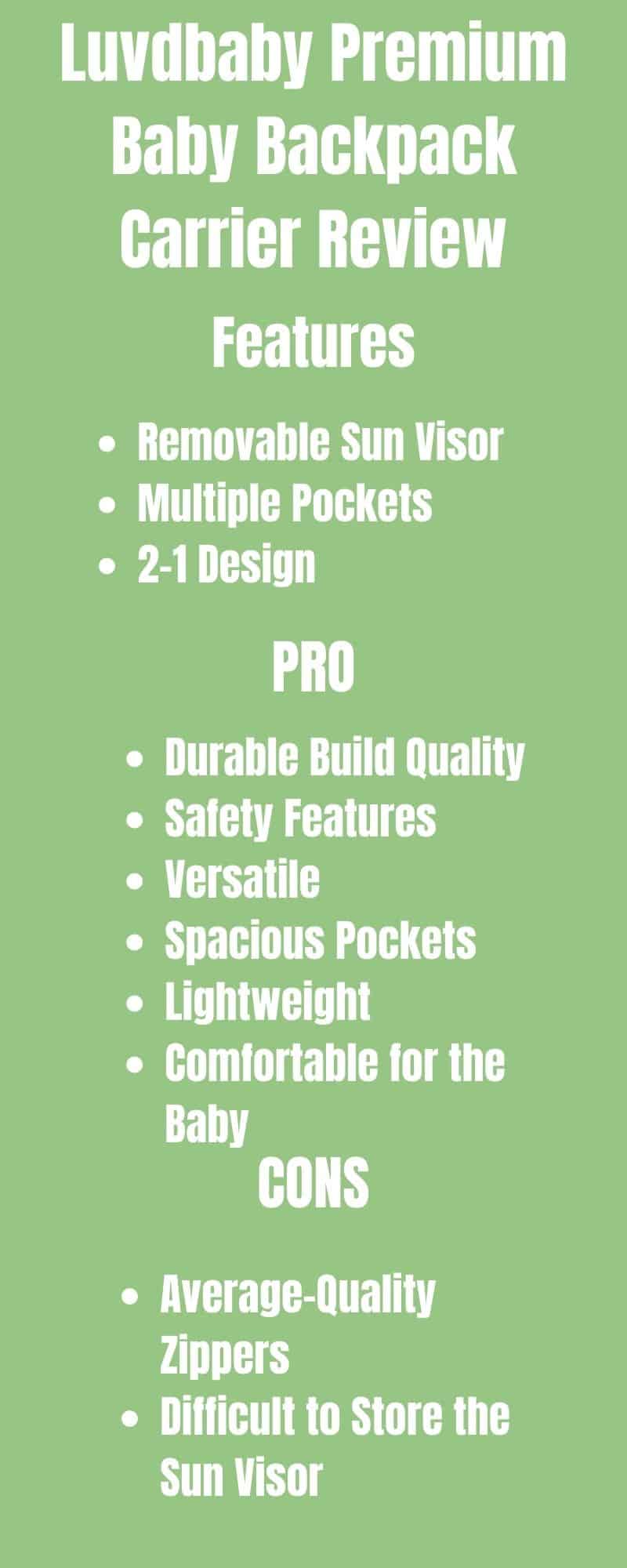 Key Features
Removable & Stowable Sun Visor
The sun can beat down during the afternoon and it's not ideal to have your baby take the brunt of this while outdoors. While most parents are going to try something as simple as a hat, it might not be enough to protect other exposed parts such as the hands and neck.
To make sure you are not compromising your baby's health at any point during the trip, it's better to take advantage of a high-value sun visor such as the one that comes along with this baby backpack carrier.
The sun visor quickly pops out and provides comprehensive protection against the harsh sunlight. This is ideal to keep your baby safe and for your peace of mind too.
---
Transform YOU into your child's favorite teacher. Learn how
---
Multiple Pockets
Pockets are always going to play an integral role in how the baby backpack carrier performs. The goal is not only to take care of the child but also to make sure you can carry all of the necessary items needed for the trip in one spot.
The Luvdbaby Premium Baby Backpack Carrier offers a long list of pockets including insulated pockets for your water bottle. This is perfect when it comes to ensuring your water doesn't warm quickly when you are walking around outdoors.
With so many pockets to work with, carrying your items will be a breeze.
2-1 Design
The 2-1 design is what this baby backpack carrier is marketed for and that's what makes it stand out. In essence, users will be able to carry their baby safely while also enjoying the perks of a high-grade backpack. This is essential for anyone that is going to be walking outdoors for long hours.
Whether you want to carry personal items and/or items for your baby, this carrier is going to make it possible.
The 2-1 design is simple, easy on the eyes, and great for those who want tangible results when they are walking around in the sun.
Made of Waterproof Ripstop Nylon Material
The build quality is something the brand has taken the time to focus on. With the Luvdbaby Premium Baby Backpack Carrier, each element has been made with high-grade, premium materials that are going to withstand all sorts of conditions when outdoors.
This is perfect since you are not going to want a situation where the carrier starts to break down on you with the baby sitting inside!
In this regard, the waterproof design is long-lasting and perfect for those who want to enjoy a high-value solution for their long-term hiking or camping needs. You can trust this to work well once it has been set up.
Foldable Diaper Changing Pad
For those who are going to be carrying their baby from one place to the next, it's essential to trust what you are using and still have the ability to change diapers.
With this baby backpack carrier, it's possible to enjoy using the diaper changing pad anywhere you go. This pad is comfortable, easy to use, and perfect for different conditions. You will know it's going to be available whenever your baby needs a change.
Just having the access to this is empowering and it's something the baby backpack carrier offers to all users.
Pros
Durable Build Quality
The premium-grade nylon material is about as good as it gets. The material is comfortable for the baby, waterproof, and is accompanied by high-level insulated pockets that are great for your water bottles. You will know the durability is never going to be in question with this baby backpack carrier and that is a major plus point.
The high-grade materials will stand out and are going to impress as soon as you begin to use them. While the zippers may give you a bit of trouble, everything else is about as good as it gets.
Excellent Safety Features
Safety is always a priority when it comes to going hiking or camping, but even more so when it involves your child.
You don't want to risk their safety and that is where a high-quality solution such as the Luvdbaby Premium Baby Backpack Carrier comes into play. This is among the best at what it does because of the built-in safety features.
There is added padding along the sides and the sun visor also offers increased safety from the elements. It's one of the most ideal options on the market right now for keeping your baby safe on an adventure into the woods.
Versatile
The 2-in-1 design is all about versatility and that is the first thing you are going to enjoy about this baby backpack carrier.
You will know it's going to last in all situations and it is going to help carry your baby too. Why go with something that isn't easy on your baby's body?
This will allow you more than enough space to hold important items while also knowing it is versatile at the same time. It's a real win-win.
Spacious Pockets with Insulation
The pockets are something you are not going to want to overlook when it comes to performance. There is nothing worse than being in a situation where the space is limited and you have to start carrying important items.
In this regard, the Luvdbaby Premium Baby Backpack Carrier is a masterpiece. It has multiple high-grade pockets that are insulated and/or made of mesh allowing you to stuff as many things as you want without hindrance.
Lightweight
This is designed to have a balanced design even when you are carrying a baby in the back. This ensures your back is going to be in good shape even if you are walking for long hours through the outdoors. Its lightweight design is a major plus point and it's something you are going to require when stuffing items into the baby backpack carrier.
Comfortable for the Baby
This is one of the biggest plus points of going with this solution and it's something that is going to stand out right away.
Your baby is going to enjoy the additional padding to the sides that help nestle them into place. You don't want the baby to start swinging back and forth while you walk and that is not the case here at all.
It lasts for a long time and it is easy on the baby's body in all situations.
Cons
Average-Quality Zippers
One of the biggest flaws associated with the Luvdbaby Premium Baby Backpack Carrier has to be the inadequate zippers. They are not as premium-quality as the other components and can become difficult to close when there are items inside the baby backpack carrier.
You will have to take the time to use a bit of force and that is not always amusing when you are outdoors.
It's important to keep this in mind if you are going to try to stuff the backpack. It might become difficult to close the zipper, so do leave a bit of breathing room for the zippers to close properly.
Difficult to Store the Sun Visor
A concern that does tend to pop up from time to time would be the sun visor's storability. Yes, it can be stored away when not in use or when the sun is not out, but it isn't as easy to do while moving. This means you have to fidget away trying to get it to store inside the backpack, which isn't an ideal situation to be in with a baby in your arms.
It's a small concern but it's one that is going to stand out when you have other items in the baby backpack carrier to deal with.
Final Verdict
The Luvdbaby Premium Baby Backpack Carrier is an exceptional solution for those hiking or camping. It's easy to use, comfortable for the baby and offers more than enough space for all of your key items.
For those who want to make sure their baby is safe throughout their time outdoors, it's best to invest in a 2-in-1 solution such as this one. It's lightweight, built to last, and offers a versatile solution you can use in a wide array of situations.
If the goal is to end up with a high-value baby backpack carrier then it's time to buy this high-grade product.
---
Transform YOU into your child's favorite teacher. Learn how
---
What Kind Of Camper Are You?
Outdoor Survival
---
Car Camping
---
Backpacker