How To Go Camping In An RV
If you click and purchase with one of our links, we earn a commission. Thanks.
Table Of Contents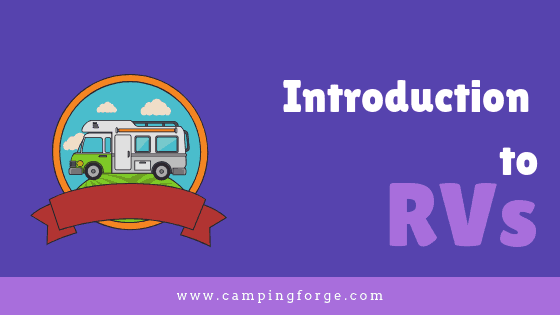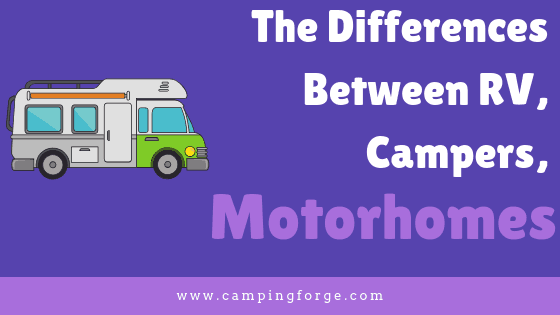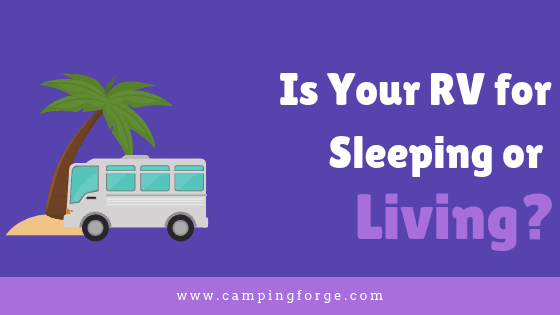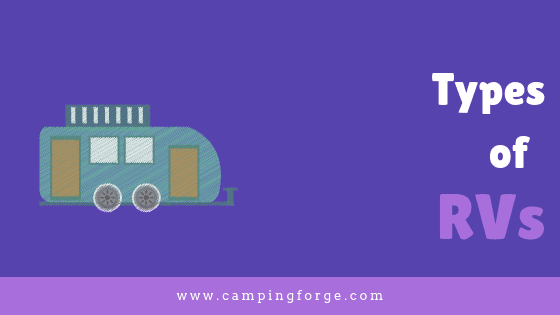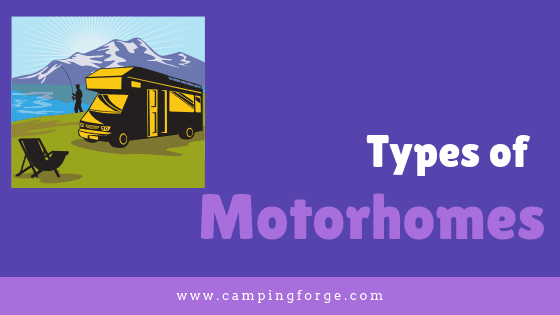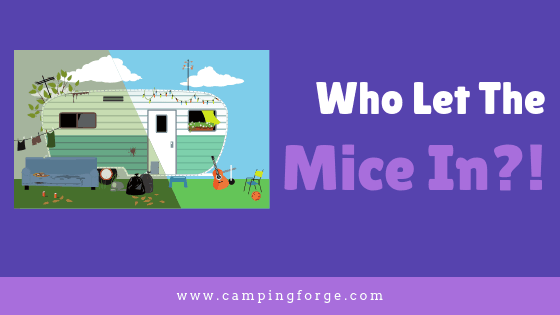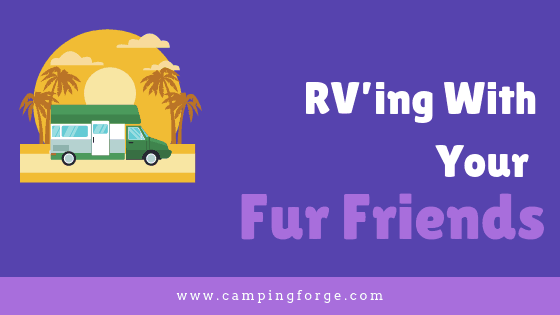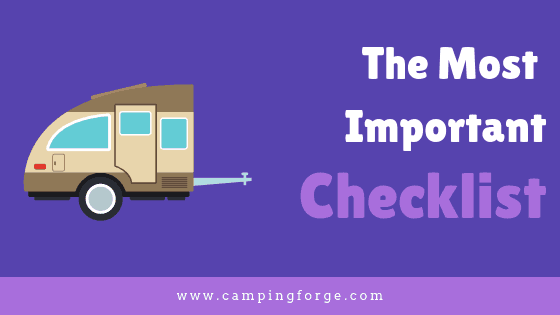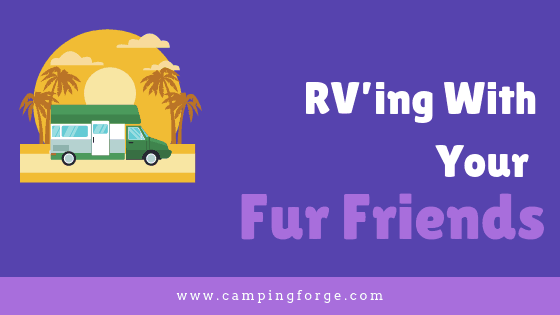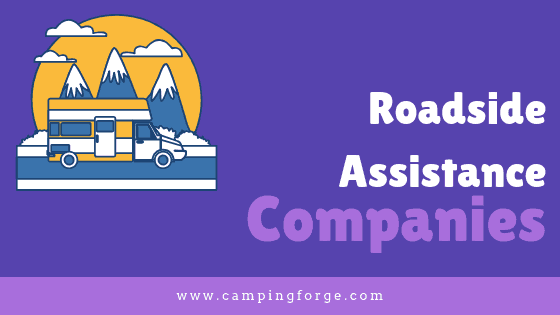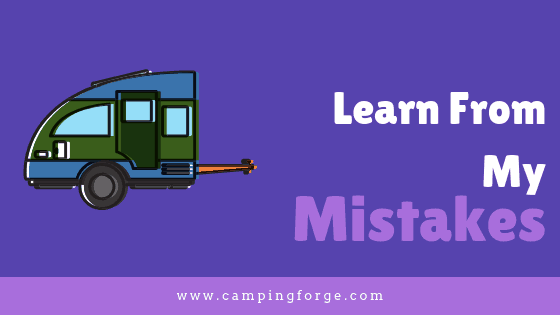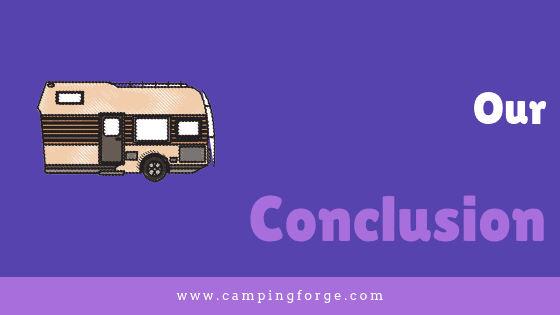 ---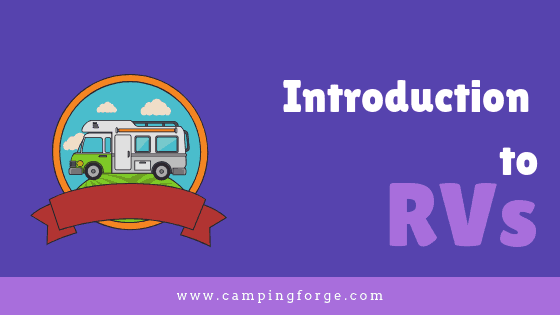 Do you love the idea of camping but hate the idea of pitching a tent? Or pooping in a hole in the ground? Then RV 's are the answer to your camping prayers.
Like most RV newbies I'm sure you have a million questions.
This article will answer those questions.
And before we go on – we will also compare Campers as well if you are not ready to invest in a complete Recreational Vehicle.
For example, what recreational vehicle will match your family's specific needs? Or, what different kind of RV's are there and what do they have to offer?
Do you even know there are different types of RV's?
This list is your definitive guide to RV'ing, and it is full of details for what you need to know before you buy an RV, hard-sided, pop-up camper, or any of the like.
If you love camping but want to bring a few more comforts from home, then RV's are a great option!
You can enjoy a toilet, a little kitchen, a bed, and heating or even cooling! Forget about sleeping on the hard-as-a-rock ground and enjoy the bed that comes in your RV.
Make the kids sleep outside. Roughing it will be good for them. HA!
Sizes of RV's range drastically because some can fit large families, some fit small families, and some are just perfect for you and your dog! RV's are an excellent option for a family of any size.
Now, a few weeks ago. I went camping in an RV and suffered through a traumatic experience with some Cheetos, a mouse and me shrieking until I banged on my chest like Tarzan and got rid of it.
But don't let that deter you from investing in your families next adventure.
Just clean and seal your RV correctly while it's not in use and rodents shouldn't be a problem (although no promises about daddy long legs, but they're good spiders, Scout's honor).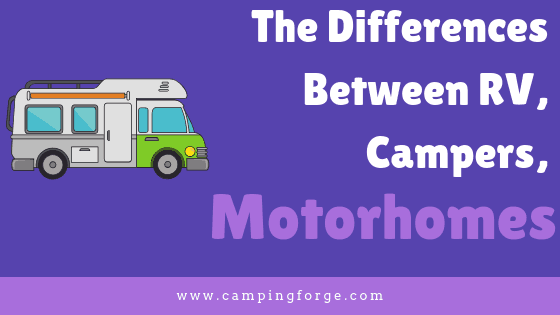 The Differences Between RV, Campers, and Motorhomes
We all start at step one, and step one is knowing absolutely nothing about RV's.
Before I got into RV'ing, I knew squat about the differences between different motorhome classes, and I definitely had no clue what a pop-up camper was.
But I am now experienced, self-educated and here to help you through this challenging time.
I know it's daunting.
You go to the lot, and the salesman asks you all types of questions that you don't know how to answer.
And like a classic car salesman you know he's trying to make that commitment.
Let's not be biased though, he's just trying to make enough money to enjoy his life too.
You're here to make an investment, and he/she's here to help you out!
All you know is how big your family is and that you want to go on a road trip across the country with your dog.
RV's, which is short for a Recreational Vehicle, and campers are familiar names, but they don't truly define what each vehicle it is.
So, heeeere I am to save the daaaaay!
Captain RV/Camper has finally arrived, and yes, I know that I need a new name, but I already have the outfit, so I'm not changing it.
A recreational vehicle relates to any type of vehicle that has some home amenities attached. A motorhome has its own driving cabin while a camper is typically a trailer that is pulled by an SUV or truck.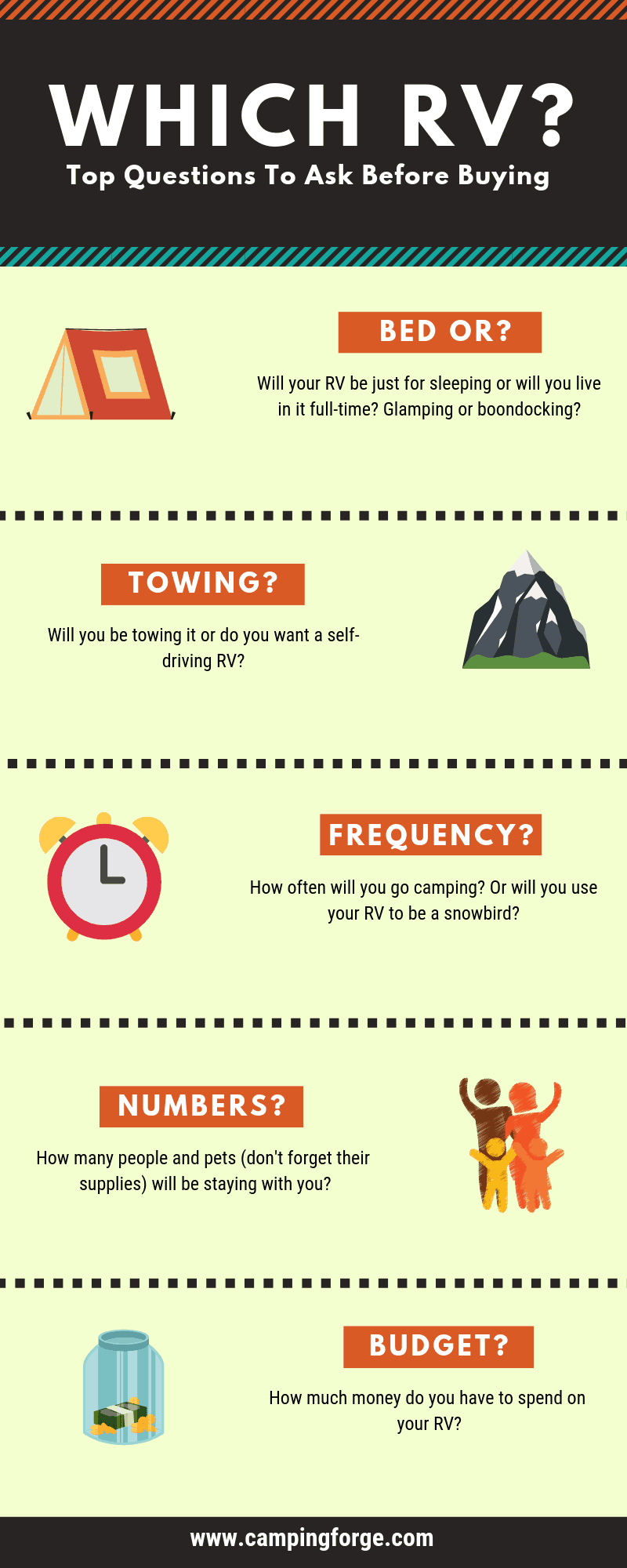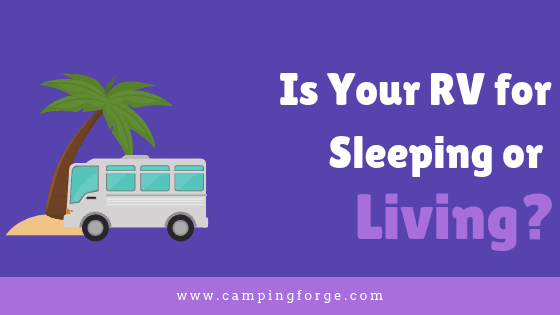 Is Your RV for Sleeping or Living?
Full-time RV'ers typically opt for the larger rigs with ample storage space and amenities while weekend warriors usually choose for the smaller options.
Don't let the smaller rigs fool you though, my first cross-country trip was in a 28-foot Class C camper, and there were five of us; me, my husband, my son and we brought my parents. 3 glorious months and 13,000 miles of memories and laughter that will be with me for a lifetime!
How many people will travel with you? Are the kids moved on, and now you're reconnecting with your spouse and hitting the road? Do you have small children? Are you claustrophobic? Do you and your significant other need your own space? Really think about your tolerance to being shoulder to shoulder and butt to butt for your vacation!
Have you heard of a bunkhouse camper? No? Let me tell you a story. I was camper shopping for a really cheap tag along (bumper pull) camper. I required that it be mold free, at least 24 feet long, not have bunk beds, and less than $4,000. Sound easy right? It is – in New England.
The salesman pointed to 3 lonely campers shoved into spots wayyyy out back so no-one would see them. He told me to forget them and turn my attention to the $20,000+ beauties.
Of course, I walked toward the campers to check them out. One had severe water damage from a leak in the roof, one was butt-a$$ ugly and the third needed a good cleaning but had 3 bunk beds.
I shook my head and left the camper, disappointed that it had bunks because it was perfect in every other way. I purchased that bunkhouse camper the very next day, and it has been the BEST camper purchase I have ever made! A year later, I sold my house and lived in that $2,500 camper for a year (yep, I'm a great negotiator).
Those bunk beds have been used for winter clothing storage, they have been my dresser, housed all my work equipment (I work at home) like a printer, paper, files, books, etc., and now I take it to horse shows and they have all my show outfits and equipment on the beds!
Moral of the story – Keep an open mind about campers. Sometimes the ugly duckling will suit your needs better than the spiffy, shiny new one! Pets, do you have pets? Envision where the dog bed, food bowl, water bowl, and toy basket will be. Make sure it's someplace that you won't trip over 22 times a day (or worse, night).
To Truck or Not to Truck – That is the Question
Have you always wanted to own a truck? Do you already own a truck?
Before you set your sights on a specific 5th wheel or bumper pull camper, there are a few things to consider.
Have you ever heard of GVWR or towing capacity? Please don't take a salesperson's word that your truck can pull your dream RV. Check both the RV's and truck's manuals to ensure that the truck is rated to tow the weight of the camper fully loaded. I'll admit, I RV'd for many years before I educated myself and now, I RV safely by driving or towing a road legal rig!
>What are Your Must-Haves?
Remember my bunkhouse story? Yeah, well now bunks are on my list as a definite maybe when camper shopping.
But seriously, what makes your heart go pitter patter when you're window shopping at the camper lot? Fireplace? King size bed? Full-size refrigerator? Outdoor kitchen?
Stay flexible, you may not be able to find the perfect RV, but you'll have a blast shopping for it! There are newer and used campers for sale than you can shake a stick at so take your time and find the one that's too good to leave behind!
You Don't Even Need a CDL
It's incredible but true… and scary! I was a boater for a long time, and routinely, when folks buy a larger yacht, they hire a captain aboard to teach them how to operate and pilot their new boat.
I wish I could say the same for the camping world. I was shopping at a camping dealership years ago, and a fellow jumped into his new rig and drove off. The only problem is he drove over the nose of a car because he didn't know he had to swing right to take a left turn.
Be smart (or smaht like we say in New England) and make an investment in your and others' safety by taking driving lessons in driving or towing your new rig.
The other fantastic thing is that you can rent an RV to try out the style you think you want before you plunk down lots of do re mi.
The Internet is Your Friend
Even though you think you're the only lucky duck that is ready to invest in your dream RV and start really enjoying life, you're not. Many have made the investment before you.
Those roving hordes of lucky ducks often gather for discussion and comradery online in camping forums. Take advantage of their experience, opinions, suggestions, and humor.
Motorhomes of every size and shape can be used for the occasional camping getaway and for the bolder bunch, full-time living. I have used them for both and would suggest that if you plan on winter camping make sure your rig is outfitted with an arctic package. You'll be shivering and have no running water if you don't.
You do not have to reinvent the wheel – it already exists and is alive and well in camping discussion forums. Try googling 'camping forums' and see for yourself.
New, Used, Big, Small – What Can You Afford?
There are many things you need to consider when deciding what RV you'd love to own.
Consider the following:
Purchase price
Insurance
Registration fees
Mechanical repairs on used rigs
Buffing and fluffing the appearance of a used rig
Enhancements (I replace the toilets in every used rig I buy with a new porcelain toilet – seriously, it's my must-have)
Gas mileage
Diesel is costlier than gas
Diesel repairs cost more
Campground fees vary by length
The last thing you want to do is have your expenses make you RV poor. Poor enough that you cannot actually enjoy nature, your camping buddies and your rig. It's no fun camping in the driveway all summer.
Planning, Designing, or Purchasing New or Used from a Dealership?
You've read all I've written above, made your list of must-haves, rented campers you thought would be great fits, come to terms with the fact that there's no perfect RV, sulked for a bit and searched, found, and bought a great RV.
You are now at the end of the first stage of preparing to enjoy RV'ing.
There are many more steps before you can hit the road and enjoy your newly purchased RV.
Ask the dealership or salesperson at the RV show what forms of payment they accept.
Head to the bank to start the loan process or transfer funds from your account to an accessible account.
Transfer the funds from the bank to the seller in the form that they accept
Have the seller show you the completed PDI (Pre-Delivery Inspection). This shows in detail that they have checked and inspected all systems, upgrades (like TV's, larger holding tanks, a/c units with an added heat strip), and amenities are in perfect working order and have been installed.
Schedule a walk through at a convenient time. It could take a couple hours so make sure you clear your schedule and don't hurry this process. A complete walkthrough will save you many frustrating trips back for minor adjustments and repairs.
Record every step of the walkthrough in separate videos on your phone, for instance; putting the awning out, stowing it away, replacing a propane tank, and emptying the black and gray water tanks. Start the videos pointing the camera at the item the video is about to make finding that video a cinch.
Remember that the person doing the walkthrough can operate an RV with their eyes closed – you cannot. Ask tons of questions. Make them repeat themselves if you don't understand. This is the time to really learn and not a freezing cold night when you run out of propane and have no idea how to switch the tanks. Also, have them show you how to maintain things. Should you vacuum the compartment at the back of the refrigerator after sitting all winter? Story Alert: Most every spring my fridges won't fire up on propane. I learned a long, long time ago that spiders and other insects could build webs and nests in your refrigerator chimney stack. Vacuum and clean them out and whalla!
Your rig will probably be buffed and fluffed, and all set up when you get there. It's great to know that your electric awnings work, it's another thing to know how to make that magic happen! Open and close the awnings, light the refrigerator, ask what an inverter is and how it works, turn the hot water on, light the stove. Most importantly, learn how to do all these processes manually. Story Alert: I had been boondocking (off-grid) for several days at the Eastern States Expo in Massachusetts. If you have not been, put it on your bucket list! We broke camp, and the last task was to pull in the slide outs. A millisecond into the process my awning gave the dreaded last breath noise and came to a stand-still. I had NO idea how to bring in the bump-outs manually. Don't be me.
Look over your new, beautiful rig with a fine-tooth comb. No, you're not looking for nits, you're looking for bumps, scratches, windows that don't slide easily, a shower door that allows water to drip out, look underneath for leaks, etc. Make sure they put water and pressure to the rig so you can find any interior or exterior leaks!
Ask the dealership if they offer a cheat sheet for breaking camp and setting up camp.
If you're purchasing a bumper pull RV, bring your truck to practice backing up to it, securing the hitch and chains, and attaching the electric cord
When folks start planning their first RV experience in their new rig, visions of lounge chairs, twinkly lights, and new margarita glasses are dancing in their heads. Put down the tequila bottle and think about safety.
Learn about GVWR (gross vehicle weight rating), hitch weight, payload, towing capacity to ensure that your towing vehicle or your RV can tow the vehicle you have.
The gross vehicle weight rating (GVWR), or gross vehicle mass (GVM) is the maximum operating weight/mass of a vehicle as specified by the manufacturer including the vehicle's chassis, body, engine, engine fluids, fuel, accessories, driver, passengers, and cargo but excluding that of any trailers. – etrailer.com (https://www.etrailer.com/question-123884.html)
Most tow vehicles need to be outfitted with trailer brakes and tow hitches. You need to do the installations before you arrive to pick up your rig. If you are towing a 5th wheel or bumper pull make sure the RV is as close to level as possible when properly hitched.
Sway bars are an option you might want to consider. The dealership will offer them to you as an option when negotiating the sale. I have towed large 5th wheels and long travel trailers for long distances and never felt the need to have one installed. Don't take my word for it though, do your research before you seal the deal because you can add them to the loan rather than paying up front.
Even though you might be purchasing a brand-spankin', new RV, you still have to buy some necessities.
A LONG, high-quality electric cord (buy the longest one you can afford – you'll thank me later)
Electrical plug adapters (you might need 50, 30, and 20 amp adapters)
High-quality sewer host and the correct adapter for your rig
Chemical resistant gloves to perform the poo-poo dumping
Water pressure regulator – the best investment you'll make if you'd like to prevent "Old Faithful" in your bathroom.
Surge Protector
Before you head out on your first long distance adventure be SURE to take a test run with your RV. You need to pack up, hook up, test the lights, drive around your town or to a campground and LIVE in the rig for a few days and nights. If you experience your maiden voyage in your driveway, do NOT run your A/C with a 20-amp cord from the house. Do NOT do it! You risk ruining your A/C unit!
There are a lot of do's and don'ts to RV'ing, but if you print out the lists I have in this blog and pay attention to my suggestions, you'll have a much smoother ride on your fantastic vacation!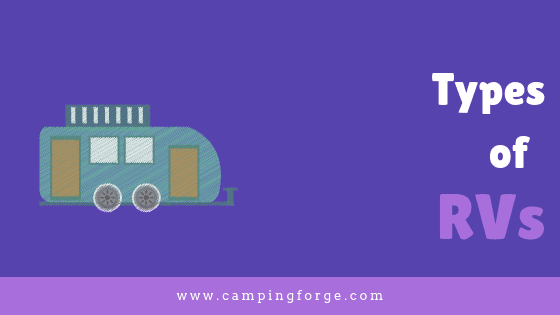 Types of RVs
I'll start with the smaller and less expensive travel trailers and work up to the crème de la crème, class A diesel pushers.
1.Travel Trailers
The most significant advantage of a travel trailer is that you can get just about every amenity on your must-have list at a great price!
Murphy beds, outside bars and kitchens, arctic packages (that's camping-speak for winter camping ready), and some can be towed with an SUV.
Travel trailers can range from 1 bed to being large enough to fit 6-16 sleeping people. You hitch it up behind your non-fun vehicle (SUV or truck) and enjoy! They are used by folks that are infrequent travelers and full-timers alike.
Travel trailers are the most versatile of all RV's because they can be tiny with limited amenities all the way up to luxury models with slide outs and fireplaces. The only real cons about travel trailers are that they are bumper pulls and can be difficult to maneuver within camping sites and more difficult to reverse. In other words, practice so that you don't jack-knife it!
The longer the RV, the more tail swing you will encounter. What is tail swing you ask? It's just like skis on a first time skiers shoulder. When the skier pivots and turns around, the person next to them better duck or they are going to have a headache. Capish?
Good points
A vehicle can be unhitched and used to scoot around exploring
Comes in all shapes and sizes
Can tow with a truck or SUV
Less expensive than a motorized RV
Not so good points
Not easy to drive because it's a bumper pull
Tail swing on larger models
Need a spotter to drive in reverse
2. Pop-up Trailer
They are the smallest RV's and are light, fold up, and they have a canvas that can expand to produce a sleeping area, shower, a toilet and maybe even a kitchen. Because of the soft sides, they are not suitable for air conditioning or heat.
While we're talking about canvas sides, that also makes them prone to condensation, water leakage, and mold. They must be aired out frequently which can be very inconvenient.
There are now models with hard sides that fold up too. They fold down into themselves for easy towing. The bad part about folding down is that you must dry them out after a rainstorm before storing them for extended periods of time. If not, you'll end up with a moldy RV that you won't want to sleep in.
Bonus, you can see out your rear-view mirror when driving these RV's.
They can sleep 6 more people but are small enough to fit in tight places and are great for the occasional camper. What they lack in amenities, the excel in convenience and affordability for those on a tight budget.
The biggest plus-side to a pop-up trailer is that you can attach it to a smaller vehicle than all the other campers listed so-far. This leaves you to easier maneuvering and less gas! Because they are primarily canvas, they wear out quickly because of the rubbing when they are collapsed.
They do not have much (if any) interior storage so it can be inconvenient for frequent camping and you can expect the hinges to fail when you are trying to break camp before dusk.
Good points
Smaller and light
Might be able to use the truck, Jeep or SUV you own to tow it
Get the "overlanding package" if you plan to go offroad with your Jeep
You can go anywhere with them
Less expensive to own and operate
Not so good points
Cramp space
Must dry out before storing
Do not have air conditioning or heat
Canvas sides = potential leaks = Ugh
Prone to mold
Canvas can get condensation and feel muggy inside
Canvas wears when it rubs on metal parts
Cannot store much in them
Folding hinges tend to fail when it's least convenient
If you'd like to try before you buy, rent one. Make sure you experience one in rainy weather, so you know about the not so good points too!
3. Tear Drop Campers
Two types of teardrop campers are popular right now, tiny sleeping campers and even tinier sleeping campers with outdoor kitchens.
These campers are very lightweight and can be pulled by most cars. They sleep 2-3 people but their real purpose to be small and lightweight. They are not packed with amenities and certainly don't have my must-have: flush toilet.
4. Retro Travel Trailers
Retro travel trailers are all the rage right now. There are clubs, meetups, and organizations. I have friends that own retro trailers and are having a blast going to all the events. They are cute, functional and expensive. Just my opinion.
5. Airstream Campers
Airstream campers have been around for 85 years. The company's motto is "Let's not make changes. Let's make only improvements."
The Airstream trailers are travel tested and adventurer approved. Folks that own Airstream trailers are very loyal to the brand. Like the retro trailers, there are meet-ups, weekend gatherings, tours, and clubs. It's not unusual to see 6 or 8 Airstream campers winding down the road together. The company is going through a successful rebirth.
They are built on an aluminum structure and sheathed in aluminum. They have a low center of gravity which makes them easy to tow. Their design is aerodynamic allowing you to get better gas mileage when towing as compared to traditional camper designs.
There are a lot of great design features in an Airstream, but I think the fact that the shell is built and then all the interior furnishings and appliances are brought in, is excellent. This means that you can replace everything in the camper without having to take out a window or take down a wall to bring in a replacement part.
6. Truck Campers
These small campers ride right on-top of your truck's flatbed. The offer an enormous amount of flexibility for avid outdoors people that love to hunt or fish. Because it becomes part of the truck, you can shift into 4-wheel drive and head for your favorite fishing spot and camp off-grid.
They often have a lot of the same amenities as a travel trailer… minus the towing.
Many have a bed, kitchen bathroom and either a dinette or a sofa. I like a dinette better because you can work and eat at the table and collapse it to make either a day-bed or a sleeping bed.
The huge downside is the price. To me, it's one of the mysteries of the world why they are so unbelievably expensive.
7. Fifth Wheel Trailers.
These trailers require a unique hook up (gooseneck hitch) on the back of your truck, and I say truck because these can be up to 40 feet, so you need a vehicle with some power! So, it's either a truck or the Batmobile–up to you.
Save money and read this carefully. A few years ago, I purchased a hitch for many hundreds of dollars and brought my truck to have it installed only to find out that there are gooseneck hitches and fifth wheel hitches. Repeat after me, there are gooseneck hitches and fifth wheel hitches. Do a Google image search and buy the right one. Bam, I just saved you a bunch of cash. Buy me a good, unfiltered wheat beer as thanks when we meet someday.
Because the point of the pivot is over the rear axle, they are easier to maneuver even though they are more significant than travel trailers. They are the ones you see that overhang over the flatbed of a truck, so you also get some extra storage space in your trailer, but less travel space in your truck.
If you have a truck with a bed on the truck and not a flatbed, make sure there is enough space between the top of the bed and the bottom of your fifth-wheel or your truck sides will crunch like a cracker under your shoe when the wheels of your truck are much higher than the back wheels of your truck. Trust me, it happens out west at gas stations that have huge culverts in the entrance and exits. Ask me how I know, I'll show you pictures of the damage.
I wouldn't suggest one of these for a long road trip in a packed pick-up truck unless your family has zero cases of claustrophobia.
Which, believe me, even if you aren't claustrophobic you would be after spending several hours packed in a small space with your family. They typically have great kitchens with a large size refrigerator, microwave, stove burners, oven, lots of kitchen storage, and in the super-size models – a kitchen island! The master bedroom is usually in the overhang. I've been in one-fifth wheel with a living room up front, and it was a lousy set-up. Many large models have a stackable washer/dryer of an all in one unit. (Be still my heart! No laundromat for me!)
For those of you toting kids around, check out the bunkhouse models. Plunk down enough cash, and you can even get another bathroom and entertainment center.
Good points
Safer connections with a gooseneck hitch than a bumper pull hitch
More storage because of the overhang
Like a home away from home with all the comforts of home
Not so great points
Need a beefy truck to pull these rigs legally
You'll all be one big happy (squished) group in the truck
8. Toy Haulers – Sports Utility RV Trailers
Did you ever want your cake and eat it too? Now you can live in the RV'ing world!
Toy haulers are amazing for active couples or families. The is a combo of a fully outfitted fifth wheel, or bumper pull RVs plus a mobile garage.
If you are an avid snowmobiler, ATV'er, dirt biker, or boater, and want to see the outdoors using your toys instead of your feet, these are an excellent choice for you.
I know several families that homeschooled their kids on the road, and a toy hauler was a fantastic choice for them. They didn't bring motorized toys, but the garage space gave the kids lots of play space for rainy day fun. One family even built a wall of storage in the garage for extra clothes, food, and supply space.
The rear wall in toy haulers has three purposes; a wall, a patio (great for tots and pets) and a ramp for kids or toys to come and go. I'm a mouse-a-phobe, so the ability for kids to come and go with the door open without a mouse joining me in the living area is perfecto in my book!
I'm not sure I'd ever use the patio option of modern toy haulers, but they sure look cool in the pamphlets! Why use a patio when the ground is right there?
If you bring your motorized toys and fill the garage portion, the space you are left with for living area is rather small. When you look at the length of a toy hauler, you have visions of a McMansion RV, but in reality, it's on the small size.
Die-hard motorsports enthusiasts love having their toys close by but I, on the other hand, don't care for the smell of gas and oil in my RV. Face it, folks, if you have a motor in the same space as your living quarters, you're going to smell it. Blech.
The other consideration is the fuel being stored in the camper. Become a safety dictator if you're going to travel with fuel in the back. Secure it thoroughly every time you stow it in the garage. Sheesh, I'm telling you what to do, and I don't even know you!
Most manufacturers of toy haulers offer sleeping, eating, and bathroom amenities in the garage as an extra.
Good things
A combo of a garage for your toys and RV style living area
Safe, secure, and convenient way to transport motorized toys
No need to tow a second trailer
Ramp door can be used as a toddler or pet porch
Integral generator for rural glamping
Not so good points
Fumes in living space from fuel
About ½ of living space is a garage
My opinion is the quality of construction is inferior to standard RV's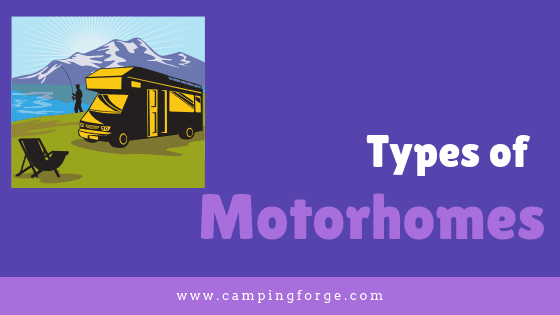 Types of Motorhomes
Now, instead of hitching the recreational vehicle to your car, we're hooking your car to your recreational vehicle. If you so choose, that is. Although, imagine going to the local gas station for some twinkies and having to bring your entire motorhome with you? No, thank you.
Motorhomes are self-contained palaces that you take to the woods and pretend that you are roughing it! They are very easy to set up once you're at camp. Most have self-levelers.
The best news for everyone but the driver is that you can make a sandwich, watch TV and even use the flush toilet while the rig is underway!
There are three main types of motorhomes currently available; Class A, B, and C.
Let's examine them to ferret out the good, the bad, and the ugly.
Class A Gas
Class A Motorhomes are how they sound; like some fancy pants with money owns them. They are the largest, most expensive and luxurious motorhomes on the market.
I know you may be surprised, but you don't even need a special license (CDL) to drive one of these babies. However, they tend to be a little wide so be very careful on those narrow, windy, curvy mountain roads. They can be dangerous, and some are utterly inaccessible from a Class A Motorhome.
If you're looking for a home away from home, then this option is for you. You could have a full bathroom, laundry, ice maker, washer/dryer, fireplace, and a master bedroom as well as a pull-out section for the living room. It's like having an apartment on wheels!
They also have a tremendous amount of storage space in what they refer to a basement. The basement storage is accessible by doors that swing up on the sides of the rig. You would be AMAZED at how much you can store below; tools, electric cords, septic hoses, chairs, folding tables, mats, extra food supplies, and my personal fav – marshmallow sticks.
One important thing to remember is that some campsites might not have room for a Class A RV and you should always ask before you book your site. These are a more ideal option for long-term campers, and campers that plan on getting their money's worth–which is always a productive option. They have the most storage of all the RV's which allows the occasional and full-timer campers the space to bring more junk.
They are powerful enough to tow just about anything you'd like to bring like a car, boat, or motorcycles. Many folks traveling in Class A rigs tow a car for convenience. I have never towed a car because there have been many times I've needed to back my rigs up. You cannot back up one of those with a tow vehicle hitched to it.
Windy mountain roads are out of the question. Well, there was that ONE time I drove a 38-foot rig, totally over our GVWR and with 5 passengers over Christmas Mountain Pass in Nevada. I couldn't figure out what all the stains on the side of the road were until the radiator on the car in front of us blew and they were out of commission. We made it over, and the folks that owned the gas station at the top took our picture because they could not believe we made it.
Do as I say, not as I have done.
Research where and how you will travel from one spot to the next. It's so easy to do now with the Internet. Their sheer size is scary for most folks. You really need to continually be aware when driving them because most side roads are not made with something as big as an 18-wheeler in mind. The part I hate the most about driving one is making a right-hand turn. You must commandeer the entire road to make that turn and not wreck your tires on the curb.
Class A Diesel
Class A diesel motorhomes have all the amenities as the gas counterpart.
Most folks refer to them as diesel pushers. I found out today why they are called that – the engine is in the rear. The rear-mounted engine gives the rig more power to tow cargo haulers, cars, and trucks. They are a favorite of full-time RV'ers because of the power, how far you can travel between gas stations, and the luxury amenities they are equipped with.
Rock, Paper, Scissors, Diesel or Gas
If you want to start an argument when sitting around a campfire with your new camping friends, ask them whether they would buy a Class A gas or diesel pusher. Get ready to back away from the verbal and literal fire when the "discussion" gets heated!
I've owned both. I know I'm biased because I'm a woman. I don't have the manly man preference for all things loud and diesel.
I've done my RV homework of researching diesel vs. gas when considering a purchase. Honestly, there's no real answer – although, don't be shocked. I have a definite opinion.
Cost of fuel
As we all know, diesel is more expensive than gas per gallon. What? Diesel is less refined than gas, and it's more expensive? Yep. Diesel fuel contains about 10% more energy than gas so your gas mileage can be up to 10% better. In my area, diesel cost is higher than 10% more than gas and is harder to find than gas.
Just sayin'.
Cost of purchase
Hold onto your pantyhose when you start your search for a diesel pusher. Man oh man, they are much more expensive than their gas counterparts. I've seen it written that diesel pushers can be $50,000 to $100,000 more expensive to purchase. Yikes!
Cost of repairs
I know I sound jaded about diesel pushers, but this is fact, they are more expensive than gas Class A's to repair.
Class A gas is easier to repair, you do not need a specialized repair person to do the work, and it's easier to find a shop that can accommodate your rig.
The lifespan of the motor
OK, diesel pushers win this challenge. I've heard that the engines can easily go 400,000 miles.
Here's when I throw the bulls**t flag. Go to your nearest used RV dealers' lot. I'll bet you that you won't find a diesel pusher on the lot that has more than 300,000 miles on it and is less than 10 years old. I bet you won't find ONE.
I've shopped the used RV world for the better part of 30 years, and it's terrific to find one that's even 20 years old with 150,000 miles!
Towing Capacity and GVWR
Diesel pushers win this battle. They have significantly higher towing capacities than their gas counterparts. Do your research though, the gas motorhome's GVWR might be plenty for your need and not warrant the extra expense of a diesel pusher.
All the Amenities of Home
Both Class A gas and diesel pushers are loaded with almost every amenity imaginable. If they don't come with a must-have of yours, I'm sure they would be happy to add it for a price.
Diesel pushers definitely top out on the luxury scale higher than a gas motorhome but, they have to justify that $50,000 to $100,000 price tag somehow.
Depreciation – The Elephant in the Room
So, you saved your whole life for the time when you can sell the house, buy a ginormous RV and hit the road. Yippee!
I'm the realist here and think that you need to consider depreciation on your investment.
I know, I know, you never want to sell it but let's face it, folks, divorce happens, death is inevitable, and plans change. It's better to be prepared for the news that motorhomes do not appreciate, they depreciate wildly (if you purchase a new rig).
It's true, diesel pushers depreciate less that gas rigs. Yep, if you plunk down a tremendous amount of money, they will depreciate less but number of folks that can afford your luxury liner is much smaller than if you had gone with the gas version of a McMansion RV.
Money isn't everything unless you are financing it and then have to fork over a significant amount of money when you sell it to pay off the loan. Ouch!
Sorry to be the Debbie downer, I'm also the one that will tell you that eating a Sugar Daddy will likely result in a broken tooth.
Good Points
Luxury liners on wheels
Huge living space
Any amenity you can afford
Perfect for full-timers
Tons of new and used models available
Easily live off the grid
Lots of space to have sleep-over guests
Not So Good Points
Scary as heck to drive at first
Must either rent a car or tow a car for day trips
Hold onto your wallet when buying one, repairing one, registering one, or insuring one
Fuel guzzlers
Although they are expensive to purchase and own, they are fantastic for long trips or full-timers.
Class B
Class B Motorhomes are typically referred to as camper vans. They are a smaller version of the Class A RV and are barely even qualified to be a motorhome. They drive, park and go in reverse much like a family van or SUV. You don't need any specialized training to drive or park one which is a huge selling point for those intimidated by large rigs.
You can take them down every windy country road and through every National Park and fit into any campsite because of their compact size.
If you live in a community with an HOA, you can tuck your Class B in your garage and not have to pay storage fees when you're not on the road.
They are very fuel efficient, and there's no need to tow a second vehicle. Built on van chassis, they are sturdy, 20-22 feet long and may have a small bump out for more space.
They still provide you with the amenities of an RV and ample sleeping space without the hassle of the intimidating size of the Class A RV.
Most Class B RV's have a power couch in the rear that lays flat to a king size bed, a murphy bed or benches seating that magically turns into twin sleepers.
Although space is minimal, most have a kitchen space with a microwave or burner and a toilet built into the shower space tucked in very very compact space. The dining area is created using the captains' chair in front with a table between them.
Keep in mind that these RV's are really only suitable for one or two people. So again, the kids might be left outside in the dirt.
You're never going to have a party in a Class B camper, but some folks use them for full-time living. Before purchasing a Class B camper, you need to mull over whether not having to tow a second vehicle is worth giving up so much living space.
Although there is limited storage space, the engineers that design Class B's really have used their imagination when creating spots to stow everything you need to tuck away.
There is usually a bit of outside storage but don't plan on bringing chairs, coolers, kayaks or other items. Campers that want to spend time off-grid will be disappointed with the size of the storage tanks and septic tanks. You'll need to be verrrry frugal with your water use and discharge.
They are a great in-between option, but personally, I'd need more space for a long trip of full-timing. I've never traveled in a Class B, but I think I'm spoiled by the roominess of Class A and C rigs!
For me, the nail in the coffin for considering a Class B (besides the size) is that inch for inch, they are the most expensive motorhome. Really??
They are high-end construction which adds to the cost and is all the rage right now, so that adds to the price too, but they really hold their value. They come in gas and diesel versions and get fantastic gas mileage.
Good Points
A breeze to drive or park
Easy to level at campsites
Fuel efficient
No need for a tow vehicle
Not So Good Points
Space limitations on amenities
Small living space
Very little storage
Best for 2 people
Minimal water and septic tanks
Best for single or couple travelers that spend a great deal of time outdoors. They are also perfect for the occasional day-tripper.
Class C
This one is the best option if you want more living space than the small class B, all of the luxuries of a Class A and a price that fits your strict budget. And, it's almost 2019 so don't pretend your budget isn't tight.
Class C campers are less expensive per square foot when compared to a Class B RV. They can be more challenging to manage but not to the extreme of a Class A RV. You can typically fit the whole family due to their sofas being able to fold out into beds and that extra compartment over the driving area (which can be used for storage or a sleeping spot), possible a fold-down sofa and a collapsible dinette.
I love that Class C motorhomes have doors for both the driver and passenger. I owned a rig that did not have a door for the passenger. What a pain at every gas station!
This is also a great motorhome that you can tow your vehicle behind to make small excursions easy and less cumbersome.
They have lots of storage in trunk in the rear, cubbies in the living space, wall cabinets, and wardrobes.
Powerful enough to tow a vehicle, you may not need one because these rigs are easy to drive, park and back-up.
They are built on a truck, and van chassis so are lower to the ground than Class A motorhomes which makes them less top heavy and more stable. They drive more like a truck and are an excellent option for those that want the space and amenities of home but are too intimidated to operate a Class A.
They get better gas mileage, so you save money of fuel, and the cost of registration and insurance are less than a Class A.
Unlike a Class B RV, they are equipped for camping off-grid (boondocking). Most will come equipped with an ample size generator and ample storage and waste tanks for those vacations that you need to "hold your water."
Most campgrounds have overall size restrictions that exclude the giant Class A's. Your Class C should be able to find a campsite at most campgrounds. If you're headed to any government campgrounds, check with them for their size restrictions.
Kids love bunking in the bed over the driving area. Story Alert: When my son was 6, we told him that we were heading out for another 3 or 4-month cross-country trip. As expected, he wasn't thrilled about leaving his friends. Honestly, I could relate with him because I was a bit nostalgic about leaving my circle of friends too. I brainstormed the idea to print out tons of pictures of him with his friends, invited all those friends over for a "trick out the camper" party, and they all worked together to cover the three walls of the camper the surrounded his bed cubby with the photos! His sleeping space was the drop-down bed over the driver's seat, and I made a curtain as a fourth wall, so he really had his own room! They laughed like crazy all afternoon and worked together to create a friend filled space for him. The next best part was that when they were all leaving, each one told him how much they wished their folks were taking them to cross country. That beautiful afternoon changed my son's whole attitude about the trip. Yeeehaaa!
A downside to Class C is that you need to tow a vehicle if you want a run about a car. Make sure you do not exceed the GVWR and towing capacity of your rig with the added weight.
Although it's easier to repair a Class C RV, it's more expensive than servicing a towable rig.
Compared to Class A and 5th Wheel rigs, Class C RV's have limited exterior storage. They have plenty of interior storage but if you are planning on packing several chairs, a grill, and sports equipment, make sure the rig you choose can accommodate all of it.
The maintenance of a Class C motorhome is less than a gas or diesel Class A but higher than any towable. Keep your future budget in mind.
I have used Class C RV's for both occasional camping vacations plus as a full-time living space. Don't forget to look for that arctic package if you are planning on winter camping.
Good Points
Large enough for a family
Great bang for the buck
Easy peasy to drive
Low to the ground so more stable in high winds and on tight turns
Lots of interior storage
Lots of sleeping space
Cheaper than a Class A or B
Large storage and waste tanks
Better gas mileage than a Class A
Will fit in a small campsite
Not so good points
Not exactly cheap to maintain and repair
A few upscale amenities are not included
The length may be a challenge for some drivers
Need to either tow or rent a runabout vehicle
Somewhat limited exterior storage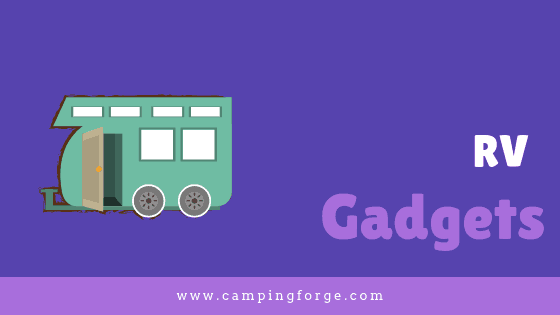 Gadgets - Gotta Love Them But You Gotta Store Them Too!
I'm serious about the "gotta love them" part. Gadgets and appliances are what make our lives easier. Remember though, you have to store them too.
I've been full-time and vacation camping for many years. I have an opinion about everything, and I'll list my personal must-haves first!
TaaDaaa… and here we have Teena's Must Haves for RV'ing
Push Button Deadbolt Lock – I'm serious, you will love me for recommending this. Do NOT buy a fancy battery one. Story Alert: I was so proud of my new and improved push button deadbolt with its' fancy backlit buttons and the rest of the bells and whistles! That is, until the day the battery died, and I could not get access to my RV. Seriously, folks, we abandon our rigs sometimes for months and if the battery fails during that time – you're basically screwed.
Crock Pot – No need for many words here. You know what they are and what they do. Magic! That's what they do with some boneless breasts of chicken, chicken stock, chunks of potatoes, corn, Brussel sprouts, and spices.
Window Mount TV Antenna – Most commercial campgrounds offer cable TV hook-up, but when you're boondocking, you will need one of these if you want to catch this week's episode of The Voice! Depending on your location, you should get 6-40 channels for FREE!
Oil-Filled Radiator Heater – If you're headed out winter camping of full-timers needing an extra boost to heat your camper, these are terrific! My RV's have all had heat but remember, your walls of your RV are not 2 X 6 construction. You'll thank me on those -20 degree nights.
Screen Door Opener and Screen Door Bar – You won't know how awesome these two gadgets are until you use them.

Water Pressure Regulator – Your camper is built to withstand typical household water pressure (about 40lbs). Campgrounds need to pump water long distances so if your RV is close to the source, you might end up with 80lbs pressure in your plumbing system. Not good! Story Alert: Years ago I was camping at Eastern States Exposition in Massachusetts. I go every year and have developed great friendships with several campers. They all came rushing over to see my spankin' new RV and check it out. Once we were done, they helped me hook up and get settled. The last detail was hooking up the water and turning it on. I immediately heard a bang coming from the camper. I ran in and found the faucet in the bathroom spouting like Old Faithful and an inch of water already on the floor. I yelped to turn the water off at the spigot.

50 foot electric extension cable it's worth it if you cannot reach the power with 25ft. Imagine your lovely weekend camping trip using only your generator and batteries.
Electric plug adapters (you might need 50, 30, and 20 amp adapters) - This is a good start with your collection of adapters. Believe me, you'll end up with a collection. If you want to be a hero, buy an extra one, and you can save the day for your neighbor who forgot theirs.
Sewer Hose and Connectors – When 15FT is not enough, 20FT will save the day!
Chemical resistant gloves to perform the poo-poo dumping -
Outdoor Propane Stove – Trust me, you will not want to cook indoors in summer if you cannot run your A/C. Everyone already knows about the tabletop version of a stove. Check out this bad boy. It's going on my bucket list!
Humidifier – What, you say? Humidifier? Yes, if you're winter camping and cannot tolerate forced hot air heat like me, you'll need one to stop the nosebleeds.
Dehumidifier – Humidity is not your friend when storing your RV for the winter or summer. Story Alert: I've wrapped and stored an RV in Florida for many sticky, muggy, humid summers. Everyone I know swears by this and that home remedy for preventing mold in an RV. I have always considered the small price on my electric bill each month to keep a dehumidifier running as a part of preventive maintenance. This is the unit I currently leave running in my shower stall every summer. I take up the drain cover and feed a hose from the dehumidifier into it and leave the gray water lever open to let the water drain out. *Check with local regulations to see if it's ok to do that in your area.
Water Purifier – Let's face it, nobody really likes talking about poop. I'm here to tell you that you might end up pooping till the cows come home if you drink unfiltered water out of a stream, creek, lake, or any other natural body of water. Story Alert: I am a medical technologist by trade. A long time ago at a hospital that I will keep nameless, there was a Giardia outbreak. I mean outbreak. Like 300 or more stool (poop) samples to be tested on the bench every morning for weeks. The only thing that Giardia has going for it is that it looks cute under the microscope. To prevent having cute things in your stool, check out this water purifier. Your arse will thank you for it.
Wi-Fi Booster – Do you work at home as I do? This is not a luxury if you do, it's a necessity. Campgrounds will profess to offer WiFi, but you might have to stand on your head atop the picnic table to get it.
Portable Air Compressor – Oh geez, you broke camp and are ready to go. You do the one last rig check and notice that one of your tires is low. If you have one of these babies in your repertoire, you'll be underway in minutes!
Battery Jumper and Recharge Pack – Oh, you forgot to run your camper for an hour or two every day to recharge your batteries, and you're camping off-grid? No worries, you have a battery jumper and recharge pack. Don't you?
Generator – I can hear the angels singing every time I talk about generators. Purists that camp off-grid poo poo generators. I firmly believe they are a gift from the gods. I would ask you to be a polite camper and shut it off at a quiet time and not start it up until about 8 AM. Remember, campers usually are drinkers. You won't make friends running it at 6 AM to blow dry your hair. If money is not an issue, check out Honda generators. If you're like me, check this one out:
Printed Map Books & Compass – Have you ever needed directions, and your cell phone comes back with the dreaded "No Internet Connection"? If not, you need to travel more! It will save you lots of time and fighting with others in the RV if you can refer to a map book or at least get yourself moving in the direction you want with a compass.
Water, Water, Everywhere – Yes, until you're out of water. I cannot stress this enough. Bring enough water for every person that's on board for a day.
First Aid Kit – I know you can purchase a nifty first aid kit but if you do, make sure it has the things you typically use when hurt. Does it have alcohol? How about some peroxide? Bring a kit but also bring the extra stuff you're used to dressing a wound.
Fire Starters – Waterproof matches are a godsend for off-grid hikers! If you're camping and just need to light your camp stove or campfire, matches or butane lighters are all you'll need.
VHS Tapes – Don't roll your eyes… I saw you! Buy a VHS player at the next yard sale you go to and toss it in the RV. Put a shout out on Facebook that you're looking for some VHS tapes and your friends will throw them at you. I've traveled for many years with a box of tapes and leave them at campgrounds after I've watched them. They don't scratch, are almost indestructible, and cost about 10 cents at a yard sale. Why not? You'll thank me when there's no cable, and it's been raining for days.
Story Alert: For years I've admitted that I am a semi-high maintenance camper because a porcelain flush toilet is a must for me to go camping. After listing my must-have list of gadgets above, I think I've just elevated myself to high maintenance camper.
Onward my camping soldiers, I'll now list what others consider to be RV'ing necessities.
RV Necessities
Induction Plate – What the heck is that? Mind you, I'm not cooking queen. I eat to exist and cook only when necessary. That's why Crockpots are on my list of must-haves. Here's one that got great reviews.
Bug Spray – Most folks are bug-a-phobes. I would rather swat a mosquito than douse myself with something I'm going to have to smell for days and that might have some long-term effects on my skin. Call me weird but about as fancy as I get in my war against being bitten is dryer sheets in my collar. If you are looking for something that really works, consider DEET. They say it's the best at repelling everything.
Solar Oven – Who'da thunk it?
Watch – They are becoming all the fashion these days. If you are hiking where there is certain to be no cell service, bring a watch. You'll thank me when you are trying to time your decent from some far-flung mountain, so you don't end up picking your way out in the dark. Thank you.
Portable Washing Machine – Wait, how about lining your trash barrel with a clean plastic bag and soaking your clothes overnight. Next morning hand them to dry and whalla. OH, you want a gadget to do it for you? Your wish is my command. Ladies and gentlemen, a portable washing machine.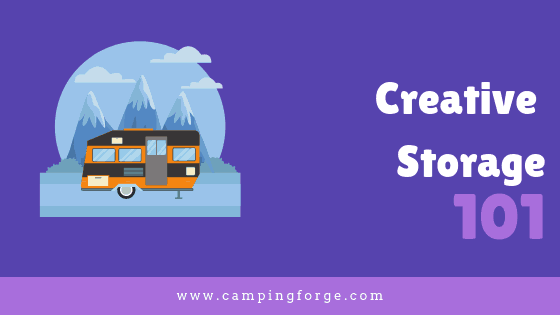 Creative Storage 101
Although RV designers have been perfecting storage for many years, there's nothing like a gal that wants to have 4 types of shampoo and conditioner going at once. When we really want to bring it, we'll find a way to store it. Same for men and tools!
Cabinet storage – Bins, boxes, magazine racks, cubbies and the like make perfect storage for everything from dishes to boxes of cookies. They're great because after a long drive you won't open your cabinet door and hope nothing falls on your head.
Hang your cooking utensils to the side or back of your stove surround. Make sure you have metal utensils, or they might melt.
Fabric bins are great for pet toys and kids toys
Cube storage is perfect for kids toys
Decorating accents in my RV's tend to be items I use. For instance, instead of the usual RV mirror in my living room, I hang two of my cowgirl hats.
If the steps in your RV are not storage cubbies, create them. Steps are great places to hide sporting equipment that's not used often.
The inside of cabinet doors is excellent places to hang storage for tin foil, shoe storage, make-up, grocery bags, etc.
Storage under the dinette seats – Perfect for extra bedding, off-season clothing, and that extra jug of water or detergent.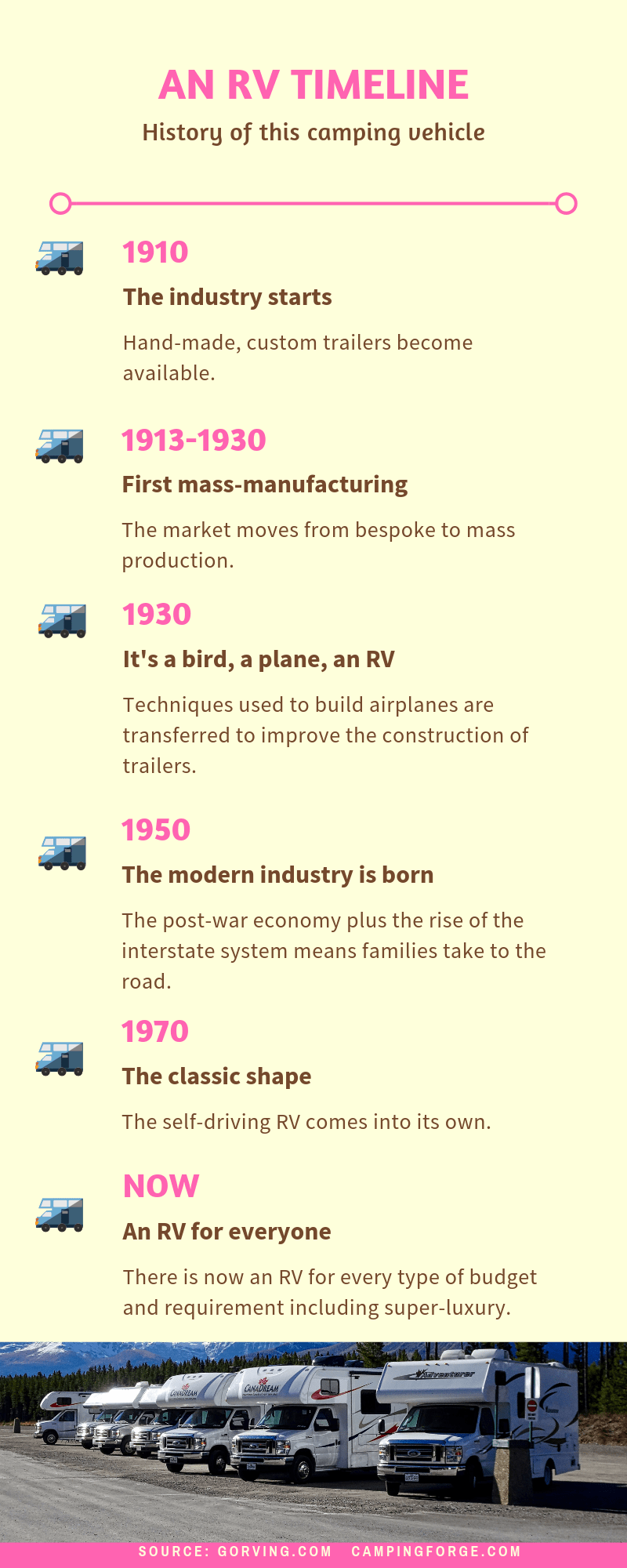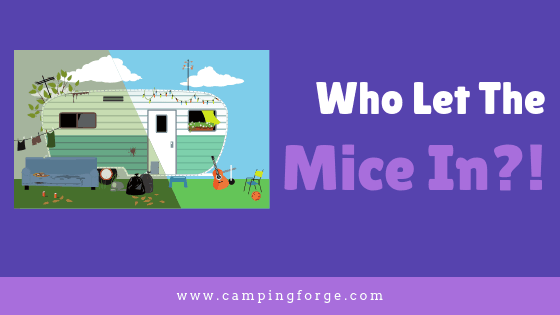 Here Kitty-Kitty! Or Who Let the Mice In?
Ok, I've already admitted I'm a pretty high maintenance RV'er. Let's just say that I come from a long line of mouse-o-phobes.
Story Alert: My Mom and Dad camped in a 28-foot travel trailer for decades. Dad knew that if Mom ever saw a mouse, the party was over. One fateful day, a mouse dared to enter the campsite looking for a stray crumb. Mom spied it, and until the day he died, Dad would laugh about that mouse being a $100 mouse. It cost him $100 for the motel room that night and Mom wouldn't return to camp until Dad had completely de-moused the town of Bridgton, Maine.
Story Alert: Ahh… the joys of horse camping in my living quarter horse trailer! I arrived late one Friday and set my horse up for the night, chatted with some good friends, and headed back to my RV horse trailer for a good night's sleep. Those of you over 50 feel my pain when I admit that my old eyes miss a lot of detail these days. Well, I entered the living quarts and tossed my keys on the counter in the dark. I heard a kind of strange crunch sound but headed for the potty to do my business. I turned the light on and saw a small something on the toilet lid, opened the cabinet to get a rag to wipe it up and BAM! I was eye to eye with a Mouse-o-Saurus! I slept in my truck that night even though it was 28 degrees. PS I purchased a propane flame thrower to de-mouse my trailer. I'll let you know how it worked.
Finding every crack and opening is tough. The method I have found that works best is to wait until after dark and have someone in the RV with a powerful flashlight. Have a second person with a can of bright colored spray paint underneath. Flashlight person goes into every cubby, along with the edge of the floor, poorly sealing slide out, plumbing chases from below, windows, and behind everything with the flashlight. The person under the RV can spray a small dot of the paint everywhere they see the light. Flip a coin to see which person has to crawl back underneath tomorrow to plug all the nooks and crannies!
OK, onto more conventional ways to de-mouse or prevent said mouse from taking up residence in your home away from home.
Steel Wool – Jam it into any nook or cranny you can find.
Spray Foam – Only use spray foam manufactured to be rodent proof. Typical house construction expansion foam is candy to mice. There are several brands to consider using.
Copper Mesh – Mice can really flatten themselves out to fit into tiny spaces, but this mesh will stop them in their tracks! It works for bats, birds, and rats too.
Food – They will go after any food left in an RV. They are not picky and will eat anything dropped on the floor, in your trash, or tucked neatly in your cabinets. Take all your food out if you're storing it away any period of time.
Peppermint Oil – "They," say (whoever they are) that cotton balls soaked in peppermint oil will deter mice. I'm not a believer but feel free to try it. Story Alert: I like the smell of peppermint, so I purchased some and used it to keep my RV smelling great and rodent free one winter. Let's just say, it smelled good in the spring.
Sound Emitting Devices – I've used them, and they worked for me. According to the ad for the product below, "The Repeller gets rid of animals through emitting a mixture of ultrasonic, adjustable ultrasonic wave frequencies and powerful flashing LED strobe lights and alarm, get rid of cats, dogs, squirrels, deer, bears, birds (pigeons, woodpeckers, seagulls, etc.), skunks, bats, rats, foxes, raccoons, mice and much more." Story Alert: I built a new house a long time ago. The barn went up first so I could store my belongings in it. Mind you, the area to be protected only had 3 walls. I plugged that little plastic thing in, and I can happily report that not one box, a piece of furniture or clothing had any mouse damage.
Mouse Traps – The mouse trap was invented in 1897 by James Henry Atkinson so why reinvent the wheel? They have worked for more than a century without many improvements so let's get back to basics folks. They are cheap, effective, and you can buy them everywhere. I know, I know, it's cruel, gross, and whose job is it to empty them? Figure that out using rock, paper, scissors, shoot. I'll be out setting a few traps.
Live Catch Mouse Traps – They do what they say… you have to figure out what you're going to do with them once you catch them.
5-Gallon Pail and Sunflower Seed Trick – For some reason, they cannot resist these contraptions! Fill a 5-gallon pail about 2/3 full with water, layer sunflower seeds on the top of the water, create a gangplank from the floor to the lip of the bucket. Run, don't walk away because mice, squirrels, and chipmunks are going to line up for their turn as if someone was giving away free whoopie pies! I've also used the old-fashioned Yankee version of that death trap. It consists of the same 5-gallon bucket, water, string, and a soda can be covered with peanut butter. String the cord through the can top to bottom, position the can over the top of the bucket and tape the cord to the sides of the bucket. Create a gangplank and walk away. The rodents climb the ramp, leap at the can, the can spins when they land on it, they go swimming. I think the seed version is easier. The only problem is that you can't dump the used water and seeds near your camper or you'll invite more furry friends! Story Alert: New England is overrun with small rodents this year. They say it was due to a bumper acorn crop last year. I don't care what the reason is, it's GROSS. One stretch of the road to my farmhouse had over 100 dead squirrels in 6 hours (according to the DPW crew of one- Mike). I declared war, rodenticide, whatever you want to call it. I set up my pail, added the water, dumped the seeds, and created a very handy gangplank. I wasn't even back in the house and heard something. I turned around just in time to see a flying squirrel do a swan dive into the bucket. 24 hours later, I observed 11 moments of silence for the dumb ones that followed that first squirrel.
Last Resort – When all else fails, call a pest professional. They will do all the above for you if you're too queasy about it. For most RV owners, it's worth the price not to have to crawl around or deal with the aftermath.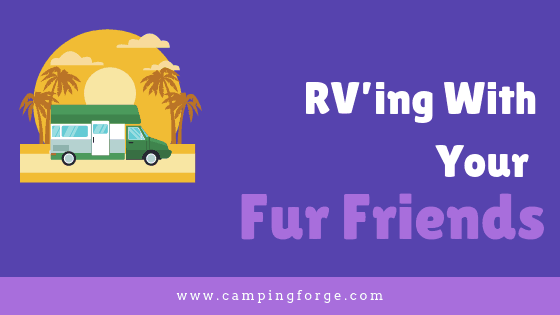 RV'ing With Your Fur Friends
Before you head out on a road trip, check with each state to find out what vaccinations and paperwork you must have to pass through or to do an overnight (or more) stay. 2 states I know of that are very particular about Certificate of Veterinarian Inspections (CVI) are Florida and New York. There may be more, but I pass through both on my way south from NH to FL. I do not overnight in NY so I can just drive through but in Florida, I have to stop at an Agriculture Inspection Station. They come out and look at all of my horses and match them to the description on the CVI.
Never assume that all campgrounds are pet-friendly. It would stink to be you arriving at the perfect stop-over campground, only to find out they are not pet-friendly. There are many today that are pet friendly, and in all the campground guides they will designate those that are and are not.
I cannot hide it, I am a huge KOA fan. If your pet needs some exercise, watch for Kamp K9 at select KOA campgrounds. They are fenced in areas with bench seating for you.
Although National Parks usually allow dogs at the campgrounds, many do not allow dogs on the hiking trails.
If you are going to camp full-time in your RV, ask around for recommendations of veterinarians in the area. It'd be better to have a vet in mind before you have some kind of emergency.
Don't be the kind of neighbor that folks complain about on Facebook. I'll admit, I love dogs but hate to hear them barking. It gives me a headache. Be courteous, if you have a dog that barks when alone, take it with you for the day and shush it when you're on your campsite.
Make sure you pick up after your dog – every time. Grocery bags are great for poo poo pick-up.
The temptation is great to let your dog off-leash whenever possible, but it's really not a good idea. You are away from home, in unfamiliar territory and your fur friend has a good chance of running off and across someone's campsite or getting into a barking fist to cuffs with another dog. Dogs are not socialized like they were when I was a kid. Everyone let their dogs run free, and they were used to getting sniffed and playing together. Most dogs do not have doggy buddies, and it can get rough when they mix it up. Keep your dog on a leash when hiking. It's the law in most places, and it's much safer for your pet and others too. It's a huge temptation to let them free but for the sake of other dogs, folks that are afraid of dogs or people like me that horseback ride on trails.
Be sure to take your pet out for exercise when on a long road-trip. They need to stretch their legs too!
Pet Stuff to Pack
Make sure you remember to bring all the pet essentials on a long road trip or vacation.
Whether you're gone for a weekend or 6 months, you'll need the same equipment but more food!
Restraint Items – You pick; collar, harness, barriers for doorways, seat belt restraints, etc. You know what you like, bring them.
Dog Tags and Microchips – If you're a dog tag kinda person then have a new, easily read on made. If you don't trust a tag, microchip your pet. Traveling to unfamiliar places create the best mix for your dog not finding its way home if it gets lost.
Medication, CVI, Health Records – Before you leave to make sure you either have enough medication for your entire trip, have a prescription for refills or find a veterinarian where you land that can prescribe the meds. Research if you'll be passing through or vacationing in states that require Certificate of Veterinary Inspections (CVI) for every pet. Really, they are a thing, and you'll be held up at an agricultural station waiting for a veterinarian to come bail you out.
Beds and Bowls – If your dog is crate trained at home, you probably want to continue crating them on the road. When you're shopping for a new RV, take in mind where you dog crate, dog bed, trash barrel, and food and water bowls will live.
Oh, and toys, don't forget your fur friend's favorite toys!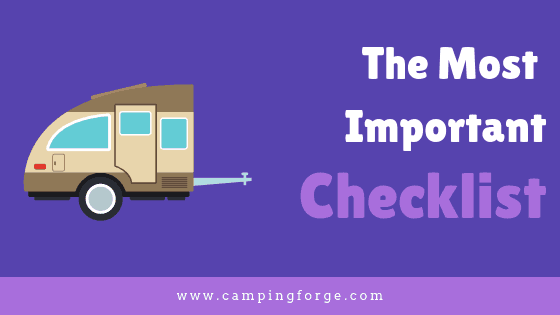 The Most Important Checklist
The best advice when you purchase a used RV is to check your RV into a reputable mechanic shop and have them go over your new home on wheels from bumper to bumper. You may spend a chuck of change for a thorough going over, but it might save you from sitting roadside for hours waiting for a tow or getting ripped off by an unscrupulous mechanic somewhere down the road.
I'm a big fan of preventive maintenance. It doesn't matter if it's caring for your home, rental property or RV.
It just makes good sense. Even if you never plan to sell anything you own, you cannot predict the future. Care for your investment, and you'll get more when you sell it. I'm not one to think about selling stuff, I don't want to break down on a lonely road with no cell service, have a fire in my rig because I didn't mouse proof my RV, or have a tenant fall down some stairs because of a broken step. My friends say I worry about break downs too much, but I respond saying not to call me to rescue you because you were running on 7-year-old tires with dry rot.
I have a set of must-haves when heading out on a first long-distance journey in a new-to-me use RV. I'll provide that list here because if you're driving a new vehicle, you have an RV Manual that will give you excellent guidance.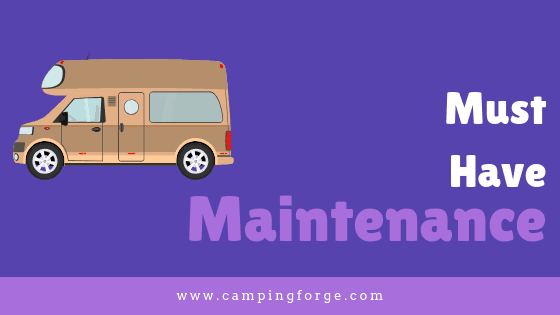 Teena's List of Must-Have Maintenance on a Newly Purchased RV
Under the Hood – I bet you have a few tweaks you do when buying used RV's. Please drop yours in the comment section.
Replace any rubber; fan belts, brake lines, battery wires, hoses, etc.
Change the oil and filter. I use regularly and not synthetic. I change my oil so frequently it saves me money to use regular oil.
Check all fluids; windshield fluid, transmission fluid, brake fluid, etc.
Tires. Check all your tires (including the spare) for dry rot and cracks. Be sure to check with your RV manual to see what tire class your RV must have plus what pressure they should be inflated to.
Check brake pads, drums, and rotors
Bearings on the wheels
Windshield wipers are a must to be changed and get the best ones they have.
Lightbulbs. Check every bulb on your rig! There are a boatload but why chance getting pulled over for a 50 cent lightbulb? Towable RV's – There are some safety features in towables you may not even know about.
Trailer brakes – Is your truck equipped with them? Check the date on the brake battery on your RV. If it's old… heck, even if it's only a year old, they are less than $20. Get a new one. Story Alert: I spent hundreds and hundreds of dollars on mechanics trying to figure out why our trailer brakes were so darn touchy. No matter how much we adjusted the force and aggressiveness on the electric brake controller we'd still skid to a stop, and my horses would get mashed together. We finally just gave up and replaced the electronic brake controller in the truck. Whalla! $45 later and the brakes never locked up again. I have very happy horses now.
Trailer brake emergency wire – The wire that triggers the emergency trailer brakes to engage must be attached to the vehicle by itself.
Trailer Safety Chains - According to safety chain requirements, the breaking strength of each chain should be equal to or exceed the Gross Vehicle Weight Rating (GVWR) of the trailer. For those who'd like to see the exact wording of the standard: Trailer safety chains as defined in SAE standard J684 of June 1990 for trailer couplings, hitches and safety chains - automotive type: Safety Chain is described as an assembly which provides a secondary means of connection between the rear of the towing vehicle and the front of the trailer (or towed vehicle); it includes link chain and all attaching means, or an alternative system. The purpose of Safety Chain is to retain the connection between the towing vehicle and trailer in the event of separation of the trailer coupling from the ball or the ball from the hitch, long enough to bring the vehicles to a stop. It should not be construed that Safety Chain can ensure that vehicle control or connection will be maintained in the event of vehicle incidents such as loss of control, rollover, jackknife, collision, etc.
Crossing Trailer Chains – Bet you never knew why trailer chains must be crossed. Read on: When securely fastened under the trailer tongue, towing safety chains keep your load from crashing to the ground. … By crossing the chains or towing cables under the trailer coupler and attaching them to the tow vehicle with hooks, the safety cables act like a safety net in an emergency, catching the dislodged tongue. (https://auto.howstuffworks.com/auto-parts/towing/equipment/protective-towing/towing-safety-cables1.htm)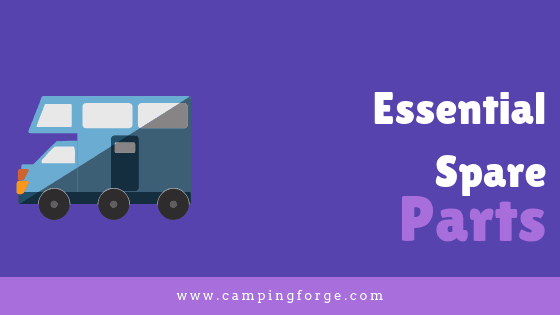 Spare Parts That Will Save Your Butt
How do you like to spend your time? How does sitting in a parts department waiting for the salesperson to find a replacement bulb for your taillight? Ya, I'll pass!
Make your list and check it twice before heading out to buy some spare parts and pieces.
I keep all of the following on hand, and I have been wildly happy many times that I do!
Light bulbs for interior lights, headlights, blinkers and any other you think you might need.
Fuses – They are cheap, get a vast assortment plus a 12-volt tester.
Potable water hose
Fluids – Brake, motor oil, windshield washer, power steering fluid
Filters and belts
Adhesives and calking – JB Weld, silicone calking, roof sealant are some examples
Awning repair tape
Duct tape
Ratchet straps, Velcro, rope, bungees
Razor knife
Rags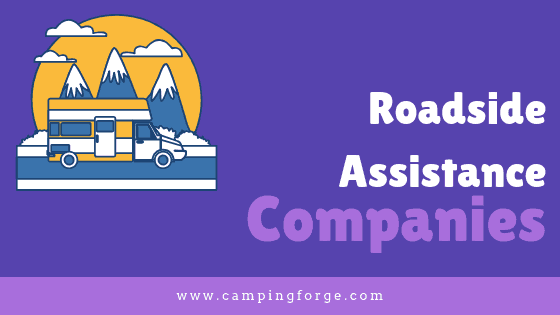 Roadside Assistant Companies
There are a wide variety of roadside assistant companies to choose from. Make sure you phone them to see if your RV will be covered by their policy and if a replacement vehicle will be provided before heading out on your dream vacation.
My short list includes:
Do your homework and make sure their policy covers what you expect.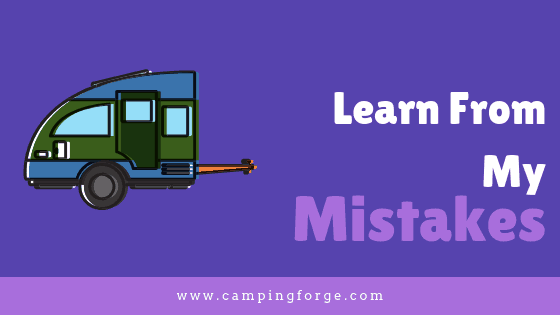 Learn From My Mistakes
I've had some of the best vacations of my life while traveling in an RV. On the other hand, I've had some really crappy experiences, break-downs, and delays because I didn't know better.
Learn from my mistakes
Start the RV motor every day to recharge the batteries when you're off the grid
Pull the black water valve first and let the gray water flush the yucky stuff out
Buy a good pair of chemical resistant gloves for emptying the holding tanks
Put a tablespoon of bleach in your potable water tank if it's going to sit for some time –per instructions from the EPA
Put as little paper down your toilet as you can. You might be saving yourself a crappy situation ;)
Use anti-stink in our black water tank
Dryer sheets work to keep out mice (kind of)
Check the seams in your roof and the seals around your windows and doors every year
Make SURE your slides are entirely in or out to prevent a tsunami
Don't use cheap metal wheel chocks – they crush
Ask your mechanic whether to downshift or use your brakes when going downhill
Use Rainx
Hide extra keys – seriously
Accept help when backing up
Time your stops for fuel just in case you forget to watch your gauge
Vacuum the vent in the refrigerator for spiders and nests
Spray foam cracks around pipes
Take the water pump out of the camper when storing it in cold weather
Don't get anti-freeze into your hot water heater
Refrigerators get coldest on propane
Make sure camper is level to get the most efficient cooling in the fridge
Buy a long extension cord for the electric connection
Keep a diary
Keep a gallon of spare water per person
Check the inside tires on a dually
Never leave valuables in your camper
Install a grab bar on your screen door
Install that thingy to open the screen door
Install a push button deadbolt
Install a rainproof vent for HOT days
Install a rain sensor roof vent
Buy rug slip mats to use in your kitchen cabinets. They are cheaper than the kitchen department ones
Don't forget a pair of flip flops
Buy a KOA pass
Buy a National Park pass
Check your cell phone Wi-Fi plan is beefy enough
Buy a Roku or window antenna
Learn how to manually start the refrigerator, extend and retract the awnings, crank the slides, etc.
NEVER run the A/C with a 20-amp cord. NEVER. Unless you have a spare $1,600 hanging around
If you don't ride bikes at home, don't bring one
Have a plaque made for the dashboard – "Sit down, Hold on, Shut Up."
Buy a good quality pair of sunglasses, wipes, and case
Have your fully loaded RV weighed and compare that number to your GVWR
Tires should be checked often for signs of dry rot or cracks
Make sure you have or buy trailer tires rated for your GVWR
Check that you've put up the step every time you leave
Retract the stabilizer jacks – I've seen them all mangled and bent
Take the keys out of the door
Close the slides completely
Make a checklist and check it EVERY time
Get a map book and compass
Join a roadside service company
Keep your RV mold and mice free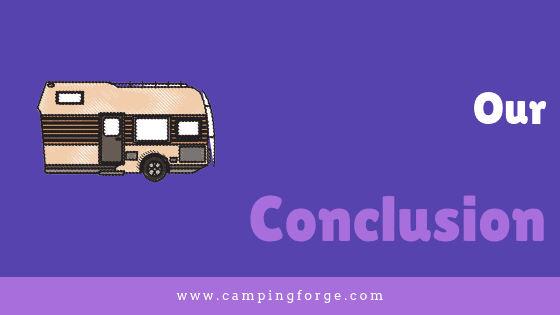 Conclusion
It's time to get out with your family and enjoy the outdoors without really having to enjoy the outdoors. If you're looking for the best option to keep your bratty "I'm afraid of bugs" teenager at least somewhat amiable than RV's can help you out (as long as it's clear of mice, squirrels, chipmunks, and little brothers).
RV's are a great way to go on a road trip with your loved ones or away from your loved ones. But we cannot forget the most important thing! They keep you from having to poop in a hole.
I don't know about you, but that puts RV's right at the top of my list!
Related Articles
What Kind Of Camper Are You?
Outdoor Survival
---
Car Camping
---
Backpacker
---
feature image credit: Photo by Aria Ahrarm on Reshot