5 Best Hiking GPS
If you click and purchase with one of our links, we earn a commission. Thanks.
A handheld GPS is a convenient tool for most hikers, campers, and mountain climbers. Compared to smartphones and even GPS watches, they are both more durable and reliable.
There are other clear benefits of using a hiking GPS, which we'll cover further along. Most of all, check out some of the best hiking GPS devices that you might consider for your next trip.
Top 5 Hiking GPS
Garmin eTrex 10 Worldwide Handheld GPS Navigator
Garmin eTrex 10 Worldwide Handheld GPS NavigatorBuy Now On Amazon
The eTrex 10 is one of Garmin's best entry-level handheld GPSs. It runs on two AA batteries and has 8MB of memory.
It doesn't have a touchscreen, but the buttons are very easy to navigate with just one hand. It has a robust construction that feels very sturdy and resilient.
The screen is clear and offers a sunlight-readable feature. It has a GPS receiver and GLONASS support. It also has an IPX7 waterproof certification and will easily survive rain and unexpected splashes.
Pros
Fast and accurate
Great for beginners
Affordable
Supports geocaching Cons Low memory
Garmin GPSMAP 66st Handheld Hiking GPS
Garmin GPSMAP 66st, Handheld Hiking GPS with 3" Color Display, Topo Maps And GPS/GLONASS/GALILEO Support (010-01918-10)Buy Now On Amazon
If you don't want to take any risks with regard to accuracy and reliability, the Garmin 66st is a premium choice that you can rely on. It's one of the best hiking GPS devices around. It has a very powerful antenna for connection to more satellite networks than many other devices.
The 16GB of internal memory is preloaded with plenty of topographic maps for the USA and Canada. It has a large display and access to Birdseye Imagery that you can subscribe to. It requires two AA batteries that are not included in the package.
Pros
Excellent reception
Birdseye Imagery
Large buttons
Connected to multiple networks
Cons Pricey
Garmin eTrex 20x, Handheld GPS Navigator
Garmin eTrex 20x, Handheld GPS Navigator, Enhanced Memory and Resolution, 2.2-inch Color Display, Water ResistantBuy Now From Amazon
This is a lightweight and relatively small hiking GPS that offers an impressive performance. It will unmistakably get you where you are going by providing decent reception and speed. Compared to its predecessor, the display has been upgraded and offers better resolution. It also has enhanced internal memory at a sizable 4GB. It features GLONASS support and a WAAS-enabled GPS receiver.
The large pushbuttons make it very easy to use too. Overall, this is a fantastic hiking GPS that's inexpensive and will work for most hikers, entry-level or not.
Pros
Great display quality
Ultra-lightweight and small
Versatile
Cons Potential slow download
Garmin Montana 610
Garmin Montana 610Buy Now From Amazon
If you're keen to get a GPS device that has all the bells and whistles, including a rechargeable battery and tons of preloaded maps, the Montana 610 by Garmin fits the description.
It has impeccable reception and over a-quarter million preloaded geocaches. It also includes a subscription to Garmin's Birdseye Imagery. Plus, it has a 3-axis compass and can track both GPS and GLONASS satellite networks.
It's a fantastic GPS for hiking or hunting, and you won't have any problems either if you're close to the water. The display is 4 inches diagonal and has excellent sunlight readability.
Pros
Compatible with most networks
Excellent reception
Birdseye Imagery subscription
Cons On the heavier side
Garmin Foretrex 601
Garmin 010-01772-00 Foretrex 601, 2 inchesBuy Now From Amazon
This hiking GPS isn't a handheld but rather wrist-mounted. It's one of the few of its sort that Garmin has ever produced. The design is different, and it looks like a hybrid of a GPS watch and a handheld GPS.
It has an excellent battery life, and it also offers the convenience of hands-free operation when hiking. Durability is one of the main features of this model because the construction is military-grade. It's compatible with three satellite systems, which means it can give you a readout very quickly and accurately.
Pros
48h battery life
Hands-free feature
Durable construction
Cons Unable to download maps
Best Handheld GPS With Satellite Imagery
Garmin GPSMAP 66st, Handheld Hiking GPS with 3" Color Display, Topo Maps And GPS/GLONASS/GALILEO Support (010-01918-10)Buy Now From Amazon
This is easily one of the best units you will find in the marketplace. The Garmin offers access to Birdseye Satellite Imagery without requiring any kind of subscription. In fact, you can even download directly to the device without a subscription required.
1. Garmin GPSMAP 66st
Pros:
The display on this unit is large enough to use to navigate. The screen is 3-inches in size and it features a sunlight-readable color display which means you will be able to easily read the display and maps even when used in direct sunlight.
As mentioned, this unit features access to Birdseye Satellite Imagery without requiring any sort of subscription. You will be able to download the imagery directly on the device, as well.
When paired with a Bluetooth-enabled smartphone, you will be able to get real-time weather information. This alone can give you pertinent information you may need to use during your camping or hiking trips.
*Explore Integration
Garmin's industry-leading Explore mobile app offers a lot of functionality that you will be able to leverage. When paired with a device with the app, you will be able to sync data, view way points, and do other things even while you are offline without service.
Garmin eTrex 22x Rugged Handheld GPS Navigator
Garmin eTrex 22x, Rugged Handheld GPS NavigatorBuy Now From Amazon
This is a great budget pick for anyone who is seeking a feature-rich handheld GPS unit. While this unit doesn't have the largest display, it's still plenty big enough to read comfortably. This device comes with support for BirdsEye Satellite Imagery. However, you will need to get a subscription to gain access to it.
Pros:
This GPS handheld is very affordable even when you factor in the cost of a subscription for satellite imagery.
This unit comes with 8GB of internal memory which is enough to download a good number of maps. Along with this, you can add more storage through an expandable micro SD card slot.
Because this is a GPS handheld, it's good to see that they managed to design something that is very easy to hold. Along with this, it can withstand impact from drops. It is designed to be compatible with a variety of mounts which means you should be able to use it while biking and using other modes of transportation. The unit is also designed to be water-resistant which is something you love to see on GPS handheld devices.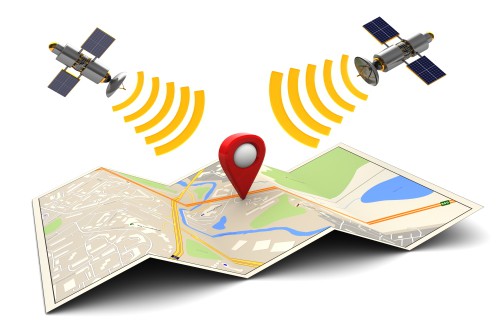 What is a Hiking GPS and Why Do You Need One?
A hiking GPS can be any device that has GPS capabilities. However, for hiking, camping, and climbing purposes, a handheld GPS device is a much better choice.
Even if you're an experienced hiker, getting lost on a trail can happen. A handheld hiking GPS that is small and durable will give you peace of mind as you enjoy your time outdoors.
The Different Types of Hiking GPS
Most handheld hiking GPS devices are similar and it's not as straightforward to classify them by categories. The most notable difference from the outset is touchscreen and buttoned GPS devices. And then there's the use of satellite networks.
Touchscreen vs. Buttons
Ultimately, it comes down to personal preference. But let's dig into a few major differences. Touchscreens are easy to navigate and will provide both portrait and landscape views.
However, the overall experience with a touchscreen will vary due to the quality of the device. Also, if you're using gloves all the time, touchscreen GPS might be a needless investment that eats up battery faster.
Button GPS handheld devices might seem a bit bulky and slow sometimes, but there's a reason why most expensive GPS devices still have buttons. They perform better in cold weather too, and you won't have to remove your gloves to use it.
GPS vs. GLONASS
This is also a difficult comparison to make since all the best hiking GPS devices also support the Russian GLONASS satellite system.
GLONASS works in combination with GPS and improves performance. Another relevant receiver type is the EU's Galileo network, which is available on many hiking devices. GPS devices that support multiple satellite connection types are labeled as "Multi-GNSS" supported.
3 Benefits of Using a Hiking GPS
The obvious benefit would be not getting lost in the wilderness. But other GPS supported devices can do the same, and so can the good-old compass. But what makes the handheld GPS special?
1. It's Versatile
Compared to other devices, a handheld GPS is ultra-portable, and you can take it with you on the boat, road trips, camping, and of course, hiking. In most cases, it will either run on AA batteries or a rechargeable lithium battery. Also, you can always use it in your car if you get a compatible mount.
2. It's Affordable
Sure, there are some pricey models out there, but an entry-level hiking GPS is relatively inexpensive. Plus, it will cover all the most important features like your location, distance traveled, retracing of your steps, and mapping capabilities.
3. It's Easy to Use
There are much bigger GPS devices around, but they're hardly perfect for your hiking or camping trip. Also, handheld GPSs usually have just a few basic buttons that you can use for all functions. They're designed to be as uncomplicated as possible, perfect for you to quickly find your way.
3 Things to Look for in a Good Hiking GPS
The best hiking GPS devices are the ones that always have excellent reception and will find your location without any excessive errors. But what are a few other features that will help you pick a great GPS device?
1. Battery Life
Handheld GPS devices mostly use AA batteries that have proven to be a trusted source of power. You should always look up the maximum expected battery life when shopping for a hiking GPS.
The minimum should be at least 10 hours, and some can go up to 48h. And if you prefer a rechargeable option, newer models should fit the bill.
2. The Display
How big is the display and is it visible on a bright sunny day? There are the answers you should look for when purchasing a GPS. The screen size can vary drastically, and a big screen will use up more battery and isn't necessarily the most visible under sunlight.
3. Construction
Handheld GPS devices usually have a robust and sturdy build. This makes sense because they must be able to sustain shock and the elements. Water resistance is a vital feature to pay attention to. They should also be anti-slip as well and feel very stable in your hand.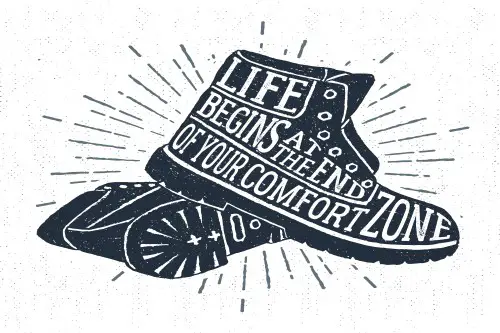 Handheld GPS Devices vs GPS Watches
Most modern GPS units have large color screens which are easy to use with features such as touchscreens, compasses, memory cards, altimeters, and cameras. Because GPS units operate on software programs, it is important to check whether the latest software version has been downloaded. A major benefit of a handheld GPS is the ability to replace batteries which means it can be much more reliable than smartphones or a GPS watch that can die down. So what is the best GPS unit for camping and hiking?
The orginal GPS device for hiking, the Garmin etrix, has been replaced by newer handheld models with expanded MapSource/BaseCamp software. They run on two AA batteries with a long life of at least 24 hours when left on all the time. If the batteries run out they can easily be replaced with a new set of spare batteries. This is extremely useful for hiking areas like the backcountry where recharging of batteries is extremely limited or completely non-existent.
Handheld devices are extremely durable and can even be dunked underwater. The rugged design allows it to be dropped on hard surfaces like rocks without cracking the screen or the operation breaking down. Trip logging can be done to track activity with the ability to save waypoints specifically for points of interest to call attention to later. A handheld GPS unit can interface with software like BaseCamp and MapSource to compare with existing maps offline in order to get an accurage picture of where you have been.
A drawback is the slow fix that typically takes about ten to fifteen minutes from the time the unit is powered up until it has locked onto enough satelites to start the tracking process. It also has limited memory and can be awkward to carry.
A wearable GPS watch like the Garmin Fenix Pro Sapphire is a very expensive piece of equipment but has every functionality of a handheld GPS device along with other features typically seen in fitness watches. A major benefit is its wear ability that solves all problems regarding accuracy and reception while keeping both hands free. Because it is worn out in the open it has better visibility and a faster fix. It can also track satelites from a combination of GPS and Galileo or GPS and GLONASS constellations.
In addition to doing everything a handheld unit can do, it can provide alerts when going off course while following a pre-determined route and can also present progress information on the hike since you can look at your position relative to a map that comes included with the watch.
Maps, routes, and waypoints can be imported and exported via a USB cable and can track back and forth between software like Garmin BaseCamp aided by Garmin Connect from uploaded routes. It comes with pre-loaded Topo Maps of the entire USA that makes it easier to upload maps prior to trips as a whole within the country.
When it comes to accuracy, it performs better than the etrex handheld taking into account the increased number of iPhone's track points. It also has an accurate altimeter, barometer and compass to provide progress on the entire hike as well as on any climbs for pacing purposes. Potential life-threatening situations can be averted by simply checking weather-related drops in barometric pressure.
These watches are rugged and waterproof and a sapphire glass will ensure it is scratch-resistant which is handy in rough conditions like crawling over rocks on your knees.
The battery can last up to 60 hours with map and tracking mode turned on. The life of the battery can be stretched out by taking it out of map mode and stopping recording when settled in camp. For long treks it can be placed in Ultratrac mode that reduces tracking from every second to every minute. This option is a trade-off between extended battery life and diminished tracking log accuracy tracking if you wish to record everywhere you have been.
The only drawback is that the battery cannot be easily replaced. This means that the battery life must be carefully checked, particularly on multi-day hikes, to ensure it will last for the duration of the trip.
Conclusion
The best hiking GPS should be versatile and have excellent reception and preferably not too expensive.
That's why the Garmin eTrex 10 is the best of the bunch. It's cherished and trusted by hikers all over. It's an upgrade over the wildly popular eTrex 10 that's already pretty good on its own.
What Kind Of Camper Are You?
Outdoor Survival
---
Car Camping
---
Backpacker