10 Reasons Why You Need To Use A Tent Footprint
If you click and purchase with one of our links, we earn a commission. Thanks.
A footprint is generally a lightweight sheet about the shape of the tent floor's outline that usually lies underneath the tent creating a barrier or additional layer between the ground and the tent floor. Typically, these are either optional or extra pieces of gear. However, tent manufacturers are now increasingly including footprints in the price of their tents. These footprints are usually made of a similar material as your tent; however, in a thicker thread - known as a higher "denier."
Looking at the cost of a footprint that best matches with the lightweight tent you have recently ordered can cause tears to your eyes. Could it simply be a money-spinner for that brand, or do you really require it, and if you do, why doesn't it accompany that tent in the first place? Below are several primary reasons why you may need to get a footprint for your tent. Read on.
1. Extra Protection
These days, lightweight tents might feel like they have been built out of paper. Although the fabric is relatively thin to make them more comfortable and lighter to carry, this also has the undesired consequence of making them more susceptible to damage. If you are setting up camp, it would be best to first look at your pitch and check out for sticks, sharp stones, and other debris that could make you have an uncomfortable night's rest and, in the worst-case scenario, might also cause damage to your tent floor.
Lightweight tent manufacturers use a fabric with a relatively higher denier for their particular tent floors in most cases. It's because they already know they can do away with a much lower denier fabric, thus lighter, for their flysheet since this doesn't receive the abuse that a tent floor could get. In general, the denier figure could be used to depict a tent fabric's toughness. Therefore, you could double up on your tent floor's toughness with a footprint. In case you're looking to camp on stony or rocky ground, it would be prudent to get a footprint for your lightweight tent.
2. Keeps Tent Clean
Having an additional layer of fabric between you and your tent's bottom is excellent for keeping your tent clean. If you pack up your tent, then you'll pack your inner tent with the flysheet - this might get really messy if it was a muddy pitch. In most cases, your tent footprint will be accompanied by its waterproof stuff sack; this separates any dirt in your pack. This is a real help on relatively longer trips in wetter regions such as North America, Northern Europe, and the UK.
3. More Waterproofing
Tents usually have a waterproof floor, and on lightweight tents, this often possesses a Hydrostatic Head rating of about 3-5000 mm and is constructed in the inner tent. In most cases, a footprint that is made particularly for and built by a similar manufacturer as your tent will have similar properties as your tent floor. Generally, it should contain at least the same, or higher, Hydrostatic Head rating. That also means that you can effectively double your tent floor's waterproofness with a footprint.
Essentially, Hydrostatic Head is a measure of the pressure that a particular fabric may withstand before allowing water through. When it comes to a tent floor, it is essential to be high since you could create pressure points while using your tent from areas like your hands, elbows, your knees if you're kneeling, and even your bum. In case you have a wet tent pitch while you're setting up your camp, then having a footprint will significantly help keep the inside dry.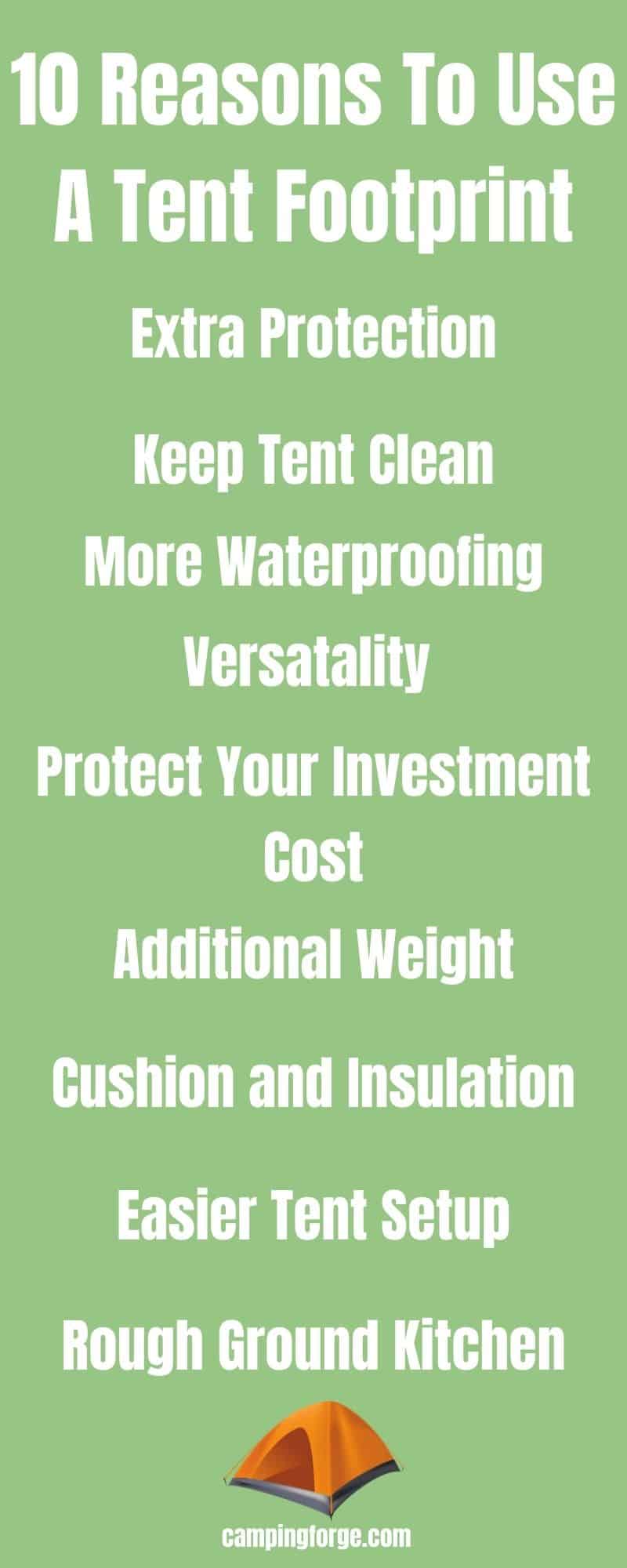 4. Versatility
If you have tents with the right footprint, then you'll get extra pitching points. In most cases, this applies to free-standing tents. Most manufacturers often advertise that their footprints could be used rather than the inner tent to achieve a minimal, lightweight set-up. What's more, some manufacturers also include a bathtub groundsheet for all their tents, which provides extra protection than their typical footprints. However, it still allows the open, airy sensation of not using your inner tent. Check out for a few brands that incorporate this option in their designs.
5. Protect Your Investment
You most likely have a clue of how much you could spend on a lightweight tent. And although the degradation of the fabrics from extreme UV rays is the primary cause of wear with a tent, it would also help look after your tent floor. A footprint will undoubtedly prolong your tent floor's life, adding a valuable additional layer of protection.
6. Cost
Although sometimes looking at a footprint's cost could take your breath away, you need to remember that these things are designed from similar high-tech fabrics that make the rest of your tent. It's built using the same waterproofing, sewing, and other methods that involve creating your tent such that it comes out in line with the tent's cost. That means that you should expect to incur high-end charges for the footprint if you own a high-end tent.
Since there are numerous options out there, certain manufacturers will use the most prevalent measurements and make their comparatively cheaper footprints. It would be prudent to confirm the measurements with your tent's size. In case you want alternative pitching techniques as described above, you'll be better off choosing a similar brand footprint as your tent to ensure that it all works seamlessly.
7. Additional Weight
Generally speaking, one of the major drawbacks of carrying a footprint with you on your next trip is the additional weight. Averagely, you should expect the footprint to weigh about 25% of your actual tent's weight. Although this sounds a lot, it makes more sense if you're considering that your tent floor could contribute about a quarter of your tent's weight, and with a footprint, you'll be doubling on that. The real question is whether 25% extra weight is worth the advantages that have already been outlined.
8. Cushion & Insulation
As you might know, your body can't cool down or heat the earth below you that much. Your body will instead take on and feel the specific temperature the ground is. It's the reason a thick sleeping pad comprising a high R-value is essential. But, if you are looking to keep it ultralight and lower each ounce, then a footprint could add a smidge of extra insulation from the ground and allow a smidge of an additional cushion.
9. Easier Tent Setup and Less Hassle in Packing Away
Generally, this applies to tent footprints designed for a particular tent. Ensure that you check out your tent maker and confirm whether they would develop a unique tent footprint for your tent. In case the footprint is made as a match, it could help you set up much easier. Among the first things you'll have to do when pitching your tent is putting down the tent footprint. With precise footprints, you could better visualize and position your tent's dimensions to ensure you're in a good spot.
The campsite grounds might be a bit wet throughout your stay. In such a case, when it comes to packing the tent down, you'll soon realize that the sewn-in groundsheet of your tent could become very wet and muddy - and this is not the nicest of leaving gifts. Fortunately, the footprint should prevent most of this from occurring and leave the tent relatively clean and dry, such that there's much less to do afterward.
10. Rough Ground Camping
It's entirely your choice which tent footprint you use. However, if you will camp over rough terrain like a rocky mountain, sandy desert, or where there's much water, you should really consider a tent footprint. Since you are the kind of individual who camps in these places, there's also a high likelihood that you camp all the time. You must keep your tent in good shape, and a tent footprint is the best place to start with this.
Other Uses of Tent Footprints
As an added advantage, tent footprints are beneficial for a lot of other reasons. Here are several ways tent footprints are beneficial:
They are the best gear sorting tarps
Groundsheets for bivvying or if you just do not feel like setting up your tent
Extra rain protection
Properly sized picnic blankets
Could be scavenged to patch certain gear like packs and tents
Extra heat insulation layer or windshield
Bottom Line
Hopefully, you have enjoyed learning more about why you would require to use a footprint. You might be able to get away if camping is a rare thing for you. In the end, you will have to weigh up all the pros and cons of carrying a footprint with you and ultimately make your decision.
However, a tent footprint generally does a lot to protect your tent's bottom and prolong your tent's lifespan. And as you can see, you can enjoy many benefits by taking a tent footprint.
What Kind Of Camper Are You?
Outdoor Survival
---
Car Camping
---
Backpacker