What Does Dispersed Camping Mean?
If you click and purchase with one of our links, we earn a commission. Thanks.
Many experienced campers prefer dispersed camping over traditional camping. You might also know this type of camping as free camping.
Dispersed camping is a style of camping outside of a traditional campground. It could be backpacking in the mountains and pitching your tent in a flat spot. RV campers can also do this as well. Many experienced campers prefer dispersed camping, in particular, if they're traveling without kids. Dispersed camping can also be referred to as dry camping.
If you want to avoid campground fees, you don't have a reservation, then dispersed camping is an ideal way to have the wilderness experience with no campground reservations. So, how do you prepare for dispersed camping?
Preparing for Dispersed Camping
A lot of people prefer dispersed camping, mainly because it entails less preparation. You don't have to go through all the hassle that comes with finding reservations, calling around to campgrounds early in the morning to inquire about availability, paying different fees to hold your spot, or perhaps knowing the exact days that you want to come and go. Although it may take less planning to schedule logistics, there are a few factors worth considering when dispersed camping. It's crucial to be prepared both from a comfort and safety point of view.
Where Can You Find Dispersed Camping?
In terms of the location you set up shop, dispersed camping accommodates flexibility. However, that doesn't mean that you camp anywhere you feel like. If or not you can count on dispersed camping depends on the land management area regulations. Your first call (or stop) should always be a ranger station to acquire accurate information on the permitted areas for dispersed camping.
Typically, dispersed camping doesn't need special permits. However, you should ensure to confirm with a ranger and inquire about all special regulations for the area. A simple registration at a trailhead may be a requirement for some wilderness areas. Some forests might even have open fire restrictions. So, you ought to be fully aware of what you're getting into.
How Is Dispersed Camping at National Park Service Sites?
Typically, National Park Service lands have considerably greater camping limitations to protect resources. Although some national parks, national recreation areas, and national monuments might allow dispersed camping in particular areas, you'll need to make inquiries at the park's permits office before you make any assumptions.
How Is Dispersed Camping on Forest Service Lands?
So, how do you find dispersed camping if you're on forest service lands? Everywhere you go, it looks different. Mostly, it means finding gravel, dirt, or forest service access road, then driving until you can find a good spot in the road where you can pull your car over and set up camp. More often than not, these sites are very remote without any service. It shouldn't surprise you if it feels like the backcountry, yet you just off a "road."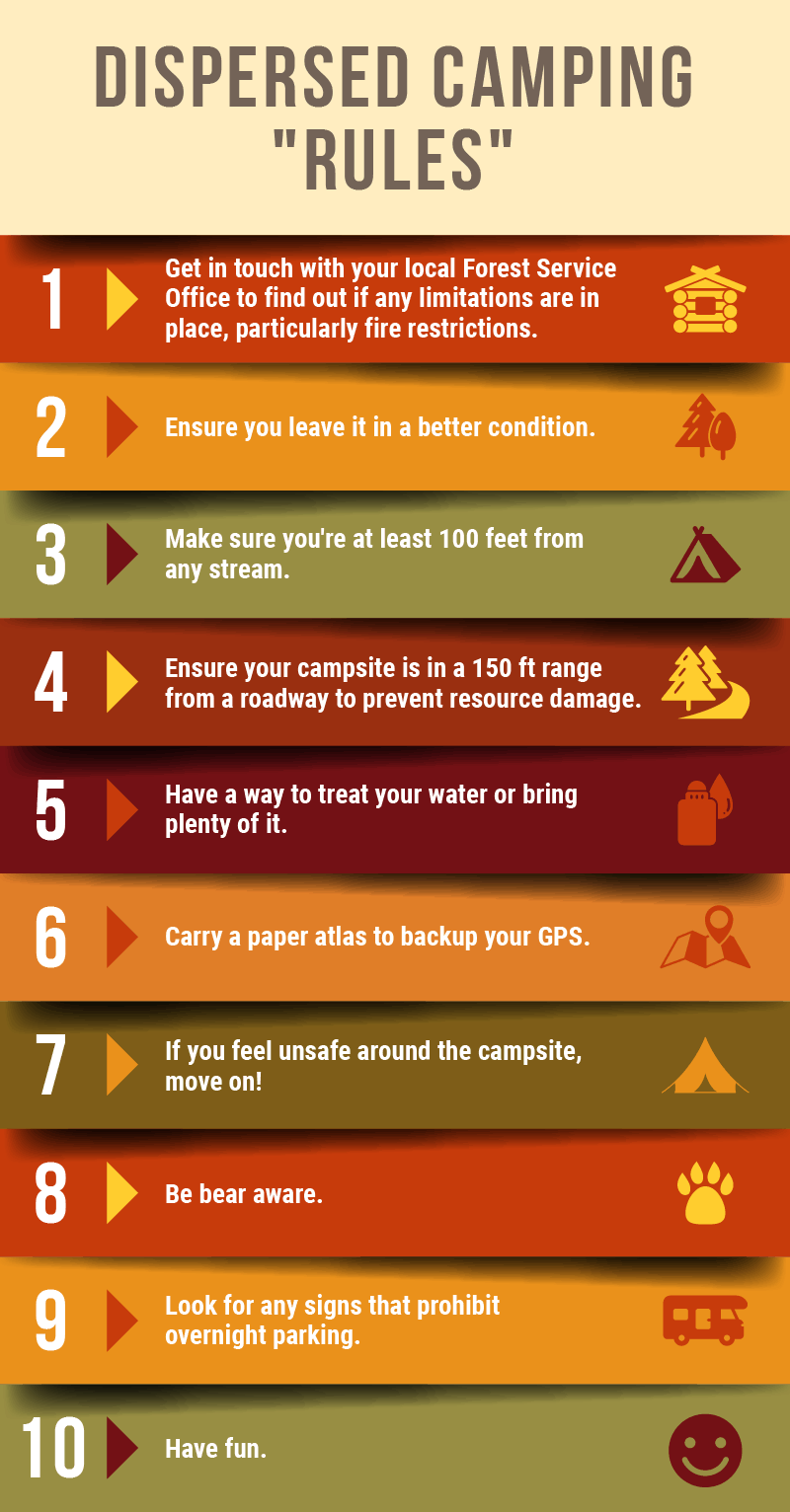 Rules of the Road for Dispersed Camping
Some additional skills and responsibilities are required for dispersed camping. You ought to know this before you can try this new experience.
1) Get in touch with your local Forest Service Office to find out if any limitations are in place, particularly fire restrictions. It involves finding out if there are permissions for open stoves and campfires. In much of the West, there are no permissions for flames of any sort since the drought conditions are severe. Occasionally, no ground tents are allowed at rest stops or on federal lands. If you're planning to stay in the same campsite, there's also a 14-day limit within 30 days.
2) Ensure you leave it in a better condition. Make sure you pack out all the things you brought in, even trash.
3) Dispersed camping is permitted 100 feet from any stream and in a one-mile perimeter.
4) Avoid sleeping on the side of the road since it's illegal. Ensure your campsite is in a 150 ft range from a roadway to prevent resource damage.
5) Have a way to treat your water or bring plenty of it. Just because you are in a river or stream with nothing else around doesn't necessarily mean that it's safe to drink that water. You should treat the water you receive from natural sources to avoid ending your trip too soon!
6) Be prepared. Ensure you have GPS (such as the Onx app on your phone -which works without cell service) or a good atlas to help you in finding your way in and out of the woods. Avoid the rain by checking the weather since it can create mud holes that can hinder you from driving.
7) Be discerning. If you feel unsafe around the campsite, move on!
8) Be bear aware. It's prudent that if you're in a bear country to store food or any other scented items outside of your vehicle or in a bear canister overnight.
9) Although not always, there are often no fees when it comes to dispersed camping. Sometimes if there are fees, it will most likely be around $5-$10.
10) Ensure to check out for any signs that might prohibit overnight parking.
What Should You Bring When Dispersed Camping?
As you might know already, dispersed camping provides minimal to no service for campers. Most of the time, you won't even find portable water. Make sure that you pack everything you'll require during your stay, and also be ready to pack it all out, that includes your trash. Some of the items to bring are: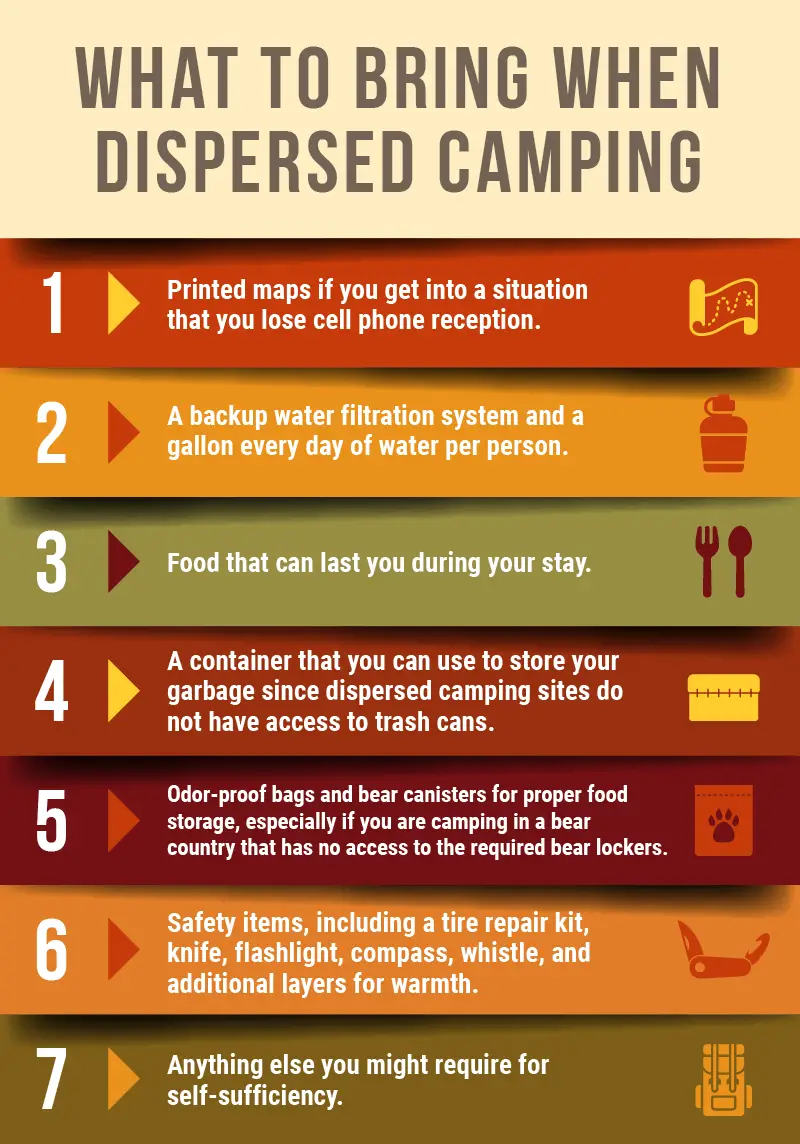 Printed maps if you get into a situation that you lose cell phone reception
A backup water filtration system and a gallon every day of water per person
Food that can last you during your stay
A container that you can use to store your garbage since dispersed camping sites do not have access to trash cans
Odor-proof bags and bear canisters for proper food storage, especially if you are camping in a bear country that has no access to the required bear lockers
Sleeping bag, sleeping pad, and tent if you're not using an RV
Safety items, including a tire repair kit, knife, flashlight, compass, whistle, and additional layers for warmth
Anything else you might require for self-sufficiency
How Safe Is Dispersed Camping?
As long as you take necessary precautions and understand your limitations, you, like millions of other people, will have a safe camping trip.
Basic tips:
Don't keep food in your tent. Keep it locked up in a bear canister or your car.
Let people know where you are going, and when you are coming back. This way, if something happens to you, rescue can be organized.
Bring along a good first-aid kit, get trained on first-aid by the Red Cross or similar organization, and if in bear country, carry bear spray.
Make sure to have a way to make water potable if you run out of water
Bring a map and compass so that you can your way back if your phone or GPS stops working.
How To Find Dispersed Camping Spots
The best way is to use an app like Hipcamp or AllStays or FreeCampsites.
State parks, national parks, and national forests may allow dispersed camping. Check with the ranger station.
Most Bureau of Land Management lands let you do dispersed camping for up to 14 days.
How To Poop While Dispersed Camping
When dispersed camping you need to plan ahead for going potty. In particular, for when you need to poop.
While you could definitely just dig a hole with a trowel and then cover it up with dirt, there are better options if you plan ahead.
You can read more about this delicate subject in this article at Overland Site.
Related Articles
What Kind Of Camper Are You?
Outdoor Survival
---
Car Camping
---
Backpacker