The Best Hydration Packs Reviewed
If you click and purchase with one of our links, we earn a commission. Thanks.
When camping, hiking, or backpacking it is important to stay hydrated. Otherwise, you will be in danger of suffering the nasty effects of dehydration, including headaches, thirst, dry mouth, and dizziness among others.
While hydration is essential, you might not want to interrupt your hike to simply get a sip of water. Designed to hold one to three liters of water, a good hydration pack helps you hydrate without the need to stop what you are doing. Furthermore, for runners, hikers, and cyclists, hydration packs also give you a place to carry a variety of essentials in a convenient way.
It's important to stay hydrated while camping or hiking. A hydration backpack is a great way to do so.
Read on to learn more about five of the best hydration packs available today.
Top Five Hydration Packs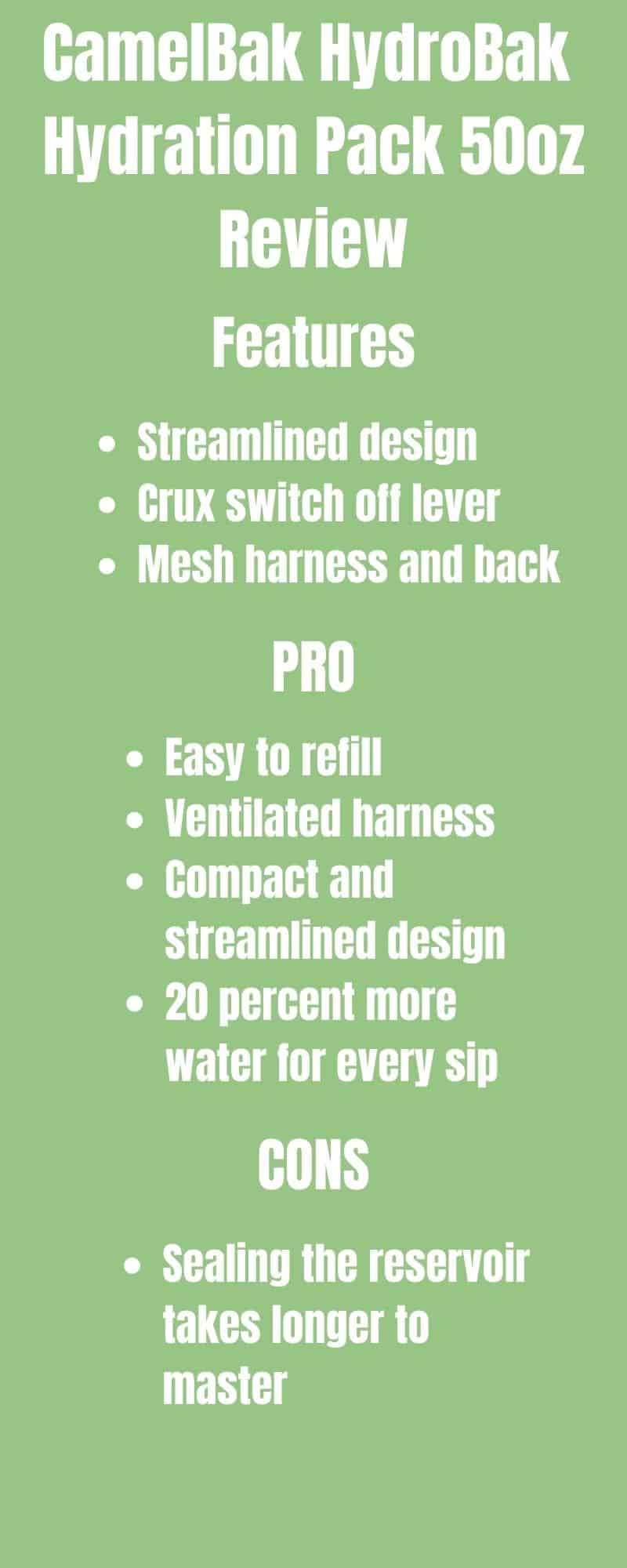 This minimalist lightweight hydration pack has everything you need to keep you hydrated for a short hike or bike ride. Equipped with a 1.5 liter crux reservoir that is easy to refill and load. For utmost comfort, this backpack comes with a breathable harness. A zippered pocket is also included in the packs design and securely holds your essentials, including keys.
Main Features
Streamlined design: Equipped with a 1.5 liter fluid reservoir and zippered pocket for holding your essentials, this hydration pack comes in a compact, low profile design; exactly what you need for a short swift bike ride or hike.

Crux switch off lever: To ensure that you only get water when you want it, the drinking tube comes with a handy and easy to use crux switch off lever.

Mesh harness and back: For a comfortable fit even in the hottest weather, this CamelBak HydroBak Hydration pack comes with a mesh back and harness.
Pros
Easy to refill thanks to the ergonomic handle on the crux reservoir

Ventilated harness to keep you cool during demanding physical activity

Compact and streamlined design suited to road biking

20 percent more water for every sip
Cons
Sealing the reservoir takes longer to master.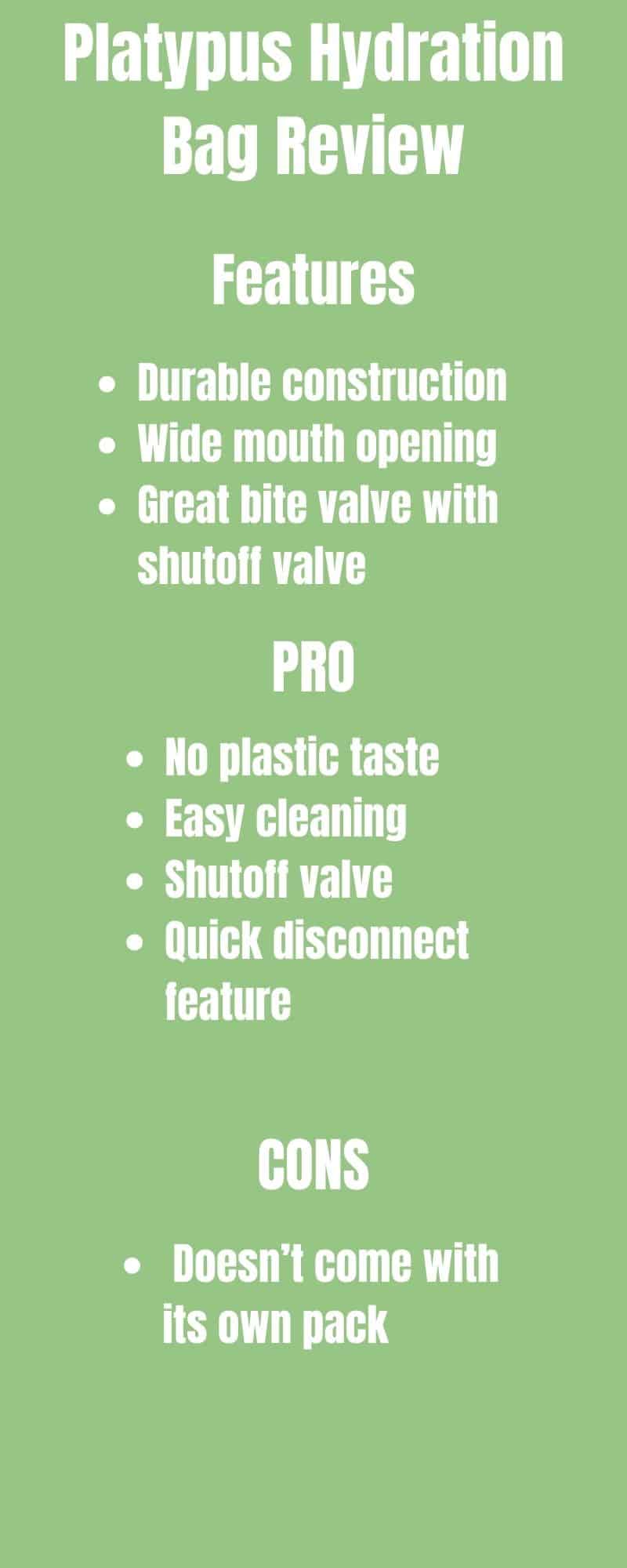 For those with higher water requirements, the Platypus Big Zip water Reservoir is a perfect choice given its 1.5 to 3 liter liquid capacity variants; this makes it a great option for hiking, backpacking and mountain biking among others. Offering taste free hydration, this pack protects your drinking water from contamination by mold and mildew thanks to its silver ion embedded design.
Main Features
Durable construction: Considered to be highly durable, this hydration pack is solidly constructed using strong and durable clear high polymer plastic material.

Wide mouth opening: To open this hydration pack, simply unzip the top of the bag and you are done.

Great bite valve with shutoff valve: The pack also comes with a high quality drinking tube that is fitted with a shutoff valve to prevent unnecessary leakage of water.
Pros
No plastic taste

Easy cleaning and refilling thanks to the wide mouth opening

Shutoff valve ensures that you only get water from the tube when you need it

Quick disconnect feature for easy and effortless release of the reservoir from the drinking tube
Cons
Doesn't come with its own pack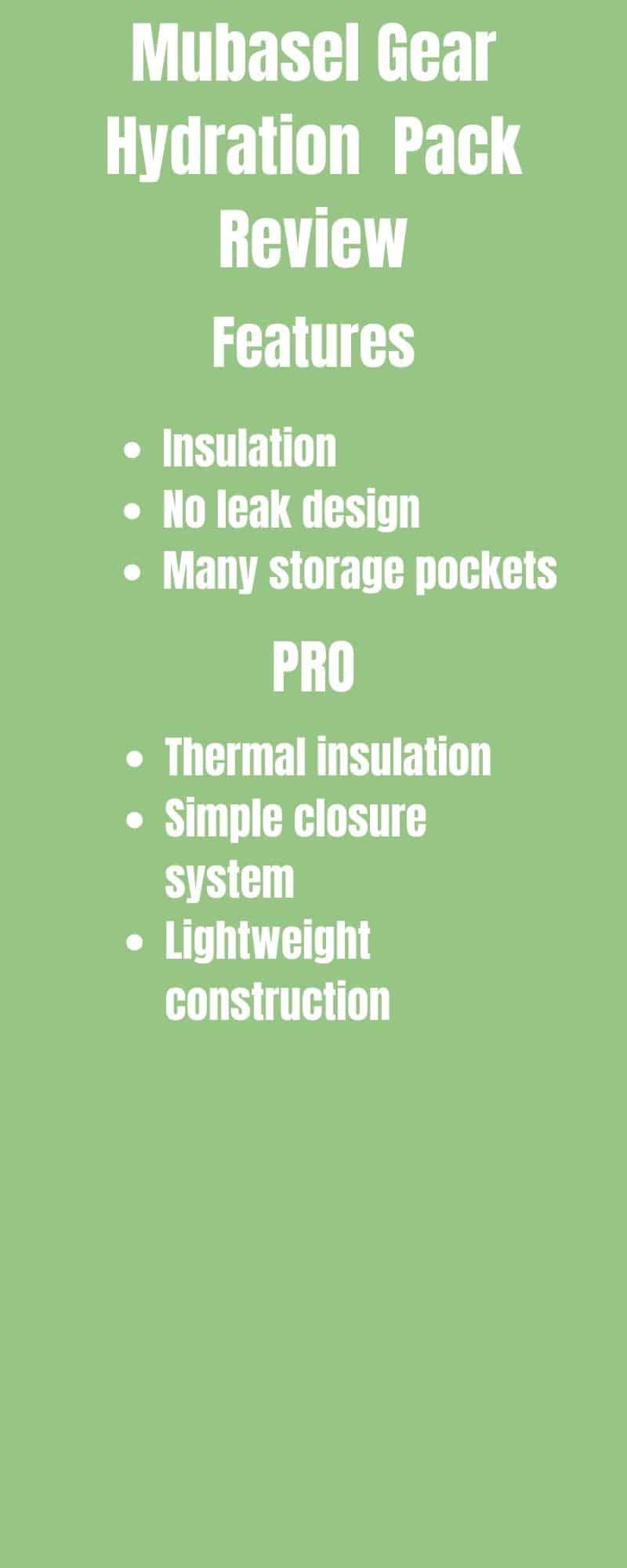 Designed to carry up to 2 liters of liquid and a variety of gear, this Mubasel insulated hydration pack also shields your drinking water from the external heat or cold. Available in a variety of colors, this hydration pack can hold a generous amount of gear in its storage pockets, 3 in number. Additional gear can be squeeze into the front stretch mesh compartments. With all this space, the pack is a great option for those planning on hiking over long distances.
Main Features
Insulation: The Mubasel Insulated Hydration pack is capable of maintaining the temperature of your water for up to 4 hours. Your water will remain cool in hot weather, and won't freeze in colder weather conditions.

No leak design: To eliminate any likelihood of water leakage, the bladder connection relies on a highly reliable click closure connection.

Numerous storage pockets: As previously noted, this hydration pack is designed with a variety of storage pockets for packing various essentials and gear.
Pros
Thermal insulation helps keep your water cooler for longer

Simple one click closure system prevents water leakage

Comfortable outdoor use thanks to the pack's lightweight construction, padded straps and breathable design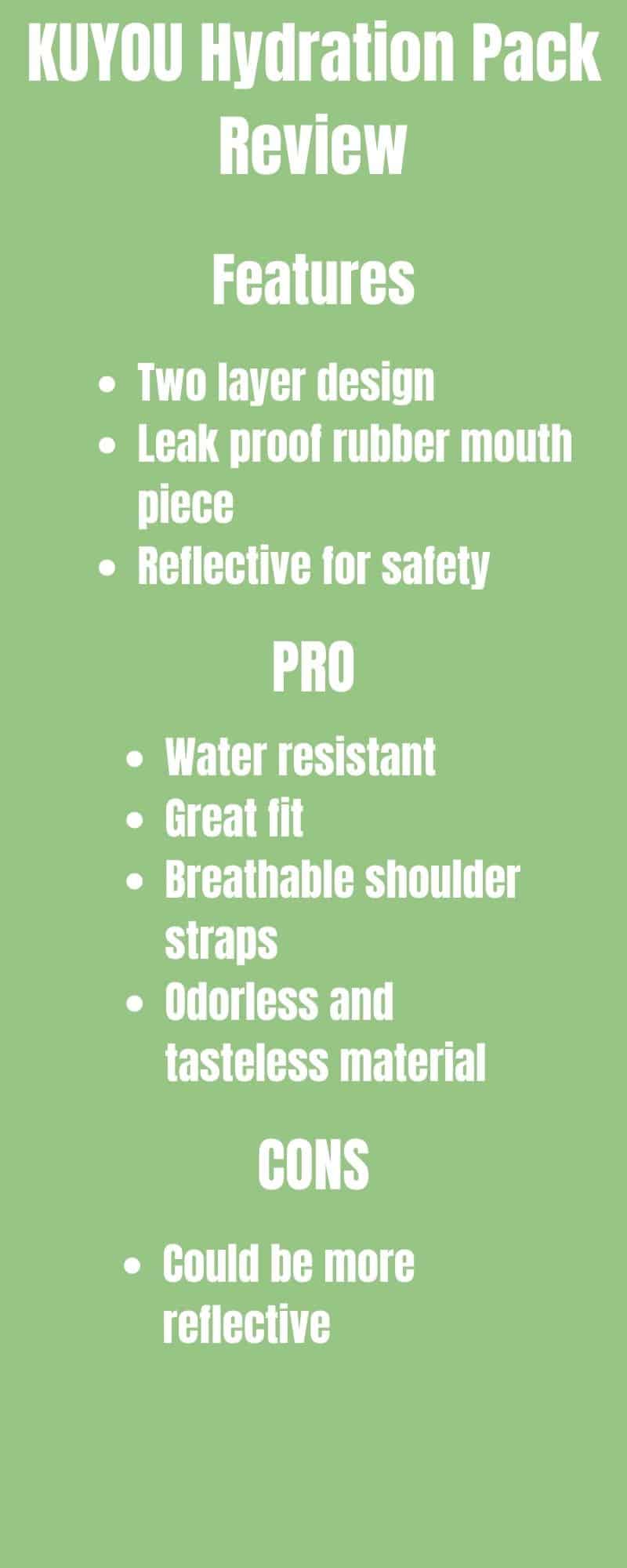 This lightweight hydration backpack is made from durable, high quality nylon material with a breathable back. The backpack comes with two compartments, one for the 2 liter hydration bladder and a second layer for all your essentials. This hydration backpack is suitable for running, cycling, snow sports and a variety of other outdoor activities.
Main Features
Two layer low profile design: This backpack comes with two separate layers for a low profile and lightweight design.

Leak proof rubber mouth piece: To drink from the hydration pack, just pull the rubber cap off the drinking tube; there is no need to bite down.

Reflective article look: The backpack's two layer design has a reflective article appearance for safety purposes.
Pros
Water resistant material

Great fit thanks to the adjustable straps

Breathable shoulder straps make this backpack quite comfortable

The bag is made from odorless and tasteless material
Cons
The reflective material is not as visible in the dark as some might like.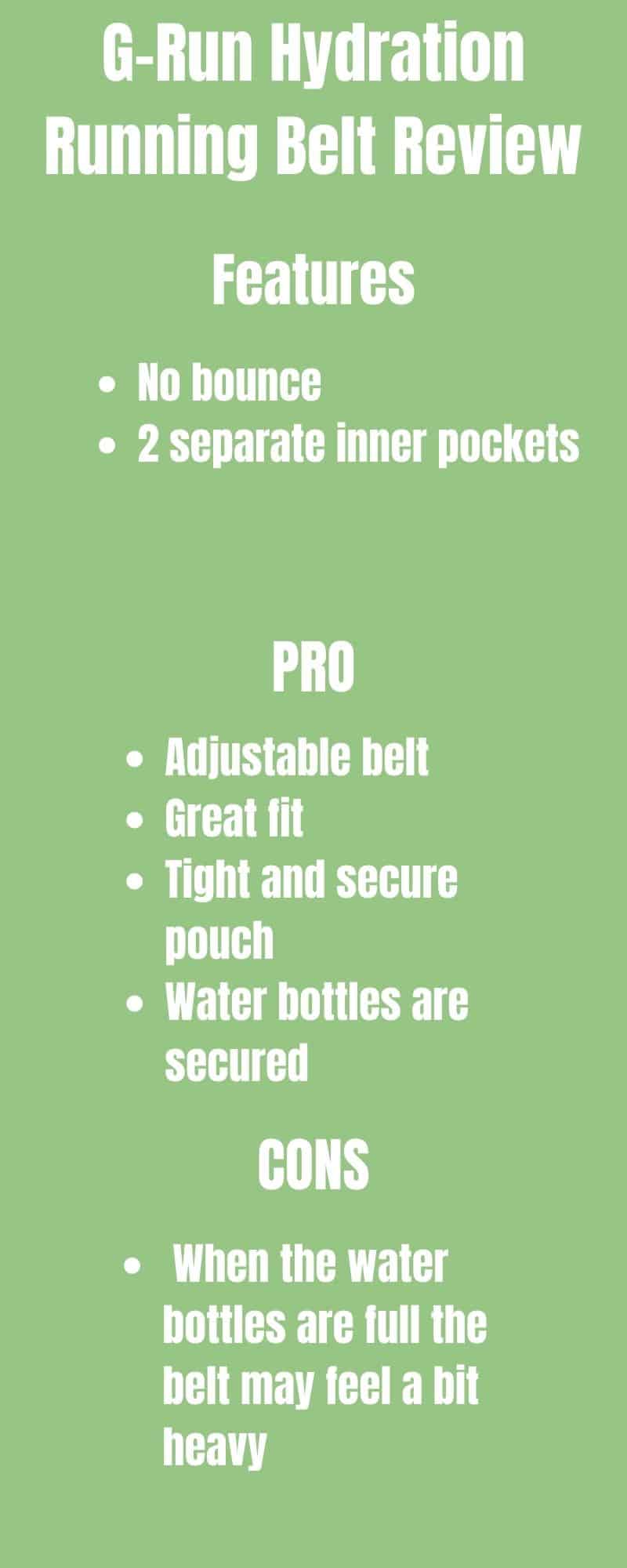 If you are looking for an alternative to hydration backpacks, this running belt is the perfect product for you. Designed for use by runners and cyclists, the running belt comes with two storage pouches for your essentials and two water bottles.
Main Features
No bounce: The belt is kept in place with the help of its no bounce feature.

2 separate inner pockets: One for your phone and the other for your keys, energy bars and credit cards.
Pros
Adjustable belt for a comfortable and snug fit

Tight and secure pouch

Water bottles are secured in place by top bungees
Cons
When the water bottles are full the belt may feel a bit heavy

Getting the water bottles in and out of their pouches can be challenging as they are held in place tightly.
What Is A Hydration Pack?
Designed in the form of waist packs or backpacks, hydration packs comes with a rubber or plastic bladder that can hold liquids. To make it possible for the user to fill the liquid with water conveniently, the bladder has a cap. A hose attached to the bladder is used for drinking. The hose is usually designed to extend past the user's should, making it possible for them to reach it conveniently without having to use their hands. For effortless drinking, a bite valve is attached to the end of the hose. This allows the user of the bag to suck water through the tube with a simple bite.
In addition to holding your drinking water, hydration packs are also designed to hold a variety of items in their convenient storage pockets.
What To Look For In A Good Hydration Pack (Main Features)?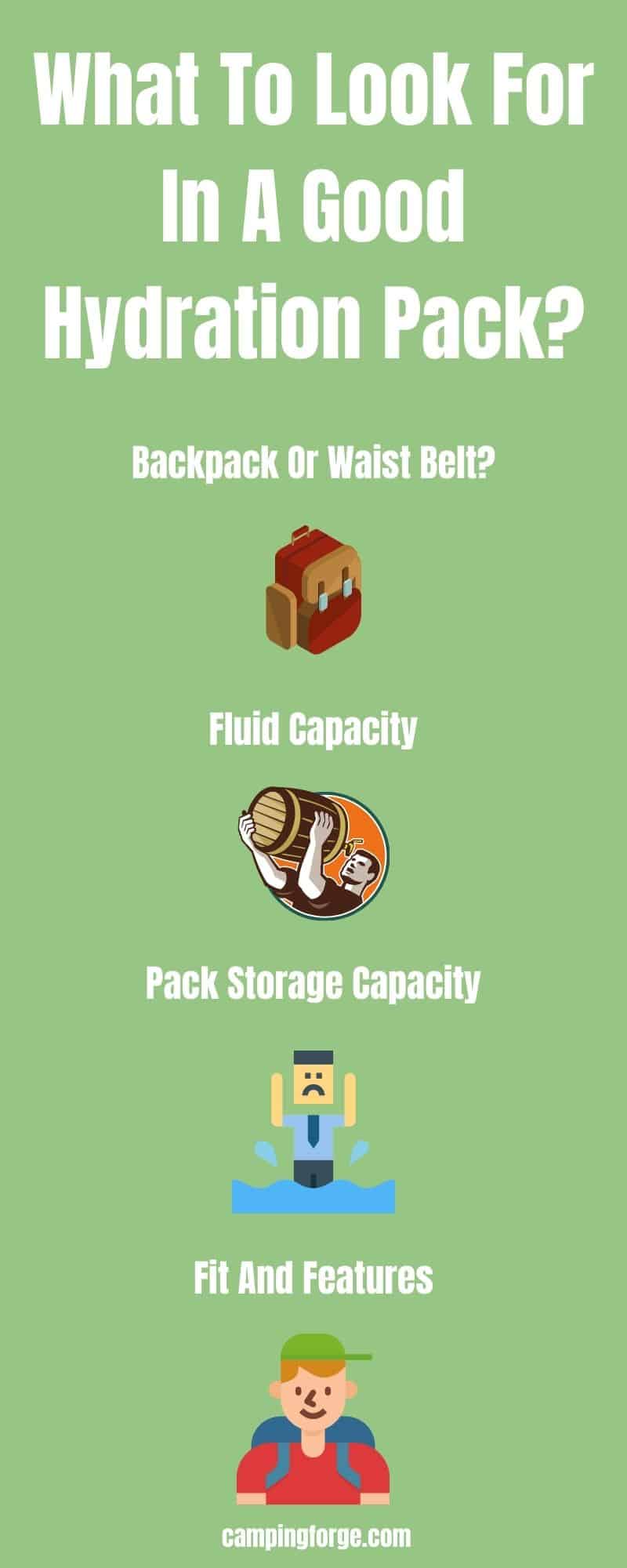 When shopping for a hydration pack, you will find a huge variety of options out there. To help you narrow down your search to the most suitable option, it is important to have an idea of what you should look for in a good hydration pack. Use the following factors as a guide to the right hydration pack for your specific needs.
Hydration Pack Type
Hydration packs are generally divided into two main types, waist packs and backpacks. Under these two categories, hydration packs are also divided into a host of subcategories depending on their intended use. The main subcategories include hydration packs intended for use in running, cycling, hiking, snow sports and mountain biking. It is worth mentioning that some hydration packs meant for use in running come with a water bottle instead of a plastic or rubber bladder.
Since different hydration packs come with different design features meant to enhance their suitability to a specific activity, a good pack for you will be the one that is designed for the activity you intend to engage in.
Running vests are simply a class of running hydration packs designed to be worn over the shoulders. Unlike most packs these ones do not have a hip belt. Depending on the specific design, running vests may be designed to accommodate water bottles or a plastic or rubber reservoir that is sold separately.
It is also worth mentioning the fact that most waist packs are designed to accommodate water bottles instead of a rubber bladder. Their cargo space is also quite limited in comparison to hydration backpacks.
Fluid Capacity
To ensure that you are properly hydrated throughout your workout, hike or cycling adventure, it is important that you carry the right amount of water. Different hydration packs have different fluid capacities; usually between one to three liters. Choosing one that carries enough water, in line with your specific requirements, is essential.
However, when choosing a pack with the right fluid capacity, it is important to remember how heavy water can be. You can minimize water weight by choosing a pack with a reasonable capacity, and then refill it occasionally as you go. Alternatively, you can choose a high capacity pack and only fill it up when absolutely necessary; otherwise you can fill it up partially for shorter hikes, for instance.
Pack Storage Capacity
As previously stated, hydration packs are also used to carry a variety of essential items needed by the user, in addition to drinking fluids. The packs on the market can hold anywhere between 5 and 50 liters of gear. Before settling on a given hydration pack, it is important for you to take some time to come up with a rough estimate of the amount of gear you will be carrying in the bag on a regular basis. The amount of gear you carry mostly depends on your intended activity.
While larger packs are great for long hikes, where you will need to carry more supplies in terms of food and other essentials, smaller lightweight packs are best suited for use in running or road biking, where a low profile design is the norm.
Fit
Hydration packs come in a variety of sizes, ranging from extra small to large. A great hydration pack should be able to fit your torso snugly and comfortably. The pack should not restrict your breathing or arm movement, especially considering the fact that is intended for active outdoor use. A good option should fit the length of your torso; remember that this is not your overall height. However, if you choose a pack that comes with a hip belt, be sure to pick one that also fits your hips snugly; otherwise, focus on the torso length.
Features
In addition to the above factors, a good hydration pack should also come with a variety of suitable features.
Some essential features include clips and tube portals. Tube portals make it possible for the user to thread the drinking tube to the exterior from the reservoir inside the pack. While some packs have a centrally positioned tube portal, others have two, one on either side of the pack making it possible for users to thread the tube over either shoulder. A clip attached to a shoulder strap helps you perfectly position the tube for effortless drinking.
Quick disconnect tubing makes it possible for you to disconnect the reservoir from the drinking tube for easy refilling without having to remove the tube from its current location.
For easy cleaning, a wide mouth opening is invaluable. It allows you to slide your entire hand into the bag easily. If your reservoir has a small mouth opening, you might have to buy a cleaning kit.
Be sure to consider other features, such as rain cover and cold weather add-ons, which might prove useful to your intended use of the hydration pack.
Conclusion
Using a hydration pack will help you enjoy your favorite outdoor activities without exposing yourself to the risk dehydration. With the huge variety of products on offer out there, it is important for you to keep some important factors in mind when shopping around to enhance your chances of buying the right hydration pack, suited to your specific needs.
What Kind Of Camper Are You?
Outdoor Survival
---
Car Camping
---
Backpacker