What Do Backpackers Use For Pillows?
If you click and purchase with one of our links, we earn a commission. Thanks.
Sleeping on the trail is what makes backpacking different from hiking. Most people find it hard to sleep without a pillow. And backpackers are no different. While some sleeping pads have pillows, most don't. There are three common options for backpacking pillows. The first option is to use clothes in a stuff sack. The second option is an inflatable pillow. The third option is a compressible pillow. Each option has its pros and cons. The "best" option is the option that works for you.
If you are trying to decide on a backpacking pillow, please read on.
Clothes In A Stuff Sack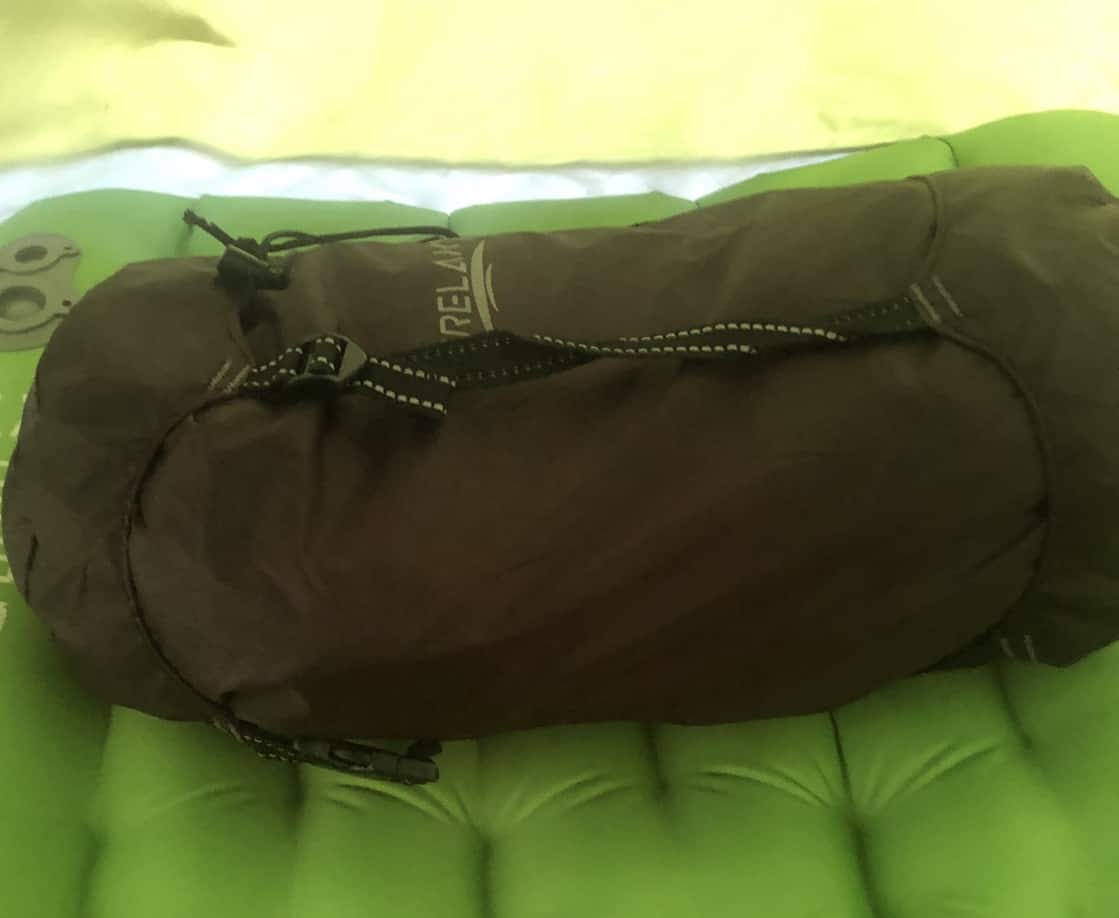 The simplest but least comfortable option is to use clothes in a stuff sack. I have tried this approach, and I won't go back to it.
While the clothes are soft and it will keep you elevated, it's not very comfortable. The clothes are lumpy. They move around. Your head will compress the clothes.
If you're a 20 something and wanting to be hard-core and trying to win the "lightest" pack contest choose this option.
And before you think I'm a wimp for wanting a pillow, this isn't because I can't sleep without a pillow. But we're not backpacking as part of a military expedition.
We're doing this for fun. And there's no reason to give up all of your creature comforts for camping or backpacking.
Inflatable Pillow
A popular pillow option for backpackers are inflatable pillows. They don't weigh very much and pack small. Unlike clothes, they will hold their shape when you sleep on them like a traditional pillow.
However, the downside to inflatable pillows is that they can be slippery. They can move on you while you sleep. But if you want a pillow and want to maximize space in your pack, an inflatable pillow is a great option.
A personal note. My inflatable pillow seems to slip and slide when I sleep on my cot. But it stays in place if I'm sleeping on the ground. In both situations, I am sleeping on the same sleeping pad. I believe the reason why the pillow slips isn't because of the pillow. But rather, the sleeping pad also slides on the cot. When I'm on the ground, the pad doesn't slip, thus everything stays in place.
Here is our current favorite inflatable pillow:
Camping Pillow - Ultralight Inflatable Travel Pillows - Multiple Colors - Compressible, Lightweight, Ergonomic Neck & Lumbar Support - Perfect for Backpacking or Airplane Travel (Black / Black)
1. Portable and Practical
There are plenty of things to like about the design of this inflatable pillow. It inflates in as little as 3 to 5 breaths. This alone makes the pillow extremely easy to inflate and start using almost instantly. Rugged Camp was able to create a pillow that inflates so quickly by using a unique 2-way air valve that keeps the air you are blowing into the pillow without escaping. Because it's an inflatable pillow, it can be quickly deflated to be packed in the included pouch without taking up much room at all. These are two things that every camper and outdoor adventurer need when they are limited in carrying space.
2. Durability and Puncture Proof
One of the problems with inflatable pillows for a backpacker, hiker, or camping enthusiast is the lack of durability they usually offer. Unfortunately, you're going to be outdoors with sharp and jagged rocks. Because of this, you may get your inflatable pillow popped from doing something as simple as laying down on it. That's not the case with the pillow by Rugged Camp. The creators specially designed this pillow to be puncture-proof using knitted cotton to enhance its durability. This not only makes the pillow puncture-proof, but it enhances the durability of the pillow to ensure it can handle all of the conditions you present it with. After all, you never know what the outdoors can throw at you.
3. Comfort Beyond Belief
Whenever you are looking to purchase a pillow whether it be for at home or the outdoors, you want comfort. Comfort is a priority when buying a pillow because it's what will dictate the quality of your sleep. Having an uncomfortable pillow is going to do you no good no matter how durable and portable it is. Luckily, they managed to create the perfect inflatable pillow without sacrificing comfort. This pillow features an enhanced comfort design with proper ergonomics. It provides sufficient support for both your head and neck. The pillow is a good size at (16x12x4inches). Therefore it's large enough to accommodate your entire head without being too bulky.
Here is my inflatable pillow: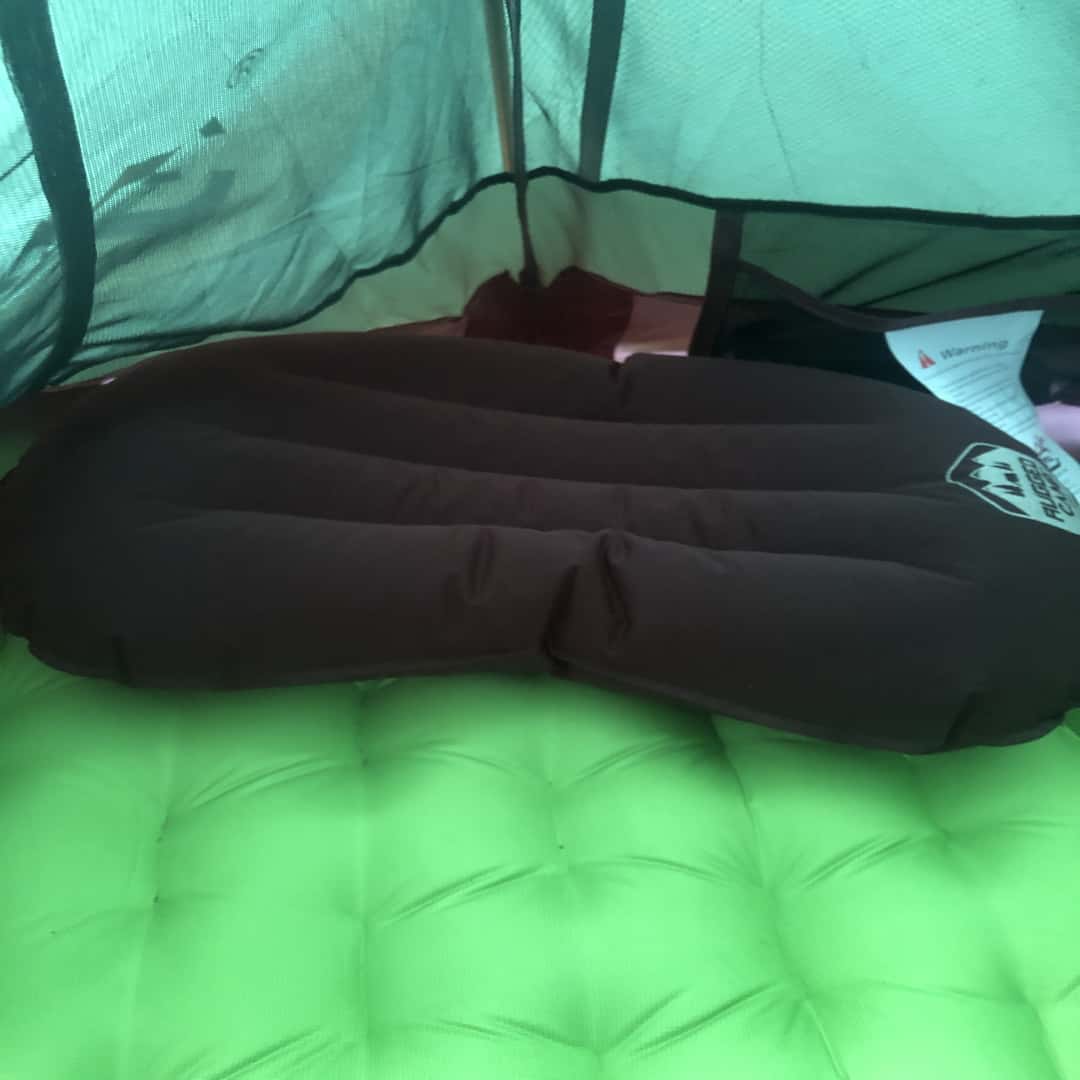 Compressible Pillow
Would you like a pillow that's as comfortable as the one you have at home but packs into your backpack?
If so, then you need to try out a compressible pillow.
These pillows are filled with a material that feels like a traditional pillow but you can compress down so that will be 1/4 of the original size. I sleep on this pillow on all of my car camping trips. I use this pillow on my short backpacking trips.
Therm-a-Rest Compressible Travel Pillow for Camping, Backpacking, Airplanes and Road Trips, Denim, Large - 16 x 23 Inches
1. Comfort
When you are looking at various travel pillows, one thing you're likely to see is that a lot of them use poor quality materials that lack comfort. This pillow is made out of compressible memory foam. Therefore, you are getting a travel pillow that is likely made out of the same material as the expensive pillow you use at home or even possibly your bed. Memory foam is known to be one of the best materials for pillows because the material is naturally soft and provides tailored support based on your head and how you sleep. This isn't something that can be mimicked with cheaper and lesser quality materials. To go along with the memory foam, Wise Owl Outfitters uses micro-sued for the cover which ensures you get a comfortable laying experience. The micro-sued feels excellent on your skin.
2. Compact and Portable
Two things are a must when you are buying a pillow designed for travel. These two things are portability and practicality. While it would be excellent to be able to bring along the pillow you sleep with at home all the time, that's simply not practical. What makes a travel pillow practical is its compact nature or compact design. This pillow is not only lightweight at only 9 to 13 ounces, but the pillow is designed to pack own to a very reasonable size in its carry bag. The pillow comes in two sizes including the small which expands to (12x16) and the large which expands to (14x18).
3. Easy Maintenance
Another big thing that you might be looking to find in a travel pillow for enhanced practicality would be the maintenance requirements it comes with. After all, you're going to be using the travel pillow in various conditions and places. Thus, you want something that is going to be easy to maintain and to care for. This pillow is designed to be both - machine washable and dryer friendly. Therefore, you won't have a problem throwing the removable cover into the wash after your outdoor or traveling adventures. This can keep your pillow clean and ready to use whenever you need it.
How To Decide Between Pillows
If you are going on a long section hike or even a complete thru-hike, then you will want to reduce weight as much as possible. I would take the inflatable pillow. It weighs only an ounce and takes up very little space in the pack.
But after a hard day of hiking, you will sleep better with an actual pillow. Plus you won't be dependent upon having your clothes in a stuff sack for a pillow. Because if your clothes get wet, or you need to hang them in a bear bag, you will want to still have a pillow.
For shorter hikes, such as a weekend getaway, I'd carry a compressible pillow because it's more comfortable.
What Kind Of Camper Are You?
Outdoor Survival
---
Car Camping
---
Backpacker