Guide To The Best Hiking Trails In Dallas Texas
If you click and purchase with one of our links, we earn a commission. Thanks.
I live in the north Dallas metroplex along Lake Lewisville.
While the DFW metro area is mostly flat, we do have more variety of hiking trails than you would imagine. There aren't any mountains to hike here (though transplants new to DFW in Facebook groups ask at least once a week about this. I'm not sure what their realtor told them what DFW geography was like).
But as you can see we do have several trails to keep you engaged if you live or are visiting DFW.
Also if you are hiking here in DFW, you must pay attention to the weather. In the summer, you must hike in the early morning before it gets hot. Bring plenty of water. Also look out for snakes. If you encounter a snake, keep calm and give it a wide berth. It will leave you alone if you leave it alone.
Most of the parks with these fantastic hiking trails are within a 30-minute drive from the Dallas city center, so you won't have to travel far to discover some of the best hiking opportunities that Dallas has to offer.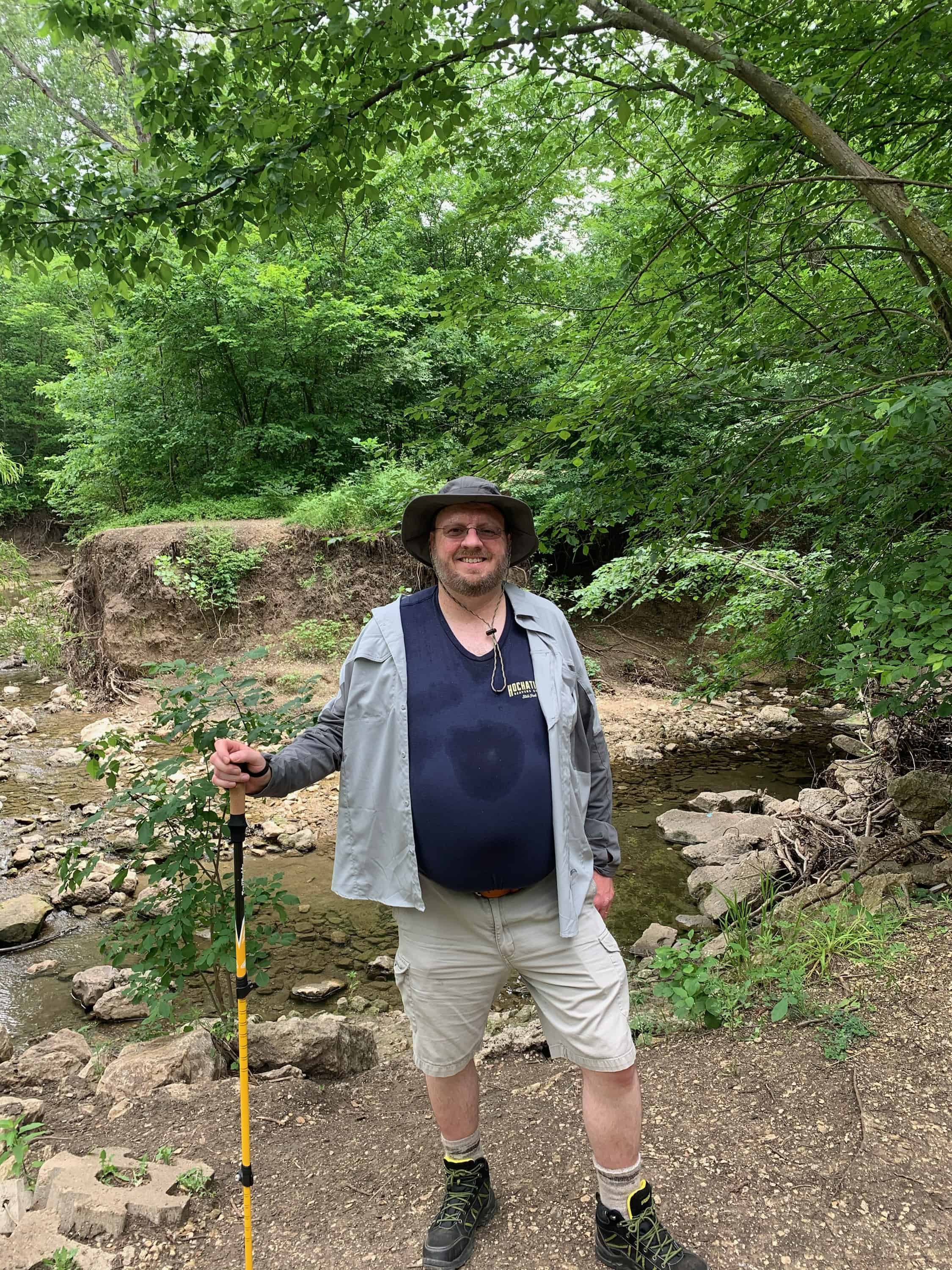 1 Cedar Ridge Preserve
Cedar Hill Park Reserve includes an extensive natural habitat that spans over 600 acres. The City of Dallas Parks and Recreation department and the Audubon Society have partnered together to preserve various ecosystems made up of animals, butterflies, and birdlife throughout this area.
There are approximately 9 miles of trails to enjoy in this area, but one of the most unique aspects of the hiking trail is a mini .5 mile hike that includes an online-guide that informs you of the plants and trees growing in this area. This is a fantastic method to learn about the area while you are walking.
2 Cedar Hill State Park
Cedar Hill State Park includes 4 trails to choose from. Dorba is the largest which is a shared-use hiking and biking trail. The other three trails which include Talala, Duck Pond, and Overlook, are only used for hiking. The park closes the trails when they get wet to stop the paths from eroding away, and these closures are very common during the rainy season.
Dorba Trail
Dorba is made up of three loops which include a short 2.5-mile hike, a middle 7-mile hike, and an outer 10+ mile hike. The paths all pass through a wooded area but seem to be fairly open over most of their lengths. The Dorba trail has a very important rule that hikers must travel in a counter-clockwise direction, while bikers should be traveling in a clockwise direction. When hiking on this trail watch and listen for any approaching bicyclists. If you do hear a bicyclist approaching stand off the trail to allow the biker to pass.
Overlook Trail
Close to the northern end of Cedar Hill State Park, Overlook Trail is accessible from the Shady Ridge Camping Area. At the start of the trail, a small creek crosses the trail but it soon starts gaining elevation where the trail heads up to the overlook. The main attraction to this trail is the view of Joe Pool Lake when you reach the lookout.
Duck Pond Trail
This is the shortest trail in the park and the loop of the path passes through forest habitats and open fields. The trail includes a couple of bridges and a winding path that crosses over the small creek.
Talala Trail
Talala winds through wooded areas, open fields, and through a couple of small gullies. The ups and downs and length of this trail do make the hike more challenging when compared to Duck Pond and Overlook trails, but it shouldn't be difficult for any person that thinks of themselves as a hiker.
3 Piedmont Ridge Trail
This one-mile short hike in Dallas packs a stiff punch with each step. The trail is on an incline which offers a great workout, yet the main attraction to this hike would have to be the view. The lookout points overlook the Dallas City Skyline and beyond.
4 Arbor Hills
Hiking in the nature preserve of Arbor Hills leads to a few amazing views in Dallas. Situated in Plano Texas, about a 30-minutes drive from Dallas city center, the parks offer something for all ages.
There is a good mixture of off-road and paved trails spread across the park, along with a pond and a shaded-playground area. The observation tower offers amazing views across the natural beauty of this preserve.
There are also restrooms and fountains throughout this park, making it one of the best places to spend a day or an afternoon.
4 Katie Jackson Park
Katie Jackson is amid the city's hustle-and-bustle. But once you are on one of the trails the traffic and noise seem to disappear and the natural surroundings will start to engulf you entirely. There are a few options to choose from once you are on the main trail. This trail is also a loop and there is signage that indicates that bikers need to travel counterclockwise and hikers need to travel clockwise to avoid any accidents.
5 White Rock Lake
Situated close to the Dallas Arboretum, the White Rock Lake Trail includes a close to 10-mile loop that goes around White Rock Creek. The trail also includes several pathways that branch off. Most of the network of the trail is relatively flat and paved and it is also a very dog-friendly area. However, you will need to keep your dogs leashed to accommodate other park-goers. With lots of water fountains to choose from, it is the ideal spot for a run or long walk year-round.
6 Harry S Moss Park
When looking for the best hiking spots in Dallas, you probably wouldn't think of Greenville, since this area is better known for restaurants and bars.
However, there is a patch of green that is not well-known in this area that is home to a few of the most beautiful trails inside the city landscape. The area includes 5-miles worth of trails that lead to expansive tunnels in the trees.
This little-known secret provides a way for hikers to enjoy a fantastic hiking experience in Dallas without having to deal with the crowds that develop over the weekend in the other main parks in the area.
The park is also home to equestrian trails and off-road biking trails for people interested in exploring Dallas in different ways.
7 Ray Roberts
Ray Roberts Lake State Park is only an hour from Dallas city center and is ideal for a day trip. You can also stay overnight since the park has a lodge or camping locations on site. The park is made up of waterfront views and sprawling trails which brings about a true sense of serenity and a way to escape the city.
The trail network covers 20 miles and is among the more extensive networks dedicated to hiking near Dallas. It also provides an excellent hike regardless of whether you prefer off-road or paved trails.
After your hike, you can also enjoy a stroll on the beachfront to enjoy the beauty and serenity of the water. The entrance fee to this park is $7 for adults which is worth every penny.
8 Heard Museum
Escape the hustle and bustle of the concrete city and enjoy a hike of more than 6.5 miles of interpreted or self-guided nature trails. The pathways wind through pretty diverse habitats and the 289-acre wildlife sanctuary that include limestone escarpment, bottomland hardwood, and tall-grass prairie. This venue offers the best opportunity to discover countless species of animals, insects, and birds. Below is a list of the trail details:
Hoot Owl Trail
The distance of this trail is 1/2 mile and the difficulty level is easy to moderate. It includes a balanced combination of bottomland and upland terrain.
Cedar Brake Loop
This easy 2/3 mile trail includes views of seasonal and beautiful native wildflowers.
Wood Duck Trail
1 mile in distance, the Wood Duck Trail is easy to moderate. It also includes an overland trail and wetlands boardwalk that provides fantastic views of the beautiful wetlands.
Bluestem Trail
This moderate trail covers 1 mile and offers top-rated views of the Heard's prairies.
Sycamore Trail
Sycamore Trail is an easy to moderate hike that covers 1.25 miles. It also includes large, old trees and deep shade.
Animals Of The World Trail
This trail is next to the Native Texas Butterfly House & Garden and the Animals of the World exhibit. The trail is short and easy.
Laughlin Loop
Laughlin Loop covers 1/2 mile and provides a great combination of bottomland terrain and hilly upland, which is mostly shaded.
9 Trinity River Audubon Center
This spot is the "pinnacle" of where nature-viewing trails of 5 miles meet. Many of the trails offer a way to explore areas close to the wetlands and stunning views close to the water, which is something rare in a busy city like Dallas.
This is not one of the dog-friendly areas, so if you are planning to visit, make sure you have read the rules to ensure you make the most from your visit. There are also a few clearly marked bicycle trails if you prefer to explore the area in this way.
10 Lake Lewisville Environmental Learning Area
Do you want to find the top-rated trails in Lewisville Lake Environmental Area for either a family trip or an adventurous and challenging hike? AllTrails offers 7 fantastic running trails, biking trails, hiking trails, and so much more. These easy trails are ideal for the entire family, but if you would prefer one of the more challenging hikes, there are also trails that range from 1 to 49 meters in elevation gain. Regardless of your plans for the day, there is a perfect hiking, running, or biking trail for you at Lewisville Lake Environmental Learning Area.
11 Fort Worth Nature Center
Even though Ft, Worth's Nature Center and Refuge include several routes to choose from, the Cross Timbers Trail is regarded as the most enticing. This 3-mile round trip will lead hikers to the former Trinity River route before it leads toward the Western Cross Timber Forest (one of the oldest woodlands in Texas). The opportunity to see an abundance of wildlife such as basking turtles, beavers, and wild turkeys, is one of the best ways to observe the beautiful natural history relating to this area.
12 Cross Timbers Lake Texoma
For one of the best hiking experiences, come kayak, bike, and hike or camp at the Cross Timbers Hiking Trail Lake Texoma close to Gordonville Texas. The trail runs close to the shoreline along the finger-shaped bay of western Lake Texoma. With an abundance of nature trails and wildlife, you are sure to find a pretty amazing adventure. Reviews from some of the hikers that post some of their trips online have reported that hiking this trail and camping in this area offers amazing experiences.
The Cross Timber Hiking Trail at Lake Texoma is slightly more than 14 miles in length. The U.S. ACE (United States Army Corp of Engineers) operates and owns it. The trail starts at Juniper Point at the Willis Bridge and finally ends at Rock Creek Camp. It is one of the uninhabited areas that are ideal for moderate to advanced skill levels. Hikers should be aware that this area is also home to coyotes, snakes, and even rare sightings of bobcats.
The trailhead at Juniper Point Campground will lead hikers, runners, or bikers over a rocky ledge to Cedar Bayou Marina and Lost Camp. Along this trail, hikers will find a few primitive campsites along the Lost Creek Loop at Lost Camp, Eagle's Roost, and the 5-mile Camp. Here you will also find kayaks that you can rent, cabins, a supply store, and even a microwave-oven at the Cedar Bayou Marina. From this point, the trail will head to the west to 5 Mile Camp which is the hardest and most challenging section of this trail.
Cross Timber Trail - Hiking And Camping
Carrying on from the 5 Mile Camp is a bit of a steep upward climb until you reach the flat terrain of Eagle's Roost. Cross Timber Trail runs through the Paw Paw Creek Resort until it reaches Paw Paw Point, where it finally ends at Rock Creek Camp on Rock Creek Road. There are no supplies or water available on this trail. You can either park your car at Cedar Bayou Marina for $5 or at Juniper Point Campground for free. It is recommended to arrange for a ride to take you back to where your car is parked from Rock Creek road.
Camping at any campsite in this area is exciting. You can listen to the songs of the coyotes and watch the bright stars on nights that are clear while relaxing around a campfire. Hikers are advised to wear boots since there are rattlesnakes and copperheads along the trails.
You may even come across a coyote, but they typically shy away when they see humans. Birds and deer are more of the common sights, and if you are lucky you might spot a fox or armadillos, cottontail rabbits, or the rare bobcat. In the warmer months make sure you travel with insect repellant to protect your skin from chiggers, ticks, and mosquitoes. If you do happen to run into a bobcat, make sure you stick to these instructions:
Immediately protect pets and children
Back away deliberately and slowly from the bobcat
Avoid running since this could cause the animal to pursue you
If you can spray water at the animal
You can also make loud noises such as banging a pan or blowing an airhorn
Trail Tips
The Cross Timbers Hiking Trail at Lake Texoma is clearly marked with mile-posts. Green arrows will show the hikers how to follow the trail. The red arrows will lead the bikers around the eroded areas which are not suitable for using a mountain bike. Campers will have access to grills and fire rings and they can use any dead wood lying around as a source for making a fire. But cutting a live tree is prohibited. Campers are also required to ensure the fires they have made are out completely before exiting the camp.
The Cross Timber Hiking Trail offers a glimpse into what this region used to look like before the settlements started around 1830. People that use these trails should be carrying enough food and water, and prepare themselves for a long wilderness trip.
Here is an interview I did about this trail.
13 Eisenhower State Park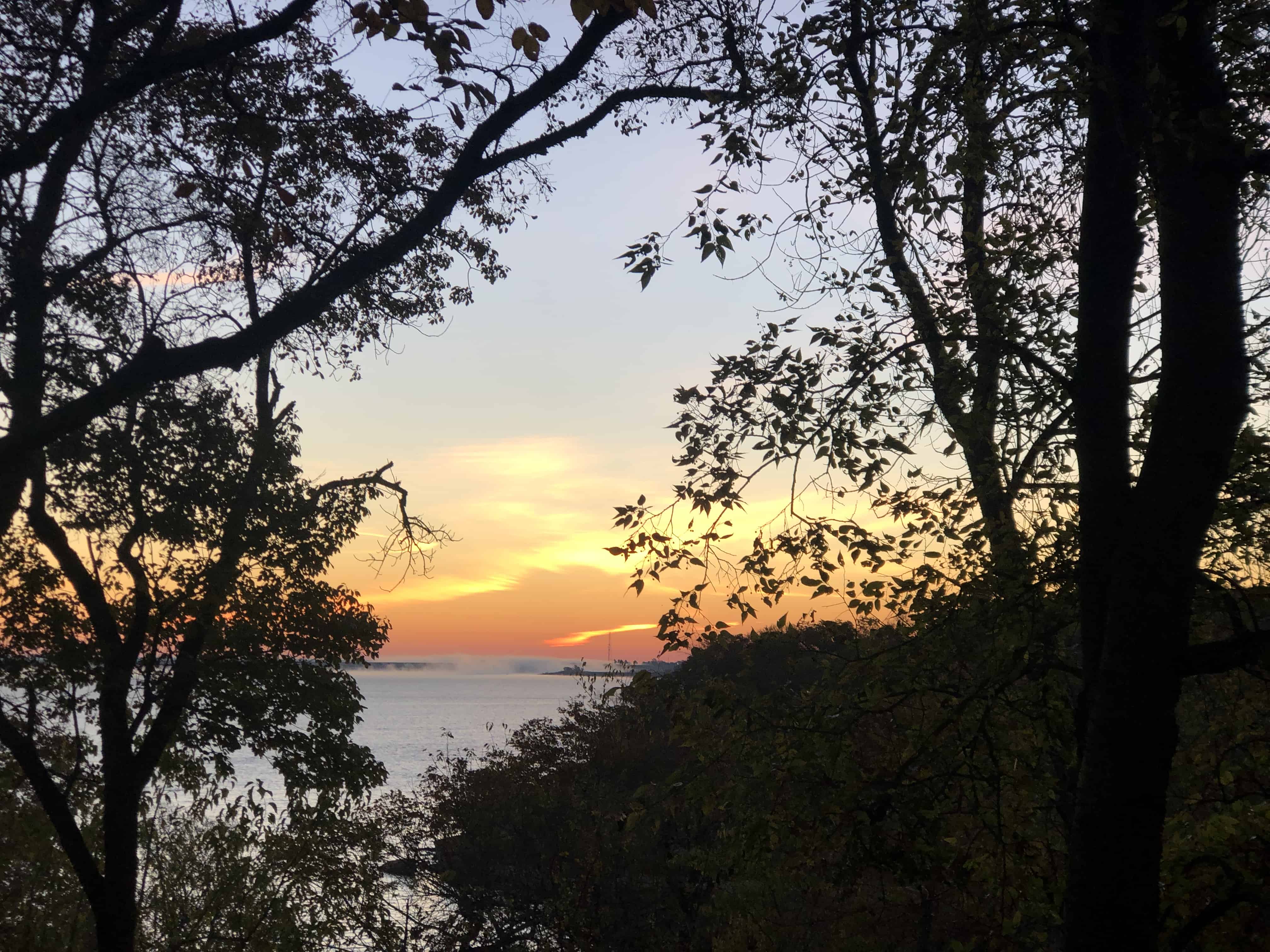 Eisenhower State Park is a fantastic option for those in search of a staycation away from the hustle and bustle of the city center. There is an entrance fee of $5, giving you access to the 4-miles worth of beautiful trails off of Lake Texoma.
Eisenhower State Park covers just over 460-acres and offers unique waterfront biking and hiking opportunities which is just about as "beachfront" as you will get in North Texas. The trail even includes views of fossil beds that gives explorers a glimpse into the rich history that this area holds.
14 - LBJ National Grasslands
This is a bit farther away from Dallas than the other parks as it's located in Decatur. But if you are looking for full primitive camping and hiking adventure then you should check out the grasslands.
There are 70 miles of trails. And you can camp anywhere for free though there is a nominal parking fee.
Conclusion
Whether you are interested in one of the overnight stays or a short day hike, Dallas offers the ideal outdoor activities to match your needs. Whether you need a getaway with the family or perhaps a romantic day trip with your significant other, Dallas provides a range of exciting recreational opportunities. Dallas is also the home to outstanding dining and shopping opportunities. Those interested in spending a day hiking should seriously consider spending a bit of time in one of these parks. There are some top-rated trails in the City Limits that provide scenic views of the countryside.
What Kind Of Camper Are You?
Outdoor Survival
---
Car Camping
---
Backpacker