Best Backpacking First Aid Kit
If you click and purchase with one of our links, we earn a commission. Thanks.
One of the essential items that you should always take with you whether for a day hike or a week-long backpacking Scout trip is a First-Aid kit. However, it can be confusing about which First-Aid kit to buy. Beginner backpackers are confused about what to buy because they can be frightened by all of the potential disasters that could happen (how do you treat a bear attack?) but are also concerned about pack size and weight. Thankfully, most injuries are minor while camping or backpacking (scrapes, small cuts, ticks) and thus you don't need to bring a full trauma kit with you. In particular, if you don't know how to use the equipment in the kit. So we bought five First-Aid kits and reviewed them all to come up with our preference for a backpacking First-Aid kit.
All 5 First-Aid Kits: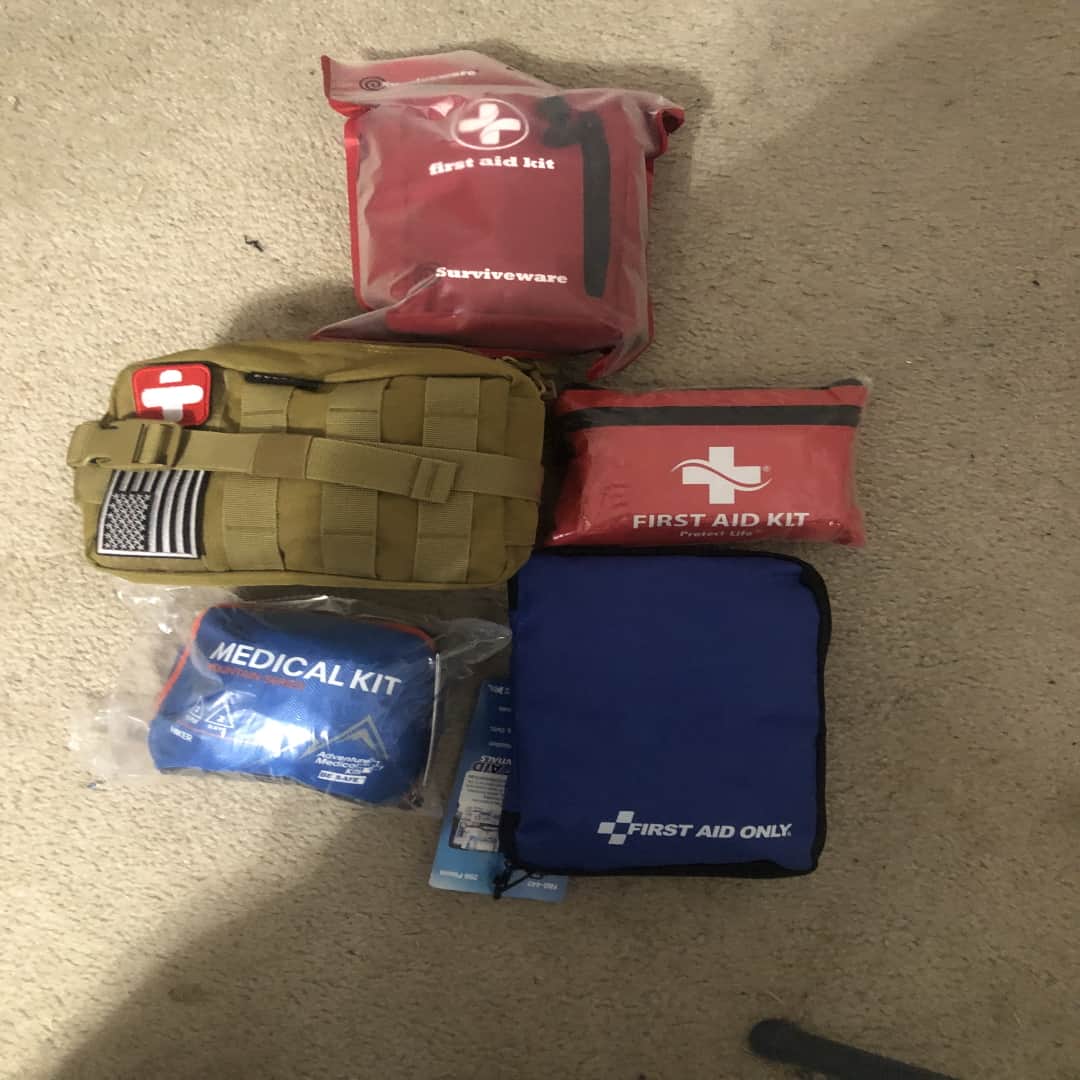 Our Favorite Backpacking First-Aid Kit
Adventure Medical Kits Mountain Series Hiker First Aid Kit - 67 Pieces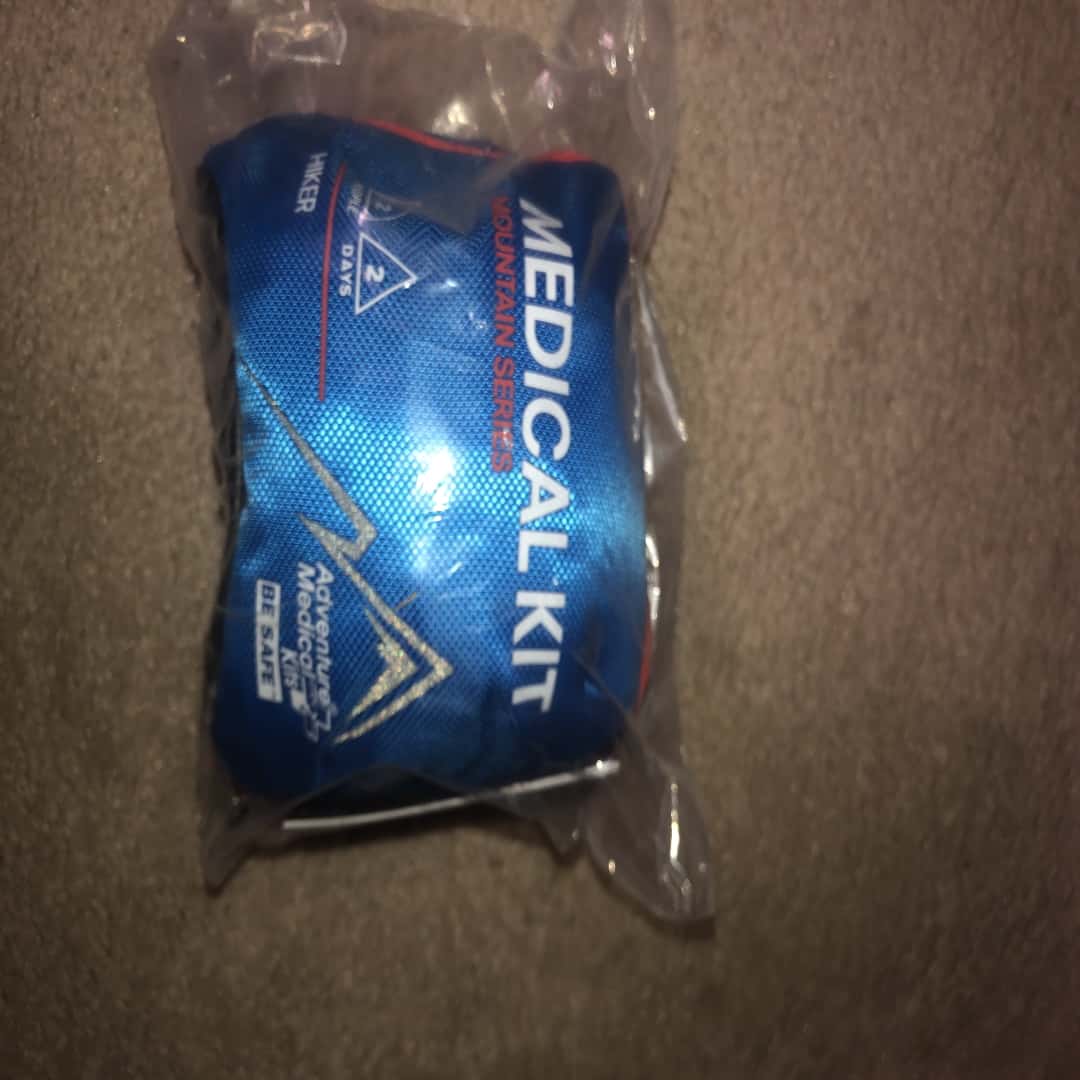 We like this kit because it has all of the essential items such as bandages, burns, blisters, and some over-the-counter painkillers.
It's small enough that it can fit even in a daypack. But small enough that any weekend backpacker won't have trouble finding space.
If you're the type who weighs even the ounces of your spoons (I virtually met someone like this) then you won't like this. But then, I doubt you won't like any kit on this list.
So if you are wanting just the most-basic First-Aid kit for your backpack, then get this one.
Adventure Medical Kits Mountain Series Hiker First Aid Kit - 67 Pieces
Everlit
Everlit Emergency Trauma Kit with Aluminum Tourniquet 36" Splint, Military Combat Tactical IFAK for First Aid Response, Critical Wounds, Blow Out, Severe Bleeding Control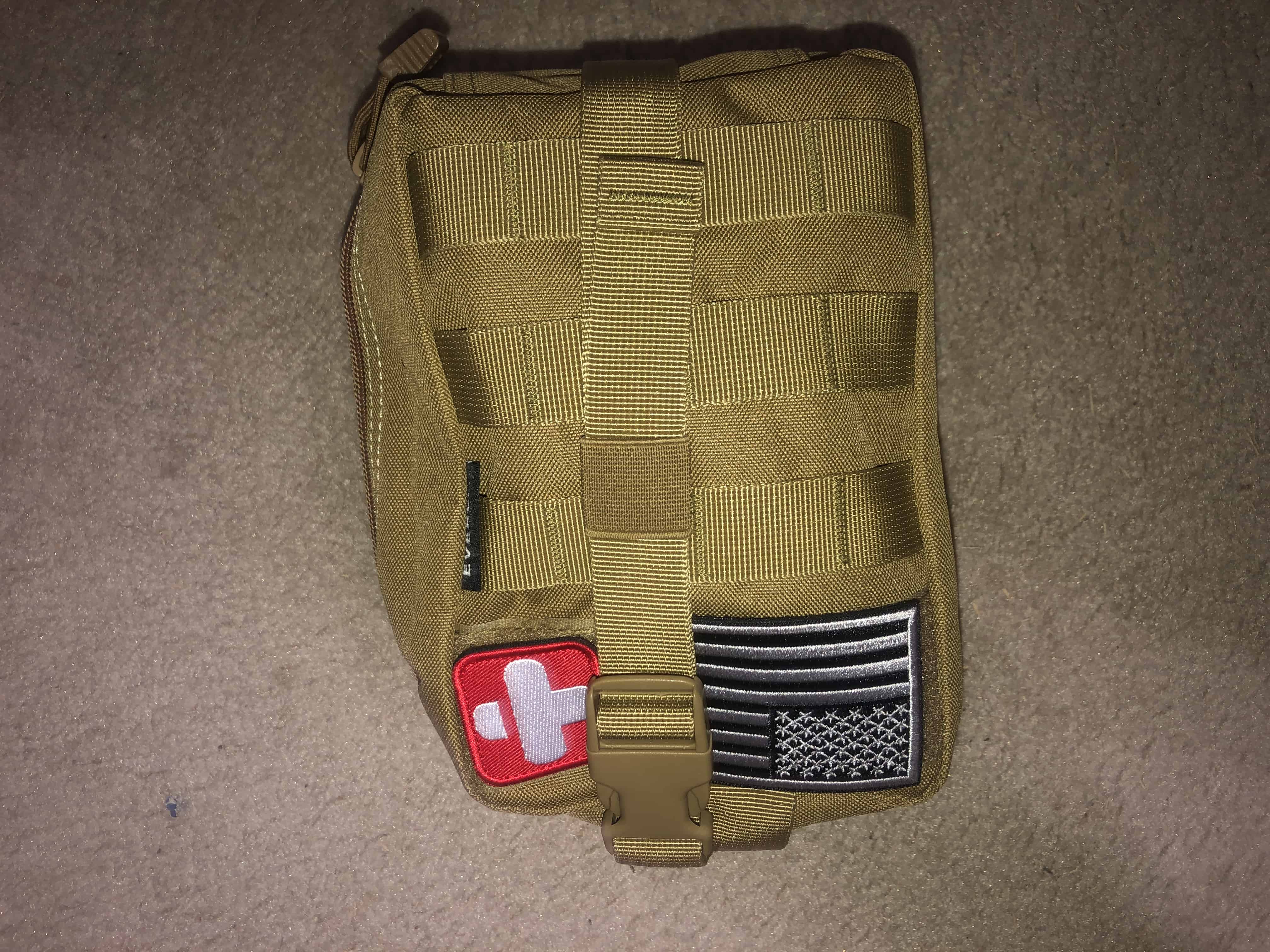 The Everlit is a large kit but it has everything including a splint, tourniquet, and scissors. I know people are going to see this and think it's too friggin' large. And that you won't need this stuff.
But the reality is that nobody plans to have a serious accident or injury while camping or on a backpacking trip.
And this is Molle-compliant so if your pack has Molle straps, you can attach it so that this kit won't take up room in your pack.
I keep this kit in my truck. Thus it's always with me in case I need it for day-to-day or on a car camping trip.
If you are taking Boy Scouts on a backpacking trip, I would carry this one with me.
EVERLIT Emergency Trauma Kit GEN-I, Multi-Purpose SOS Everyday Carry IFAK for Wilderness, Trip, Cars, Hiking, Camping, Father's Day Birthday Gift for Him Men Husband Dad Boyfriend (GEN-1 Tan)
FAO-442
First Aid Only 299 Piece All-Purpose First Aid Kit (FAO-442)
This is a solid standard First-Aid kit. It contains bandages, moleskin, a survival blanket, etc. And a really large pair of tweezers for dealing with splinters and ticks.
It even comes with a single-use thermometer which seems appropriate in these times.
While it is a small First-Aid kit for home or car use, it is bulky for a backpacker. Thus I would only consider this one for backpacking if you were going with a group. And one person was dedicated to carrying this kit.
First Aid Only 299 Piece All-Purpose First Aid Kit (FAO-442)
Surviveware Small First Aid Kit with Labelled Compartments for Hiking, Backpacking, Camping, Travel, Car and Cycling
This is another large kit. But it's not as complete as the Everlit. Because it's so large and doesn't have the Molle compatible straps, you will have to fit it into your pack. Thus I would not consider it for backpacking unless you have lots of extra room. But it would be a nice car-camping kit.
Your Are The First Responder
The National Fire Protection Association (NFPA) has established standards for fire departments to respond to emergency calls.
The goal is that the firefighters and paramedics should be onsite within 10 minutes (I'm rounding up here) for 80% of the calls.
Guess what- that's not going to happen if you're on a backpacking trip on a mountain. Unless you brought along a satellite phone or HAM radio, you likely won't have any way to call for help.
This is why it's recommended to always backpack or camp or hike with at least one more person so that someone can get help.
The most important tip I want you to take away from this is that you will be the first responder if something happens on trail.
While most incidents will be minor such as a scrape or small cuts, worse things can happen. For example, I always seem to burn myself on my fingers at least once every camping trip while cooking.
Thus make sure to bring along a First-Aid kit and get basic First-Aid training.
Always Bring A Tourniquet
In 2020, I completed my Level 2 class with the Texas Survival School. You learn First-Aid in the classes.
This includes learning how to apply a tourniquet. You apply both a medical tourniquet and an improvised tourniquet.
The instructors emphasized that you should always have one with you. I had no doubts about this because of one of my favorite football players.
Sean Taylor played for Washington. He was shot in the groin during a home robbery. The bullet hit his femoral artery and he bled out.
If you hunt or enjoy hiking or camping during hunting season, encountering someone who has been shot, is, unfortunately, a possibility. It's very rare, but if you do, you want to be prepared.
However, encountering a shooting victim is not the only reason why you might need a tourniquet. A broken leg can nick an artery. Or people using their knife incorrectly. When using a knife, you always want to avoid being near your stomach to your groin which is the triangle of death because there are so many arteries there.
So even if your First-Aid kit doesn't contain a tourniquet - you should have one in your pack.
What To Look For In A Backpacking First-Aid Kit
If you get into backpacking, you eventually end up down the rabbit hole of bushcraft, survival training, and even prepping.
I think everyone should have basic survival knowledge and disaster preparation. That's because things can happen. For example, as I'm writing this, we're experiencing a week of record cold in Dallas, Texas. Temperatures are dropping into the single-digits with a chance of a blizzard.
At these temperatures, even a modern grid might get stressed and we could lose power. I'm not worried because I'm prepared.
But learning how to be prepared for any disaster is not the point of this article. The point is that I want you to make sure that you pay attention to your First-Aid kit. Hopefully, you'll never ever need it.
Unfortunately, you will. Most likely, it will be minor. You cut yourself slipping on a rock. Or you develop a blister on your heel.
Thus make sure that the First-Aid kit has these essential items:
Bandages of various sizes. I prefer to have name brand like Band-Aid in my kit because they tend to stick better.
Moleskin
Alcohol wipes
Burn ointment
Gauze
Survival Blanket - you might also know this as an emergency blanket or a space blanket.
You might be surprised to see a survival blanket as an essential item in a First-Aid group. We want it in First-Aid because you can use it to help with anything from hypothermia to shock. You can also use it to make a splint or a large bandage as long as you have some tape.
Since we're putting together a backpacking First-Aid kit, make sure to pay attention to size and weight.
Modify To Suit Needs
Many people prefer to buy a pre-made First-Aid kit and then augment it with stuff from home.
Most often this includes more medications to take on the trip with you. For example, if you suffer from allergies, you will want to take along your preferred anti-histamine such as Claritin. You probably will want more than 1 dose of Tylenol or Advil that they put in these kits.
I would recommend bringing along some Pepto-Bismol and anti-diarrhea medicine too. There's nothing worse than having an upset tummy on the trail.
And if you're only going to be eating ramen noodles or pasta on the trail - bring along a multi-vitamin too. I wouldn't worry about the vitamins if you're eating tuna or chicken or freeze-dried meals like Mountain House. Those are more nutritionally complete.
Get Training
While it's great to have the supplies, if you don't know what to do with them, they will be useless.
Thus make sure that you get trained. NOLS are the experts in wilderness First-Aid medical training. They have come up with a way to safely train in our current environment.
If you plan to go on backpacking trips, I encourage you to take this training. It is not-cheap and will take a full-weekend. But it could mean the difference between life and death in the backcountry.
Plus as they discuss, the skills you learn in this course will help you in your daily life.
For example, once my wife and I were visiting Tuscaloosa, Alabama to watch an University of Alabama football game. We were eating at a fast-food restaurant for dinner, when we heard a loud bang.
It was a car wreck.
I got up and realized everyone in the restaurant was frozen and panicked. I yelled at the staff- "I have no idea where I am. Y'all call 911 and tell them there's a car wreck."
I then ran outside. There were already someone there assisting. But thankfully, I made sure they kep the driver in the vehicle because there was no fire thus no reason to get out of the car.
That's when I started thinking "where's the other vehicle?".
I got pointed to the general direction. It was a pickup truck and was several yards away. I did the same thing to the bystander who showed up to that truck. I told him, keep in in the vehicle since fire trucks were rolling on scene.
I ran to the fire department commander because the first vehicle had a baby inside. I pointed to the 2 vehicles and said the first one had a baby inside so they could decide on priority.
This is why it's important to get trained. So you don't panic and you can assist (keep to your training and what you feel comfortable doing) when situations like this happen.
The point of this story is that a First-Aid kit is important but so is the knowledge of how to perform First-Aid. And that these skills are important to have even in your daily life.
What Kind Of Camper Are You?
Outdoor Survival
---
Car Camping
---
Backpacker