5 Best Pocket Knives For Camping
If you click and purchase with one of our links, we earn a commission. Thanks.
Editor's Choice:
Pocket knives are one of the most important tools for hikers and backpackers to have in their backpack. They might be compact and small, but have multiple uses and pack a punch. You can conveniently carry them in your pocket or on your belt. The best pocket knives for hikers and backpackers come in handy for several different functions, which ensures your survival and well-being when camping.
Before we read on - there's not a Swiss Army knife in our mix here. You can't go wrong with one, but you might want to check out other options we have listed here.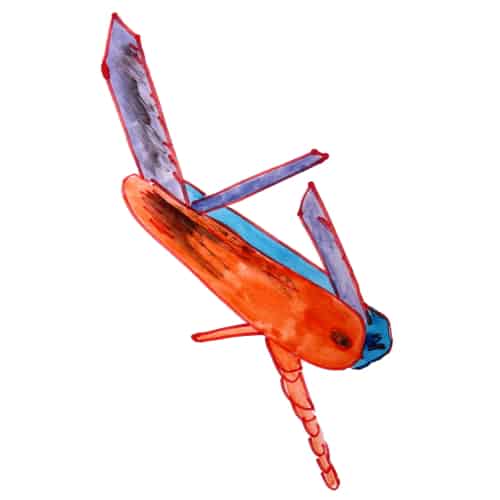 The Top 5 Pocket Knives for Hikers and Backpackers
Key Features
Stainless Steel Blade
Aluminum Handle
Easy, Secure Lock
Carson Flipper for Easy Deployment
3.3 Ounces in Weight
The CRKT M16-03S Folding Pocket Knife is a single-blade pocket knife that was designed, by Kit Carson, who was a former soldier that passed away in 2014. The knife has a blade that's 3.46-inches long. The closed length of the knife is 4.65-inches while the knife is 8.25-inches when unfolded. The knife has a 6061-aluminum handle and weighs about 3.3 ounces (93.55g).
The CRKT M16-03S is based off the original M16 design and looks great not only out of the box but also in action. The blade can be quickly deployed using the Carson Flipper. The locking liner, on the other hand, adds a layer of safety to this folding knife. To engage the safety, simply push the manual safety lever forward. To close the knife, pull the manual lever back, slide the locking line over, and fold back the blade into closed position.
Pros
Strong stainless-steel blade
Ergonomic, aluminum handle
Innovative lock mechanism
Easy to sharpen
Removable clip
Cons
No lanyard hole
The aluminum handle doesn't provide the best grip
Disengaging the lock takes a bit of getting used to
Key Features
Durable Handle
Convenient Pocket Clip
Secure Locking System
Attractive Blade Coating
Fast Blade Deployment
The Kershaw Cryo Pocket knife was designed by Rick Hinderer and precision engineered by Kershaw. It has a 2.75-inch stainless-steel blade that features excellent strength, corrosion resistance, edge retention, and sharpness. It is the perfect companion for any backpacker, landscaper, electrician, hunter, hiker, or anybody that wants the best pocket knife for various DIY tasks.
The Kershaw Cryo Pocket Knife has a sturdy, ergonomic handle that's perfectly crafted from stainless steel to ensure a secure grip. The knife's sleek design provides the much-needed control when carrying out various tasks. The knife allows for fast one-handed blade deployment while the lock mechanism secures the blade in place with one smooth movement.
Pros
Razor sharp blade
Sturdy stainless-steel blade
High quality build
Multi-functional
Very easy to open and close
Handle ensures a secure grip
Fast deployment of the blade
It is compact
It has both a lanyard hole and pocket clip
Cons
Not the ideal option for tougher tasks
Blade screw can come loose
The knife feels heavy in the pocket
Key Features
Stainless Steel Blade
Pocket Clip
Professional Engraving
Pakkawood handle
Assisted Blade Deployment
The Tac Force TF876 by Palmetto Wood Shop can be the perfect gift for a partner, groomsman, grandfather, or son who has recently joined the Boy Scouts movement. You can choose to have up to 2 lines of text engraved, which is why it makes such a great gift.
The Tac Force TF876 has a stainless-steel blade and a Pakkawood handle, both of which make it very stylish. The blade is 3.25-inches in length and has a partially serrated edge. The folded knife is 4.5-inches long and weighs 4.5 ounces.
Pros
Personalized engraving on the handle
Super stylish pocket knife
Blade deploys easily and smoothly
It is a very high-quality knife
The blade is very sharp
It has a pocket clip
Engraving is easy to read
The knife has a compact design
It is highly affordable
It has an authentic Pakkawood handle with a wood grain finish
Cons
Blade can come loose
It doesn't have a locking mechanism to prevent accidental deployment
Key Features
Stainless Steel Blade
G-10 Laminate Handle
Full Flat Grind
4-Position Pocket Clip
Liner Lock
Available in Multiple Colors and Serrations
Made in China
The Spyderco Tenacious Value Folding Knife has a unique blade design. The serrated edge blade has a hole at the top side that makes it easy to open the knife. The Tenacious is an incredibly high-performing EDC knife. The serrated edge makes it an excellent option for those looking for a pocket knife for hunting and camping.
Tenacity is the perfect description of this knife. The manufacturer has infused the latest technology, which makes this pocket knife ideal for the toughest of tasks. It doesn't matter if you are looking for something portable to take on your adventures or a robust outdoor pocket knife. The Spyderco Tenacious is exactly what you need.
The screws and pivots fit skillfully to allow you to foster excellence. The blade is 3.375-inches in length, while the whole life is 7.75-inches long and 4.4-inches long when closed. The entire knife weighs just 4 ounces.
Pros
Centered blade
Sold liner lock
4-way carriage
Stainless steel blade
Compact size
Cons
The closing is not accommodative of left-handed users
Clip is not easy to use
Key Features
Aluminum handle with rubber inlay
Stainless steel blade
Assisted Blade Deployment
Liner Lock
Lifetime Warranty
If you are looking for a pocket knife that's ready for any situation, you need not look any further than the Smith & Wesson SWMP4LS Assisted Folding Knife. The knife is ideal for you, whether you are a first responder, knife collector, or survivalist.
The Smith & Wesson SWMP4LS comes with an aluminum handle with a rubber inlay for added comfort and ensures that you have a secure grip when using the knife. You can be sure that the blade won't slip because of the security of the safety lock.
The product is designed to comfortably fit in your pocket. Its overall length is 8.6-inches with a blade length of 3.6-inches. The knife weighs just 7.6 ounces. The blade is made of High Carbon Stainless Steel that makes it incredibly durable.
Pros
Excellent for piercing
Excellent for everyday survival use
Reliable locking mechanism
Lifetime warranty
Pocket-friendly
Cons
It is prone to rust
It requires frequent sharpening
Poor quality belt clip attached
What Are Pocket Knives for Hikers, Campers, and Backpackers?
Pocket knives are handy tools that are used by hikers, campers, and backpackers for performing various functions such as scaling fish, cutting rope, cutting wood, or even preparing food. It is truly impossible to enjoy your hiking, camping, or backpacking without one of these handy tools.
Why Buy Pocket Knives for Hikers, Campers, and Backpackers?
Hiking, camping, and backpacking are all fun outdoor activities and having a pocket knife ensures that you have the best and most memorable experience while engaging in any of these activities. Here are the top uses/reasons why you should consider investing in a pocket knife if you love engaging in any of these activities:
1. Cutting Cord
Extension cords are incredibly useful for power generation when you are out camping. You can generate power either from your vehicle or the campsite power outlet. Having a pocket knife comes in handy when it comes to cutting the extension cord and setting up the campsite.
2. Starting Fires
Temperatures can really drop when you are out camping, hiking, or backpacking, especially deep in the night. Staying warm is obviously essential for survival, which is why you need to have a fire burning. To start this fire, you need a pocket knife to split firewood and stay warm while you enjoy nature. You can even use the knife to start a fire.
3. Preparing Food
If you are going hiking, camping, or backpacking, food preparation is an important consideration. A pocket knife will come in handy when it comes to peeling vegetables, slicing fruits, or even chopping meat. However, don't forget to clean the blade after use to prevent unwanted corrosion or rust. You can also use the knife to open canned and sealed food packets.
4. Protection and Self-Defense
Knowing that you have a pocket knife when you are out camping, backpacking, or hiking can give you the peace of mind that you are safe regardless of your location. A pocket knife that's strong and sharp enough is enough to defend you in case of an attack. You can also use it as a defensive weapon in case of an attack by a wild animal.
5. First-Aid
Accidents are sometimes inevitable when you are out camping, backpacking, or even hiking. Unfortunately, some accidents will result in injuries. While this is obviously not the outcome that anyone hopes for, it is always good to be prepared. Pocket knives can be used for cutting fabric to tie around a bleeding leg or arm. It can also be used to cut bandage or even wood to support a broken limb.
3 Important Considerations When Buying Pocket Knives for Hikers, Campers, and Backpackers
If you are a hiker, camper, or backpacker, you should consider investing in a pocket knife for the reasons provided above. When it comes to choosing the right pocket knife for your needs, you need to consider these 3 things:
1. Size
The size of the pocket knife is one of the most important considerations. If you buy a knife that's too big, you might run into problems using it. Similarly, it will be problematic to use a knife that's too small. If a knife is too big, you cannot use it to perform detailed tasks while a small knife cannot be used for heavy tasks such as splitting fire sticks.
Ideally, you should go for a knife that's medium sized or has a medium-sized blade that runs between 8 and 12 inches when open. That's the ideal size of knife for camping, backpacking, or hiking. It will allow you to perform all kinds of tasks. Optionally, you can carry 2 knives of different blade sizes to perform different tasks.
2. Blade
A knife whose blade cannot cut effectively is essentially useless. That's why you should always pay attention to the blade of the knife you buy. Many pocket knives are made of blades that aren't durable, which is why it is advisable to always go for the highest quality blades.
Carbon steel or stainless-steel blades are ideal. Carbon steel blades tend to eb most durable but easily rust if not properly cared for. So, ensure that you wipe it clean after using it. A stainless-steel blade on the other hand doesn't rust, is incredibly durable, but difficult to sharpen.
3. Handle
A knife's handle is just as important as its blade. A pocket knife that has an unsuitable handle material can be difficult to use and can even give you blisters after using it. Plastic, rubber, bone, and hardwood are some of the best options when it comes to pocket knife handles.
The size of the handle is another important consideration. A knife with a small handle can easily give you blisters while one with a large handle might not allow the precision that you need. It is also important to check out the butt of the knife that can be used for hammering.
Final Thoughts
If you love hiking, camping, or backpacking, you can never go wrong investing in a pocket knife. Nature might be beautiful and awe-inspiring, but it can also be unpredictable or even deadly. So, make sure that you invest in the right pocket knife the next time you go camping, hiking, or even backpacking and show nature that you are ready for whatever.