How To Rock Taking Someone Camping For The First Time
If you click and purchase with one of our links, we earn a commission. Thanks.
If you are an experienced camper, then you will eventually be asked to take someone one their first camping trip.
Whether this is taking your spouse, your kids, or just a friend, this will happen.
Use these tips to show them the best time possible.
Go To A Fun Full-Service Campsite
Don't start with a primitive camping trip as the first trip. Take them to a full service-campsite with bathrooms, showers, and a variety of activities.
If you are taking young kids on their first campsite, consider taking them to a place like Jellystone.
These are like amusement parks that let you camp. While your inner Daniel Boone may want to turn up your nose to this, remember, if the kids have fun, they will want to go again.
And the more they are used to being outside, the more they will want to go outside.
For older kids and adults, you have more options. This includes commercial sites such as KOA as well as state and national parks.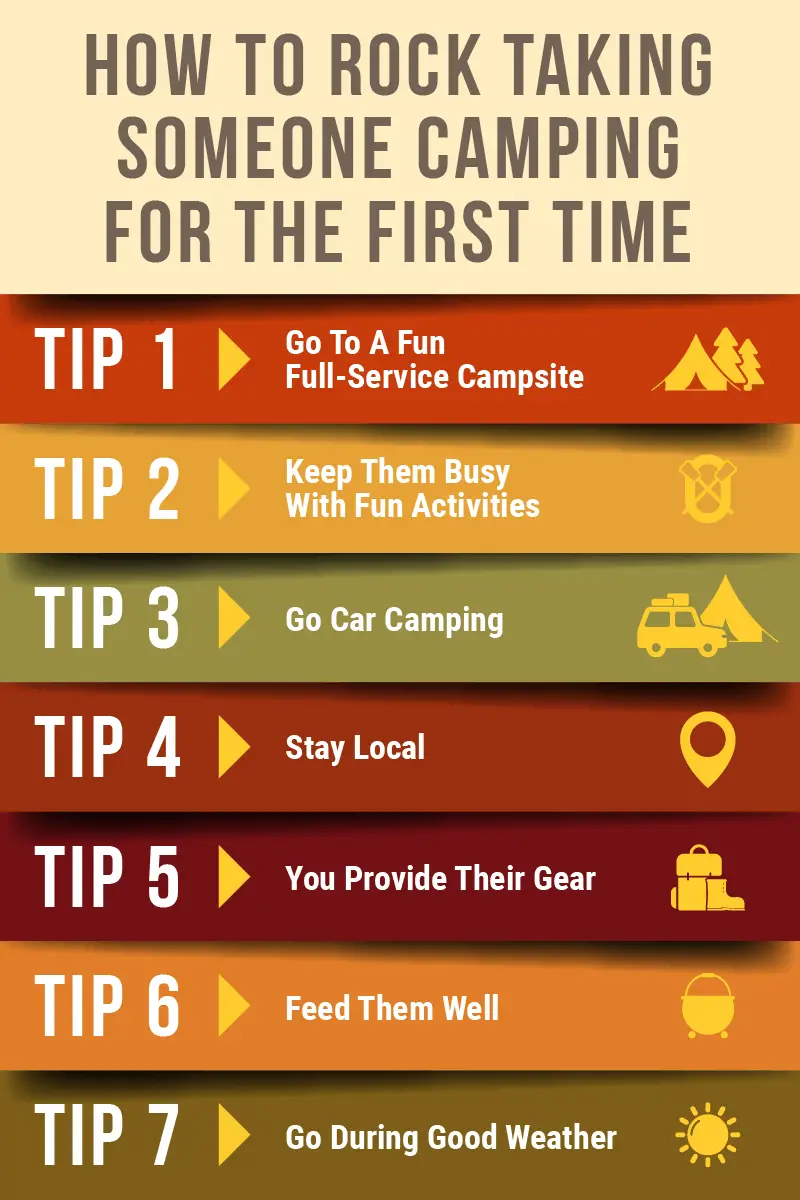 Keep Them Busy With Fun Activities
If you are taking older kids and adults, ask them what they interested in are.
Do they want to go on long hikes?
Would they prefer to play in the water - swimming, jet skis, etc?
Perhaps they've dreamed of catching a lot of fish. Then go camping by a lake and hire a guide.
If they are an adult, they may find solitude and be ok with just letting them sleep.
I would encourage you to teach them some basic bushcraft. In particular, learning how to start a fire. It's always fun to do, and the more they know, the more they can get excited about going on more camping trips.
Finally, be ok with them bringing their phone or tablet. And watching movies or playing games in downtime. And of course, let them post photos to social media.
It's more important that they have fun in the outdoors than giving up their entire life for a weekend camping trip.
Go Car Camping
Do not take them on a backpacking trip for their first camping trip.
Instead, take them car camping.
This way, they don't have to put in any effort to get to the campsite. It also means you can bring as much as you need for creature comforts. Including a larger tent, air mattresses, multiple coolers, full cooking set, games, etc.
Stay Local
Don't go far for your first camping trip.
It's no fun to drive several hours and then set up camp as your first trip.
This is even truer if you are taking kids camping.
Regardless of where you live, there is going to be a campsite you can go to within an hour drive.
You might even get surprised like I was when on a whim, I decided to see what campsites were near my house around Lake Lewisville in Texas. There was a beautiful nature park that almost nobody knows about in the southern part of the lake.
It includes a handful of campsites, and it's only 10 minutes from my house!
You Provide Their Gear
While it's a myth that camping requires a lot of expensive gear, a first-time camper most likely won't have any gear.
And they won't know what to buy.
And a trip to the local outdoor store. Or browsing online is going to be overwhelming.
And they may not want to invest the money for something they're not sure they will enjoy.
Thus, don't have them buy anything. Tell them the only thing they need is to bring their clothes.
And you provide the gear for them.
Feed Them Well
For a first camping trip, don't settle for hot dogs and beans. Bring along the best camping recipes that you know.
In particular, bacon. Because it's a proven scientific fact that nothing is better than bacon fried over a campfire.
This is another reason to go car-camping. Because you can bring along a large cooler and any other supplies you need to cook.
But don't forget to make s'mores!
Go During Good Weather
Nothing ruins a first time camping more than being forced to stay in a tent because of rain.
Next would be camping during the hottest or coldest times of the year.
So look for a weekend when it's not raining and moderate temperatures.
And don't be afraid to reschedule the trip if the weather forecast turns out to be bad weather.
If you follow these tips, I'm sure taking someone on their first camping trip will be a success.
Related Articles