How To Rock A Camping Trip Without A Campfire
If you click and purchase with one of our links, we earn a commission. Thanks.
Whether you live in the east or the west there are multiple reasons for not having a campfire. It could be a restricted area where fires are banned, you could have a lot of children running around where you don't want them to get hurt, you could be on a tall summit, or you could not want to deal with the hassle of a campfire (building and taking down).
Nonetheless, are you still worried about keeping warm? Cooking food? Or do you crave the nostalgia associated with sitting by a crackling fire in the wilderness?
Here's a list of the best 5 necessities for camping without a campfire so that you can have the ultimate camping experience.
1. Even YOU Can Prevent Forest Fires
Safety is first and foremost in any outdoor situation. Whether you are in a high fire risk area, atop a high summit, or you are a novice and don't know the best way to manage a campfire. No matter what your situation, safety for you, others and the forest are of utmost importance. You must remain vigilant!
Research the area you're camping in. Every park and area have different rules regarding fires. Sometimes they are only banned when there is a higher risk of fires spreading (pay attention to windy/dry days), during certain seasons, or all the time. Either way, do your research and/or ask the visitor center what their rules are.
Jetboil Genesis Basecamp Backpacking and Camping Stove Cooking System with Camping CookwareBuy Now On Amazon MSR PocketRocket Ultralight Backpacking, Camping, and Travel Stove, PR 2: Ultra CompactBuy Now On Amazon Coleman Gas Camping Stove | Classic Propane Stove, 2 BurnerBuy Now On Amazon Coleman Gas Camping Stove | Bottletop Propane Stove, 1 BurnerBuy Now On Amazon
THERE ARE NO STUPID QUESTIONS.
Do not assume. Always ask. It could be windy and dry and obviously not a fire day, or it could be humid and have recently rained. If you're a novice-ASK. Park rangers, employees, and even park websites will inform you of all rules and regulations. Wouldn't you rather ask than accidentally start a forest fire?
It is proven that the majority of forest fires are caused by campers who either don't ensure that their fire is completely out, or who built a fire in the wrong area on the wrong day. You wouldn't want to be that person! I know I wouldn't.
Some areas have strict fire rules. On the west coast you may enter a canyon where you can't even smoke a cigarette. This is for obvious reasons.
Another important thing to do is know your fires. A large bonfire and a few logs burning in a small pit are two very different things. Another good question to ask is what kind of fires are permitted in the area. If there are a lot of kids running around then it's safe to assume your four-foot blaze will not be allowed, but if you're feeling the urge to defy your intuition then once again, ask.
If you're hiking and camping upon a high summit their may be some restrictions regarding open flames. If a summit is over 4,000 feet, then campfires are rarely allowed due to these reasons;
-wood gathering depletes the high-country of stabilizing, nutrient building forests. -they leave ugly scars of human interference on otherwise unscathed natural beauties. -they could lead to detestation forest fires. No matter how experienced you are. -our new age lightweight camping gear is perfectly functional for all of your needs whether it is in regard to food, warmth, or nostalgia.
However, know when it is life or death. If a fire is your only option for survival there are safe ways to have one in restricted areas if it is a necessary step for survival. It never hurts to know how to act in an emergency. Click the following link If you want to learn how to build a fire in the backwoods during a life or death situation.
Once you've discerned the rules regarding fires during your trip act accordingly. Since we're discussing camping sans campfire let's assume the answer is no. You couldn't burn a mini marshmallow in your hot cocoa if you wanted to…
So, now you must figure out your options!
2. How to prepare food.
One of the reasons you should research and prepare for your non-campfire beforehand is so that you can adjust your packing accordingly. Now, you can't cook over a fire. Do they permit small stoves? If so what kind? What else could I eat?
Stoves are a great way to keep up with your cooking habits out in the wild. There is a plethora of stoves to choose from out there, but importantly most camping stoves are small, light, and cook things.
Click here for a list of some of the great camping stoves the Internet has to offer.
Another great way to feed yourself without a campfire is to prepare your food beforehand.
Either cook before and bring the food in cold (veggie burgers cooked and wrapped in tinfoil are a great option) or bring cold foods like sandwiches, fruit, granola, yogurt, and salad.
Here are some great recipes to pack for your trip!
Either way, eating is still possible and easy without a campfire or stove.
3. Keep Out the Shivers
If keeping warm is your concern, then fear not! Just like our cooking gear our clothing and covers are now high-tech enough to keep us warm without using open flames.
There are several ways to keep your body warm. One of those ways is conduction. You could be layered like an onion but if you're sitting on the cold ground it will drain your warmth from you. The ground will always be colder than your body can defend. By simply sitting on a chair or cushion you separate yourself from the ground and that will help you retain more warmth.
Another way to defend yourself against the cold is to bring a windbreaker. Denim and fleece let the wind flow right through them. Therefore, a windbreaker is great for keeping the wind out of your clothes.
Sweat makes you cold. That's its purpose. If your clothes are sweaty and you're relaxing down for the night make sure to remove your sweaty clothes. You could be insulated with thick layers but if your clothes are wet from your own perspiration then the sweat will evaporate and chill you.
Snacks, snacks, snacks! Add calories with warm beverages, granola bars and nut butters. Staying fed and hydrated helps your body retain warmth by burning fat.
Stay a little bit active. Play an instrument, dance, or do some jumping jacks if you need a quick warm up. The more you sit still the colder you will get. Just be aware of sweating! You don't want to be me so warm that your body must counteract your activity.
Lastly, know your body type. Some people run cold and some run hot. If you live in a warmer climate throughout the year your blood is thinner, and you get cold much more easily than people who are accustomed to the cold.
In other words, be prepared! Pack thick layers, a windbreaker, hats, thick socks, and something to sit on. Don't forget to snack and drink water and enjoy your own man-made warmth.
4. Light 'em up!
In this day and age, getting solar powered lanterns, fairy lights, and flashlights is a pretty easy feat.
There are soft lanterns with yellowish light and LED lanterns with a slightly cooler light. These will help you see around your site at night! They're also a great option if you have a lot of little kids running around. There's no reason to worry about them falling and getting burnt. Plus, you can take the lantern in with you!
Even if you don't have solar powered lighting, spare batteries are small enough to carry around easily. Either way, lighting shouldn't be an issue as long as you're prepared!
5. Entertainment and Nostalgia
Sitting around the fire not only brings you warmth, light and food but it's something nostalgic. The sounds of crackling wood, s'mores and the smell of wood and smoke.
Bring your guitar, ukulele, spoons, accordion, triangle, or cowbell…whatever instrument. Gather your cards, chess, or board games (Monopoly money will blow away in the wind) and play games. You can also bring a bluetooth speaker a good playlist or an audiobook, or a regular good old-fashioned book.
Maybe the kids feel creative and will put on a show! There are easy options for entertainment without a fire.
If you're looking for the nostalgia of a fire pile up some sticks and fill some mason jars with fairy lights. You could even light a balsam fir incense to create that burning wood smell that we all love and associate with warm summer nights.
It's always easy to create the feeling of comfort and tradition with an active imagination.
If you're missing out on our favorite pastime with chocolate, graham crackers and marshmallows then bring your stove! There's no need to miss out on our favorite part of camping when you have no fire to toast your marshmallows on. If you're worried about the marshmallow falling into the grill then make the whole s'more and grill it slightly–like a panini!
No matter what your reasons are for not having a campfire don't feel like you have to miss out on any of the aspects of camping! With a little awareness, preparation and imagination you too can camp without causing a forest fire!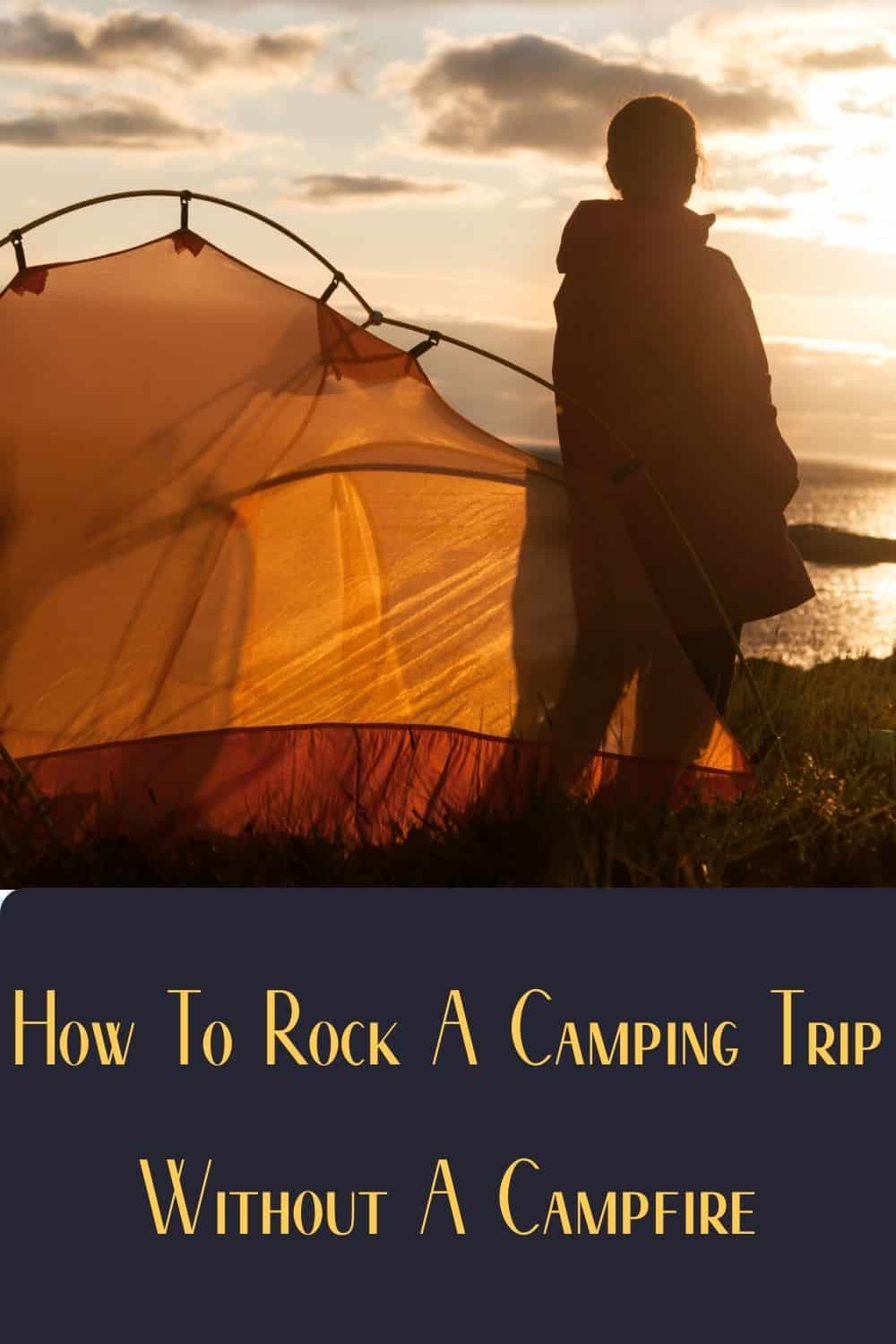 ---
feature image credit: Photo by Michael Lane on Reshot