How To Inspire Your Family To Go Camping
If you click and purchase with one of our links, we earn a commission. Thanks.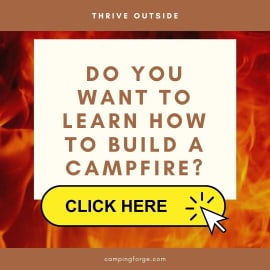 According to "Reserve America," 42 million Americans go camping every year. And a few minutes on Instagram searching on campgrounds will show that all ages enjoy the great outdoors. However, if you want to take your family camping, you need to inspire the kids to want to go.
This article will provide simple tips to make them want to book their first camping trip this week!
Start Close to Home
A lot of parents tend to go all out when it comes to their family's first camping trip. Yes, it's an exciting time, and it's always nice to plan properly, but it can become overwhelming for most children.
As a result, it's better to inspire your family by keeping things close to home. Find a nice campground nearby, plan a short trip out, and then spend a night there. This is a great way to get everyone interested in the idea of camping without making it difficult for the children.
Avoid Camping in Bad Weather
Bad weather is always going to ruin your experience, and it's something you want to avoid at all costs. There are times where bad weather isn't a problem, but it's a horrible starting point for those who haven't camped before or haven't been out in a while. This is when it is smarter to go with a straightforward plan where the weather is pleasant and doesn't involve having to deal with a barrage of rain or thunder. You don't want young children to associate camping with horrible memories due to bad weather.
Make it Fun
Children always want to have fun, and you have to focus on this aspect of camping.
This means you want to bring along puzzles, board games, and other relevant options when it comes to having a bit of fun. Each family is going to have a unique set of preferences, and it's important to keep those in mind. You want to make the trip entertaining, and this has to do with blending fun activities with the camping experience.
You should plan different activities for different parts of the trip to make it easier for everyone. This is when the family starts to fall in love with the idea of camping.
Let Them Help
Camping involves so many exciting steps, and it's nice to get the family involved.
This can have to do with setting up the tent, collecting firewood, or finding a good spot to settle in. Each campground is unique, but it's all about getting your family involved as parents.
If they are not involved in the setup, they are not going to enjoy the process as much. Camping is not just about staying outdoors because the small details such as setting up a tent are just as memorable. You want to let them help as much as you can.
Here are more tips:
Do A Dry-Run
We all know that there can be a few challenges that we may encounter during camping. Your children might have difficulties sleeping outdoors, or your spouse might over stress from taking care of your kids out in the wilderness. Setting up a tent in your backyard is a good way to learn how they might react on their first "outdoor" camping trip. This way, you can adjust your approach to suit their needs and prepare essential things for your family, which will make your first family camp engaging and memorable.
Plan Ahead Of Time
Sorting your needs well ahead of time is one of the factors that may push your family to love outdoor camping. First thing's first: find a location with the nearest grocery stores, gas stations, and other necessities you might need during your camping. Campgrounds in national and state parks are usually crowded in peak season. If you're into enjoying the beautiful scenery and quiet ambiance of nature, then you need to research camping spots with a smaller crowd. Make a list of things that you will need for the trip such as flashlights, lighter, tent, tarp, cookware, clothes, toiletries, and many more to avoid any inconvenience.
Make Your Camping Experience More Entertaining
Camping is an excellent time for you and the family to bond. It's also the perfect setting to read your favorite books while drinking coffee or tea. However, your kids might get bored easily if they don't have things to do on your trip. Bring some things that they can play outdoors like a soccer ball, football or frisbee. You can also set up fishing, horseback riding, swimming, and kayaking depending on your location to make the trip more engaging for the family. If your kids like adventure, you can even set up activities like fossil hunting, scavenger hunt, and bug catching.
Outdoor camping is a great activity to bond over with your family — it not only gives you a chance to hang out with your kids, but you can also strengthen your relationship with them. Since many of us live an inactive lifestyle, camping provides a good physical workout — you'll be responsible for setting up your tent, walking hundreds of miles, and gathering firewood. One of the advantages of outdoor camping is you get to enjoy the fresh air from nature, which is limited in major cities. Also, you'll get a chance to teach your kids to respect the natural environment and protect wildlife. Lastly, camping encourages us to enjoy simple things without relying on new technologies like cellphones and computers.
Follow these tips, and you will find that the family is ready to have fun camping. The best camping trips are about going outside and experiencing nature with your family. Take these tips into consideration and watch as your family welcomes the idea of camping together.
Finally, if you need more inspiration, check out our 101 Camping Quotes over at Camping Forge.
Related Articles