Discover The Best Tents For A Family
If you click and purchase with one of our links, we earn a commission. Thanks.
Camping can be done alone or with a companion, a dog, friends or family! As we all know, the cost of camping gear and equipment can add up fast and before you know it you're in a money hole to enjoy the woods and poop in a muddy hole. And that money hole can be just for one person! Hopefully, the muddy one is too…
Tents are one of the more considerable camping expenses of a family camping trip. They require the right amount of room for the right amount of people. If you're asking, "what tent should I buy when I'm bringing along my family?" Then you've come to the right place!
You have several options for housing your family on camping vacations. If you're not taking the RV or pop-up trailer route, then you need to invest in a solid tent–this is especially important if you are camping in an area with the possibility (or guarantee) of inclement weather.
Yeah, you can borrow a tent, and it might have holes in it, or it doesn't have enough room for everyone–and sometimes you can borrow one that works perfectly. But if you plan on making family camping trips a regular activity, then it is in your best interest to invest in your tent/tents.
Here are my top three best tents for the family!
The King of Large Family Tents
My top-rated tent for large groups is the Coleman Prairie Breeze Lighted Cabin Tent, and it comfortably fits 9-people or you and three St. Bernards. It has LED lighting built right into the tent, and there's a fan system. Thank god for that because we all know how stuffy it can get in a crowded tent.
This large tent is 14 x 10 feet and leaves ample room for 2 queen size airbeds. There is excellent rain protection and as I mentioned before–ROOM.
My least favorite part about camping with a large group of people is either having to provide your tent or being squished in tight quarters with a bunch of snoring mongrels. And, I don't know about you but if I wake up in the middle of the night it usually leads to me going the bathroom, and if your hand or head takes a beating while I'm finding my way out of the crowded tent then that's on you.
If you don't want to be trampled on then grab a monster tent like this one and I might not trip and fall on you in the dark.
The reason this large tent feels so spacious is that the sides are entirely vertical and don't hit that 45-degree angle that most tents hit. For tall people like me, this tent is a dream come true!
You can stand up, do jumping jacks, maybe a handstand… all next to someone else doing the same without smacking each other or the sides of the tent.
Mama Bear's Bed Fits Just Right!
You don't have to become Goldilocks and try out several different tents until you find the perfect fit. It's the age of the internet! We have unlimited access to tents built for specific amounts of people and if you're still unsure you can sit at your computer for an hour and compare every tent you can until you find the perfect tent for you.
At least that doesn't require you to go out and sleep in different tents until you find the right one. You have to spend a little time at your computer to do some research! Or head into a camping store and ask for help. It's so simple nowadays.
The Wenzel Klondike Tent is a beautiful 8-person tent with an attached screen room. That way you can enjoy the outdoors without getting attacked by bugs.
This tent is significant due to its perimeter: 16 feet wide, 6.5 feet tall and 11 feet deep. That width does count the screen room at the front and unlike the Coleman Prairie Breeze above it has a domed ceiling.
You may be losing that feeling of upper-air freedom, but it is almost $100 less expensive than the Coleman (on Amazon.com).
This tent is made up of polyester with a polyurethane coating that makes any inclement weather bounce right off of it. You can keep the screened area a sunroom or use it for extra sleeping quarters to take advantage of the space that this tent provides.
For People Who Enjoy Sleeping In
If you're anything like me, you enjoy living in a cave-like environment. Yes, sunlight is great and much more preferable to electric lighting, but if I can live by candles and fairy lights, I'm a happy person.
Another great Coleman tent is the Coleman Cabin Tent with Instant Setup. When I say instant, I mean it! It goes up in 60 seconds flat and is the largest one on our list as it sleeps 10 people! Now, yes you pay a little extra for fast setup, but it's well worth the cash when you're out there to enjoy the wilderness and not wrestle with stupid tent poles for thirty minutes.
Alongside the perks of putting the tent up in 1 minute this tent blocks 90% of sunlight so that you can sleep in until the sun is high in the sky! And for all of you people that sleep with the AC blasting or the fan on in the middle of winter, it also reduces the temperature.
This tent is watertight because of its Weathertec system. It has a tub-like floor, corner welds and protected seems. The frame has been tested against winds raging up to 35 miles an hour so you'll be ready for most weather that may come your way.
This is the most massive tent on our list, and it can easily fit 4 queen-size airbeds.
It will fit you and your Scooby Gang (even your Great Dane) comfortably for long family camping trips.
Conclusion
Now that you have run out of excuses about where everyone is going to sleep, do yourself a favor and invest in one of these top of the line tents. They're great for large family groups and if you're a small family and you go camping with another small family then invest in one together! They're all under $400 on Amazon.com, so they are well worth it.
Get your gear, gang, and games and get out of your everyday routine! Head out to the woods and enjoy some camping time and, most importantly, sleep comfortably.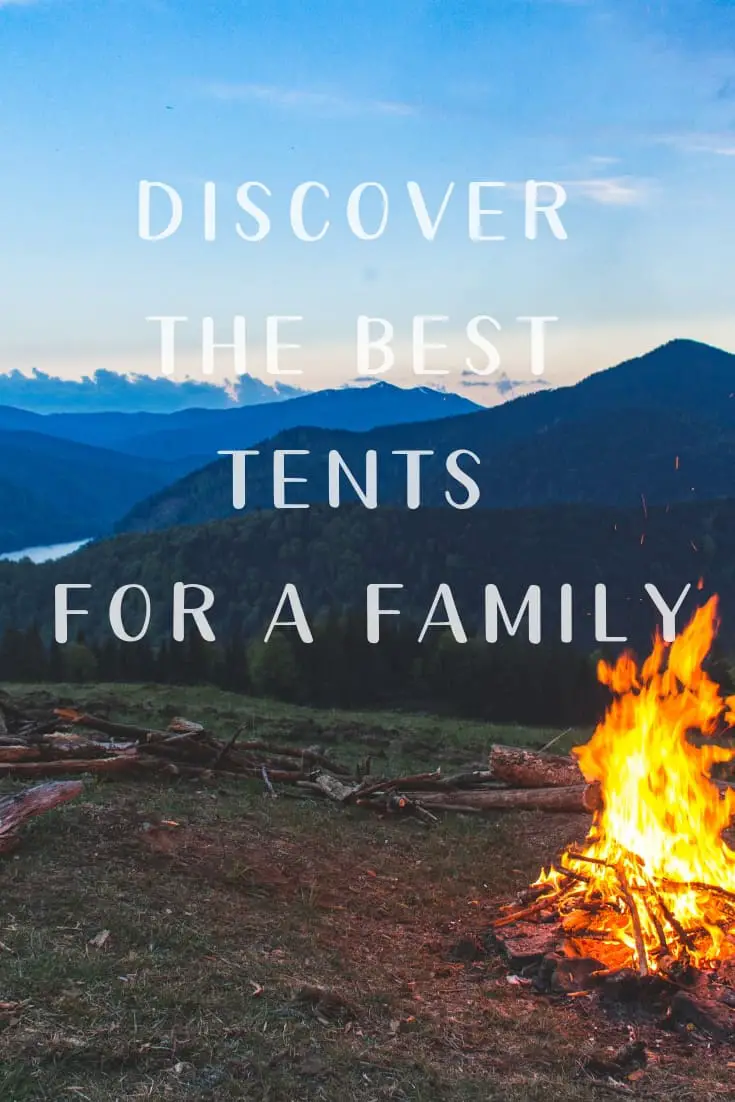 ---
feature image credit: Photo by Jonas Kaiser on Unsplash