Why You Should Buy A Cabin Tent In 2021
If you click and purchase with one of our links, we earn a commission. Thanks.
The cabin tent is a lot like a traditional tent that is commonly used by people that are going camping, but it is even larger and has much more to offer. It is perfect for families that are looking to enjoy the camping experience without compromising their comfort. There are plenty of great ways to use these spacious and convenient tents. It all starts with finding the one that is perfect for you and your loved ones to use.
Pick the Perfect Cabin Tent to Use
Some cabin tents have separate rooms inside of them. Up to 12 people can comfortably fit in some of the options that are available, but you may even find larger camping tents that can fit everyone that you are traveling with at one time. Common features of these convenient tents include:
Separate rooms with pop-up dividers for extra privacy
Pre-assembled frames
Wall storage pockets
Water-resistant technology to keep individuals dry while sitting or sleeping
Bug barriers
Check for these and other important features when you are searching for a cabin tent to purchase and use regularly with your loved ones. Having enough space is important, especially when you are traveling with a large group of people. It is also convenient to have room dividers to allow people to sleep, talk, or even get changed in privacy. You may find options that come with windows and doors, too. Always compare the different features of the cabin tents ahead of time to see what they can offer that is useful to you.
Stay Comfortable While You Are Camping
Camping is a lot of fun. Buying a tent is an essential part of tent camping. There are many varities of tents. Most families car-camp instead of backpack. Thus, your only limitation is space and expense. To maximize camping enjoyment, you should consider a cabin tent. They provide enough room for you to stand-up in (I'm 6'4" and can stand up in most cabin tents) and some even have partitions for separate rooms. Another popular feature is a screened-in porch vestibule. These types of vestibule allow you to sit outside your tent for shade or rain without being bothered by mosquitos.
Save Some Money and Enjoy the Outdoor Experience
Not a fan of camping outdoors in a traditional tent but do not have the money to spend on an RV? The cabin tent is the perfect alternative. It is much cheaper than an RV, which means you can save money and enjoy the outdoor experience even more. Although the cost varies based on size and features, many reasonable options are available and are easily found both in stores and online.
Read product reviews before you buy a specific cabin tent. While looking through the reviews, you can find out more important information, including details on ventilation, heat retention, protection from the elements, and space. You may also want to find out how easy it is to set one of these convenient tents up. Even if you are not the best at putting a tent together, many of these options are pre-assembled and easy to put up in less than a minute when the directions are carefully followed.
Take Your Tent With You to Outdoor Festivals
Although it is great for camping, the cabin tent is a product you can take with you and use for any outdoor events, including outdoor festivals. Do you like to go to festivals where you are sitting out in the grass under the sun for hours at a time? If you would like to have a way to keep yourself protected from the sun while relaxing, hanging out, and having a good time, bring your cabin tent with you. If you feel like getting away for a bit and relaxing, you can sit inside the tent until you are ready to come out and socialize with others on the grass. Some festivals last all day and night long, so you would have somewhere to sleep at the end of the night rather than driving home when you feel tired and have been out in the sun for such a long time.
Use the Tent When Having Outdoor Parties
Along with taking the tent with you when attending different types of outdoor festivals, you can use it when you are having large outdoor parties in the backyard, on the front lawn, or anywhere else that involves being outdoors. One of the ways that the cabin tent can come in handy when you are hosting a party is by providing a safe place to store the food when you want to keep it out of the sun and away from any insects that could possibly get on it or into it.
You can also use the tent as a changing station when you are having a pool party. After swimming for several hours, your guests may want to get out of the pool, dry their bodies off, and get changed into regular clothes. Instead of having a bunch of people dripping water into your home, you could have them head on over to the cabin tent to get changed in private. Not only is it a great way for you to avoid having a huge mess to clean after the party is over, but it is also convenient for the guests that decide to attend the pool party.
Enjoy More Space and Have More Protection
The cabin tents offer more space, so you will not need to feel claustrophobic the next time you decide to go camping with your family or a group of your friends. When you do not feel like you are being squished next to several other people, you can have a better experience while sleeping or hanging out. If you use a cabin tent, you will have more privacy and more space to move around during the day and at night. In addition to the added privacy and space, you will have plenty of protection from the elements and any animals or insects that may linger around outside while you are out there.
Related Articles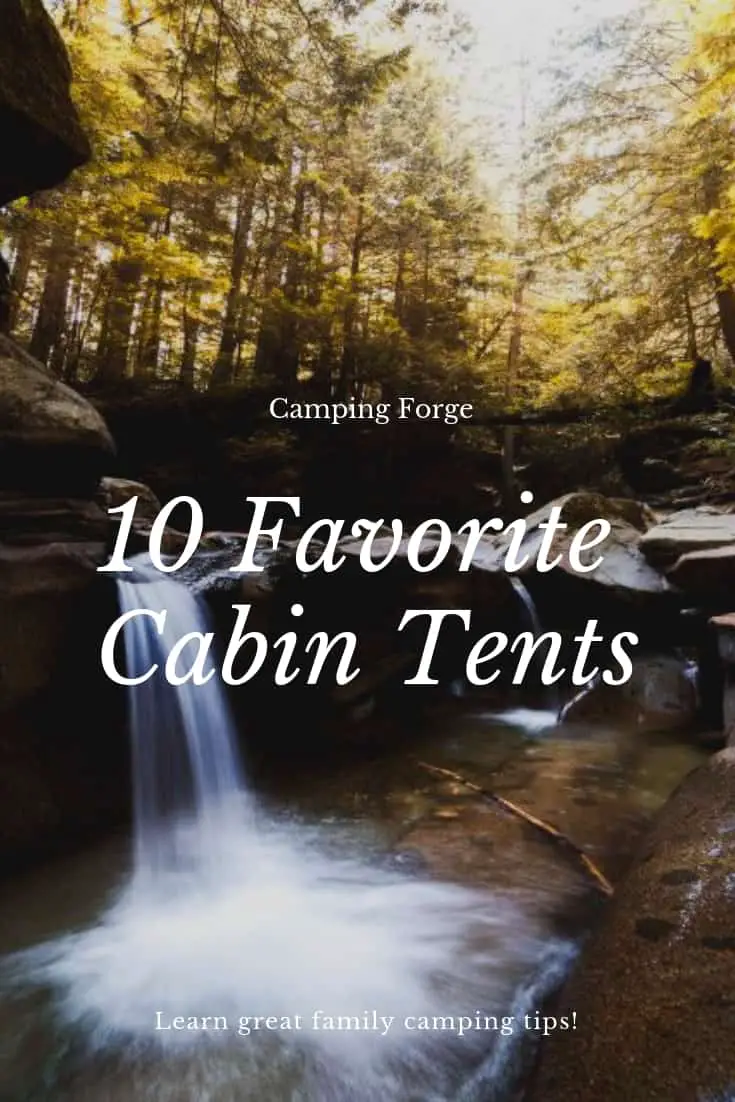 ---
feature image credit: Photo by Rye Jessen on Unsplash