Things To Do When Camping With Family In 2021
If you click and purchase with one of our links, we earn a commission. Thanks.
Camping is a great way to spend time with your family. And according to Family Focus Blog spending time with family improves everything from family bonding to reducing drug abuse and behavioral problems.
Camping is also a great way to learn new skills and improve self-confidence.
But you have to compete with the smartphone in their pocket.
Check out these new ideas for activities to turn an ordinary camping trip into a memorable adventure.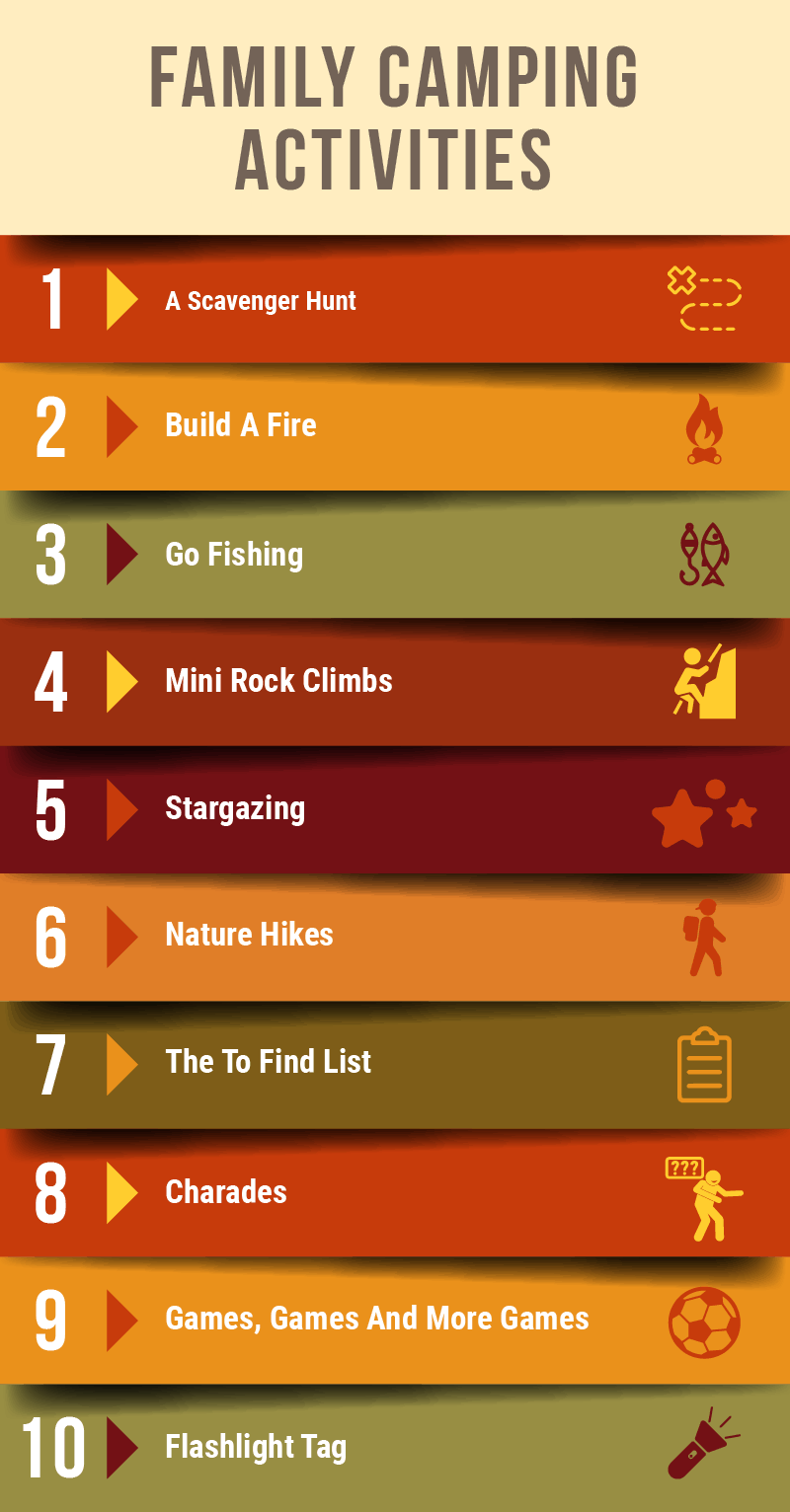 1. A Scavenger Hunt
There's 3 ways to do this.
If you have cell service you could text them their clues. You could add more excitement by sending the clues as a code message that they have to decipher first.
You could ask them to take photos of the things they find. This way you can leave Mother Nature alone while doing your scavenging.
And for the older kids you could do geocaching. This is where you give clues via GPS coordinates.
As a bonus make the final item to be found be something needed for the next activity.
If you're looking for a printable on how to do a camping scavenger hunt check this one out at The Joys Of Boys.
Here's a detailed look at the top ways to hold a camping scavenger hunt.
Experience-Based Scavenger Hunt
When it comes to planning a scavenger hunt, you're going to have a few options up your sleeve. One of them can be something as simple as an experience-based hunt, which means each item on the checklist is going to be a new camping experience. This can vary depending on where you are and what time of the year it is.
The checklist should be designed around specific experiences that are going to make it easier for everyone to appreciate the setting they're in.
This list can include:
Fishing for a specific type of fish
Collecting safe plants near the camping area
Hanging from a low tree branch
Skipping a rock in the river/pond
It's all about focusing on tasks that aren't going to endanger participants while still making it fun at the same time. For those doing this with children, it's important to have adult supervision nearby at all times. This is the only way you can make sure no one is getting hurt and/or misinterpreting what has to be done while on the hunt.
Take the time to put together a proper list that is going to keep things as simple as possible. This is the only way to make the experience-based scavenger hunt a major success.
It's also important to map out a clear-cut route that isn't going to lead to issues later on (i.e. coming across animals). It's all about understanding what you want out of the hunt before planning it. This is ideal for those who want to take the time to appreciate what the camping area is all about and experiencing it first hand.
This way allows you to understand the nuances of a specific setting better than anything else.
Alphabetical Scavenger Hunt
This is as simple as it gets and can often work due to its simplicity.
For those who want to make sure the scavenger hunt goes ahead as planning, why not move forward with a simple alphabetical list? This is going to allow everyone to go through the list one by one and realize there's an order to the process.
Simply go through a straightforward list that is going to start from A and go down to Z. This is great because it will allow you to mix things up (i.e. experienced-based, animal-based, and more) which may not always be possible with other themes. Don't be afraid to give this a shot because it will generate impressive results in terms of getting people involved.
The structured nature of a list such as this is empowering and engaging.
Animal-Based Scavenger Hunt
Camping is all about being outdoors and that means residing closer to the wildlife. This is something you want to incorporate into the scavenger hunt one way or another.
The goal is to focus on a list of tasks that are going to involve animals in one way or another.
This can include:
Searching for specific animals near the campgrounds
Taking pictures of animals in the area
Fishing for a specific type of fish
It's about exploring the area and understanding what the specific setting has to offer in terms of wildlife. It is one of those experiences that make camping fun and you aren't going to find similar options through other means. This is what matters most for those who want to ensure they end up with a legitimate scavenger hunt.
Food-Based Scavenger Hunt
Being on a scavenger hunt is wonderful, especially when you can start picking out fruits along the way!
This is why a food-based scavenger hunt is a good option when it comes to mixing things up a bit. You can take a look at what grows in the camping area and put together a little hunt along those lines. Of course, you have to make sure the items are safe for humans to touch and that is why going in groups matters.
Finding specific plants that are growing in the area
Trying to collect fruits that may grow in the area
Take the time to analyze what type of area you are going into, what grows at that time of the year, and whether or not those plants are near where you are going to be camping.
Each detail is relevant in making sure the experience is a great one and you can add enough food items onto your list moving forward.
Drawings
Drawing is never a bad idea because it creates a unique way to observe what people are seeing around them.
Why not create a simple list of items to draw during the hunt? This can include specific types of trees, fruits, animals, and more. The options are endless in the camping area, which is why you can end up with a superlative list.
It's all about making it fun for everyone and this can be quite engaging.
Focus on a themed list that is going to make it easier for people to follow through with each drawing. It can also become a fun way to compare drawings at the end!
2. Build A Fire
Every kid likes to do activities that involve a little danger and a campfire provides just the right element of risk. Teach them the right way to build a fire and of course, all the safety elements that they need to be aware of. Let them help you cook a meal over the open fire and finish it off with some toasted marshmallows or s'mores.
Remember that fires have the greatest effect in the dark so plan the activity for an evening meal. Telling stories and singing songs around the campfire is just about as traditional as you can get but still rates highly as a favorite camping activity.
3. Go Fishing
There is no greater bonding experience between a parent and child than going fishing. So invest in some fishing tackle for you and your kids and spend the day teaching them how the equipment works and get a line in the water. Don't forget to include some of the latest gadgets to keep the fishing expedition interesting. You can learn how to catch more fish with this article.
4. Mini Rock Climbs
This doesn't mean scaling cliffs with expensive and complicated mountaineering gear. Just a small rock face that is suitable for free-climbing is ideal. Remember to select age appropriate climbs - the smaller the child, the smaller the climb - and provide supervision and a helping hand where necessary. And don't get to stressed out over a couple of grazes and bruises. While learning to climb provides important skills like strategic planning and is a great physical activity, there are going to be a couple of falls along the way.
5. Stargazing
Urban living obscures the beautiful night sky and being out in the country provides your family with the ideal opportunity to do some stargazing. See how many star symbols you can identify and of course look out for a shooting star to wish on. If you or one of your kids are really into the stars, invest in a mini telescope to give you an even better view of what lies far beyond.
6. Nature Hikes
What would a camping trip be without a walk in the woods. Take along a pair of binoculars and a magnifying glass and see how many different birds, insects and plant species you and your family can identify on the walk. Remember to take plenty of water and snacks to stay hydrated and keep those energy levels high. Be aware of any dangerous animals in the area before setting off and take appropriate precautions. There's nothing like a little exploration to kill boredom.
7. The To Find List
Make up a list of items in nature for your kids to find and tick off. Give them a score for each item that is ticked off and some bonus points for special finds. Give them a camera or phone so that they can capture images as proof of their finds. This will make it a little more fun for them as well as give them the opportunity to share their finds with you. Don't let your kids wander to far off in their search of items and keep a close check on where they are and what they are doing at all times.
8. Charades
This is another camping favorite that seems to stand the test of time. Write down names of people, movies, songs or other items on pieces of scrap paper. Each person gets a turn to select a paper and then act out what is written on it without using any words for the others to guess.
9. Games, Games And More Games
Pack a deck of cards and some board games. You never know when the weather may prevent outdoor play and these games will come in very handy. Also pack a ball and some other outdoor game kits that will give you all something to do while providing a great form of exercise.
10. Flashlight Tag
A flashlight is all that is needed to play this fun version of tag (plus some extra batteries). One person holds the flashlight and tries to seek out those that are hiding with the light. Once the light hits you, you're tagged. A simple game with just the right element of fear factor, fun and loads of laughter.
And when things really start to go south? Make sure that you have packed all those electronic mobile devices, spare batteries and charging blocks. If you are in an area that has mobile network coverage, you can let your kids play their usual games or watch a movie. If you are going to be out of reach of a signal, then make sure that you have downloaded movies and games that can be watched and played offline.
Related Articles